Allagash James Bean
| Allagash Brewing Company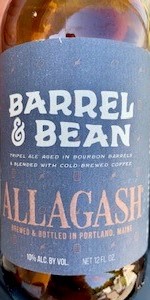 BEER INFO
Brewed by:
Allagash Brewing Company
Maine
,
United States
allagash.com
Style:
Belgian Strong Pale Ale
Alcohol by volume (ABV):
10.40%
Availability:
Rotating
Notes / Commercial Description:
James Bean is a bourbon barrel aged, Belgian-style strong ale that is infused with cold press coffee, post fermentation. Coffee, vanilla and bourbon dominate the aroma. Flavors of caramel, coffee, bourbon, and oak present themselves throughout this full-bodied beer. The coffee used in James Bean is Speckled Ax, roasted right here in Maine. The beans used are Ethiopia Amaro Gayo and are known for their lush blackberry and blueberry fruit flavors.
Grains: Allagash 2-Row Malted Barley Blend
Hops: Tettnang and Hallertau
Spices/Other: White Cane Sugar, Cold-Brewed Coffee
Yeast: House
Original Gravity: 1.074, 18 degrees Plato
Added by jlindros on 07-09-2012
Reviews: 63 | Ratings: 503

4.24
/5
rDev
+4.2%
look: 4 | smell: 4.25 | taste: 4.25 | feel: 4.25 | overall: 4.25
Pretty excited to see this on-tap at a random visit to the Farmhouse Tap in VT. Reviewed from notes.
A- Golden like Curieux, small white fizzy head with lackluster retention. Falls to foamy ring with a few legs but no true lace it seems.
S- Super laid back Jim Beam and cold brewed coffee reminds me of a nice brownie dessert.
T- Tastes like blondie brownies to me, decadent coffee on Curieux, balanced and almost silly smooth bourbon vanilla barrel feel. Most jarring color vs. taste beer ever. The coffee really makes a huge difference.
MF- Moderately thick body with high end carbonation and some alcohol warmth.
Brownie dessert feel. Coffee is intense and changes the beer a lot in a good way. The vanilla from Bourbon barrels and coffee really work well together.
773 characters
4.06
/5
rDev
-0.2%
look: 4 | smell: 4.25 | taste: 4 | feel: 4 | overall: 4
Growler from Bestway in Greensboro, NC
A: Pours a relatively clear medium golden yellow in color with light to moderate amounts of gentle visible carbonation rising from the bottom of the glass and some burnt orange highlights. The beer has a half finger tall foamy off-white head that reduces to a large patch of thin film and a thin ring at the edges of the glass. Light amounts of lacing are observed.
S: Slightly stronger than moderate aromas of freshly ground coffee with some moderate aromas of bourbon and oak (from the barrel aging). Light notes of vanilla and just a hint of Belgian yeast, light fruits, and pepper.
T: Upfront there is moderate to strong flavors of freshly brewed coffee with some moderate flavors of bourbon, oak, and vanilla. Light flavors of Belgian yeast, light fruit, and just a hint of spice/black pepper. Minimal notes of alcohol.
M: Medium bodied with slightly more than moderate amounts of carbonation. Smooth and a touch creamy.
O: I was slightly suspect of a bourbon barrel aged tripel with coffee but I should have known the team at Allagash had the skills to pull this beer off... The coffee and bourbon flavors really complement each other and give it hints of chocolate which make this beer pair really nicely with dessert (chocolate pecan pie and pumpkin pie here on Thanksgiving).
1,328 characters
4.29
/5
rDev
+5.4%
look: 4.25 | smell: 4 | taste: 4.25 | feel: 4.75 | overall: 4.5
Enjoyed at the dive bar on Allagash tap takeover. Poured into an Allagash tulip.
A - Poured a slightly hazy golden hue with a nice thin lacing and good creamy blanket.
S - Aromas of coffee haggle, faint barrel notes, the coffee mellowed out the aromas of the base beer. Still a quite nice aroma.
T - Taste is loads of coffee, light bourbon, light base beer but for the most part this is a glass of cold pressed coffee.
M - Mouthfeel is nice for the ABV, light carbonation, alcohol well hidden here, tremendously so.
O - Overall I was happy with this one, best of the night even if it crushed the base beer. Delicious.
622 characters

3.76
/5
rDev
-7.6%
look: 3.5 | smell: 3.75 | taste: 3.75 | feel: 4 | overall: 3.75
From tap at the Festival. Clear gold pour with white head. Intense coffee aroma, vegetal notes but also roasty, definitely smells just like cold pressed coffee. Some light bourbony wood notes are perceptible, but barely. Very intense coffee flavor. The most peculiar part of this beer is that it has the palate of cold pressed coffee (plus carbonation), very silky mouthfeel with a long bitter aftertaste. Not my favorite beer, not sure I'd drink a pint but this is very well made.
483 characters
4.19
/5
rDev
+2.9%
look: 4.25 | smell: 4 | taste: 4.25 | feel: 4.25 | overall: 4.25
On tap @ Prohibition Pig
A - Opaque cloudy orange/yellow with a thin film of off white head.
S - Belgian yeast, spice, coffee. Some breadiness.
T - Big coffee flavour up front. Some spice, clove, Belg yeast and coriander. Warming alcohol throughout. The coffee definitely dominates but the other flavours are noticeable as well.
M - Medium body. Dry. Light carbonation.
379 characters

4.05
/5
rDev
-0.5%
look: 4.75 | smell: 4 | taste: 4 | feel: 4 | overall: 4
On-tap at Hopleaf. Served in an Allagash tulip.
A - Creamy off-white foam lingers; great retention here with glass-coating lace. Looks almost like a nitro beer. Lightly hazed golden orange body.
S - Loads of coffee! Very odd getting this from such a pale beer. Light vanilla, sweet malt, with an undercurrent of bourbon. Not much Tripel here, as it's largely overwhelmed by the coffee and barrel-aging. Perhaps a touch of tangy Belgian yeast as the beer warms up.
T - The taste is similarly heavy on coffee, with a whiskey and oak finish. There's implied chocolate from the other flavors that I'm guessing isn't really there. Some sweet malts, but nothing to suggest tripel. Perhaps a touch of peach brightness as it reaches room temperature.
M - Tannic, roasty, coffee texture. Medium-full body, a tad creamy, with pleasant carbonation. Some definite warming alcohol.
D - Odd beer. The coffee and barrel largely overwhelm the base beer, so as a Tripel it's off the mark. That being said, if I tried this blindfolded I'd think it was a pretty good bourbon coffee strong ale or something. High ABV makes things a bit slower drinking, but I'd consider ordering this again.
1,175 characters
4.04
/5
rDev
-0.7%
look: 4.25 | smell: 4 | taste: 4 | feel: 4.25 | overall: 4
10 ounce pour - $6.00 at Leon's Full Service in Decatur, Georgia as part of their Allagash Takeover event.
Appearance: Heavily hazed, darkened gold body with a nearly white head, just shy of a full inch.
Smell: My stars! Certainly a stronger coffee aroma than I had anticipated, delightfully roasty, nutty. Undertone of gently sweet-scented bourbon notes. Faintly fruity, with a bit of lemon, leaving little of the original tripel to recognize.
Taste: Sweetish flavor of roasted coffee beans -- it really does have a surprising depth of coffee in the taste. No, really, it does! Caramel, vanilla, and wooden bourbon accents follow. Then, way waaaay back is the original Allagash Tripel. Ultra faint citrus. Sweetish, coffee finish with a sliver of bourbon and a slight, warming alcohol quality.
Mouthfeel: Medium-bodied. Medium-plus carbonation. Smooth mouthfeel.
Overall: I would enjoy starting my day by downing a pint of James Bean.
942 characters

4.06
/5
rDev
-0.2%
look: 4 | smell: 4.25 | taste: 4 | feel: 4 | overall: 4
The beer pours a nice white creamy head that dissipates at a moderate pace. The beer itself is a clear pale amber that borders on medium a little bit. The look has a nice sheen in that it almost radiates and has a bit of a golden shine around it. Anyway, it looks really appealing and definitely worth admiring.
The smell is wonderful. It has a nice strong coffee note that resembles blueberry but isn't over the top. The coffee notes mix very well with the more subtle bourbon note to create an interesting partner to the more subtle golden ale notes. The golden ale notes are still there but buried a little bit beneath the other notes. The ale notes has a nice bitterness to it and a good bready yeast note that also gets mixed into the bourbon and coffee. There seems to also be a very light vanilla and oak note that are barely noticeable.
The taste is pretty good. It has the same notes as the smell but with a more subtle bourbon note and the coffee note with its fruitier notes. There is a moderate caramel note that replaces the bourbon as the coffee's strong partner. Also, a light oak note in the aftertaste but more subtle during the actual drinking.
The feel is nice. It's a heavy bodied beer that a fairly smooth feel to it. The feel has some very light carbonation to it but it's enough to give it a tiny bit of texture.
Overall, this is a very good beer. It has a nice, complex note that isn't overwhelming and the notes all subtly blend into one another in order to create a good beer.
1,506 characters

4.26
/5
rDev
+4.7%
look: 4 | smell: 4.25 | taste: 4.25 | feel: 4 | overall: 4.5
From 03/07/14 notes. Have had a few times, review from 12 oz. pour at One Mile House in NYC.
a - Pours a deep orange color with one inch of off white head and moderate carbonation evident.
s - Smells of fresh coffee grinds, whiskey, caramel, oak, toasted notes, light fruity malts. Nice nose, lots of coffee to it.
t - Taste mirrors the nose closely. Lots of coffee, nice sweet whiskey, and some fruits and caramel. Very good taste.
m - Medium body and moderate carbonation. No heat.
o - Overall I like this one a lot. Awesome coffee mixing wiht swete bourbon, but on a lighter tripel beer than the average stout. Highly recommend checking out.
649 characters

4.13
/5
rDev
+1.5%
look: 3.25 | smell: 4 | taste: 4.25 | feel: 3.75 | overall: 4.5
Served in a balloon glass.
Pours a cloudy, yellow color with a deep orange hue. Big white head that leaves decent lacing. Could improve on the clarity and head retention.
Very interesting aroma! James Bean has notes of green tea, coconut, maple yogurt, and when it warms up, freshly roasted coffee. Complex, layered and more than just coffee.
Amazing coffee flavor...just amazing.... Tastes like a typical coffee beer but with light malts and hints of coconut, cacao, and vanilla.
Extremely smooth body, but could use more carbonation, in my opinion for a Tripel.
Great beer. Yet again, awesome coffee flavor and aroma. It is amazing that Allagash could get the taste like that and keep the beer blonde. I really enjoyed this and would highly recommend trying it if you see it on draft.
791 characters
3.81
/5
rDev
-6.4%
look: 3.75 | smell: 4 | taste: 3.75 | feel: 3.75 | overall: 3.75
Served from tap into a Raleigh Rare & Vintage Beer Tasting snifter. Poured a hazy golden yellow-orange with a minimal white head. Maintained nice lacing throughout the glass. The aroma was comprised of sweet malt, fruit, wood, coffee, and vanilla. The flavor was of sweet malt, fruit, wood, dark chocolate, coffee, and sweet alcohol. It had a light feel on the palate with high carbonation. Overall this was a pretty decent brew. I am a pretty big fan of the base brew as far as a representation of the style and this one was no exception. All of the right right things going on that you would expect plus that nice touch of coffee. The coffee seemed to be more integrated on the nose than in the flavor which was a bit of a letdown for me. Still a solid offering that I would not hesitate to try again in the future if I have the opportunity.
843 characters
3.53
/5
rDev
-13.3%
look: 3.5 | smell: 3 | taste: 4 | feel: 3 | overall: 3.5
Served in a goblet during Barcade's 8th anniversary party.
Coffee Curieux pours an opaque tangerine, with about a finger of white head produced by the pour. Retention and lacing are both present, but neither particularly impress. There's very little of the base tripel in the nose, just a bit of a green apple note. The coffee overpowers the Jim Beam barrels in terms of aroma, to an interesting effect. There's a bit more of a pale fruit character to start off the flavor profile. The coffee and bourbon barrels fill in the rest of the blanks. What's unique is that when I look for those flavors I find them separately, but when I let everything just come to me, they meld together to create a slightly toasty peanut butter flavor. The mouthfeel is decidedly not Belgian, as the body"s a little too full and the carbonation is slightly dull. When I first heard about Coffee Curieix I was skeptical best that it could be pulled off, but Allagash did an admirable job with this.
980 characters
3.65
/5
rDev
-10.3%
look: 4 | smell: 4 | taste: 3.5 | feel: 3.5 | overall: 3.5
Tap at prohibition pig
Light fizzy head, touch of lacing, hazy golden tan color, typical of a tripel at 11%.
Nose light creamy malt, hint of vanilla aroma like barrel, hint of fruity esters, nice mocha vanilla coffee aroma, quite strong, and slightly nutty.
Wow coffee flavor really comes out, fresh roasted coffee beans with cold extraction smoothness. Booze starts to tingle a bit, with a mild sweetness, light taste of the syrup that would be used to flavor coffee, light creamy golden malts, just a hint of citrus. Finish is long, slight bitterness, long smooth nutty coffee finish, still fairly sweet, hint of booze on the finish.
Mouth is med to fuller bodied, decent carb, some warming and tingly booze borderline fuesel.
Overall interesting, lots of coffee flavor packed into the small amount of beer, although the beer itself kind of gets lost in the coffee, smooth cold extracted coffee though, and booze gets a bit much especially as it warms.
967 characters
Allagash James Bean from Allagash Brewing Company
4.07
out of
5
based on
503
ratings.