White Dog Cafe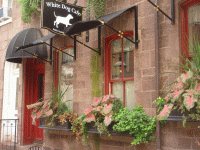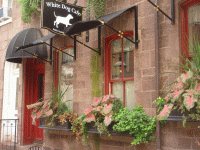 Bar, Eatery
3420 Sansom St
Philadelphia
,
Pennsylvania
, 19104-3404
United States
(215) 386-9224 |
map
whitedog.com
Notes:
Reviews: 11 | Ratings: 16
4.25
/5
rDev
+4.4%
vibe: 4.25 | quality: 4.25 | service: 4.25 | selection: 4.25 | food: 4.25
Everyone visiting the University City area of Philly should know about and get to this place at least once.
Every meal I've had here has been first rate and they make a big deal about using locally sourced food to keep it as fresh as possible. This also leads to some imaginative items on the menu.
Service has always been good and attentive, even when the place is crowded.
The beer menu is short but well selected with a focus on choices from local breweries. So a couple of times I've been able to get a fresh draft pour of beers that are available at very few places.
This is in an old house on a block that has been reasonably well protected from urbanization and so has lots of atmosphere. Especially the history of the name.
738 characters

3.8
/5
rDev
-6.6%
vibe: 4 | quality: 4 | service: 4 | selection: 3 | food: 4.5
White Dog is a great local restaurant in the University City section of Philly, right near Penn and Drexel. The front part of the place is a small bar area that has around 8-10 tables but the back part is a large sit down restaurant with incredible food that focuses on locally grown ingredients. They usually have a nice selection of local craft as well as a few others but nothing out of the ordinary. The food is exceptional and the service is pretty good but it's not a must stop beer destination. If you are in the area and looking for a place to eat you can't go wrong here but don't expect to be overly impressed with the beer selection.
644 characters
3.9
/5
rDev
-4.2%
vibe: 3.5 | quality: 4 | service: 4 | selection: 4 | food: 3.5
I have mixed feelings about this place honestly. First off - they have a great (I think around 9 taps usually occupied by the likes of Yuengling, Sly Fox, Flying Fish, PBC, and other local varieties) selection of beer compared to other bars in this part of town, and great specials to boot (1/2 price pints on Sunday-Thurs nights 10-midnight which is an awesome deal because the pints in the first place are only $5 so you pay $2.50 which is pretty damn good). The bartenders are friendly and are knowledgeable and I love striking up conversations about beer or whatever else it may be. On the other hand... I'm not 100% fond of the feel here. As the name implies, it is very cafe-like and very relaxed and maybe I'm just used to a loud, crowded, boisterous place but that's one of the few knocks I have on White Dog. However, I do suppose it is a nice change of pace once in a while. Another thing I have experienced here more than once is the glasses they give you if you order a pitcher - they often have a filmy, kind of sticky residue on them and I've had to ask for new glasses a bunch of times and sometimes the new ones aren't much better than the first ones. Lastly, I saw a mouse scurry across the floor once there while I was eating some fries and having a pint which I find pretty gross and unacceptable. But aside from these few problems I have with the place, it's a nice joint.
1,392 characters
4.2
/5
rDev
+3.2%
vibe: 4.5 | quality: 4 | service: 4.5 | selection: 4
West of the Philly revisited. Gonna see what's Local, and figured I'd have a scratch at the Dog as they were closed for renovations the first time I came a-callin' (Boo!!) Thinkin' I can get here for a beer, is all. Flatbreads come four firty, but that's a ways off yet. Still, Randy has at least another hour on the Constitutional Walking Tour of Philadelphia so I've got time now for a distraction on a diversion...
Located on a little stretch of street with like looking places, I parked in front of Penn law school and took a phucking from a quarter eatin' meter (Is there someone I can call for that?). "U" shaped wood bar seats 20, with a bar island cupboardy shelved unit inside running to the ceiling between arched brickways. Its counter top holds booze running around it and shelved above, wines & whiskeys up high, and a wine rack hiding behind it on the rear stone wall. Brick walls and painted pieces white over slat wood lowers. Small roundy tables in the front windows, check blue curtains & mounted red lamps over Sansom, and an adjacent bar counter seating 4, below a bundle of small framed pics (local street scenes, produce, wood, etc), in 3 rows of 7 each. Slat wood ceiling & drop spots, glass lit candles on the bar, and large mismatched drop lampshades over the bar tracing it.
Décor done up with dog pics, prints, figurines, extending to the seating areas, the near rear room holding a "Tribute to a dog" pics collection. Some booths and shorty tables here; another room to the rear, side rooms and side side rooms. Table lamps, carpeted & curtained, warm, inviting, and amazingly comfortable. Downstairs, a pair of small rooms to both sides the staircase that landed you there, with 7 tables each. Took me a minute to process 'em but you've got to love the "Pointer" & "Setters" bathroom door signs.
A trio of 3 tap towers on the corner of the bar. 9 taps total; very supporting of their local breweries (Dock Street Rye IPA, PBC Kenzinger Yards ESA, Sly Fox O'Reilly's Stout, Victory Prima Pils, Stoudt's Winter Ale, Yuengling, Flying Fish Grand Cru & ESB). I was going to have a Dock Street Rye IPA as I think it's real damn tasty, but I thought I'd try something else. Sampled a taste of the Flying Fish Grand Cru (oh, hell no), and then the Stoudt's Winter Ale (yep, yep, that'll be me, please).
And upwards of a dozen bottles, also a focus on local/regional (PBC Walt Wit, Legacy Fat Boy Amber, Sly Fox Black Raspberry Reserve, White Dog Leg Lifter Lager; their house beer contracted by Stoudt's, Yuengling, DogFishHead 60 Minute IPA, Ommegang & Hennepin), a cider (Woodchuck Cider), and an N/A (Clausthaler). Decent wine list, too, more than that, actually.
Great statement to their only serving American beer (building local economy and reducing carbon emissions from long distance shipping). They support local, organic & sustainable family farmers, all good stuff. The street smelled and looked awesome, I had an amazing sensory thing when I went to refeed the meter just a few minutes ago. Don't have nothin' to do with nothin', I just had a good moment and I don't have good moments. Liking them tunes being piped in. Service was on, bartender let me try this, this and that. Good beer here and a nice food menu; I didn't hit it, but I liked what I saw being 'et around me, Make a great date place, me thinks. Very warm, pleasant, comfy, yes.
3,385 characters
3.88
/5
rDev
-4.7%
vibe: 4 | quality: 4 | service: 3 | selection: 4.5 | food: 4
The atmosphere is very calm; good for having a decent conversation and a good brew. Other than the bar, the rest of the restaurant has a retro feel. This is obviously due to the fact that the building is an old Victorian brownstone, as claimed on their website. The decor is nice, but nothing too crazy or amazing. Regardless, it's a good feel if you want to just relax and get away from the craziness of other bars.
The quality is very good. I've enjoyed the beer and food for a while and they do a good job with both. Their range in choices are perfect: you won't get frustrated trying to pick between 20 things or stuck with only having one thing that interests you. Ultimately, you get very good quality for what you pay.
The service is good overall. It's almost never crowded (at least later) so you can grab a beer pretty quickly. Furthermore, the staff is friendly and never act as if it's a bane that they're there. However, there was one unfortunate time that I was witness to seeing pests running around behind the bar. When I alerted the bartender, he made a quick joke and ignored the whole situation. Gross, but a fair amount of restaurants in older buildings have similar issues, so I'm not too upset about it. However, I was disappointed with how it was dealt with, which is why service took a hit. The bartender could have at least lied to me and told me that they were going to take care of it.
The selection of beer, though not the largest, is very good. They carry a good range of styles and are true to Philadelphia. I am one to respect them a lot for carrying a lot of local brews, since generally speaking, this is not done everywhere in the city.
From 10 PM -12 PM, pints are all half off, which is incredible considering the quality of beer that you have available to you. I don't know of any other places that offer better prices and frankly, a better environment to enjoy them in. Normally, prices are reasonable, though not as cheap as I'm used to. Since I generally only go for beer around 10-12, I rated it inexpensive.
Overall, White Dog is definitely a great place to go grab a local brew and maybe even some food. Again, they are true to Philadelphia and generally only carry stuff that's from the beer rich area it's in. I disregard that one situation since simply, the prices good, the selections are good, and frankly, it's a great place to go to for escape from the typical loud bar. Highly suggest you check it out!
2,457 characters
4.03
/5
rDev
-1%
vibe: 3 | quality: 4 | service: 5 | selection: 3.5 | food: 4
The bar area is in a square room with the actual bar in the middle - three sides to the bar. Lots of lighter stained wood creating a more spacious, airy rustic character. The rest of the restaurant is quite large compared to the bar, but is kept almost like a secret in the back of the house.
About a half a dozen taps and the same amount of bottles - mostly local stuff, but decent to good. I went during the happy hour stated by a reviewer below, but the pints are now $2.50.
The service was the friendliest I have had in a long time. It took a little while for some things I ordered to come out, but there was a huge crowd of local college graduates and their parents there that night, so it was understandable.
I enjoyed the food - well prepared and tasty, though perhaps pricey for some. I am from the Washington D.C. area, so I had no sticker shock, because all the diplomats and fat cats in D.C. really drive prices up. I am used to it.
The only thing I was not comfortable with was the uber-whitey college know-it-all crowd. They were well behaved, but I couldn't help but feel like Matt Damon in Goodwill Hunting. With their degrees still fresh in hand, all they want to talk about is socio-political-economic garbage. After pulling my own weight for all these years, the last thing I want to hear is some young rookie still living on his parent's money telling me about re-inventing the wheel to save the world. But I suppose that's better than being in a phony generic Irish chain-pub listening to loud redneck jocks shouting and laughing about any dumb thing that falls out of their mouth.
1,606 characters

4.54
/5
rDev
+11.5%
vibe: 5 | quality: 4 | service: 5 | selection: 4.5
The doorway onto the short vestibule had a sticker announcing "Breast-feeding encouraged here," which was off-putting for me since I was neither lactating, nor did I have anyone along to suckle and I began to worry that I might be the odd man out. Fortunately, once I passed through the second set of double doors and spotted the blonde wood bar immediately to my right, I was able to relax. Nine taps and they were all quality with no BMC in sight. The same went for their bottle selection - nine for nine. The back bar was cramped, sitting between and to the left of two archways that undoubtedly once separated two individual buildings that were now melded into one. The kitchen sat on the other side of the arches and the chef was turning and burning (really working hard) during my visit. There were lots of ceramic white dogs in the overhead. Across from the bar, on the left wall, were paintings for sale. As I sat down, the bartender remarked, "That's [my beard] a masterpiece you've got going on there!" Shades of The Map Room. He (Stephen) was one of us - solid back outfit, sideburns, a jazz player's lip brush, and specs ala Peter Sellers in "The Party". It was his choice of jazz - "Sounds From the Verve Hi-Fi" that was playing on the speaker system and it was spot on. Headed aft, the dining rooms began along the left side and ultimately dominated the aft end. There was a discussion of vintage cigarette cases among we bar patrons. I also took note of the fringed lampshades. Yow! How had I overlooked this place until my visit? Their motto: "Food, fun, and social activism."
1,592 characters
3.93
/5
rDev
-3.4%
vibe: 4 | quality: 4 | service: 4 | selection: 3.5 | food: 4.5
A great restaurant, making an effort on the beer side.
The White Dog is a well worn, long-loved University City spot -- once the center for rousing student activism, it's settled now into a middle age of sorts...supporting progressive causes with a cut of profits, being dog friendly, and running with the concept of having both an open-mind and an open kitchen.
Wood everywhere, and always packed in the front by the bar, it is at once intimate and bustling -- folks are as comfortable reading a book by themselves as they are debating the issues of the day with a group. The crowd is generally young (25-35) and old (65-75), with very little representation in-between. Nice folks, in general.
Quality is very good, reflected in the artful presentation and preperation of food, both of which they do in the open kitchen, which allows patrons to watch as their food is prepared from scratch. Portions are huge and flavorful.
Service is pretty snappy too, and best if you sit at the bar. Towards the back, the restaurant divides into small sitting rooms of two or three tables, a reminder of its 19th century past as a residence. Still, you'll never go wanting, and the staff has a delightfully bright attitude
Beer selection is decent, with a focus on locals -- Stoudt's, Victory, Yards, and the like. In particular, they seem to have a special arrangement with the folks at Stoudts -- a few times I've seen one-offs from them show-up here, never to be seen again afterwards. They also carry Bluecoat Gin, a Philadelphia-distilled product.
Food, as I said before, is very good, reasonably priced, and often falling over the side of the plate (particularly true with the pasta specials).
All in all, an excellent bar -- well-known to locals, and well-hidden from everyone else.
***
Why To Make The Scene: Because it's the perfect place to take someone you have a crush on for an after-work pint, or to take someone you're dating for dinner.
1,964 characters
4.05
/5
rDev
-0.5%
vibe: 4.5 | quality: 4 | service: 4 | selection: 4 | food: 4
I rated the value "inexpensive" because I hit White Dog's brilliant happy-hour featuring $2 pints!! Yes, that's right folks, $2 pints (Sunday-Thursday, 10pm-12 midnight). However, if you go to White Dog on the weekends, there is no happy hour. The entrees are quite pricey normally but the food quality is very good.
This bar caters to grad students, or people who keep grad student hours, like me (late nights). Smoking is allowed after 10pm, when the bar area is stuffed with an intelligent, ethnically-diverse crowd aged 20's to early 30's.
The owner of White Dog, Judy, used to be married to the man who owns Urban Outfitters and Anthropologie. I believe she still owns the Free People clothing line. Politics are a big deal to Judy. Political protests are an important part of White Dog's history and on-going cultural ties to the neighborhood. I like how she organizes protests to this day.
They try to cater to all tastes, hence there was one representative for each popular beer style, plus a holiday beer on tap the other night. I really only like IPA's and Pale Ale's, so I was stuck drinking Hopdevil, which I love, but I'm getting a bit tired of it. There was also Stoudt's Pils, Troegs Mad Elf, an ESB, Yuengling Lager and a couple of stouts or porters I think. The bottle selection was pretty decent, they have Rogue Dead Guy Ale, Ommegang and White Dog's own brew, the cleverly-named Leg Lifter Lager.
If you are in University City be sure to check out White Dog Cafe. Its halfway down the 3400 block of Sansom St., historic Sansom Row.
1,566 characters
3.95
/5
rDev
-2.9%
vibe: 4 | quality: 4 | service: 4 | selection: 4 | food: 3.5
The White Dog Cafe is a small place located on the UPenn campus, just south of Drexel University. Unlike the bar down the street (New Deck), it does not seem to attract the typical college crowd.
The bar area is tight; a squarish bar with some stools and some small tables. There is dining space to the rear, and I believe a patio out back open in nice weather.
When I was there they had something like 7 or 8 beers on tap, with another dozen or so available by the bottle. Most bottles, and on tap for that matter, are local favorites (Yuengling, Dogfish Head, Stoudts, Yards, etc).
I thought prices were a bit high, similar to prices you would pay in Olde City, Society Hill, or any of the trendy areas of the city. Food was good but also pricey.
Service is efficient and friendly, with bartenders and waiters who respect good beer.
847 characters
4.1
/5
rDev
+0.7%
vibe: 3.5 | quality: 4.5 | service: 4 | selection: 4 | food: 4
The White Dog Cafe is located in three adjacent Victorian brownstones in the University City area. Very clean interior, tight, as soon as you walk in there is a square bar, there are several other areas to this place including an enclosed backyard/porch area with a grill area.
There is about 8-9 taps of local Philly favorites; Stoudts Winter, Stoudts Gold, Stoudts Fat Dog Stout, Yuengling Traditional, Yards Philadelphia Pale Ale, Victory Hop Devil, Weyerbacher Raspberry Stout, Dogfish Head Brown Ale, Flying Fish Abbey Dubbel, and Flying Fish Grand Cru.
The bottle selection is very good as well- They have a house brew called Leg Lifter made by Stoudts , Ommegang, Rogue Dead Guy Ale, Hennepin, Yuengling, Granny Smith cider, Rolling Rock, Flying Fish Porter, Appalachine Water Gap, Sierra Nevada Pale Ale, and Anchor Steam.
Decent place to check out if your in the area...
883 characters
White Dog Cafe in Philadelphia, PA
Place rating:
4.07
out of
5
with
16
ratings