't Galgenhuisje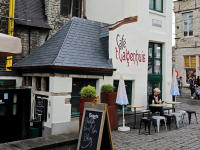 ct1 from Virginia
3
/5
rDev
-26.1%
vibe: 3 | quality: 3 | service: 3 | selection: 3
We had a great time at this cafe today while enjoying two beers each until my husband was attacked by a local man who was clearly quite drunk. He broke a glass and stabbed my husband in the hand. This attack was unprovoked and the police became involved. I believe this man was a regular at this bar.. Please beware when visiting this quaint and otherwise interesting cafe...
Aug 10, 2014
Jackofallbrews from Minnesota
4.39
/5
rDev
+8.1%
vibe: 4.75 | quality: 4.5 | service: 4.75 | selection: 3.75
A tiny pub located at the end of the Groot Vleeshuis (midievil meat market building). This place had space for about 12 people on the ground floor and an even smaller upstairs seating area. A small bar provided a decent but not stellar mix of Belgian ales, a few on tap. Our group of 8 had to be split up due to size, a few at a small booth, a few happily chatting with some locals, and two of us standing. I do have to say that from the time I walked in to having a dripping full glass of Kaiser Karel Blonde was under 60 seconds. I was still standing by the doorway while my compatriots were getting situated! This was the quickest I was served a beer in all of Belgium. The beer was light, slightly hoppy and very refreshing, and served in its very own glass of course!
We ended up here the following night, sitting out on the patio and watching drunken frat boys dressed as superheroes stagger by.
May 22, 2014
BEERchitect from Kentucky
3.79
/5
rDev
-6.7%
vibe: 4.5 | quality: 4 | service: 3.5 | selection: 3.5
Small, quaint, and chocked full of charm, this beer cafe was quite the happening spot in the town center of Gent on a lazy Thursday night in Gent.
Calling it packed may be an overstatement as the downstairs was reserved for about a dozen folks, another dozen packed into the main level with about half that in the loft space above. With about six tables and standing room only at the bar, the place is reserved for beer aficionados who prefer intimacy over excitement. Dimly lit with candles, worn woods, and Belgian beer advertisements the bar is all game and no fluff.
A quick nightcap of Tongerlo and Karl Keizer beers were very thirst quenching and enjoyable for Belgian beers of lighter fare. The beer offered two other beers on draft along with these, and a small collection of nearly 20 bottles in the refrigerator behind the bar. The good news is that the short menu boasted beers of high Belgian quality such as Chimay, Westmalle, Leffe, and others. Reasonably priced beers floated around 2-3 euro a piece for those on draft.
With such small area and high demands on the multi-tasking bartender, a patient wait may be necessary when the place is filled with 20 or more patrons.
The cramped interior happily relegated out group to the outside patio which hosts large umbrellas, tables, and ledge seating to see and be seen with the passerby's and finely tailored European ambiance especially on those rare days when weather permits.
Calling this cafe a "must-visit" stop in Gent may be over-selling it a bit. But the classy, intimate, and raw nature of the bar makes it well worth a stop in, even if only for a pint or two when in the area and the thirst for beer presses.
May 05, 2012

ViveLaChouffe from Georgia
4.22
/5
rDev
+3.9%
vibe: 4.5 | quality: 4.5 | service: 4.5 | selection: 3.5
We headed for one of the oldest and smallest cafés in town t' Galgenhuisje. The bar claims to be housed in the former gallow's house and was right on the Groentenmarkt...so I believe it and the building dates from the 16th century. I can imagine the gallowmaster conducting business here waiting for the next victim.
Two floors of bar are crammed into a very small footprint with a restaurant in the cellar (former holding cells for the condemned). Very rustic with old exposed timbers, witches hanging from the ceiling, some tin beer signs, paper money of all nationalities and denominations stapled to the walls behind the bar and Flemish phrases painted on the timbers. The service was good but the place was empty. A solid beer lsit but you're coming here for the atmosphere.
The house beer was thick and brown, served in a mug and sold for less than 3 Euro. It was a good way to start your Wednesday!
May 27, 2010
burtwert from California
4.47
/5
rDev
+10.1%
vibe: 4.5 | quality: 5 | service: 4.5 | selection: 4 | food: 4
Late Spring is a great time to be in Ghent and a semi regular at the Galgenhuisje. Tourist season isn't in full swing and you can sit outdoors and enjoy your self and your BEER.... the wait staff won't rush ,the food downstairs is very good,and this little Gem is close to everything worth seeing in Old Ghent.A farmers Market on the weekend sets up just across the square from you and your BEER, offering cheeses ,sasages and breads a great complement.
Wy wife and I stopped by one very rainy night,just us and the bartender ,a bright chap studing at the local University.Now I rated the selection good, but I personally feel that it is difficult to sample more than a few double,or tripple Blonds in an evening and stand a half a chance at remembering what your drinking ,combined with my sudden ability to speak both Dutch and Belgian.
This little bar has a great Vibe ,and well worth your time.So stop in slow down take a sip .Ah Belgium..
Feb 27, 2010

ggaughan from Pennsylvania
3.86
/5
rDev
-4.9%
vibe: 4 | quality: 4 | service: 3.5 | selection: 4
Cool little bar on a good square in Gent to do some people watching. We sat outside at one of the tables and ordered a few beers. My wife had a Kriek and I had a strond dark ale that i can't remember at this point. Although we only stayed for one drink each, the place had a nice charm to it. Tiny little bar with a great story about how it was the place they would take condemned men for a last drink before they were killed. It also has to be one of the smallest bars I have been to. Thank god for the tables outside to add more room. There was a nice mixed crowd of yound couples, a few people with dogs and kids. Nice relaxing place for a drink.
May 17, 2008
hackleo from Pennsylvania
4.43
/5
rDev
+9.1%
vibe: 5 | quality: 4.5 | service: 4.5 | selection: 4
My wife and I made this our "local" during our brief visit to Ghent. What a fantastic place to spend time, meet people, drink a few beers (not the greatest list, but ample enough considering the atmosphere) and feel at home.
The music is super - never thought I would actually enjoy hearing "Born in the USA", but it sounded great in Ghent!
This is the perfect stop for a taste of local flavor, if only for one or two beers. You might, like we and the couple we met from the Netherlands, stop in two or three times a day...
Oct 13, 2007
Estarrio from Massachusetts
4.36
/5
rDev
+7.4%
vibe: 4.5 | quality: 4.5 | service: 4.5 | selection: 4
This was my favorite late night stop in Gent. It really felt like my neighborhood bar in the states, while retaining the old world charm in the architecture.
The service was excellent; we actually befriended both bartenders that we met. The patrons were friendly and the atmosphere was excellent, albeit a little small. The building is an old gallows house. In keeping with the theme, witch dolls are hanging from the wooden ceilings. There are old touches in the wooden beams and the original stone work as you descend towards the downstairs bathroom. Just a really cool, old feel.
In addition to the friendly staff and patrons, the music was a nice break from the traditional Euro-pop. They actually had a really cool mix of dated American rock and alternative. It was a welcome 90's flashback.
The beer menu is not as large in comparison to some of the larger beer bars but the choices are solid. I mostly stuck with the Guillotine (Very tasty on tap), Hommelbier and the Tripel Karmeliet.
Each night in Gent, this was our homecoming bar...and what a homecoming it was!
Feb 27, 2007
saltydog from New York
3.93
/5
rDev
-3.2%
vibe: 4.5 | quality: 4 | service: 4 | selection: 3.5
Incredibly tiny bar with lots of charm. Lots of wood, a wood bar, and tiled wall. Puppets, a very high ceiling (formerly a Gallows house!). Service was quite good. Big CD collection, with a large variety of music. Selection of beers is not vast, but includes some very good items.
Oct 20, 2003
TheLongBeachBum from California
3.85
/5
rDev
-5.2%
vibe: 4.5 | quality: 4 | service: 3.5 | selection: 3.5 | food: 4.5
A tiny brick built building near the Old Guild Houses, this is the archetypal "small but, perfectly formed" bar. The "Small Gallows House" is a tiny two-storey building that is the oldest Café in Gent, after having been continuously licensed since the mid 1700's. It was the last and final stop for a beer before the convicted were then taken to the Canal and strung up for good.
Beer range is some 50+ including Primus, Palm, Haecht Witbier, Jacobins and other special East Flanders brews. It also sells a House Beer called Galgenbier, a 6.3% brown ale from the nearby Van Steenberge Brewery.
The interior is small and contains lots of wood; wooden tables, chairs, beams, stairs and walls. On a night, candelight adds to the very cozy ambience. Unfortunately, it can get very smoky inside, especially in the upstairs portion. The compact interior can make it difficult to get into at times, but in the Summer, you can sit outside. If you definitely want to get here for a beer, and it is well worth it, I would recommend going as soon as it opens at Midday to be certain of a seat. There is a Restaurant below in the Cellar of this Café, which serves excellent food. But this is nearly always full, so you may have to book if you want to eat here.
A great place for a beer, well if you can get in.
Feb 23, 2003
't Galgenhuisje in Gent, Belgium
Place rating:
4.06
out of
5
with
17
ratings