Beverages & more!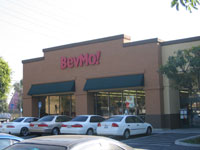 PLACE INFO
Type:
Store
2000 N. Tustin Ave.
Orange
,
California
, 92865
United States
(714) 279-8131 |
map
bevmo.com
Notes:
No notes at this time.
Added by BeerAdvocate
Ratings: 14 | Reviews: 9
Reviews by Murrhey:

3.83
/5
rDev 0%
vibe: 3 | quality: 3 | service: 5 | selection: 4
It's a BevMo. Not a lot to preface this review.
A- Can be a bit dingy and somewhat bad lighting back in the beer section. But always clean and uncrowded.
Q- Had quite a few bad beers from here...but that's my fault for buying the cheapies. Lot of delicious beers as well.
S- Great staff that wants to get you drunk. Very helpful beer man/wine man/liquor woman etc. They are good at what they do.
Selection- Good choices. Wish better beers went on sale more often.
Value- Bang for the buck. Be wary of the special sale beers though. Yikes are some of them bad.
564 characters
More User Reviews:
3.66
/5
rDev
-4.4%
vibe: 3.5 | quality: 4 | service: 3.25 | selection: 3.75
Typical BevMo, service is really poor as I have been here about 12 times and only 2-3 times has anybody asked me if I needed help. You've been to one BevMo you've been to them all. The only good thing is the sale prices and of all the BevMos I have visited Temecula has the best selection.
289 characters




4.29
/5
rDev
+12%
vibe: 3 | quality: 4 | service: 5 | selection: 4.5
This is my closest BevMo, and it's has almost all the beers I have reviewed here on this site.
It's a warehouse store, so atmosphere doesn't really play in the mix, but I like the design and layout just fine.
The staff is friendly and helpful, and a lot of the guys working the beer isle love to talk IPA with me, so they must be alright.
The choices are overwhelming, sometimes I just go in to look at the stuff I can't get at the moment.
I haven't tried any of their food, except some cheese, but they have some good glasses and I got a nice big Duvel tulip there for myself for Christmas.
I found that some beers cost a little more in other establishments, but some of their choices are on par, or slightly better.
DOA
727 characters
3.4
/5
rDev
-11.2%
Update: Quality of most bottles is pretty good, but having a shelf full of 2 year old Hacker Pschorr bottles is not what I'd call fresh.
Despite being just a mile or two from my house, I usually prefer to go to stores around my school for beer. I went by there a few days ago, and here's what I can say about BevMo:
The floor of the place takes up a lot of space, similar in size to a local supermarket. On the left side of the store from where you walk in is the wine selection. Snacks and an array of fun looking drinking games are also available in the store. Beer is in the back right corner of the store, and like a lot of establishments on BeerFly, has a good selection of brews. You have your standard Belgian, German, English, and American craft brews sections in the store. But if you're looking for beer from Latin America or Eastern Europe, this is a good place to find it. Kegs of beer are also available with advanced notice. Even though I don't shop at BevMo excessively, I feel like I'm walking into a candy shop when I walk into one.
1,051 characters
4
/5
rDev
+4.4%
This place had alot of great beers from some great companies. But they didn't have certain things that I expected. Perhaps it is a state wide thing? but I didn't see any great divide from colorado. I didn't see any abbey from NBB. However, They had almost all the rogue stuff, and they had a lot of alesmith. I kept finding crap and finally had to close my eyes because I was buying too much shit.
they have a little value club card that you have to have in order to get mark downs. I saved a hole whopping 92 cents off of a 90 dollar bill. I don't know how I turned some of those beer down that were there. I had to let the victory storm king stout six pack go until I come back another time :(.
The guy at the counter complimented me on my beer selectiona and gave me a preview of what I was in for in some cases. He also did not assume he could put my horny devil in a box upside down. He asked me what to do with it when it wouldn't fit. :)
I have rated stuff in texas with a higher selection score than here, because this is california and there are higher standards here!
1,086 characters

4.2
/5
rDev
+9.7%
Note: As with all chain stores I review, I have notes to add to the all purpose description below- Again, fairly similar to other Bevmo stores, but the selection was better. Not so much that they had many more offerings, but out of stock problems were not an issue here as they can be (Redlands for example). La Chouffe, Goulden Draak (along with several other harder to find Belgians), Sam Adams Cream stout...it was all there with no problem. The staff I had conversation with reveled their passion for Steel Reserve 211...enough said there. No matter, still a great place for random beer. Look for the section in the upper left corner as you walk in. They will have a few island displays as well...
Beverages and more has to be one of the leading places to find craft, import, or seasonal beers. Obviously the store caters to a wide variety of alcoholic beverages, but the four isles dedicated to beer shine through. There is a nice cold selection along with the warm shelves as well. The aisles are divided into American Micro, then continue to section off according to country. Belgium, Germany, India, Russia, England, Thailand, Scotland, Wales, Ireland, Austria, Poland, China, Japan....and many more. The store carries beers from four different authentic Trappist breweries. That works for me. The US micro section is not to be overlooked. It takes up the majority of the set, and has enough choices to keep your thirst quenched for a long, long, time....Good Drinking.
1,482 characters
3.65
/5
rDev
-4.7%
I drive past this spot just off the 55 freeway headed to the Beach area, but have never stopped by until today. Located on the end of a typical strip mall (aren't they all?) on the west side of Tustin Avenue, this place had a different feel than many of the other BevMo stores I have visited. Why? Well, it's crowded with stuff. Is this because of the holidays? Plus, the ceilings are lower, giving it a much more claustrophobic feel. The beer is located in the back, on the right hand side after you enter.
Selection is very favorable- as good or maybe a touch better than the other BevMos I ahve visited. And score- the first time in my life I have seen DuPont Avec Les Bons Voeux. Plus lots and lots of Christmas/Winter/Noel/holiday ales available. Woo hoo.
Overall, a good store- as good or better than the other BevMos, and definitely a strong, solid selection.
872 characters
3.65
/5
rDev
-4.7%
This store is less than a mile from my house and is where I do the bulk of my shopping for alcohol. Their wine and spirits selection is fine but the beer selection is somewhat lacking in my opinion. They have a fairly decent selection but in comparison to the size of this store - it could use a little more. Because I frequent this location so often - the help I receive is pretty good. If I'm looking for a new offering or want them to reserve something - a simple phone call takes care of it. The price is what prevents me from giving it a higher score. Even with a membership card, the prices are generally higher than you'd find at other establishments. You sacrifice price for selection I guess. Not a bad store overall - just not the best for beer and your wallet.
771 characters

3.65
/5
rDev
-4.7%
I hit BevMo for the first time on a recent trip to my parents' house in Orange. It's a big, supermarket size booze palace, with rows and rows of distilled spirits, wine, and beer. Unfortunately, despite the size of the store, beer seems to be the red-headed step-child. The selection is what would be expected of a big store-Stone, Bear Republic, etc-with a few more exotic items like Fantome thrown into the mix. Maybe help was hard to find because I visited around the holidays, but the place isn't exactly at the Nordstrom level when it comes to customer service. If you're in Orange County, spend a little extra time working your way to Hi-Time in Costa Mesa.
663 characters
Beverages & more! in Orange, CA
3.83
out of
5
based on
14
ratings.