Beverages & more!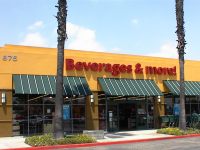 PLACE INFO
Type:
Store
875 E. Birch St.
Brea
,
California
, 92821
United States
(714) 990-2060 |
map
bevmo.com
Notes:
No notes at this time.
Added by BeerAdvocate
Reviews: 11 | Ratings: 16

3.78
/5
rDev
+1.9%
vibe: 3.5 | quality: 3.5 | service: 4 | selection: 4
I generally visit this one when my wife hits up the Target next door.
Atm- Faily well lit with a smaller store size than some of the other Bevmo's I have been too. A bit more of the college crowd and OC wino's.
Quality- Overall a good mix of beers on the shelf. More OC offerings due to the distributor than my store in Chino Hills
Service- Very helpful everytime I go in. If I call ahead they will hold bottles for you vs making you buy them online.
Selection- As I mentioned more OC offering than Chino Hills and some SD- A bit more Bootleggers, FW(not OC) The Bruery, Noble Ale
Food- N/A
Value- A good place in the OC for some single bottles if you live in the area that are more Import vs craft. Only bad part is not breaking 6packs.
743 characters
3.16
/5
rDev
-14.8%
vibe: 3 | quality: 3.5 | service: 3 | selection: 3
This is a decent bevmo, decent size store and fairly clean. they have a nicer selection of singles to pick from than some that I've been too. Grabbed a single of of oaked arrogant bastard, a single from rogue, and a bomber of ruination along with a couple of six packs. That's it. Was hoping to find a fellow advocate to shoot the shit with but everyone was pretty lame in there. I prefer total wine in brea they are about a half a mile apart. Nothing too rare or exciting on the shelves. I think the prices are a little high here.
531 characters
3.5
/5
rDev
-5.7%
Have never been to this Bevmo but I don't think I will again unless I'm in the area.
I expected a whole lot more from a beverage wharehouse. I guess I'm just used to my old Total Wine store.
Small selection of Belgians, alot of the bigger west coast breweries such as Stone, Anderson Valley, Rogue, Deschutes. There was also some Victory and some Jolly Pumpkin. Prices were reasonable.
Was surprised that this Bevmo didn't have anything from the Bruery since it is so close. Pretty average selection.
503 characters

3.85
/5
rDev
+3.8%
I was in the area today and I figured I would check this BevMo out. I wasn't really expecting too much from a BevMo, and was not wowed, but I certainly wasn't let down.
The usual selection of California's larger craft breweries, along with a smattering of other West Coast breweries and a few from other parts of the country. Some Deschutes, Anderson Valley, Lost Abbey, Port, plenty of Stone, a few Ommegang, a fair amount of North Coast, some Allagash...I can't remember all of them. Also the more "mainstream" imports, not any real finds there.
The service was okay. I don't really need any help at a BevMo, because they probably don't have anything special that I need to ask for anyway.
Prices were the standard, with a few deals here and there. Certainly not a destination, but a decent place if you're in Brea.
820 characters
3.4
/5
rDev
-8.4%
For those who don't know, this store has been moved into a bigger building in the same parking lot, and is now located right next to Circuit City.
Convenient location right off the 57. In the back right corner of the store is where the beer lovers will find their destination. The selection here is typical BevMo stuff, but I have noticed that they are having some distribution problems with some of their ordinary stock. The last couple of times I have been, they are out of Deschutes Obsidian Stout and Black Butte Porter, Anchor Porter, and Mackesons XXX Triple Stout. I have repeatedly asked when they plan on receiving more, but it seems as if these items may be discontinued from the store, according to Chuck. Not sure what the deal is there. The quality of the bottles you will find here are good, never found anything out of date, and the prices are reasonable.
The real gripe I have about this place is the customer service. The last time I was in there, I was shopping around for a while, debating what to spend my hard-earned money on, when I started noticing the staff taking a serious interest in me. It was like they were pack-hunting. They would each walk by me and look me up and down, as if they were eyeballing me to see if I was trying to steal something. Made me feel very uncomfortable. Also, it seems as if nobody there has any clue about beer. I don't know, maybe I just happen to go there when the "beer guy" isn't there, but it seems like every question I ask falls on deaf ears. Last time I was there, I asked "the guy who knows something about beer" when (or if) they anticipated getting The Abyss. The guy looked at me and said, "What's The Abyss?" And promptly jumped on the computer to look it up. What a damn shame! Get somebody in there who knows about the products you're selling for goodness sakes.
Overall a decent selection, but really no "hard to find" brews to speak of. It is a convenient location, so if you're in the North Orange County area and find yourself out of brew, stop in and stock up. Just don't expect to be overwhelmed with beer knowledge or customer service and you'll be alright.
2,140 characters
4
/5
rDev
+7.8%
Located just of the 57 Freeway on Birch St. in Brea, the Brea BevMo is situated in a large strip mall, just across the street, north of the infamous Brea Mall. A little smaller in size than the other BevMos I have been to in this area, this is still a quality place. Came here to pick up the elusive Pyramid Imperial Hefeweizen, which they did have. Selection is typical BevMo, with lots of American craft beers and California micros, and a lot of world beers as well, a good selection of Germans. Nothing special, just another good beer store in Orange County.
561 characters
4
/5
rDev
+7.8%
Me and a friend jumped into here after we had hit up the Yard House for happy hour. Located north of the Brea Mall, BevMo is a chain of giant liquor stores. We entered the place and head for the beer section. But lucky for us, beer tastings were being sampled nin the back of the store. Pitching in one dollar allowed us to try several Sam Adams offering, which included Summer Ale, Cherry Wheat, Boston Ale, and the highly acclaimed Triple Bock. That marked the first beer sampling I've been involved with.
There's plenty of beer available as you expect for BevMo, although different stores will have different availability. I can't find Zyweic Porter at my local store, but here in Brea you can find it. But on the other hand, I could only find AleSmith IPA and Horny Devil at the Brea store, while my local store has perhaps 6 varieties. Nevertheless, we spent over a hour and a half in the store. It was a fun trip for the both of us.
940 characters
4.15
/5
rDev
+11.9%
I don't want to repeat anything that the other reviews covered, but I definitely want to add a little bit of my knowledge about this location.
BevMo in Brea is one of the better BevMo's in Southern California. I have been to the West Hollywood, Orange, Pasadena, and a few San Diego locations and Brea seems to have the best selection out of all of them. This is especially the case when it comes to Moylan's and Marin's Brews. The reason for this could be that one of the Distributors for the companies lives in the area. Also, they do some pretty damn good beer tastings every now and then.
The people that work at BevMo are always very helpful and will keep you informed when new stuff is coming. When you go in, talk to the manager and the people that have worked there a while and you will get the inside scoop. I have found that this and the Orange store are the best when it comes to the staff. They are more than willing to help out beer nerds anytime. If you are in the area, swing by and then stop at TAPS on the way back. It's definitely worth the trip when you need to stock up on your Regional selections.
1,124 characters
4
/5
rDev
+7.8%
large place with plent to offer. more isnt just in the name.
good selection of snack foods, beer glasses, wine, hard liquor and most importantly, beer.
walk straight in to the back of the store (past the beef jerky. mmmm, jerky) and the beer is in refridgerated cases along the back wall. plenty of macro cases, imports and domestic craft brews in six packs and singles chilled.
moving to the back right hand corner of the store are racks of beer stored at room temp. these are organized by country/region. they have a good selection of german, british, and belgian beers (the australian selection is a bit underwhelming). i was hoping to find a few more domestic craft brews, and while the ones they had were good, i dont want a six pack of everything. while i understand their policy, not being able to take singles really was disappointing.
as is the policy of not taking out-of-state id. the first time i went in all i had was my tassie drivers license, and while they were nice enough about it, i had to leave my collection of treasures at the counter. i went back later with my passport and had no trouble. now i just have to try and get through my first lot so i can go back and pick up some rogue!!
edit 22/12/05
after seeing the selection at hollingsheads just a bit further south, had to knock this place back to a 4.0, still good, but not that good.
1,378 characters
3.85
/5
rDev
+3.8%
A really nice party store this outlet carries great brews from a number of sources. Located adjacent to the Brea Mall it has a large parking area out front with plenty of nearby fast food places should you care to grab a bite.
The huge store has about 20% of its stock in glass-doored coolers. The rest is in racks but not cooled. Sorted by continent or country the imports are many and of quality.
Lots of glassware and other supplies. Looks like a regular keg stop. This is a pretty fair store with several checkouts.
526 characters
3.7
/5
rDev
-0.3%
Beverages & More (BevMo) is a chain of beer/wine/spirits stores which resemble a beer/liquor/supplies warehouse.
This particular store is about 20 minutes from my place, a decent drive. BevMo carries a lot of wines, a large variety of spirits, snack foods, and bar supplies. They also carry a decent selection of glassware. I got two large weisse beer glasses for under $10. They have a good selection of pint glasses as well as goblets and even a chalice.
The beer section takes up the back right rear quarter of the store. The usual macros are there in abundance, mainly in canned cases or kegs. There's a pretty good selection of quality craft brews on hand. I was able to pick up a 6-pack of Weihenstephaner Hefeweisse, Erdinger Dunkel weiss, Schneider Aventinus, Celebrator doppelbock, Delirium Tremens, and Unibroue's Ephemere. BevMo carries some beers that I've been unable to locate any closer to my home (the Weihenstephaner comes to mind).
BevMo has a good number of American craft brews also (though my trip was for imports this time). Dogfish Head, Stone, Anderson Valley, Redhook, Pyramid, Mendocino, etc. are just some breweries on hand.
Service was average. Not many domestic craft brews were available but I couldn't mix-and-match 6-packs. While checking out, the staffer at the register noticed my bottle of Lindeman's framboise and recommended I put it in the freezer for about 30 minutes to "get it real cold" because it tastes real good that way. Okay. I quickly changed the subject by asking if they scheduled any tasting events. He told me they have tastings on Fridays from 5:00-7:00p.m. and I should call earlier in the day to confirm the event and what style would be featured.
The prices are a bit higher than, say, a Trader Joe's, but the selection more than compensates. Add becoming a BevMo Club member, and you can save some bucks. All in all, a pretty solid place to stock up on a good selection of beers.
1,951 characters
Beverages & more! in Brea, CA
3.71
out of
5
based on
16
ratings.