Marker 20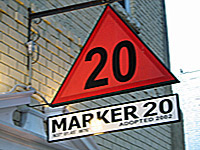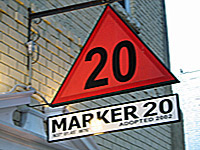 PLACE INFO
Type:
Bar, Eatery
21 E Queens Way
Hampton
,
Virginia
, 23669-4060
United States
(757) 726-9410 |
map
marker20.com
Notes:
No notes at this time.
Added by chrisirae
PLACE STATS
Reviews:

8

Ratings:

pDev:

8.99%
HISTOGRAM
Ratings: 12 | Reviews: 8
Reviews by CpnYates:
3.55
/5
rDev
-3.3%
vibe: 4 | quality: 4 | service: 4 | selection: 2 | food: 4.5
Of the two establishments I visited while in Hampton, this was the clear winner vs the nearby taphouse. While they may have 1/4 of the total number of beer. The service, the food and the feel make all the difference in the world.
Beer wise theres two "nods" to BMC- I actually kind of like that, and the rest semi-craft. Nothing over the top. The food really shines. I recomend the tuna reuben, made with fresh tuna.
The resteraunt has a cool, well used vibe, but is very clean. Love the nautical chart underlays at the bar. Also an nice outside seating area. Worth a visit if you in the area, or a stop if your passing through on 64.
638 characters
More User Reviews:

3.69
/5
rDev
+0.5%
vibe: 3.75 | quality: 3.75 | service: 3.75 | selection: 3.5 | food: 3.75
3.71
/5
rDev
+1.1%
vibe: 3.75 | quality: 3.75 | service: 4 | selection: 3.25 | food: 4
3.45
/5
rDev
-6%
vibe: 4 | quality: 3.5 | service: 3.25 | selection: 3.25 | food: 3.75


3.48
/5
rDev
-5.2%
vibe: 4 | quality: 3.5 | service: 4 | selection: 2.5 | food: 4
As far as the vibe is concerned it is a quaint local bar that hits on all spots. The interior renders it old-fashioned and laid back and it draws a mixed crowd (younger people, after work people, old people). Was busy and service was still good, although the server was a little swamped. My wife had sweet potato fries for an app, a bacon wrapped filet for dinner and a dessert - all food tasted great but the portions are small. As far as beer I am not sure I'd even list this place. Not complaining and the prices are very good for the beer, but with the exception of a few beers (Leffe Blond, Kostricker for example) there's nothing that seperates this bar from any ol' bar w/ just macros on tap. A nice place and I'll come back for football (they have the season ticket) but if I want a beer bar I'll just go next door to the Tap House.
840 characters

3.25
/5
rDev
-11.4%
vibe: 3 | quality: 3 | service: 4 | selection: 3 | food: 3
Marker 20 is not a bad place, the food was pretty decent. The service was pretty good. They did have a decent selection of local brews on tap. The atmosphere leaves a little to be desired.
On tap when I was there where the following: Marker 20 Lager, Starr Hill Jomo Lager, Smithwicks, St. George IPA, Legend Brown, and Legened Porter just to name a few. Also listed was Old Foghorn Barleywine, but they were out of it.
Others on tap were: Guinness, Bell's Two Heart Ale, Heavy Seas Uber Pilsner, Wyder's Pear Cider, Blue Moon, and of course Bud light.
I had the Marker 20 Lager and thought it was pretty good. I'll review it eventually.
642 characters
3.13
/5
rDev
-14.7%
vibe: 4 | quality: 3 | service: 2 | selection: 4
While I was visiting family in Hampton, I checked out places to go on beeradvocate. I found this place and the tap house all on Queensway so I decided to go to both.
I was hoping to order a Pranqster since it was listed on Marker's website and in their menu. Unfortunately, they were all out and had no other Belgian strong ale's.
Top it off, our waitress took a long time to check on us after we got our first round. I would understand if they were busy, but there was only 2 other people at another table.
Not impressed but I didn't try any food. Check the tap house, 2 or 3 doors down.
591 characters
3.53
/5
rDev
-3.8%
vibe: 3 | quality: 4 | service: 2.5 | selection: 4 | food: 4
I've been to Marker 20 several times now. My girlfriend and I frequent the place about once a month for a few beers and tasty sandwiches.
The tapped beer usually include a few local brews; St. George's IPA has often been on hand. Typically Widmer hefe and Allagash white are available. Also there is usually a seasonal or two available on tap. There are several decent micros and imports available in bottles; Bitburger, Aventinus, Samuel Smith, Anchor, Smuttynose, just to name a few. I've yet to pay a visit and not find something that strikes my mood.
The food is very fresh and tasty. I typically get the crabcake sandwich. It comes with a hefty helping of fries and coleslaw for under 8 bucks. I've also had the fried scallops, which comes with fries, hushpuppies and slaw for 8 bucks. The portion of scallops was quite generous considering the price tag. And, I must say, they were the best fried scallops I had in a while. They were tender and sweet, and cooked just to the point of doneness. No overfried balls of rubber here.
Marker 20 also offers a brunch on the weekend which includes a "Make-your-own" Bloody Mary bar. There are typically specials on raw bar items (shrimp, crab, etc.).
The seafood is fresh. The beer selection is decent. It's clean. The people are nice, but not invasive. I always feel comfortable here.
I recommend Marker 20 without hesitation. If your in downtown Hampton and want a decent sandwich and a cold one, pay these folks a visit.
Edit: (6/25/2005)
Last Sunday, (6/19/2005), my girlfriend and I returned home from flying all day. All we wanted was a sandwich and a beer...a perfect excuse to stop at Marker 20. However, we were sadly disappointed.
We approached Marker 20 and there was some obnoxious man playing guitar on the side deck, evidently entertaining the bar-fly drunks. The songs lyrics were about a "rich, dumb, pretty nymphomanic". Also, this man felt it necessary to yell to us as we were walking down the street to "help him out". I felt this was rude and inappropriate.
Secondly, we went into the restaurant and we were ignored. No one acknowledged us for at least 5 minutes. I noted that the bar area looked a bit unkempt. There was a huge plastic bucket laying in between the bar and the seating area, with wait staff fumbling over it. And still no service. Sadly to say, this hasn't been the first time in recent months that this has happened. We've been ingnored before and left without being spoken to or acknowledged. Ditto for this evening.
Essentially, I'm going to give Marker 20 another chance. I do enjoy the food and they always have something good on tap, one of the few places in Hampton that does. I like the location. So for now, my rating stands.
But I'm confused. Marker 20 recently started beer and food pairing dinners for $35 a head. And then to walk into a bar that looks like it was derailed, with some drunk-ass Jimmy Buffet-wanna-be being scummy on the patio, with no service...I'm just not sure what this place is trying to be. Is Marker 20 a reputable find, with a pub-like atmosphere that offers decent beer and food, or just another dive bar with its usual drunkards holding up the bar with Bud Lite specials? In my book, it cannot be both.
I hope the owner makes the right choice.
3,280 characters

3.95
/5
rDev
+7.6%
vibe: 4 | quality: 4.5 | service: 3.5 | selection: 3.5 | food: 4.5
Marker 20 is in a safe part of Hampton. The area is renovated and nice. They also have an outside band from time to time.
The house beer, Marker 20, was kinda boring. I did not let that stop me from ordering an even more boring St. George beer. I decided to top off the night with one off the bottle menu, and wouldn't you know it, they were out of it.
The service was a bit spotty, but ever so eye catching. The selection was not wonderful during my visit, there just were not too many great tap selections and many of the bottle selections were in short supply.
Now as for the food. That was great. I would have given it 5's if I knew what the pink stuff that was supposed to be tartar sauce had in it. Anyway, Marker 20 is definitely a destination for food, has a few decent drafts and bottles, and is most likely one of the better places in the area.
863 characters
4.18
/5
rDev
+13.9%
vibe: 4 | quality: 4 | service: 4.5 | selection: 4 | food: 4.5
The Marker 20 is a very nice establishment in downtown Hampton. At first, it looks like a little hole in the wall but as you go in, it opens up nicely. The bar is to the left and a few tables and booths to the right. Further in the back is more room for seating and the is a spot outside to enjoy your stay.
The food is also good. Not being much of a seafood eater, I took the burger that was tasty. My beer-drinking partner had a seafood platter and said it was very good. The prices are good and there is a little bit of everything on the menu. Portion size is also good.
For the size of this place the beer selection is great. Several great beers to choose from on tap and a few more in bottles. You wont have a problem finding something that you like. From German greats like Bitburger to the local S.T Georges IPA brewed in Hampton.
Service is also a bonus here. Everyone was polite and gave you more that enough time to choose your order. The food to the table was also pretty quick in getting there and was nice and hot. When I order my Bitburger, I went to pay and the bartender told me to wait before I go to pay. To me, it was great to see a place that has that kind of trust in its patrons.
If your in Hampton, it is worth a stop for some good food, beer and a nice atmosphere.
1,300 characters
4.18
/5
rDev
+13.9%
vibe: 4 | quality: 4 | service: 4.5 | selection: 4 | food: 4.5
I checked this place out a few days ago per suggestion from fellow BA Stubbie1. It's a nice quaint little restaurant, located in the middle of downtown Hampton, VA. The atmosphere was very nice, it wasn't too loud and wasn't too quite. There was just the right mix of background noise and music. The beer selection was good, they offered a nice variety of styles. The server was very courteous and friendly. Her only downfall was that she didn't bring or offer me a glass. After I ask for one, she ever so kindly brought it to me. The food, which was primarily seafood, was great. The prices were reasonable. For starters, my wife and I had the baked crab dip, which was outstanding. The appetizer was $6.50…well worth the money! For the main course, we ordered a seafood dinner for 2, which included 2 soups, 4 middle neck clams, 4 oysters, 10 shrimp, 1/4lb of crab legs, and hushpuppies. The dinner price was $15.00, which was very reasonable. I'm very grateful that this is one of the few places in the area that had the guts to serve beers other than the Big 3. I would highly recommend the Marker 20 to anyone...
1,121 characters
Marker 20 in Hampton, VA
Place rating:
3.67
out of
5
with
12
ratings