Arsenalnoye Traditional
| Baltika Breweries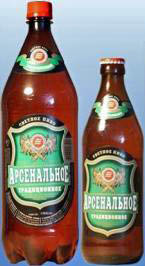 BEER INFO
Brewed by:
Baltika Breweries
Russian Federation
baltika.ru
Style:
Euro Pale Lager
Alcohol by volume (ABV):
5.10%
Availability:
Year-round
Notes / Commercial Description:
No notes at this time.
Added by brewdlyhooked13 on 06-28-2003
Reviews: 8 | Ratings: 17
3.53
/5
rDev
+11.7%
look: 4 | smell: 3.5 | taste: 3.5 | feel: 3.5 | overall: 3.5
Baltika's Arsenalnoye Traditional pours a clear deep-golden color with an orange cast beneath a massive head of frothy off-white foam. The head retention is excellent and it leaves some very nice rings of solid lace at the outset of the glass.
The nose is clean and fresh with a mildly sweet and grainy malt (it's somewhat doughy) with some non-descript, semi-spicy/herbal/floral hops mixed in.
It's lighter bodied in the mouth than many Russian beers, but that makes sense since this is a "traditional" lager at only 5.1%. It's gently crisp and lightly tingly on the tongue with a very-fine bubbled, moderate carbonation.
The flavor is also lighter than many Russian lagers, but that's to be expected as well. It's grainy, lightly sweet malt dominates the flavor, and it's nicely threaded through from at least the mid-point to the finish with spicy, floral, and herbal hops. An odd mettalic/mineralish edge enters in the finish, but it's not overly distracting (and, to be honest, kind of expected). It doesn't appear that there's any adjunct in use here, or if there is, it's at a level that allows what real malt is there to show through. It's not a complex beer, and it moves across the palate basically one-sided except for the bitterness that rises just before the swallow. It's solid, and balancing, leading to a dry finish with just a touch of lingering spicy, malt-wrapped hops.
Overall, it's a pretty decent all-around European lager that doesn't have the finesse of a well-made Czech pils or German lager, but has charm in its well-balanced block of hoppy maltiness. One of the better, straightforward Russian lagers.
1,643 characters

3.53
/5
rDev
+11.7%
look: 4 | smell: 3.5 | taste: 3.5 | feel: 3.5 | overall: 3.5
Another 2.5L plastic bottle of lager from the good peeps at Baltika! I am curious about beer in plastic bottles, but yesterday does not seem to have had too many negative effects on me. Here goes.
I initially got two fingers of rocky ecru head from my pour and it slowly sunk like the setting sun. Color was a deep golden-amber with NE-quality clarity. BUPGOO! Nose had a cereal quality to it, leading me to wonder about the presence of adjuncts. Mouthfeel was medium and it had a honey-like lager sweetness to it on the tongue. Forget what I postulated about adjuncts - this was nice, simple clean lager. Finish was on the sweet side, but certainly drinkable.
661 characters
2.9
/5
rDev
-8.2%
look: 2.25 | smell: 2.75 | taste: 3 | feel: 3 | overall: 3
Golden color with a fluffy head with very short retention.
Very light aroma of pale malt and hints of herbal hops.
Flavor of sweet grainy malt, minerals, spices and herbal hops. Dry aftertaste with a mild bitterness.
Light to medium body with appropriate carbonation.
Its mineral character bothers less than in others beers, but made me check the label for adjuncts. Anyway, it is a mild average lager to please most people without risks.
438 characters
2.68
/5
rDev
-15.2%
look: 3.5 | smell: 3 | taste: 2.5 | feel: 2.5 | overall: 2.5
This beer experience starts off quite promising, as it pours an attractive dark gold (thanks to a touch of caramel malt) with an ample but tight head. The head fades quickly, though, leaving no chance for good lace but giving ample warning of the bad news to come. The nose is malty, but with a touch of tinniness. The mouth is thin and too tingly. The initial taste is bland, almost metallic (what happened to all of the malt?). Hops come in surprisingly strong in the finish, but the aftertaste is a more unpleasant metallic bitter rather than a lovely flowery hoppy bitter. I've had worse beers, but I've had much, much better, too.
635 characters

2.58
/5
rDev
-18.4%
look: 3 | smell: 2.5 | taste: 2.5 | feel: 3 | overall: 2.5
The aroma is mostly corn malt with a little bit of hops. The appearance is neon yellow with a medium head that fades fast. The flavor is simple with a sweet corn malt and some not so great bitterness. The palate is like many macro lagers. Overall it's not that good but drinkable.
280 characters
3.73
/5
rDev
+18%
look: 4 | smell: 3.5 | taste: 3.5 | feel: 3.5 | overall: 4.5
I found this little gem on sale for $0.50 for a half-liter. Heh, that's a cent a centiliter. I like that.
Needless to say, my expectations were incredibly low. Especially considering that my experience with Russian beer has been mixed (at best).
But this beer is pretty good. It has a good, solid, bready taste with a nice crisp finish and no real off-flavours. As it warms, it takes on a slightly soapy characteristic, but it's a pils, it should be drank fairly cool anyway so that isn't really a concern.
It's a great beer to come home to, I'm definately pleased that I grabbed a bunch of these guys. It isn't a Grolsch or a Carlsburg, but it is still quite good.
Final Verdict: It makes me happy.
712 characters

3.6
/5
rDev
+13.9%
look: 3.5 | smell: 3.5 | taste: 3.5 | feel: 3.5 | overall: 4
Good beer for $4/2qt. bottle. Not weak in the taste dept., flavorful and great medium carbonation. For the low price of this beer you get a better brew than Heineken, Becks, and similar mass market $9/6-pack offerings. Enjoy this and give your wallet a break.
259 characters
3.55
/5
rDev
+12.3%
look: 3.5 | smell: 3.5 | taste: 3.5 | feel: 3 | overall: 4
Of all places on the world, I found this beer (as well as four other) in a coast town in Southern México called Zihuatanejo (remember the movie The Shawshank Redeption?).
Pours a golden yellow, almost amber, good 1 to 1.5 inch white head and a matching long lived lacing.
Smell is very grainy, almost as a recently mowed field of tall grass; remembers me a Spanish beer called Estrella Galicia.
Taste is firm, well balanced between malts and hops.
Has a good bitter aftertaste.
Probably the one I liked best of all 5 I had.
¡Salud!
539 characters
Arsenalnoye Traditional from Baltika Breweries
3.16
out of
5
based on
17
ratings.