Baltika Big Mug Amber (Bolshaya Kruzhka)
| Baltika Breweries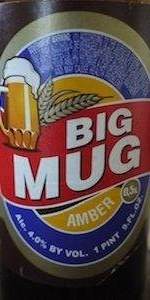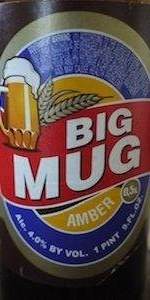 BEER INFO
Brewed by:
Baltika Breweries
Russian Federation
baltika.ru
Style:
American Amber / Red Lager
Alcohol by volume (ABV):
4.00%
Availability:
Year-round
Notes / Commercial Description:
No notes at this time.
Added by BeerAdvocate on 11-24-2010
Ratings: 6 | Reviews: 6
Reviews by rodney45:

1.63
/5
rDev
-22%
look: 1.5 | smell: 1 | taste: 2 | feel: 2 | overall: 1.5
A: Firstly, it comes with the words amber Ale printed on the bottle, which clearly it cannot be. slightly burnt corn yellow. No head, it might have been enamel colored, but it took off running. Ive seen better head retention on carbonated water.
S:Smells like the Egyptian wing of the metropolitan museum of art. Honestly im not kidding. Kinda like stale paper, almost like a library. Nothing classically beer like.
T: Light and adjunct tasting. Slightly like corn on the cob, and whole wheat bread. No hop character to speak of. Slight sweetness, and it seems under attenuated. Its not awful, just not very present in any sense of the word. Very watered down.
M: Light body and over carbonated.
O: At 99cents this beer wasnt awful, i bought it mainly for the look and thickness of the bottle (homebrewer). Its too watered down to be anything close to competitive with even the big macro brews. I would choose them over this only because I fear what probably went into this beer, being an import from Russia. But that didnt stop me from drinking the whole thing. 4% abv is a bit weak in general, but this couldnt have gotten me tipsy if i drank a 5 gallon bucket full.
1,176 characters
More User Reviews:
2.17
/5
rDev
+3.8%
look: 2 | smell: 3 | taste: 2 | feel: 1.25 | overall: 2
Into a pint glass this pours a bronze gold, high clarity with racing carb trails visible. Thin scant head of white foam fades fast, leaving a thin veil of scabs masquerading as beer foam. Looks about how questionable you might think, judging from the hilariously bad label. They even worked the government warning in as a "design element" for chrissakes.
Smells like wet barley, ok.. that's alright. Sweet caramel, toasted grains.
Tastes like... oh. Wow that's bad. Manila folders soaked in stale beer. Papery oxidation front and center, grain husks minus the kernels. Like a crumpled piece of paper, this belongs in the trash can/recycle bin. Weak and flaccid, astringent, metallic, watery, just terrible. Serious bad beer face. Nothing redeeming about it whatsoever. I'll save the label as a warning to others, it was good for a laugh at least.
850 characters
1.5
/5
rDev
-28.2%
Poured from a 500ml (1.09 pint fl oz) bottle into a tulip glass.
I'm still on Eastern Europe/Russian/Balkan/Black Sea tasting exploration. Pours golden, and NOT amber; Head has volume with medium-large bubbles; Not long-lasting at all: Head fizzles out fairly quickly. Nose has hops, but is tsunamingly diluted with rice (probably sub-standard hops from the local 99-cent store). Upon drinking, I did detect a strange mixture of water, apple cider (both nose and throat) and nursing home. A very weak product - It tastes like the brewer intentionally skipped a brewing process with Big Mug so they could get it out on the market cheaply and quickly. The more I drink it, the lower the rating I keep giving it. Baltika Breweries: Come on: You can do better than this! Big Mug: Big "No Thank You" - NEXT!
803 characters

3.03
/5
rDev
+45%
look: 3.5 | smell: 3 | taste: 3 | feel: 3 | overall: 3
I hate disinformation in advertising! This is an amber?!? OK, fine, it is getting reviewed as such. I got it in a 1.5L plastic bottle, but I remain highly wary.
It produced a fizzy finger of off-white head with lousy retention. Color was a golden-amber with NE-quality clarity. Nose had a mixed fruit smell, like red and black raspberries. Mouthfeel tended towards weak, not quite watery, but not attention-getting, either. Taste was berry-like and not unpleasant, but not memorable, ether. Finish had just enough residual sweetness to make it worthwhile. Sorry, but this was an alternative to insomnia.
605 characters
1.65
/5
rDev
-21.1%
look: 1.5 | smell: 1.5 | taste: 1.5 | feel: 3 | overall: 1.5
500ml bottle. Brewed just a month ago.
Pours a pale gold, not amber with a fizzy white head that dissipates with no lacing.
The smell is nearly nonexistent besides a hint of malt.
the flavor is paper, vegetable, malt, and a hint of herbal hops. Not very good.
Glad it was only 99 cents because it is worth jsut a bit less.
328 characters
2.58
/5
rDev
+23.4%
look: 2.5 | smell: 2 | taste: 3 | feel: 2.5 | overall: 2.5
Poured from a 1.5L Plastic Bottle.
A: dingy amber color, millimeter of head that disappears quickly, no lacing whatsoever
S: what i imagine a dingy, musty, inner city in Russia would smell like
T: actually much better than what I was expecting; this is a very light amber ale at 4% with a subtle hint of brown sugar... other than that don't expect much
M: very, very little carbonation... it's almost like drinking a light cider
O: exactly what I'd expect from an obscure Russian beer in a plastic bottle... make sure to talk in a Russian accent when you drink this
570 characters
Baltika Big Mug Amber (Bolshaya Kruzhka) from Baltika Breweries
Beer rating:
0
out of
100
with
6
ratings