Nevskoye Classic Ale
| Baltika Breweries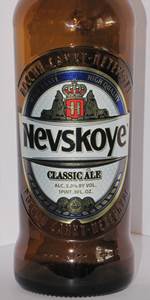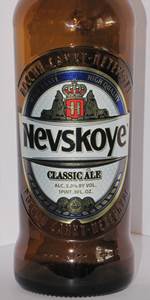 BEER INFO
Brewed by:
Baltika Breweries
Russian Federation
baltika.ru
Style:
Euro Pale Lager
Alcohol by volume (ABV):
5.00%
Availability:
Year-round
Notes / Commercial Description:
No notes at this time.
Added by cpolking on 03-30-2012
HISTOGRAM
Ratings: 12 | Reviews: 7
Reviews by crossovert:
3.21
/5
rDev
+8.1%
look: 4 | smell: 3 | taste: 3.5 | feel: 3.5 | overall: 2.5
500ml twist off. Produced on 14.11.11. BB 14.11.12.
It pours a clear gold that is medium to light. The head is foay and white and leaves nice lacing.
The smell is dull, some grain here and there, some mineral water, almost no hops.
The flavor is lightly fruity, unoffensive. Slight sweetness in the finish. Pleasant.
It isn't the worst thing ever.
351 characters
More User Reviews:
2.91
/5
rDev
-2%
look: 3.5 | smell: 3 | taste: 2.75 | feel: 3.25 | overall: 2.75
A: The beer is clear yellow in color and has a moderate amount of visible carbonation. It poured with a finger and a half high bright white head that gradually died down, leaving a thin layer of bubbles covering the surface, a collar around the edge, and lots of lacing down the sides of the glass.
S: Moderately strong aromas of sweet aromas are present in the nose along with some hints of apples.
T: The taste is similar to the smell and has bits of sweetness and hints of apples. No bitterness is perceptible.
M: It feels light-bodied on the palate and has a moderate amount of carbonation.
O: This beer doesn't have adjunct malt flavors compared to many of the other beer in the style, but seems a little bland and sweet without any noticeable hops.
754 characters
2.66
/5
rDev
-10.4%
look: 3.5 | smell: 2.5 | taste: 2.5 | feel: 3.5 | overall: 2.5
Although the main front label is written in the Roman alphabet, the letters engraved in the bottle and neck label are written in Cyrillic. There a mirror image of two Sphinx's adoring the label. Coming in a 500 ml bottle, on to the beer:
Very pale gold in color, toped off by a thick soapy head that retains pretty well. Whispy strings of lace leave their mark around the glass. The nose does not impres much. Well, at least it's better than being completely skunked. There's grain and an adjuncty sweetness, whcih gives me the impresion of it being more of an industrial lager than any ale.
Mild taste as the label suggests, but the quality lacks. It does tastes like there's some adjucts to it, or maybe that's just the fermentation screwing around with the malt. Steeley, husky, sweet, very similar to any national lager. Its light body and crisp character are nice, and can be put down without a whole lot of trouble. The problem is I don't really want to.
963 characters
3.56
/5
rDev
+19.9%
look: 3 | smell: 3.25 | taste: 3.5 | feel: 5 | overall: 3.5
26 Sep 2017. From Combini. In Bavaria hefe glass. Playing Draw Love. Ultra drinkable, light malty sweetness, adequate bitterness, no cardboard notes nor other defects. Very good feel and refreshing.
198 characters
2.54
/5
rDev
-14.5%
look: 3.75 | smell: 2.75 | taste: 2.25 | feel: 2.5 | overall: 2.5
Poured from a curvy Russian pint bottle that looks a little like an onion dome you might find around Red Square. Poured into a pint glass. Pours clear and yellow with a thin, substantial head like an Errol Flynn mustache. Smells airy and effervescent with mild, hoppy aromas much like a mass-produced all-American beer... Tastes a little flat and watered down, but the label does advertise its "mild taste." True to form. Nothing much to say here.
453 characters
3.27
/5
rDev
+10.1%
look: 3.5 | smell: 4 | taste: 3 | feel: 3 | overall: 3
The beer pours a dark yellow golden in color, almost honey-like. There is a half-inch head of pure white foam that leaves fairly thick lacing, but not as thick as the regular Beer.
The aroma is deep, rich grain, old barn, touch of lager "funk." The taste follows the aroma, but is weaker, and with a slight sweetness.
The mouthfeel is carbonated, but not overly so, a bit creamy, but not as creamy as the regular Beer.
426 characters

3.5
/5
rDev
+17.8%
look: 3.5 | smell: 3.5 | taste: 3.5 | feel: 3.5 | overall: 3.5
3.03
/5
rDev
+2%
look: 3.5 | smell: 3 | taste: 3 | feel: 3 | overall: 3
yeh -- I thought it would suck but actually not bad --- twist top was convenient as I didn't have to get up for an opener - but kind of a minus -- it reminds me of a beer I'd be drinking at a youth hostel at balmers or some hole in the wall pub in Prague ...
258 characters

Nevskoye Classic Ale from Baltika Breweries
Beer rating:
2.97
out of
5
with
12
ratings