Town & Country Liquor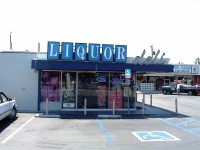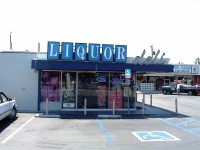 Store
111 N. Raymond Ave.
Fullerton
,
California
, 92831
United States
(714) 871-7531 |
map
Notes:
Reviews by TheLongBeachBum:
TheLongBeachBum from California
3.7
/5
rDev
-5.9%
After meeting fellow local BA OCbrewfish at Hollingshead's Delicatessen, I decided to take him up on his most gracious offer of a tour around Fullerton.
So after a few brews at Hollingshead's Deli we headed out to the first stop in Fullerton.
Town & Country Liquor has an unassuming exterior that I wouldn't give a second glance to normally, but thanks to my local guide we knew otherwise and headed straight to the back of the store past the counter which is on your right as you enter.
The front shelves are filled with wine and liquor, you need to hit the coolers right at the back of the store to find the beer. The right hand side coolers have the ubiquitous macros whilst the ones to the left have the more palatable micro offerings.
Lots of German brews with a smattering of US micros, some specials land quite a few British offerings including some of the excellent Traquair brews from Scotland. The German range is by far the widest of the regions represented, maybe even more than the US brews. To the left of the coolers on the back wall, a small passageway runs to the back of the store, don't miss this, for there are more coolers down here, make sure you check out the first of these on your immediate right as you head down the passageway, for this one contains many Specials (like the Yulesmith) and 750's mostly from Belgium but some are from Unibroue too. A decent selection, way above average, and one of those gems that seems to hold onto special releases a little longer than most, so it is always worth checking out in case you missed any special releases, for you may find them still here lurking on the shelves.
Service seemed a little laid back and we were left alone, but maybe it was because we looked we knew what we wanted. I'm sure if we asked we would have had some help.
It's not that far from the 57 Freeway and as others have stated it Town & Country Liquor is in an older part of Fullerton. Not worth a special ride out but definitely worth stopping in here if you are passing close by, or better still frequenting the other BeerFly establishments in Fullerton.
Thanks to OCbrewfish for the ride out to the Town & Country!
Last Visit: Saturday 16th July, 2005
Jul 17, 2005
More User Reviews:
IceAce from California
3.87
/5
rDev
-1.5%
vibe: 3.5 | quality: 4 | service: 3.5 | selection: 4.25
May 07, 2016

Halcyondays from California
4
/5
rDev
+1.8%
I decided to check this place out as it was only a short drive over from Bootlegger's. Pretty much a standard liquor store until you reach the beer. They've got the CA, but a very impressive import selection including a couple things I've never seen like St. Sylvestre La Gavroche which I'll be sure to pick up the next time I'm in the area. I also saw the full lineup of Goose Island available in CA. I purchased a Malheur 12 which I have never seen before either.
Service was fine, I was rung up promptly and easily. I was quite surprised at how good this liquor store was, quite a gem here in Fullerton.
May 16, 2010

vacax from California
3.85
/5
rDev
-2%
A hole-in-the-wall style place you would never suspect cared about beer, unless you were in the parking lot and saw the "over 400 beers" sign. Though I actually doubt that number claimed.
The good news about Town & Country is that all the craft beer is in the cooler. They also break down a lot of the six packs and sell them as singles. A good place to try some beers you are reluctant to buy six of, though on the other hand they do not offer the six packs at all on these varieties. As a hole-in-the-wall type place, though, I might double check the freshness on styles that are meant to be drank fresh.
This is basically a minimart mom and pop style operation. This means there is no customer service beyond the cashier, but the cashier doubles as proprietor and will know their stock at least. They had a respectable number of craft beers, nothing I was shocked to find though. I did come here looking for something, and it was last year's special release of The Bruery's Partridge in a Pear Tree. I had already checked around the OC at places like Hi-Times and Hollingshead's and this is the only place that had it. I snagged the last stock they had and was happy.
Oct 08, 2009

womencantsail from California
3.9
/5
rDev
-0.8%
Yet another unassuming spot for craft beer. You would think from the outside this place is just another dumpy liquor store.
The craft beer is split up into six packs and singles. The six packs are in the right corner on the far wall and there is only one door of them. I didn't really check them out too much as I was not interested in purchasing six packs.
The BMC beers are to the left of the sxers and then there are about four doors full of craft/imported singles, and then another two around the corner. Pretty decent selection of Belgian and German imports. A rather interesting mix of American craft. Nothing too hard to find, but offerings from Stone, Double Dead Guy, some Avery, some DFH, some AleSmith Sierra, and limited Lost Abbey offerings.
Good prices (I usually see the Double Dead Guy for 15, they were selling it for 11 and change). Most beers were "average" price although (like I mentioned) there were a few "steals".
The service was not all that great (I wasn't even greated when I walked in), but I generally don't mind that as I know what I'm looking for.
A nice little store to stop in if you're nearby, but not the best I've ever been to.
Jul 25, 2009
sweetbrew82 from California
4.05
/5
rDev
+3.1%
As you pull up into the parking lot of this place, you'd never guess that a lot of great craft beers are hiding out inside, just waiting to be snatched up by locals (like me) who actually know this place for what it is. Walk in and ignore everything on the left hand side of the store (if you're a beer lover). Starting on the right side of the fridge, you'll find an impressive selection of craft beers that would satisfy most beer enthusiasts. We're talking Russian River (Blind Pig, Pliny the Elder), Alesmith, Fantome, Young's, Anchor, and Stone, just to name a few. But, no hard-to-find offerings from some of the premiere breweries.
The guy who runs the store is pretty friendly, just mention that you found the store via this website and he'll be a bit more friendly. Gave me the heads-up on the Goose Island Bourbon County Stout that was about to arrive about three days earlier than most people anticipated. All in all, a good place to shop at every once in a while for craft beers that BevMo might not have at the time. Plus, unlike BevMo! you can talk to someone who actually knows something about good beer!
Nov 20, 2008
DoubleJ from Wisconsin
4.2
/5
rDev
+6.9%
(Updated 11/14/08)
On the outside, it looks like a boring convinience store. Even as you walk in, it looks like a boring convinience store. At least this is what I used to think. You see, once upon a time my mom would drop me and my brothers off at my grandfather's school nearby once a week because she was taking college courses. My grandfather would sometimes drive us here as it was on the way home, and here he would buy us a Coke or something sweet and fizzy. Ah, nostalgia. Okay, back to the present. If I had walked further into into this small establishment, I would be upclose to the display of craft beers.
The key to the success of this shop is the fact they sold smaller 12 ounce bottles for individual sale, which makes trying out different beers more afforable and fun. Make your own six pack, buy some magnums, or find a vintage ale sitting in the refrigerator. All the beer is kept cool, and the 12 ounce bottles/cans one can choose from can turnover quickly. Plenty of variety here, no question about that. Some beers I've found here include St-Ambroise, Aventinus Weizen-Eisbock, Coopers, Pliny the Elder, Goose Island Bourbon county Stout, Avery....I can't name them all, just bring yourself over here, delight yourself with the mom and pop who run this place, drink your beers, and come back for more.
Mar 09, 2007

SwillinBrew from California
4
/5
rDev
+1.8%
Fellow BA Alecholic turned me on to this place.
It's in a strip mall and you wouldnt think they had good brew here, but they do. The coolers are in the far back left of the store and make sure you go down the back aisle to see all the selection.
There's all the popular micros ie stone, rogue, alessmith, etc but you also get the ones you dont normally see in a small liquor store of this size, heck even bevmos for that matter. I used to get dogfishhead 120 minute IPA and WWS here back when it was distributed. I also seem to always be able to get the Gouden Carelous Grand Cru and Noel in additon to many other belgians and british brew. I was also able to get a 3L of Oak Aged AB here for $45. Not too shabby. I wish the liquor stores by my house were like this.
The owner and his wife were very polite and said if i didnt see something, to let them know and they would get it. They also offered to carry my case of double bastard to my car. I didnt need that much help though. Good place this one and good people.
Dec 21, 2005
Boilermaker88 from California
3.7
/5
rDev
-5.9%
Town & Country Liquor is a small shop in an older part of Fullerton a couple miles west of the 57 Fwy. On entering, the beers are located toward the right and back. Once past the macros, the selection of German and Brit beers in the coolers stand out. I saw a number of (for me) previously unknown German breweries. The selection of Belgian and U.S. beers was significantly less impressive. I was particularly surprised by the lack of craft brews from the U.S.
The service was average; no one offering any assistance until I arrived at the checkout counter. Even then, the guy didn't come off as very friendly, considering I was purchasing a number of his German brews.
Overall, I'd say this was a decent store with a nice German and Brit selection. Not a must-stop store (especially with Dome Liquor and BevMo nearby) but one to check out if you happen to be driving by.
Jan 26, 2004
jcalabre from California
4.35
/5
rDev
+10.7%
I visited this store a few months ago. It's in an older area of Fullerton. This is a part of the county that I normally don't go through, but since I was in the area, I stopped in.
It was well worth the visit.
They have a very good selection of micros, far better than your average liquor store. The folks were quite friendly and knowledgeable.
Highly recommended
Sep 15, 2003
Town & Country Liquor in Fullerton, CA
Place rating:
3.93
out of
5
with
12
ratings