Dominion Winter Brew 2007
| Old Dominion Brewing Company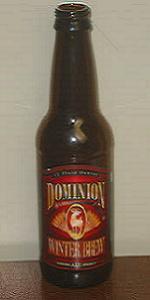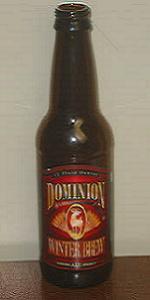 BEER INFO
Brewed by:
Old Dominion Brewing Company
Delaware
,
United States
olddominion.com
Style:
American IPA
Alcohol by volume (ABV):
6.60%
Availability:
Limited (brewed once)
Notes / Commercial Description:
No notes at this time.
Added by MaltyGoodness on 11-17-2007
This beer is retired; no longer brewed.
HISTOGRAM
Ratings: 12 | Reviews: 9
None found.
More User Reviews:
4
/5
rDev
+14.3%
look: 4 | smell: 4 | taste: 4 | feel: 4 | overall: 4
12oz bottle into nonic.
Crystal clear honey amber hue with a thin frothy off-white head that settles to an even cap.
Biscuity malts with a sweet and not-so-bitter hop aroma. A little bit of caramel sneaks in.
The malts are pretty well hidden behind some very sharp hops that are loaded with a citrusy grapefruit flavor. Medium bodied.
Not a bad winter brew. Seems a little bit on the tame side to be an American IPA (seems more like a sharp American Pale Ale). It's a really drinkable beer with good complexity. Recommended.
529 characters
3.9
/5
rDev
+11.4%
look: 4 | smell: 4 | taste: 4 | feel: 4 | overall: 3.5
12oz received as a cool extra in trade with dsigmon .. even cooler when I found out it is an IPA! Shared with Brenda .. mine in my New Belgium snifter.
1" head sticks around for a while.. leaves rings of lace as the polished copper/red brew drops.
Citrus and lite piney hops mix with fairly thick caramel and toasted malts... smells yummy albeit slightly sweet for an IPA .. not gonna dock it though ... still smells great.. no problems at all.
Big lingering bitterness from start to finish .. mildy distracting .. but not serious. Toasty and caramel malts come in mid palate .. along with a pretty good blast of hoppiness.... I would guess Centennial ... more piney than citric. Medium body for style and a nice prickly carbonation.
This beer deserves a better rating ... very nice ... drinkable and a good hop delivery device... I wonder what the ABV is.. feels like it would be high.. but not as high as a DIPA.
My 3rd beer of the night from dsigmon ... and unfortunately my last (tonight) .. Big thanks goes out to Brock ... even Brenda says thanks (she likes hoppy beers).
1,082 characters

3.28
/5
rDev
-6.3%
look: 4 | smell: 3.5 | taste: 3 | feel: 3 | overall: 3.5
12-oz. bottle poured into a pint glass.
A = Clear reddish brown, small head with medium bubbles, no lacing of which to speak. I really liked the clarity and color.
S = Piney scent of hop, with sweet malt caramel undertones.
T = Fair amount of hops with both citrus and pine, good bitterness in the finish, caramel and rounded flavor of malt in the middle. Honestly, I am not sure I would have called this an IPA. There is a fair amount of hops, but the malt is very present, too. I would have tagged it an American Pale Ale or an American Amber/Red Ale.
M = Medium body, too much fizz in the carbonation tends to dissuade you from really holding the liquid in your mouth to get a full taste.
D = A good beer but not really much different than their flagship Dominion Ale. Has a distinctive flavor I associate with their beers, possibly from the yeast strain.
863 characters
3.18
/5
rDev
-9.1%
look: 4 | smell: 3.5 | taste: 3 | feel: 3 | overall: 3
12oz. bottle
Pours a clear reddish-amber color with a small white head that fades. Mild, spotty lacing on the glass.
Aroma is rather caramel malty with a nice herbal hop smell.
Caramel malty upfront, a rather restrained herbal hop flavor sets in with a slightly harsh bitterness. I'd rather see more hop flavor, and a few less IBUs. Finishes rather dry with a lingering hop taste and bitterness.
Medium body, mild carbonation.
Well, this is nothing to get excited about over the winter season. Other than bitterness, this IPA is lacking in most common IPA characteristics. It really seems like they took the regular Dominion Ale and doubled the hops.
655 characters
4
/5
rDev
+14.3%
look: 4 | smell: 4 | taste: 4 | feel: 4 | overall: 4
Had this on tap at Mahaffey's the night. They're about the only place where I ever see Dominion products on tap any more.
The beer pours a nice copper color with good head retention and fair lacing. I get some nice citrus on the nose (smells like sort of a dumbed down IPA), but not much else. Still, what there is smells nice enough. On the palate it tastes pretty much like a text book IPA, wth good balance between the hops and malt. The hops predominate, but it's not over the top bitter by any means. The beer has a medium mothfeel and a good finish.
A decent enough beer, if nothing particularly special. However, you wouldn't dump out your Sierra Nevada Celebration Ale to drink this stuff, and given that there are plenty of other good X-mas beers out there, I probably won't order this one again.
807 characters
3.35
/5
rDev
-4.3%
look: 3.5 | smell: 3.5 | taste: 3 | feel: 4 | overall: 3.5
BTW, since it's unlisted, the ABV is 6.6%.
Bottle from a six-pack I picked up at Whole Foods in Tenleytown, poured into a heavy 14oz glass mug.
The color is a transparent cherry amber. Thin head forms and falls to a film in a couple minutes. Minimal lacing.
The smell is heavy on the malt up front, followed by strong citrusy hops. Which is exactly what comes through on the first taste. I sensed some coffee and cherries in the background, but it's probably attributable to roasted malt and the intense citrus hops. This is not the first time I've had it, and I have since warmed up to this beer, which I was initially disappointed with.
Mouthfeel is good, bit high on the carbonation. But the heavier viscosity works - and matches the depth - of this conundrum of a winter amber ipa.
All-in-all, this is a good beer, one that's definitely grown on me, but I think it's a bit confused about it's style.
913 characters
3.77
/5
rDev
+7.7%
look: 3 | smell: 3.5 | taste: 4 | feel: 3.5 | overall: 4
Beer# 3 in my 2008 365 Days of Beer Journey. Anyway...
1) A: Pours a dark copper body into a Duvel tulip glass. A thin, egg-white colored head forms and retains pretty well w/ patchy lacing sticking around half-way down the glass.
2) S: Mm, hops. I would have guessed this an Red Ale moreso than a IPA due to the citrusy, resinous hops. They're assertive and prominent but not at your typical IPA level. Pretty solid malt background of caramel, raw can sugar and toasted notes. Interesting.
3) M: Light-med. body, low-med. carbonation. Soft and coating w/ a full and creamy M.F.
4) T: Tasty stuff here. This dark IPA has a delicious bite of citrus, pine and oily hops and is nearly a clone of SN Celebration but not nearly as good, unfortunately. The balance is off here. Toast, grain and dark honey-sweet malts w/ caramel 'n a shadow of toffee and diacetyl.
Finish is bone-dry w/ a clinging bitterness and some tea-like tannins.
5) D: A solid W.W. and drinkable. Not unique or world class, but pretty well rounded. However, I think it's confused as to what it is and the malts don't balance the hops well enough, which need to be amped up, by the way.
1,161 characters
2.53
/5
rDev
-27.7%
look: 3 | smell: 2.5 | taste: 2.5 | feel: 2.5 | overall: 2.5
Poured red-amber with a faint head. Aroma is malty upfront, with some sour notes. Diacetyl comes in as it warms. Flavor is extremely bitter, with a hoppy astringence, especially in the tail. Body is too thin to stand up to the hops, with not enough malt presence either. Aftertaste is astringent and bitter, too much so.
320 characters

3
/5
rDev
-14.3%
look: 3 | smell: 3 | taste: 3 | feel: 3 | overall: 3
I poured this hoppy beer into my tumbler at 50 degrees. The beer was red looking with a very slim head. The smell was spicy, hoppy like a cypress tree. Thas what it tasted like to to me, spruce or something. It had an aftertaste that was bitter to me. I will not buy again.
273 characters
Dominion Winter Brew 2007 from Old Dominion Brewing Company
Beer rating:
3.5
out of
5
with
12
ratings