Dominion Big Thaw Bock
| Old Dominion Brewing Company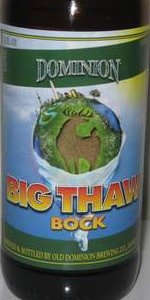 BEER INFO
Brewed by:
Old Dominion Brewing Company
Delaware
,
United States
olddominion.com
Style:
Maibock / Helles Bock
Alcohol by volume (ABV):
7.50%
Availability:
Spring
Notes / Commercial Description:
As the chill of winter melts away, a new, lush world is revealed. Brewed with 100% malted barley and authentic german noble hops our Maibock is a perfect companion for the season of Spring.
Added by CuriousMonk on 02-05-2011
Ratings: 62 | Reviews: 27
3.93
/5
rDev
+7.7%
look: 4 | smell: 3.5 | taste: 4 | feel: 4.5 | overall: 4
Appearance: Pours a clear straw color with a medium amount of carbonation. About 1.5 fingers of white head, very good retention and lacing.
Smell: Bready and biscuity malts are present but pretty light, followed a surprising amount of citrus hops (orange and lemon zest are quite prominent). Smells rather hoppier than I anticipated.
Taste: Light bready malts up front, with a bunch of great citrus flavors following. The finish is semi dry and tastes of orange and lemon zest. I had this beer right after a SN Glissade, and the hop profile on this beer is much more prominent. I liked this beer quite a bit better.
Mouthfeel/Overall: This beer is light to medium bodied, leaning towards medium. Moderate carbonation and very smooth drinking. I quite liked this beer. Hoppier than I was expecting, and very tasty overall.
824 characters

3.28
/5
rDev
-10.1%
look: 3.5 | smell: 3 | taste: 3.5 | feel: 3.5 | overall: 3
12oz bottle poured into pint glass - thanks to brees6221
Pours a clear straw color with a faint orange hue on the edges. A thick, buoyant head retains well with some patchy, stringy lacing on the glass.
Toasted grain and lemongrass with some very faint floral hops. Some softer fruit tones as well, a bit sweet, although somewhat muted overall.
Some bitter floral hops with lemon peel and rind. Citrusy zest and some fruit sweetness. Notes of banana and clove. Toasted grain malts with some honey edges. Finishes with some hop bitterness and a bit of warmth.
Medium bodied, fairly strong carbonation, tingly with lingering dryness on the tongue. This drank alright but it's definitely not something I'd seek out.
719 characters
3.26
/5
rDev
-10.7%
look: 4.5 | smell: 3.5 | taste: 3 | feel: 3.5 | overall: 3
Poured from a 12 oz. bottle into a Samuel Adams Boston Lager glass.
Appearance: Pours a translucent, pale brown color. Has a thick, fizzy head that dissipates slowly and leaves some impressive lacing.
Smell: Some grainy, buttery malts backed by a bit of herbal hoppiness.
Taste: Has a clean hoppy bitterness up front with a slight grassiness. Finishes grainy with a clean, lager crispness. A little subdued in flavor but not bad overall.
Mouthfeel: Crisp and refreshing.
Overall: A pretty average bock but a good spring seasonal. It is certainly a refreshing and sessionable beer but lacking a bit in the flavor department. I might pick up a sixer for drinking out on the porch on balmy May evenings...
707 characters

3.48
/5
rDev
-4.7%
look: 4 | smell: 3.5 | taste: 3.5 | feel: 3 | overall: 3.5
A: Pours a bright translucent golden yellow with a fluffy white head that leaves nice lacing.
S: Bready malt with a faint note of noble hops.
T: Sweet from start to finish, this is a classic Maibock. There's just enough in the way of hops to keep the sweetness in check, but the malt's the star here.
M: Richly carbonated, it's ever so slightly on the thin side, but just barely. The alcohol is extremely well integrated.
O: Seek this one out.
448 characters

3.85
/5
rDev
+5.5%
look: 3.5 | smell: 3.5 | taste: 4 | feel: 4 | overall: 4
Poured from a bottle into a pint glass.
A: Pours a yellow color with some slight amber hues. A fluffy 1/4' head develops with some lacing.
S: Floral hops and sweet malt scents in the nose.
T: Some crispness on the onset followed by sweetness of the malts. Floral hops and slight bitterness in the finish.
M: Good mouthfeel. Tingly carbonation and a smooth appropriate thinness for the type of beer.
Overall, this is a good beer. The nose is a little lacking in complexity, but the flavor is well balanced with appropriate hopping.
535 characters
3.38
/5
rDev
-7.4%
look: 4 | smell: 3.5 | taste: 3 | feel: 4 | overall: 3.5
Pours pale golden yellow with thin, white, fizzy head. Plenty of carbonation and pretty good head retention. Aroma is very grainy and bready with hints of fruity hop notes. Lots of malt flavor, earthy and strong. Bread and grain with a slight touch of caramel. No hop presence. Nice sweetness and full body. A fine beer but I felt the flavor could have used something to brighten it up a bit.
392 characters
2.82
/5
rDev
-22.7%
look: 3 | smell: 3.5 | taste: 2.5 | feel: 4 | overall: 2
A: deep, clear gold. significant carbonation. fluffy white head with decent retention.
S: toast and lots of it. significant noble hop aroma.
T: taste like pancakes. doughy, yeasty bread. im assuming a significant amount of hops were used as well with a solid amount of bitterness. considering how the finishes with a bit of alcohol.
M: medium bodied with moderate carbonation. bitter linger in the finish.
D: my biggest complaint about this beer is the dominant noble hop nose and flavor. and by dominant, i mean comparing it to the style, which is predominately malty/bready beers. still a good beer, but i wouldnt call it a maibock. more of a hoppy german pils.
668 characters
3.82
/5
rDev
+4.7%
look: 3 | smell: 3.5 | taste: 4 | feel: 4 | overall: 4
Again a nice spring beer. It pours a medium gold and builds a white head, which does not want to stick around for very long.
The smell promises fruit and good hops.
The taste up front holds the promise and starts with a little peach and apple up front, turning to malty sweetness in the middle and being checked by some noble hops for very good balance.
Very good mouthfeel makes this medium bodied beer very dangerously drinkable. Great job for a maibock.
456 characters

3.85
/5
rDev
+5.5%
look: 3.5 | smell: 3.5 | taste: 4 | feel: 4 | overall: 4
Light honey or deep golden straw is the color of this brew. It has a pretty decent size head that is fairly dense leaving a fair amount of lacing.
Carbonation is low.
Lightly aromatic with sweet malts and sutle hints of noble hops.
Taste is similar to aroma; a fairly robust malt backbone that has a lighter pils flavor balanced by a fairly aggressive hop profile.
Thin body with some grainess at the end with some alcohol worming itself in.
A good tasting beer but a bit light in flavor.
488 characters
3.92
/5
rDev
+7.4%
look: 3 | smell: 3.5 | taste: 4 | feel: 4 | overall: 4.5
Rather average looking, golden in color, decent enough head. Decent aroma-bready and malty. Solid malt flavor. Very bready like and pleasant grain flavors. Has a distinct noble hop presence. Some malt sweetness, hop bite and a dry finish. Faint trace of some malt sweetness in the end but again somewhat dry to finish. Nice solid mouthfeel-not overly sticky or sweet feeling. A very nice, solid helles bock. I could see this for an evening.
440 characters
4.3
/5
rDev
+17.8%
look: 4 | smell: 4 | taste: 4.5 | feel: 4 | overall: 4.5
Dominion's Big Thaw Bock pours a mostly clear deep-gold body beneath a short head of creamy antique-white foam. The head retention and lacing are average.
In the nose it displays a clean, straightforward maltiness and floral hops. It's bright and fresh and welcoming.
The flavor delivers more of what the aroma promised. It's golden pilsner malt is straight-forward and just a touch sweet, balanced by a solid bitterness, and threaded through with floral, spicy, and gently herbal hops. It's perfectly balanced, and finishes dry with a light bit of residual lingering malt and hop.
Helles bock can sometimes be overdone, either swaying too much towards the malt or too much towards the hops, but this one nails it; and on top of that the bitterness level is perfectly matched against the malt that's there. Very drinkable!
825 characters

3.7
/5
rDev
+1.4%
look: 4 | smell: 4 | taste: 3.5 | feel: 4 | overall: 3.5
Poured from 12oz bottle (acquired on the day my local beer shop received them on 2/5/2011) into a pint glass. Pours a clear amber/golden hue along with a huge head that fizzles down to a half inch size, but continues leaving nice laces that linger throughout the entire drinking session. The nose picks up mild floral and citrusy aroma along with the authentic German Noble hops (somewhat bitter herbal), which show its true colors here. I am also picking up pine-y, green apples, sweet but toasty malts, and bitter hop activity in the taste. The Big Thaw is classified as a medium-bodied brew with a creamy mouthfeel and it hides the 7.5% abv pretty well making it a very interesting (and dangerously drinkable) Maibock beer for the Spring season.
748 characters
Dominion Big Thaw Bock from Old Dominion Brewing Company
3.65
out of
5
based on
62
ratings.