Double D IPA
| Old Dominion Brewing Company
BA SCORE
82
good
84
Reviews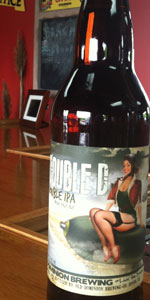 BEER INFO
Brewed by:
Old Dominion Brewing Company
Delaware
,
United States
olddominion.com
Style:
American Double / Imperial IPA
Alcohol by volume (ABV):
9.00%
Availability:
Year-round
Notes / Commercial Description:
No notes at this time.
Added by BuxMontBeerLover on 05-19-2011
Reviews: 84 | Ratings: 479
3.33
/5
rDev
-7.8%
look: 4 | smell: 3.5 | taste: 3 | feel: 3.5 | overall: 3.5
A: nice lacing and single finger head on a clear crimson body.
S: sour citrus dominates with some caramel malts.
T: candied citrus which is much for sour than sweet. The malts and hops are poorly presented and overpowered by the sourness. I almost wonder if this keg is bad.
M: medium body and moderate carbonation.
Overall: This is just not a good DIPA, especially in a very hard genre to compete in with so many good ones out there.
★
438 characters

3.85
/5
rDev
+6.6%
look: 4 | smell: 4 | taste: 3.5 | feel: 4.5 | overall: 4
I had this beer at RFD in Washington DC. I was looking for a beer that was not available in New Jersey. A cask beer works nicely for something completely different.
This was a cask aged version, which didn't have it's own entry. It was poured into a pint glass.
This beer is light brown with minimal foam. I expected the lower head due to the cask and the hand-pull.
Off the top I get grapefruit and a ton of resin. It reminds me of the smell on the Double Simcoe by Weyerbacher.
The flavor was somewhat unbalanced. I get a ton of resin over the oak accents. There was a bunch of bitterness.
The feel (like most cask beers) is perfect. You get the luxurious and silky texture. It is a very easy feel, that is only challenged by the bitterness from the hops.
I liked this beer, but I would recommend the Bengali Tiger or the Double Simcoe (as mentioned above).
★
868 characters

3.24
/5
rDev
-10.2%
look: 2.5 | smell: 3.5 | taste: 3.5 | feel: 2.5 | overall: 3
22oz bomber featuring.... a bomber
Bottling Date: July 12
eyes...
no head to speak of even when I got more aggressive with the pour, good amount of carbonation is a sign of hope though, lots of bubbles swirling about my DFH cauldron, legs are good on this one which makes sense due to the ABV here, slightly burnt orange hue, pretty standard fare here.
nose...
major citrus hops with mostly dripping orange, sweet malty tone but there is a detectable alcohol in the nose, on a quick whiff the hops really throw a blanket over everything and smell awesome but take an extra second to pick up the rest.
taste etc...
for all those bubbles the carbonation disappears and this is remarkably thin. in some DIPAs the syrupy hops mask this and there is some of that here but it doesn't quite get there. the sip starts off with the nice orange-y hop flavor and then nothingness and then some real harsh bitterness.
after a few sips you normalize more to the flavor, but still my initial take remains, this is purely hop bomb city with no furry edges. the hop bit is very bracing and the ABV is quite noticeable.
verdict...
A really strong use of high alpha hops. This is hard to keep going with, maybe split among friends, this is a bit rough around the edges. If an unabashed hop nuke is your thing, give this a try.
music: cro mags "best wishes"
★
1,344 characters

2.85
/5
rDev
-21.1%
look: 3 | smell: 3 | taste: 2.5 | feel: 3.5 | overall: 3
22oz bomber into Duvel tulip
A - deep, amber/orange color. Mild head formation that leaves decent lacing.
S - sweet, faint pine perhaps. For a DIPA, not a huge nose by any stretch. Ruination 10th Anniv this surely aint!
T - wow, I think I just got a cavity. Sweetness overpowers on the front end. Hop bitterness tries to assert itself but Willy Wonka makes anything else almost impossible. There is a fairly large malt content as well but that only magnifies the sweetness. Hop heads need not apply.
M - For all the sweetness and malt this beer at least isnt cloying. Finishes smooth and easy, due in large part to the one dimensional poor body of this beer.
O - Not a BAD beer, just not what most would consider a typical DIPA, even for an East Coast one to be honest. The lack of aroma and depth of flavors really sink this beer for me. I suppose this isnt the first time a guy has been led astray by Double D's. (Sorry, had to.)
★
936 characters

4.35
/5
rDev
+20.5%
look: 4 | smell: 4 | taste: 4.5 | feel: 4.5 | overall: 4.5
a - nice amber color with great 2 finger head and decent retention and lacing
s - very nice balance of hops and malts
t - this is an exceptional double IPA with very balance flavor. Plenty of spice, malt and hop balance. No bitterness at all. Alcohol level is very well disquised.
m - buttery and nice
o - one of the better double IPAs I've sampled so far. Easy to drink and highly recommend.
★
396 characters

3.75
/5
rDev
+3.9%
look: 3.5 | smell: 3.5 | taste: 4 | feel: 4 | overall: 3.5
Had on tap at Brews by the Bay.
A: Pours a copper/amber color with a small fizzy head with decent retention. Little whisps of lacing form on the glass.
S: Some grapefruit, caramel, brown sguar, and some faint pine. Slightly sweet, not as hoppy as I thought it might be.
T: More grapefruit and citrus with some pine coming during the middle. There is some more caramelized malt, a touch more than I was hoping for.
M: Medium to full bodied with moderate carbonation. Abv was well hidden for 10%.
O: A pretty good effort, a little sweeter than I usually go for in a DIPA, would have liked to have been a bit more bitter. Will grab a bottle when I see it and give another shot and update if needed.
★
704 characters
3.75
/5
rDev
+3.9%
look: 3.5 | smell: 3.5 | taste: 4 | feel: 4 | overall: 3.5
A: This poured a clear dark copper with a bit of off-white head.
S: It smelled like rich caramel and honey malt, with some citrus and candied mango.
T: It tasted like sweet sugary caramel and honey, with some citrus and mango hops and rock candy. It had a clean but very sweet aftertaste.
M: It was slightly thick with a bit of carbonation. Decent body.
D: This was more like a sugary barleywine than a 2IPA, but it was still fairly enjoyable. The body was good enough, and the alcohol wasn't too noticeable. So it was easy to drink, if you have a sweet tooth. Not worth seeking out, but not bad to try once.
★
608 characters
3.9
/5
rDev
+8%
look: 4 | smell: 4 | taste: 4 | feel: 4 | overall: 3.5
Filled growler 8/3. Consumed and reviewed 8/4.
A: Light brown / dark copper or bronze color. Not a very typical DIPA look. Relatively little head. No visible sediment or haze.
S: Some grapefruit and some copper. Lots of brown malts - light brown sugar, caramelized sugar, etc. Smells very sweet with some citrusy hops. Maybe a hint of pine or resin, but that's definitely in the background.
T: Just as sweet as it smells. Seems more like a barleywine than a DIPA. Actually, seems more sweet than even some barleywines, or at least less complex. It's more of a pure sugary sweetness rather than the toffee and butterscotch I get from most barleywines. Grapefruit and other citrus hop flavors are there as well.
M: Pretty thick and viscous, even for a DIPA. I'm guessing that there's a lot of latent sugar in this and that Dominion just loaded up on the malt and the yeast stopped around 10%? Just my guess.
O: Not bad overall. Would be a good introductory beer to the world of DIPAs for folks who like sweet things and some hops.
★
1,038 characters
4.12
/5
rDev
+14.1%
look: 4 | smell: 4.5 | taste: 4 | feel: 4 | overall: 4
Enjoyed during the tasting portion of the Old Dominion Brewery tour. This beer was limited to a 50 barrel production according to our tour guide.
Enjoyed in a Old Dominion sample glass.
A - A deep, amber color with a half-finger head that quickly faded. A small amount of carbonation rising from the bottom of the glass.
S - A very classic IPA smell with intense hoppiness and grapefruit aromas.
T - A very tasty DIPA. A great combination of hops, caramel, pine and citrus. This is not a beer you want to drink fast or a lot of. The alcohol is very noticeable. The others in our tour group were BMC'ers and they couldn't handle the intensiveness of this beer.
M - Lightly carbonated. A thick beer. A bitterness lingers after each sip.
O - A really good beer. I would love to buy this but alas it is limited to select locations for a very limited time. Old Dominion is part of InBev but the folks I met there were very knowledgeable and truly dedicated to putting out a quality product. I'm really glad I got to sample such a low-production run beer.
Cheers!
★
1,078 characters
Double D IPA from Old Dominion Brewing Company
3.61
out of
5
based on
479
ratings.