Barleywine
| Pyramid Breweries, Inc.
BA SCORE
77
okay
15
Reviews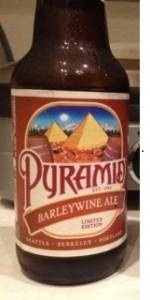 BEER INFO
Brewed by:
Pyramid Breweries, Inc.
Washington
,
United States
pyramidbrew.com
Style:
American Barleywine
Alcohol by volume (ABV):
10.50%
Availability:
Fall
Notes / Commercial Description:
Our Barleywine is a rich and malty interpretation of the classic style, balancing layers of herbaceous hops with sweet malt flavors.
Added by kaseydad on 08-19-2012
This beer is retired; no longer brewed.
Reviews: 15 | Ratings: 37
3.08
/5
rDev
-1%
look: 3 | smell: 3 | taste: 3.25 | feel: 2.75 | overall: 3
Heaviness sans finesse, as exemplified by this beer, begins with the look: a sticky, thick and heavy bruised plum color layered by tan foam that rests pretty still but does eke out some spotting onto the glass.
Heavy and sweet, sugared and thick aromas pour out: burnt caramel, blackstrap, lots of dark fruits and ethanolic alcohol with a bit of a somewhat medicinal element as well.
The herb is very hard to draw out; the malts just overpower it. The various components come together better in the flavor, but slightly. All the sweetness and heaviness is there, but malty grains provide a little support for it, and a hint of something dry keeps it more balanced than the aroma. The dark fruits come out most strongly and ride all the way to the finish.
Despite what it would seem, it's actually a bit too thin and, while it shouldn't be very crisp, the carbonation and bite is too heavy. Some smoothness is managed, but it flattens too much.
943 characters

2.83
/5
rDev
-9%
look: 3 | smell: 2.5 | taste: 3 | feel: 2.5 | overall: 3
1711th Review on BA
Draft to Snifter
@Pyramid Alehouse, Walnut Creek, CA
App- When this came to the table. It was as still as plum juice. About the same color as well. A dirty purple/red/brown color. Fairly dense with no head and bubbles. No cling or lace either.
Smell- This was a purely artificial smell to me. A bit of plums, cherries and sugars. Didnt really have that barley wine balance between malts/hops either. Bordered on cloying as well.
Taste- This was at best an average beer. I havent had much luck with Pyramid but wanted something new. This was a bit malty with an over the top fruit flavor that was unbalanced and sugary sweet to mask the ABV.
Mouth- Way too thin on the body and way too thick on the carbonation. Like a prune juice feel to it. Sugary, fruits and malts. Just all over the place.
Drink- Meh. Ill pass on a bottle if I ever see one. Once was enough for me.
894 characters
2.61
/5
rDev
-16.1%
look: 3 | smell: 2.5 | taste: 2.5 | feel: 2.75 | overall: 2.75
Meh. The cloying smell is almost overwhelming, attacking you with caramel, molasses, and I'm not sure what else. The taste is about the same. Nothing subtle here, just a full out attack on your senses. Very sweet, very sticky. Maybe you don't notice after downing a couple of this 10.5% ABV brute. I did see one review suggesting to mix it with the IPA, I may have to try that.
381 characters

2.85
/5
rDev
-8.4%
look: 3 | smell: 3 | taste: 2.5 | feel: 3.5 | overall: 3
Usually only available in their Fall assortment package, I found this single 12oz bottle in the build-your-own six pack section for $9.99 at the Binny's store in Bloomingdale, IL. It has a best before date of 12/20/12 on the neck label and this is already January of '13, so I figured I better get to drinking it.
The beer poured a plain brown color with a 1½-finder light sandy brown head. The head lasted about a minute and lacing was poor - just a few small spots that slid down the glass quickly.
Huge malty molasses smell.
Big molasses malt flavor. So much for barleywines being hop dominated. This one is all malt. There is some earthy hop bitterness in here, but for the most part the flavor is all malt, dark fruits, and a touch of warming alcohol.
Smooth and thick - almost syrupy. Definitely full bodied with moderate carbonation.
Not your typical barleywine, and not a favorite of mine.
903 characters
3.28
/5
rDev
+5.5%
look: 4 | smell: 3.5 | taste: 3 | feel: 4 | overall: 3
Brown color, minimal head. Aroma is very strong molasses, sweetness, I thought it was better than average. The flavor was more molasses but also a bit of tobacco. My buddy said it was like the spit from chewing tobacco. I wouldn't buy this but it wasn't disgusting, just an average barleywine.
293 characters
3.37
/5
rDev
+8.4%
look: 3 | smell: 3.5 | taste: 3.5 | feel: 3.5 | overall: 3
Appearance - Pours a deep, dark amber brown with a sandstone colored finger width head. Average retention. The lacing is spotty with little stick.
Smell - Predominantly sweet aroma, with notes of black cherry, raisin, molasses, rum and just a hint of caramel.
Taste - Follows the nose, with sweet malt character making up the bulk of the flavor profile. Dark caramel, hints of rum and raisin, subtle coffee notes. Finsihes sweet, with little balance.
Mouthfeel - Full bodied and syrupy. Sticks on the lips. Moderate carbonation.
Overall - A fairly average barelywine. Not quite as bad as I expected, and its shows fair drinkability. Too sweet with little bitterness for my taste, but it's loads better than the Mendocino BW I had recently.
745 characters
3.08
/5
rDev
-1%
look: 3.5 | smell: 3 | taste: 3 | feel: 3.5 | overall: 3
Extremely surprised to see a barleywine as part of a 12-mixer pack, but i'll take it
A - a swampy purple brown, short tan head dissipated to a thin cover leaving a decent lace ring
S - a syrupy sweet aroma, but followed by a start chemical type aroma with some booziness, its not a bad smell but definitely surprising
T - similar to the nose with ample nuttiness, but still has this undertone of a cleaning product thing going on that is just strange
M - heavy and sticky, a tad flat, just a touch of alcohol bite, finishes full
O - something about this just didn't quite work for me, not bad but not a great example of the style
629 characters

3.45
/5
rDev
+10.9%
look: 3.5 | smell: 3.5 | taste: 3.5 | feel: 3 | overall: 3.5
12oz bottle with Enjoy By 112812 on the side of the neck. Odd to see that on a Barleywine. Anyways, pours a dark brown with ruby hues and a thin layer of head. Minimal lacing. Aromas of booze, cherries, dark fruits, earth and bread. The taste is like boozey cherries followed by some malts. Earthy finish. Mouthfeel is thin for the style. The main reason I bought the mix 12 pack was that I saw that it had a barleywine in it which is a bit unusual. Overall, a decent Barleywine that works well in the mix pack but I wouldn't buy it on its own.
544 characters
2
/5
rDev
-35.7%
look: 2 | smell: 2 | taste: 2 | feel: 2 | overall: 2
Even with a super aggressive pour this thing produced only a thin lace of tired yellow head. Super murky brown color with orange highlights. Smells like tootsie rolls, dark fruit and alcohol. Pretty standard. Lots of raisins on the nose as well.
Almost flavorless but with some sweet chocolate and caramel flavors with detectable alcohol. However the beer is rather cold so i'll give it a bit to warm up.
Alcoholic tootsie rolls is basically what this beer is with a lot of alcohol bite. Pretty smooth body, i'll give it that, other wise though too simple for whats supposed to be a big beer with way too much detectable booze. Slightly medicinal.
650 characters
2.65
/5
rDev
-14.8%
look: 2.5 | smell: 2.5 | taste: 3 | feel: 2 | overall: 2.5
I bought the fall mixer specifically to try the barleywine and the oktoberfest and never expected to like the IPA and wheat the best.
This beer was... just bad unfortunately. The color was actually too dark, which is hard to say even. But it was opaque reddish brown. Mild carbonation. Dull nose of thick treacle. First impression is extremely thick, not it a good way. Cloying. Molasses, caramel, no hop balance. Tinny aftertaste.
The only reasonable way to make it better was to mix it 50/50 with the IPA. Which really actually did work and make the beer this should've been. I encourage everyone who bought the mixed 12 pack to do so. It livens the nose, the cloyingness, the color and makes for an altogether decent beer- Balanced, full bodied still, lively hop american hop nose.
788 characters
3.13
/5
rDev
+0.6%
look: 3.5 | smell: 3 | taste: 3 | feel: 3 | overall: 3.5
12oz bottle from the Autumn mix-pack.. Poured into my slim tulip... the brew is dark amber.. short lasting tannish head.
The nose is thick caramel... decent molasses.. dark toast.. treacle...
The palate shows a pretty standard thick malt American BW... Not enough hop bitterness and hop flavors to balance... Too sweet..
Too much body.. The carbonation is pretty light... Thick and way too much caramel and molasses.
3.5/3/3/3/3.5
435 characters
2.93
/5
rDev
-5.8%
look: 4 | smell: 3.5 | taste: 2.5 | feel: 2.5 | overall: 3
smells super malty.
interesting taste. like a stout but with more sour, and with crisper carbonation.
color is dark brown with a little transparency on the edges.
tart.
10.5 is noticeable, heady.
Apparently, based on the IBU's this is in the English style, which makes sense, since I don't really taste much hops. It is sour though, that's for sure, dominating the sides of the tongue.
I haven't had many barleywines, and I'm still not a huge fan. This doesn't sway me either way.
486 characters
3.07
/5
rDev
-1.3%
look: 3.5 | smell: 4 | taste: 2.5 | feel: 3 | overall: 3
Served at ~40 degrees F in a glass bottle.
Appearance: Quite dark, small head of fine bubbles that stick around a while.
Smell: All malt, a little roasty, strong raisins and currants.
Mouthfeel: Full mouthfeel but too sweet to keep swirling for long.
Taste: VERY sweet. If you drink this after an IPA it may be too much to handle, or vice versa. A deep fruity sweetness that approaches cloying but does effectively mask the expected alcohol bite from this 11.5% ale.
Overall: This is a good beer but may be simply too sweet for some. To be honest, after drinking the first one, the other two from the Pyramid variety pack were left in the fridge for a couple of days until they were the last two left. The sweetness really is very pronounced and it's to the point where it's cloying and hard to finish. The end result is more Raisin Nyquil than beer. Perhaps a year in cold storage would do this barleywine well, but if Pyramid chooses to ship it early, then this is the review they get.
992 characters
4.23
/5
rDev
+36%
look: 4 | smell: 3.5 | taste: 4.5 | feel: 4.5 | overall: 4.5
Called Barleywine Ale on the bottle.
12-oz. bottle into a pint glass at my house on Sept. 9, 2012 (purchased at Vons in Mission Gorge (San Diego, Calif.) for a variety 12-pack price of $14.99 on Sept. 9, 2012). Finger of head. Reddish black, almost purple with khaki, gray head. Good retention all around that appeared khaki tan.
Smelled liquor, Captain Morgan, rum, dark cherry, vodka, raspberry and wine.
Tasted dark fruits, light chocolate, cherry, black cherry. Very smooth.
Medium body. Slick texture. Average carbonation. Long, smooth, warming finish. Felt so good.
Really liked this beer, especially as it went on. Grew on me a lot. Definitely better than the Uinta Anniversary Barleywine I had the night before.
726 characters

3.38
/5
rDev
+8.7%
look: 3.5 | smell: 3 | taste: 3.5 | feel: 3.5 | overall: 3.5
Saw from their local Twitter account that Walnut Creek had it for a limited time. Review is from the growler.
Pint glass pour and I am met a darker amber/brown colored ale with burgandy hue when held to the sun. Minimal off-white lacing that doesn't stick around.
The aroma is malty, caramel, dates and slightly leathery.
The taste is very malt forward with a caramel sweetness and a very present aggressive spiciness. Pretty hoppy finish with some medicinal qualities and more malt.
Overall I have waited a long time to try this brew as it has been on the 'coming soon" for a long time. The finished product is just meh. The flavor was a little off for me and my type of BW's that I am partial to. This is a sweeter and maltier than I like my BW's. Worth a shot and hurry while you can as it does seem limited....for now.
834 characters
Barleywine from Pyramid Breweries, Inc.
3.11
out of
5
based on
37
ratings.