Barleywine
| Pyramid Breweries, Inc.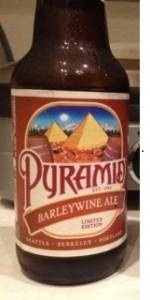 BEER INFO
Brewed by:
Pyramid Breweries, Inc.
Washington
,
United States
pyramidbrew.com
Style:
American Barleywine
Alcohol by volume (ABV):
10.50%
Availability:
Fall
Notes / Commercial Description:
Our Barleywine is a rich and malty interpretation of the classic style, balancing layers of herbaceous hops with sweet malt flavors.
Added by kaseydad on 08-19-2012
This beer is retired; no longer brewed.
Ratings: 37 | Reviews: 15
2.65
/5
rDev
-14.8%
look: 2.5 | smell: 2.5 | taste: 3 | feel: 2 | overall: 2.5
I bought the fall mixer specifically to try the barleywine and the oktoberfest and never expected to like the IPA and wheat the best.
This beer was... just bad unfortunately. The color was actually too dark, which is hard to say even. But it was opaque reddish brown. Mild carbonation. Dull nose of thick treacle. First impression is extremely thick, not it a good way. Cloying. Molasses, caramel, no hop balance. Tinny aftertaste.
The only reasonable way to make it better was to mix it 50/50 with the IPA. Which really actually did work and make the beer this should've been. I encourage everyone who bought the mixed 12 pack to do so. It livens the nose, the cloyingness, the color and makes for an altogether decent beer- Balanced, full bodied still, lively hop american hop nose.
788 characters

3.13
/5
rDev
+0.6%
look: 3.5 | smell: 3 | taste: 3 | feel: 3 | overall: 3.5
12oz bottle from the Autumn mix-pack.. Poured into my slim tulip... the brew is dark amber.. short lasting tannish head.
The nose is thick caramel... decent molasses.. dark toast.. treacle...
The palate shows a pretty standard thick malt American BW... Not enough hop bitterness and hop flavors to balance... Too sweet..
Too much body.. The carbonation is pretty light... Thick and way too much caramel and molasses.
3.5/3/3/3/3.5
435 characters
2.93
/5
rDev
-5.8%
look: 4 | smell: 3.5 | taste: 2.5 | feel: 2.5 | overall: 3
smells super malty.
interesting taste. like a stout but with more sour, and with crisper carbonation.
color is dark brown with a little transparency on the edges.
tart.
10.5 is noticeable, heady.
Apparently, based on the IBU's this is in the English style, which makes sense, since I don't really taste much hops. It is sour though, that's for sure, dominating the sides of the tongue.
I haven't had many barleywines, and I'm still not a huge fan. This doesn't sway me either way.
486 characters
3.07
/5
rDev
-1.3%
look: 3.5 | smell: 4 | taste: 2.5 | feel: 3 | overall: 3
Served at ~40 degrees F in a glass bottle.
Appearance: Quite dark, small head of fine bubbles that stick around a while.
Smell: All malt, a little roasty, strong raisins and currants.
Mouthfeel: Full mouthfeel but too sweet to keep swirling for long.
Taste: VERY sweet. If you drink this after an IPA it may be too much to handle, or vice versa. A deep fruity sweetness that approaches cloying but does effectively mask the expected alcohol bite from this 11.5% ale.
Overall: This is a good beer but may be simply too sweet for some. To be honest, after drinking the first one, the other two from the Pyramid variety pack were left in the fridge for a couple of days until they were the last two left. The sweetness really is very pronounced and it's to the point where it's cloying and hard to finish. The end result is more Raisin Nyquil than beer. Perhaps a year in cold storage would do this barleywine well, but if Pyramid chooses to ship it early, then this is the review they get.
992 characters
4.23
/5
rDev
+36%
look: 4 | smell: 3.5 | taste: 4.5 | feel: 4.5 | overall: 4.5
Called Barleywine Ale on the bottle.
12-oz. bottle into a pint glass at my house on Sept. 9, 2012 (purchased at Vons in Mission Gorge (San Diego, Calif.) for a variety 12-pack price of $14.99 on Sept. 9, 2012). Finger of head. Reddish black, almost purple with khaki, gray head. Good retention all around that appeared khaki tan.
Smelled liquor, Captain Morgan, rum, dark cherry, vodka, raspberry and wine.
Tasted dark fruits, light chocolate, cherry, black cherry. Very smooth.
Medium body. Slick texture. Average carbonation. Long, smooth, warming finish. Felt so good.
Really liked this beer, especially as it went on. Grew on me a lot. Definitely better than the Uinta Anniversary Barleywine I had the night before.
726 characters



3.38
/5
rDev
+8.7%
look: 3.5 | smell: 3 | taste: 3.5 | feel: 3.5 | overall: 3.5
Saw from their local Twitter account that Walnut Creek had it for a limited time. Review is from the growler.
Pint glass pour and I am met a darker amber/brown colored ale with burgandy hue when held to the sun. Minimal off-white lacing that doesn't stick around.
The aroma is malty, caramel, dates and slightly leathery.
The taste is very malt forward with a caramel sweetness and a very present aggressive spiciness. Pretty hoppy finish with some medicinal qualities and more malt.
Overall I have waited a long time to try this brew as it has been on the 'coming soon" for a long time. The finished product is just meh. The flavor was a little off for me and my type of BW's that I am partial to. This is a sweeter and maltier than I like my BW's. Worth a shot and hurry while you can as it does seem limited....for now.
834 characters
Barleywine from Pyramid Breweries, Inc.
3.11
out of
5
based on
37
ratings.