Oatmeal Stout
| Pyramid Breweries, Inc.
BA SCORE
81
good
13
Reviews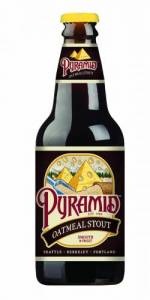 BEER INFO
Brewed by:
Pyramid Breweries, Inc.
Washington
,
United States
pyramidbrew.com
Style:
American Stout
Alcohol by volume (ABV):
7.00%
Availability:
Limited (brewed once)
Notes / Commercial Description:
Our Oatmeal Stout is brewed with 10% Oats and three specialty malts. At 40 IBUs and 7% ABV, this brew covers a soft and supple flavor spectrum of coffee, black licorice, and dark chocolate.
Added by BucannonXC5 on 10-08-2012
This beer is retired; no longer brewed.
Reviews: 13 | Ratings: 44

2.85
/5
rDev
-16.4%
look: 5 | smell: 3 | taste: 2.5 | feel: 3.75 | overall: 2.25
Poured from a 12oz bottle with "enjoy by 02/03/2013" on the label into a Unibroue goblet that had just before held a Sierra Nevada Beer Camp Oatmeal Stout. Pours dark brown/black with a large light tan head that had remarkably excellent retention.
Aroma: Belgian yeast (?!) and some mild toasted grain aroma.
T: Well, the "Belgian yeast" that seemed to be in the aroma clearly seems to be Brett; and I assume Brett contamination rather than an intentional introduction. Nonetheless, the Brett level is tolerable and the beer is drinkable. Hard to be more positive than that, however.
M: Slightly thin for style, but otherwise very good, smooth feel. Fairly high level of carbonation for style makes this a very lively oatmeal stout.
O: Bad bottle? Properly capped bottle pulled from refrigerated storage only 2 weeks past enjoy by date, so any problems stem from bottling or earlier. Will revisit down the road.
918 characters
3.01
/5
rDev
-11.7%
look: 4 | smell: 3 | taste: 3 | feel: 2.5 | overall: 3
Poured from a bottle into a tumbler pint, the beer pours a dark mohogany-brown coloring with a tall, foamy, light brown head that quickly settles to a film. Looks thin and dark. Aromas of toasted grains, mild chocolate, and tangy caramel. Smells are subtle. Flavors are roasty initially, but light overall. Chocolate and toffee character comes out mid-tongue, with a slightly bitter coffee profile at the end of the palate. Flavors are light and slightly unbalanced overall. The thin body and jumbled flavors make for confusion in mouth and on the palate. Sweet and bitter clash instead of balance or compliment. There is a bittersweet aftertaste, part chocolate and part coffee. Lingering sweet, almost cloying finish that leaves a durable filmy coat in your mouth after a while. Missed the mark for me.
804 characters
3.08
/5
rDev
-9.7%
look: 3.5 | smell: 3 | taste: 3 | feel: 3.5 | overall: 3
Part of the Winter 12-pack.. Poured into my slim tulip... short lasting 1 finger tannish head... the brew is almost black.... certainly hazed deeep dark walnut.
Nose seems light for the style... a bit of milk chocolate and light roast malt... bready... maybe some brewers licorice...
Flavor has all the same elements as the aroma, but even lighter... not sure where Pyramid lost the palate, but it is pretty flimsy.
Body is actually okay... shade light of medium with a light creamy carbonation.
Only average when weighing in... nothing special at all unfortunately.
3.5/3/3/3.5/3
585 characters
3.17
/5
rDev
-7%
look: 3 | smell: 3.5 | taste: 3 | feel: 3.5 | overall: 3
Appearance - Pours a dark ruby brown with an off-white finger width head. Poor retention.
Smell - Chocolate, coffee, faint raisin, anise and a touch of astringency.
Taste - Flavors are muddled, but there's definite stout character present: chocolate, coffee, dark fruit, anise and a slight hint of alcohol. The flavors aren't necessarily strong in presence, and to be honest, it's a bit of a jumbled mess. Finishes semi-sweet with a faint bit of heat.
Mouthfeel - Light to medium bodied with a fair amount of carbonation. Fairly thin for the style.
Overall - Kind of a funky oatmeal stout. It really comes across more as a watered-down imperial stout than anything. It's not completely terrible, but it's nothing I'd care to purchase again.
745 characters
3.17
/5
rDev
-7%
look: 3 | smell: 3.5 | taste: 3 | feel: 3.5 | overall: 3
12-oz. bottle into a pint glass at my house on Oct. 7, 2012 (purchased at BevMo in La Mesa (San Diego, Calif.) as part of a winter variety 12-pack for $15.99 (with card) on Oct. 5, 2012). Black with just below two fingers of khaki tan head.
Surprisingly below average retention all-around.
Smelled dark chocolate, coffee, coffee beans, toffee, roasty malts and even a little black licorice.
Taste didn't really come together as much as I would have liked. Got a lot more black licorice, dark chocolate, coffee and roasty, bitter malts. Maybe even some dark fruits in there late.
Medium-to-full body. Creamy slick texture. Average-to-below average carbonation. Long, bitter finish.
I was slightly disappointed. The flavors just didn't come together. I probably wouldn't have it again.
804 characters
3.25
/5
rDev
-4.7%
look: 3 | smell: 3 | taste: 3.5 | feel: 3.5 | overall: 3
12oz bottle poured into a snifter. Enjoy by 010413
A: Pours a dark brown appearing black in the glass with a thick 1 finger off white head. Pretty quick to dissipate leaving no real lacing.
S: Light chocolate and roasted malts, a sweet dark fruit characteristic. Slight booze at the end. Not much going on.
T: Mild flavor. Mostly fermented dark fruit. Maybe some oatmeal but you gotta search.
M: A little thin on the mouth. Average carbonation.
Overall nothing to write home about. It gets you a buzz and isnt offensive.
529 characters

3.41
/5
rDev 0%
look: 4 | smell: 3 | taste: 3.5 | feel: 3.5 | overall: 3.5
Poured from a 12oz bottle with enjoy by 01/18/2013 on the label (rather specific don't you think?).
A: Pours a DARK brown/black with a nice light caramel head. 1.5 finger head with lacing and nice head retention.
S: Mild chocolate and some oatmeal aroma to it, fairly typical for an oatmeal stout but nice none the less.
T: Mild chocolate taste with some oatmeal bread-ness coming through. I find it smooth and balanced though perhaps a bit fluid/watery. (not sure I'm getting the point across. Basically slight bit thin). Taste is good though and the chocolate lingers.
M: Slightly thinner than I'd like, though this would just lead me to drinking more. I could drink multiples of this easily. Lot of carbonation action on the tongue, overall nice feel.
O: The best beer Pyramid has to offer IMO. Pyramid, usually is aggressively mediocre, though this beer is pretty good. The only one I would consider buying a 6er of. Def worth a shot if you come across it.
970 characters

3.53
/5
rDev
+3.5%
look: 4 | smell: 3.5 | taste: 3.5 | feel: 3.5 | overall: 3.5
Appearance: Black, good head.
Smell: Mild sweet chocolate, creamy.
Taste: Mild chocolate, a weird breadiness that I haven't experienced in a stout before, mildly sweet, not much bitterness.
Overall: This is a pretty generic stout. Mild chocolate flavor is ok but nothing too special. The feel is a little heavier than some oatmeal stouts I've had. The bready note seems out of place for a stout. I had no idea this was 7%, so it was well hidden.
448 characters
3.6
/5
rDev
+5.6%
look: 3.5 | smell: 3.5 | taste: 3.5 | feel: 3.5 | overall: 4
12oz bottle into standard pint.
A: average pour gets a little head that falls into a bit of a cap. Not much there. Dark mahogany. Looks pretty good.
S: smells like an oatmeal stout all the way. That weird oatmeal smell that is quite tasty when you drink it.
T: classic oatmeal stout as far ss I can tell. A bit of hops at the end there.
M: heavy end of medium bodied.
O: a good oatmeal stout. I liked it but not a ton.
423 characters
3.6
/5
rDev
+5.6%
look: 3.5 | smell: 3.5 | taste: 3.75 | feel: 3.5 | overall: 3.5
Poured from 12 oz bottle into nonic glass.
Appearance: pours a 3/4" cream colored head that recedes leaving light lacing. Color is a dark reddish brown that is nearly opaque. Some streaming carbonation is detectable despite the dark color.
Aroma: roasty malt, caramel, toast, a bit of herbal hops and some vanilla.
Mouthfeel: medium bodied and fizzy, somewhat sticky with a drying finish.
Flavor: nice combination of dark roasted malts, creamy oats, some vanilla and caramel with some earthy and herbal hops.
Overall: well done oatmeal stout and appropriate to the style.
576 characters

3.61
/5
rDev
+5.9%
look: 3.5 | smell: 3.75 | taste: 3.5 | feel: 3.5 | overall: 3.75
Poured from a bottle into a pint glass
Appearance – The beer pours a deep brown, nearly black color with a one finger of a cream colored head. The head has a good level of retention, slowly fading to leave a great level of lacing on the sides of the glass.
Smell – The aroma is a nice blend of roasted malt, oatmeal, and some sweeter smells of sweet chocolate a bit of caramel. Along with these are some hints of vanilla and a bit of a bready smell, overall giving a nice roasty and sweet stout smell.
Taste – The taste begins with a sweet chocolate and oat taste with lots of vanilla sweetness. A moderate amount of roastiness is present right from the start which fades a bit as the taste advances. A bit of a coffee flavor comes to the tongue more toward the middle with a little bit of a molasses and light earthy hop flavor comes to the tongue. In the end a nice roasted, and sweet oatmeal stout flavor is left to linger on the tongue.
Mouthfeel – The body of the beer is on the slightly thicker and creamier side with a carbonation level that is on the average to slightly lower side. Both are rather nice for the roasted and sweet flavors of the beer and make for a very easy drinking but soothing feel.
Overall – A rather enjoyable brew overall. Nice, sweet, raoasty, oats, and smooth flavors with a very easy drinking feel.
1,347 characters

3.66
/5
rDev
+7.3%
look: 4 | smell: 3.5 | taste: 3.5 | feel: 4.25 | overall: 3.75
Enjoy by 031414; they get brownie points for an enjoy by date
A: A very dark brown with good clarity. The head is a medium tan with cream bubbles and decent retention.
S: A moderate citrus hops aroma with a bit of dry hopped grassiness over moderate malt sweetness. There is a moderate dark fruit aroma that blends with a some alcohol to give the impression of over ripe plums and figs.
T: This is an American Stout with more fruit than usual and some oatmeal body. There is a moderate hops bitterness with moderate citrus hops flavor. A moderate amount of fruit flavors being plum and dark cherry. The dark malt bring a light cocoa with some coffee. The balance is towards the bitter with not much malt sweetness.
M: Full bodied with moderately-strong carbonation. There is a light slickness on the tongue but nothing like that oily slickness like most.
O: The nose is kind of fruit dominated which continues into the flavor; had they changed the yeast this could have made for a nice Belgian Dark Strong.
1,013 characters
4.14
/5
rDev
+21.4%
look: 4.5 | smell: 3 | taste: 4.5 | feel: 4.5 | overall: 4.5
The Oatmeal Stout was poured from the bottle into a standard pint glass. The pour was just about as perfect as one could hope for showing off the rich mocha to almost black pour coupled with just enough tan head to round out the pint glass perfectly. There was a mild amount of carbonation noted in the pour and the head held true throughout the pint glass.
The nose with Pyramid's Oatmeal Stout is rather light with hints of roasted malts being matched to a cocoa presence right off the bat. The bready nature of the oatmeal can be picked up once the pour is completed and the nose serves as a subtle invitation to sip the beer. Nothing too over the top in terms of the nose; seems to be pretty spot on.
The taste is what really solidifies this offering as being a solid oatmeal stout out on the market right now. There is a rich and bold flavor to Pyramid's Oatmeal Stout that some other breweries could only hope to brew so well. The roasted malts and chocolate that was present lightly in the nose really jumps out of the glass during the taste. There is a bit more of a creamy nature to this oatmeal stout than I would have expected but it serves the beer well. The oatmeal used in the brewing process can be tasted and lend to the robust flavor that this beer is able to offer. If you are a stout fan, then this oatmeal stout should win your heart once you give it a taste.
As previously mentioned, there is a bit of a creamy nature to this oatmeal stout that is right up front in the mouthfeel and the entire glass gives off a smooth mouthfeel throughout. The mild amount of carbonation that was evident in the pour holds true in the mouthfeel but is exactly what I would want to see in such an offering.
With an ABV of 7.0%, Pyramid Brewing's Oatmeal Stout is a good warming beer that is an ideal brew to put in a winter sampler package. That said, with a 7.0% ABV Pyramid does a very nice job in allowing you to pick up more on the taste than the ABV.
1,970 characters
Oatmeal Stout from Pyramid Breweries, Inc.
3.41
out of
5
based on
44
ratings.