Two Rivers Red
| Fort Garry Brewing Company Ltd.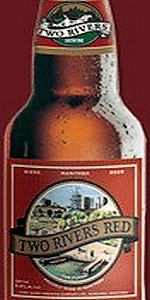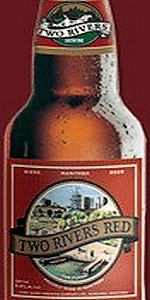 BEER INFO
Brewed by:
Fort Garry Brewing Company Ltd.
Manitoba
,
Canada
fortgarry.com
Style:
American Amber / Red Lager
Alcohol by volume (ABV):
5.00%
Availability:
Year-round
Notes / Commercial Description:
No notes at this time.
Added by trevorwideman on 01-10-2006
HISTOGRAM
Ratings: 7 | Reviews: 5
Reviews by hinemk76:

More User Reviews:

2.43
/5
rDev
-5.1%
look: 3 | smell: 2.5 | taste: 2.5 | feel: 2.5 | overall: 2
Bought this as part of a sample 12pk while in Winnipeg a week ago. Not one of the four types in the assortment impressed me much, and the only neat thing was the label. Nope, at $22/12pk at the "BEER STORE" I wouldn't pop for a second 12 pk.
241 characters

2.63
/5
rDev
+2.7%
look: 3 | smell: 2.5 | taste: 2.5 | feel: 2.5 | overall: 3
Surprisingly decent beer for the price, this is very cheap and for that it gets bonus marks.
Copper red colour with good amount of carbonation.
Caramel malt on the nose, but fairly understated really not mcuh going on up here.
Tastes fairly bland with a little bit of that malt character at first, but fades out pretty fast.
Uninteresting and not great but cheap and I suppose a local or at least smaller alternative to BMCs but not really any better than them.
OK beer for camping.
488 characters

2.63
/5
rDev
+2.7%
look: 3 | smell: 2.5 | taste: 2.5 | feel: 2.5 | overall: 3
Can ( Thanks Kris)
Pours a deep burnished copper-red lager in my Glass. 2 finger rocky off-white cap lasts a few min then reduced to a ring that lightly laces the glass.
Aromas are flat and cardboard-like I get brewers adjuncts and caramel..nose is unpronounced.
Thinish body, thin mouth feel and sweet extract character.
Light crystal malts up front, hops are really peared back in this..almost non existsnt then there is a waft of brewer's caramel that hits you mid palate...finished clean and sweet but the sweetness seems synthetic not like a honey or demerara or malt sweetness...light "char" in the after taste.
A beer certainly focused at mass market, but not very well crafted..about on par with the national macros...not bad tasting, just not good. I think this is a fast spun extract and adjuct beer...inoffensive but really forgetable.
861 characters
2.32
/5
rDev
-9.4%
look: 2 | smell: 2.5 | taste: 2.5 | feel: 2 | overall: 2
Two Rivers Red is the harder to find of the Fort Garry offerings, I know I've seen it on tap before, but it's rare. I bought a 6-pack of cans to review it for BA.
Pouring this beer was very much like pouring a Coke, only Coke has more head. The fizzy head disappears within a matter of seconds, I kid you not. It is then completely flat. A few bubbles break the surface, but it's tough to tell this is beer. Appearance is a translucent, almost glowing red, pierced by a very mild carbonation.
The smell isn't a lot better. Burst of skunky corn adjuncts right off, then just a very sugary malt smell, slight caramel, but always with the cloying skunkiness in the background.
Ooof. This beer is very weak tasting. Slight metallic taste first, then vegetables, then bready/skunky malts and non-stop sweetness. Where are the hops in this brew? There is no bitterness at all, and with the mouthfeel being so soft, it's easier to drink than cola. There's certainly less CO2. The metal taste stays in the throat too. Sorry Fort Garry, this is really not a good effort. Next time I'll add some red food colouring to a better lager.
Now I still have 5 more to drink! AHHH!
1,176 characters
2.65
/5
rDev
+3.5%
look: 3 | smell: 3 | taste: 2.5 | feel: 2.5 | overall: 2.5
Fairly deep red in colour with a bit of a sweet malty dunkel type of aroma. There's a bit of a sulfur/lager note in there was well. The flavors begin with a bit of caramel, then dry out like a typical macro lager. By no means is this a "great" or even a "good" beer, but it's not all that bad either. The appeal of the American Dark Lager style is a little lost on me, but I imagine that this beer might be good within the confines of the style.
447 characters
Two Rivers Red from Fort Garry Brewing Company Ltd.
Beer rating:
2.56
out of
5
with
7
ratings