Kettle Valley Amber Ale
| The Tin Whistle Brewing Company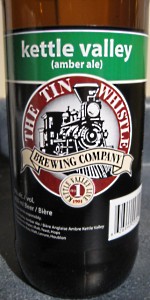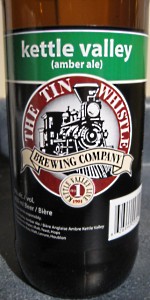 BEER INFO
Brewed by:
The Tin Whistle Brewing Company
British Columbia
,
Canada
Style:
American Amber / Red Ale
Alcohol by volume (ABV):
5.00%
Availability:
Rotating
Notes / Commercial Description:
No notes at this time.
Added by IronDjinn on 01-29-2010
HISTOGRAM
Ratings: 10 | Reviews: 6
Reviews by IronDjinn:

3.3
/5
rDev
-13.2%
look: 4 | smell: 4 | taste: 3 | feel: 3 | overall: 3
From a 650 ml brown bottle. Bright light clear copper colour in appearance, tall loose bubbled frothy off-white head that slowly settles to a loose frothy cap.
The aroma gets a hell yeah right off the top, especially coming from Tin Whistle (*cough* hit and miss *cough*), a malty offering of bready, toasted notes, biscuit and light caramel. Very, very, very faint grassy hops well into the background. Reminds me of a Marzen or Oktoberfest.
Dry, toasty malt brings things down to a more one-dimensional level, dandelion greens hop character rounds things out in a flat he said, she said passionless balance.
Mouthfeel feels a bit disjointed as well, some wonkiness between what starts out as a medium-body with an unexpectedly abrasive carbonation that tends to detract from the overall experience, the overall balance is off.
Looks great, smells fantastic, and then everything goes south from there, another mediocre amber ale that goes limp and lifeless where it really counts and doesn't regain its footing from there. If the flavour matched the aroma this would be an instant winner.
1,102 characters
More User Reviews:
3.53
/5
rDev
-7.1%
look: 4 | smell: 3.5 | taste: 3.5 | feel: 3.5 | overall: 3.5
650ml bottle. Nice - a new brew from an old standby in the Okanagan - even though the days of 3 dollar bombers in the early-closing stores in downtown Penticton are long gone to me.
This beer pours a slightly hazy medium copper amber hue, with two pudgy fingers of puffy, foamy, and eventually creamy ecru head, which leaves a bit of spotty, sudsy remote islet lace around the glass as it slowly recedes.
It smells of semi-sweet biscuity caramel malt, brown sugar, a bit of buttered white toast, mild leafy and citrus hops, and some soft, indistinct warming spice. The taste is sweet crackery, bready caramel malt, musty citrus, an oily, gritty nuttiness, and herbal, earthy, and weedy hops. Simple, but delivered well enough.
The carbonation is moderate, and somewhat frothy, the body medium-light in weight, and generally, innocuously smooth. It finishes clean, somewhat crisp, with a little malt sweetness and an herbal hop offset.
A decently balanced amber ale, no running away with the unnecessary sweetness in this one. Probably better in large doses after sunnin', or wine tourin', or cyclin', all of which one can pursue throughout the titular side valley off of the Okanagan.
1,188 characters
3.67
/5
rDev
-3.4%
look: 3.5 | smell: 4 | taste: 3.5 | feel: 4 | overall: 3.5
Deep coppery colour that is fairly clear. Rather quick pour to generate nearly a finger of off white head. Head falls quickly to about half its size, then is slow to fade from there.
Smells fairly sweet, caramel and sweet breadiness. Some citric hops, like a touch of lime, but the nose leans toward the malt. Smells attractive.
Flavours mirror the aroma pretty well, quite bready with a touch of caramel malt, and a light hop finish that has citric notes. A bit of pine seems to show up as it gets warmer.
There is some body to this beer, but it is still on the lighter side. Carbonation is medium, and seems to work well.
Not really an exciting style, but this is a solid amber. The kind of beer that would work just fine for a session.
742 characters

3.81
/5
rDev
+0.3%
look: 4 | smell: 3.5 | taste: 4 | feel: 3.75 | overall: 3.75
I had this one on-tap at a nice little restaurant across from Skaha Lake in Penticton. The atmosphere was probably calling for a lager or a weizen, but I decided I wanted to be adventurous and try this amber ale. From the get-go, I liked it but I wanted it to be more than it was. Having tried Anderson Valley's take on an American amber (and a shining example at that) I was looking for a little hoppier concoction and I got what I got. What I got was a nice, easy-drinking red ale that I likened to a home brew I made earlier in the summer for my sister's husband as a bit of a wedding gift he paid for. It was malty, smelled really nice and tasted great, but a tad watered down or something. I wanted to grab a bottle from the brewery to see if perhaps there was something with the taps at the joint we ate at, but they were all out when we visited. I would try again, and maybe again, just to see if it's a little more on-point.
932 characters
3.81
/5
rDev
+0.3%
look: 3 | smell: 4.5 | taste: 3.5 | feel: 3.5 | overall: 4
A - Pours crystal clear caramel colour, a thin layer of head which dissipates rather quickly and leaves no real lacing.
S - The smell on this one is quite nice, with sweet caramel coming off quite strong off the top. Brown sugar notes and a slight milk chocolate scents come off on the finish.
T - The sweet caramel malts are the most noticeable, with brown sugar and a bit of nuttiness which lingers on the finish. Flavour is a little on the mellow side, which based on the scents, was mildly disappointing, but it's still very tasty.
M - Light and bubbly on the palette, but a bit of a dry feel on the finish. That being said, it doesn't take away from the overall enjoyability of this one.
D - Overall, quite pleased with this selection and I would definitely buy it again. The price is right, the flavours are nice, and the few drawbacks (mild flavour and dry finish) are not to be interpreted as total turnoffs. Quite tasty amber ale and suggested to anyone who enjoys a sweet caramel malt ale.
1,004 characters

3.53
/5
rDev
-7.1%
look: 4 | smell: 3.5 | taste: 3.5 | feel: 3.5 | overall: 3.5
650ml bottle poured into pint glass feb17 2010
A slightly hazy copper with a thumbs worth of head that has decent retention and leaves a few patches of lace
S lots of sweet malt and perhaps a little honey
T again very malty with a little bit of cooked veggies and a mild floral aspect
M good carbonation and thick enough to keep it from having a watery feel
D nothing special but nothing to be ashamed of either, not bad in any areas but I wasn't blown away by anything
I didn't spend much on this beer so it's not a bad value and worth a try
548 characters


4.34
/5
rDev
+14.2%
look: 4 | smell: 3.75 | taste: 4.75 | feel: 4.5 | overall: 4.25
Kettle Valley Amber Ale from The Tin Whistle Brewing Company
Beer rating:
3.8
out of
5
with
10
ratings