Mammoth Brewing Company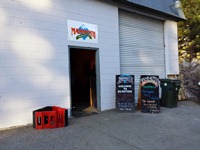 PLACE INFO
Type:
Brewery, Bar
18 Lake Mary Rd
Mammoth Lakes
,
California
, 93546
United States
(760) 934-7141 |
map
mammothbrewingco.com
Notes:
No notes at this time.
Added by SamuraiJack
Reviews: 14 | Ratings: 37
5
/5
rDev
+28.5%
vibe: 5 | quality: 5 | service: 5 | selection: 5
Well priced aged beer. You tried the rest this is the best. So flavorful you just might slap your girlfriend! Ages so well but taste so good it's hard to do so. Find it drink it, try to save one if you can! This beer will not disappoint you.
241 characters

4.43
/5
rDev
+13.9%
vibe: 4.5 | quality: 4.5 | service: 4.25 | selection: 4.5
First time to the new location, and quite the difference! My favorite thing about the old place was the bathroom sink handles having Vise Grips for leverage. Nothing like that here! Beautiful inside and out, great large biergarten outside with an awesome tap truck. Great food, great beer, and everyone looked happy. Love Mammoth. Cheers!
344 characters

3.85
/5
rDev
-1%
vibe: 4 | quality: 3.75 | service: 4 | selection: 3.75
Located right off the main drag, the brewery has a beautiful tasting room and eating area with large windows over looking the surrounding mountains. Inside there's an array of flagship beers, as well as 4-5 special offerings. The beers are solid and clean. The food is quite tasty (cant go wrong with local beef) and service is usually pretty quick.
349 characters
4.12
/5
rDev
+5.9%
vibe: 4.5 | quality: 3.75 | service: 4 | selection: 4.5
Great place to hang out after hiking the PCT. The server was very helpful and knowledgeable of the production of the beers served and their were 12 different offerings on tap. I certainly hope I get another chance to visit.
225 characters

4.17
/5
rDev
+7.2%
vibe: 4.25 | quality: 4 | service: 4.25 | selection: 4.25
Very nice location in the heart of Mammoth with a killer view. Never been in there during peak hours, but always a few people around. Friendly knowledgeable staff and solid beer on tap. Limited releases are always good.
219 characters
3.75
/5
rDev
-3.6%
I have been to both the old and new facility, new facility wins hands down. Mammoth is a four seasons town so come winter this would be an inside deal 100%, but I went late summer/early fall, so sitting outside was still enjoyable. On a busy intersection, although a little removed from the actual corner, so the limited traffic was not disruptive. No food options here. Clean/functional bathrooms. Friendly/courteous staff, at least when we went. A nice selection of brews on tap, but no guest list (no problem since I wasn't there for the guest list). Parking options ample. Nice view into the sierras, and that fresh mountain breeze. Multiple levels could pose a problem for the physically disabled. An overall good, and relaxing experience. Somewhere between 3.5-3.75. Hope this helps. Cheers.
799 characters
4.5
/5
rDev
+15.7%
I love most of their beers and the seasonal varieties are very nice. The new location is much better, although I'm not sure they have plans to open a kitchen or the upstairs of the building?
191 characters

4.43
/5
rDev
+13.9%
vibe: 4 | quality: 4.5 | service: 4.5 | selection: 5 | food: 3
Stopped by this brewery the day after eating dinner at Toomey's (across the street) and trying some of the beers during dinner.
Overall, this place is great. It's not that big, but the tasting room was very welcoming. The servers were all very friendly and informative about the beers we tasted.
The price of the tasting was also very reasonable. For just $6, we got to taste 6 varieties of their seasonal beers. Then, for about $5 more, we got to taste the rest of their beers on tap (including their homebrewed root beer).
Their selection of beers were excellent and out of all the beers I tasted, I really liked (and wanted more) of their Amber Red Ale (Real McCoy), America IPA (Epic), and Eisbock (Fire & Eisbock). The only "food" they had were free bar pretzels.
I'd highly recommend stopping by this brewery if you are in town hitting the slopes at the world famous Mammoth Mountain ski resort.
905 characters
3.81
/5
rDev
-2.1%
vibe: 3 | quality: 4 | service: 4 | selection: 3.75
Stopped by here while on vacation, to sample a few of there specialty beers and pickup a t-shirt, as I had already drank a lot of their various regular beers the week we spent in the Yosemite area.
The location is in an older industrial looking building, with open garage doors on this nice day. Relaxed atmosphere, they allowed people to bring in their dogs. They have a nice bar setup, coolers of take out bottles/six packs, and merchandise.
They had all their year round beers, plus 6 seasonal or specialty beers. You could get a sampler flight of either grouping. I had the specialty /seasonal sampler, and all the beers were tasty and unique.
The two bartenders/brewery employees were friendly and did well explaining each beer. Prices were fine, but a little goofy that they only had one register so you paid for the beers at the end along with anything else you might buy.
885 characters
4.35
/5
rDev
+11.8%
vibe: 3.5 | quality: 4 | service: 4.5 | selection: 5
First off, the brewery and retail site is where I am reviewing. I've noticed that other reviews have reviewed the eatery, but I can't provide input for that.
The best thing about this place is the staff and their knowledge and helpfulness. My friends and I spent quite a bit of time here tasting (9 beers of ~1oz for free) and buying. Even the rootbeer was high quality, and we bought a couple of growlers of that. I didn't think much of the price when I was purchasing, but once I realized that I had spent over $100 on (4) 22oz beers, a mug, a growler, and a six pack, I felt it was only reasonable and not inexpensive.
If you are in the Eastern Sierras, I highly recommend stopping by this brewery and talking homebrew and beer with the staff. While you're there, you would do well to taste their beers and buy some good beer.
833 characters
3.86
/5
rDev
-0.8%
vibe: 4 | quality: 4 | service: 4 | selection: 3.5
Being that I used to live in Mammoth, I have been here many times. The staff is always cool and will give you as many tasters as you want. The beer is a bit overpriced, but it costs more to brew at high altitude, so this is expected, but they just raised their prices again to prices that are a bit unfair and definitely directed towards the tourists. Atmosphere is cool. Don't go there expecting to see a place like stone or anything. More like a Alesmith vibe, which I am very cool with and like. Overall, a solid brewery
523 characters
3.41
/5
rDev
-12.3%
vibe: 3 | quality: 3 | service: 4 | selection: 3.5
A warehouse type building, a little bit off the main highway and somewhat difficult to locate. Crowd isn't the most beercentric. Sometimes you get to see the entertaining snowboard poser talk tough w/ his friends having his back, not realizing he is about 2 minutes from getting his butt handed to him in the parking lot by a professional mma lightweight who is in Mammoth to train for a fight and his buddies no longer have his back. True story. High-larious karma at work.
Anyways, the quality of their beers are average, a good stout, dipa & ipa, very good barleywine. A prior review mentioning the butterscotch flavor of the lines is spot on. I couldn't believe how inferior their ipa's were on tap, compared to when I've drank them out the can/bottle. Unbelievable. Employees were friendly and all, even if not the most knowledgeable, always willing to pour you a sample. Gear is way overpriced, I'll never understand why some breweries charge you so much to advertise their brand?
Not the most worthy beer destination under the status quo. Worth checking out the Charleywine though, as this is the only place I've seen it for sale in bottles.
1,152 characters
3.23
/5
rDev
-17%
vibe: 3.5 | quality: 3.5 | service: 3 | selection: 3
High up in the Eastern Sierra Mountains, at an elevation of some 8000ft lies the home of the Mammoth Brewing Company. It is a little confusing to the first time visitor, like myself, as the address for Mammoth Brewing is clearly listed as 18 Main Street which confuses Mapquest, all the more understandable as the building is on the corner of Lake Mary Road and CA-203 Minaret Road. Even more confusing is the fact that the building actually houses the Mammoth Brewing Company (which is the Brewery part) whilst the Bar section is actually called Whisky Creek Restaurant and sort of separate, but not, if you know what I mean. Final part of the jigsaw is such that the address on my credit card receipt clearly lists the address as 'Whisky Creek Restaurant 24 Lake Mary Road'. Hmmm, go figure.
It is easy enough to find nonetheless, driving up CA-395, take the exit for CA-203 toward Mammoth Lakes. CA-203 starts as Minaret Road and then eventually turns into Main Street until it reaches a crossroads where the cross street to the left and right is, rather confusingly, recalled Minaret Road. Head straight across onto Lake Mary Road and take the entrance on the right into the Parking Lot, this is where Mammoth Brewing Company and Whisky Creek Restaurant are.
A large two storey wooden building has more than a hint of alpine feel to it with some wooden decking and a sloped roof to cleverly ease the pressure of falling snow in colder climes. The ground floor entrance has a welcoming counter complete with a cash register. To the left of this counter in wooden cupboards with glass doors, Mammoth Brewing Breweriana including T-Shirts etc. is on sale here. In fact, you can see the Brewery equipment through large clear glass windows which line the top and side of the stair case. The ground floor houses the seated Restaurant area (though I didn't eat here so never visited it) whilst a wide wooden staircase leads you up to the first floor and the more laid back Bar area. This is where I spent my time whilst here. A large wide open room sits beneath the beamed eaves of the sloping roof. The bar area is a small U-shaped affair that is to your immediate left set against the back wall as you enter. I visited on the eve of the 2006 Mammoth Festival of Beers and Bluesapalooza, so live music was in full swing on a small stage to the right and a cover charge of $3 too. The music was great, although they had to move Pool Tables in front of the small stage to allow more space for others, yet they only did this *after* the Band started playing and ended up kicking people off the Tables mid-game….rather poor organization there I thought.
They had a handful of regular beers on sale including the Double Nut Brown, IPA, Amber, Gold and Pale I think. They had three specials advertised but two of them were not available, rather a poor state of affairs on the eve of the Mammoth Beer Festival I thought when they would have known that plenty of beer geeks are in town. Service was OK, but rushed at time and Pints could often fall short when busy. I didn't try any food here, but upstairs it seemed that just Pub snacks were being served, if you wanted food I guess you had to head downstairs. Stuck to the IPA for most of the time, an amber body with a decent enough citrus finish but nothing earth-shattering.
A nice enough place, and it is always great to visit the source of beers that I have previously tried in bottles, but the Whisky Creek cum Mammoth Brewery Tap seems like trendy-City at times - a good place to pose if you will. The beers were OK, but the whole feel is that of a Night Club late at night rather than a Bar. The lack of Specials was also a disappointment, it summed up the feeling to me that whilst this is attached to a Brewery, it's not really a bar focused on their beer as such, moreover it just happens to sell the adjacent Breweries offerings.
Worth a visit, and boy, what a setting!! but my advise would be to try the Clocktower Cellar Pub just over the road if you want a wider beer range and a more laid back atmosphere in which to enjoy it.
Last Visit: Friday 4th August, 2006
4,146 characters
2.7
/5
rDev
-30.6%
vibe: 2.5 | quality: 2 | service: 3.5 | selection: 2.5 | food: 3.5
If you have been to Mammoth Lakes (or Mammoth Mountain for that matter) you have an idea of what you're in for.
Midweek, this is a local "hardman" snowboarder and skiier hangout. You'll here a lot of smack talked by people who are posing quite impressively.
On the weekends, it's like everyone in LA suddenly dressed up for a trip to Aspen. Cell phone central. Horrid.
And the beer... My theory is that they don't clean the lines either often or effectively. While there is a periodic batch of beer that is decent, most the the brews are either funky or downright nasty, with that heavy "butterscotch" flavour that gives away the hygeine problems.
Of all their beers, the one that is the most consistently drinkable is the wheat beer. Of course, this is also the one that they produce least often.
The food is decent ski town brew pub fare (though overpriced significantly) and the wait staff tends to be both cute and fun (though perhaps not super-competent).
Overall - not somewhere I'd suggest, and not a beer I'd buy.
1,028 characters
Mammoth Brewing Company in Mammoth Lakes, CA
3.67
out of
5
based on
1,547
ratings.