Tap Room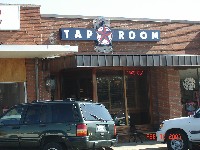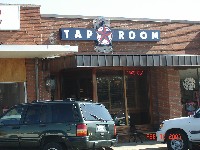 Bar, Eatery
1740 Battleground Ave
Greensboro
,
North Carolina
, 27408-7905
United States
(336) 274-4439 |
map
taproomnc.com
Notes:
Reviews by TheHexIsReal:

4.35
/5
rDev
+22.2%
vibe: 5 | quality: 4.5 | service: 4 | selection: 4 | food: 5
More User Reviews:
3.85
/5
rDev
+8.1%
vibe: 4 | quality: 3.75 | service: 4 | selection: 3.75
This place has the feel of a college bar, except the clientele are not college aged but more likely in their thirties. Lots of wood on the interior with a bar running down one side and some tables on the other side and usually some decent music playing though a little too loud to carry on conversations easily. There are a couple of TVs inside which are usually showing sports as well.
Beers were poured with a decent amount of head and at a decent temperature into pint glasses.
Service was friendly and attentive with some knowledge about the beers on offer on draft (though not as well versed on the bottle/can options).
While the selection is not anything real special, you sometimes happen across some decent tap offerings (and sometimes things that went quickly at the more crafty destinations). Mostly regional and national craft offerings as well as BMC.
867 characters
4.06
/5
rDev
+14%
vibe: 4 | quality: 4 | service: 4.25 | selection: 4 | food: 4


2.7
/5
rDev
-24.2%
vibe: 2.75 | quality: 2.75 | service: 3 | selection: 2 | food: 3.5
Cool place to go and try. Not a destination to go out of your way for. foods pretty good, beer selection is weak. Small and crowded more of a college bar the anything else in my opinion. Went there once probably wouldn't go back again but still worth checking it out at least once if you are wanting to try something new.
321 characters
2.86
/5
rDev
-19.7%
vibe: 3 | quality: 3 | service: 3 | selection: 2.5
Uhh, no. This was your very typical after work hang out and I was lucky enough to hit it right around 5:30, yay. A loud few minutes were what was in store for me. Walked in and the tap list looked to have more BMC then craft on it and what was there was nothing special, I saw the Magic hat 9 and a sam adams, Really just not my cup of tea and not the place I wanted to hang out at as I had a bunch more to visit today. So off I went down the path of Battleground to get caught in even more traffic..
500 characters
2.68
/5
rDev
-24.7%
vibe: 1.5 | quality: 2.5 | service: 3 | selection: 2.5 | food: 4
I don't think this is really a beer destination. This place used to be a nice hang out years ago before it got invaded by a swarm of yuppies. I've been back recently and it's still pretty lame. The beer selection is average really, they've got your standard BMC plus yuengling, newcastle, etc. A few micros and particularly Natty Greene's but nothing remarkable enough to make me come back. It's ridiculously smoky and cramped. You have to scream at your friends to have a conversation and wade through a sea of thirty somethings trying desperately to hook up and/or bag a husband. The staff is a mixed bag, some are cool but some of them can be surly at times. Stay away at all costs. At least the food is ok but it's just bar food so it's not a saving grace or anything.
772 characters
2.28
/5
rDev
-36%
vibe: 2 | quality: 2 | service: 2 | selection: 2.5 | food: 3.5
I love the section of greensboro this bar is in!
There wasn't much going on, or on Tap here...
It was very smokey even at 8pm. the beer list was anything but appealing, as were my fellow patrons.
The Cat Fish Tacos were the saving grace of this Tap Room. They were outstanding! I had a southern Pale Ale that left much to be desired. After the pale ale I asked for an IPA...guess Ill go with another Southern Pale Ale.
The beer was bad, the staff was pleasant and the food (at least the cat fish tacos) was very good. Sure would be a nice place to drink some American Lagers with somebody after work, for those who enjoy mass produced American Lagers
NC Beer Monger
668 characters
4.14
/5
rDev
+16.3%
vibe: 4 | quality: 4 | service: 4 | selection: 4.5
A very nice pub atmosphere to sample beer, gather with friends, or simply have a good time. It's perfect for those that want to go out for a few drinks with friends in an atmosphere that is cozy, not very crowded, yet not dead either. Bartenders and waitstaff are friendly and knowledgable, and there is a nice selection of beers especially for this area. A nice array of imports, domestics, and locally brewed beers including Red Oak and various Natty Greene's brews. And of course my favorite, Chimay White now on tap for $5.
527 characters
4.22
/5
rDev
+18.5%
vibe: 4.5 | quality: 4.5 | service: 4.5 | selection: 3.5
This place is a pub through and through. Great atmosphere, a bit smokey but what bar isn't in the Tobacco Capital of America? They only have eight taps, but they are all good selections. On my visit they had Prankster Golden Ale, Red Seal Ale, French River Broad Bock, Red Oak Amber, Guiness Stout, Boddington's Bitter, Newcastle Brown, and French River Broad Goldenrod Pilsner. Plus an assortment of bottles which includes many macros as well as items like Samuel Smith's Oatmeal Stout and Organic, Lindeman's Kriek Lambic, Siera Nevada Pale Ale, and some others.
The service was fast and the crowd was lively. The place seemed alive with music and conversation. It is a relatively small place and owned by the same people that own Olde Town, 1st Draught House, and they are opening a brew bup down town.
Good place and one of the better beer joints in the area.
869 characters
Tap Room in Greensboro, NC
Place rating:
3.56
out of
5
with
11
ratings