Mariestads Export
| Spendrups Bryggeri AB
BA SCORE
74
okay
12
Reviews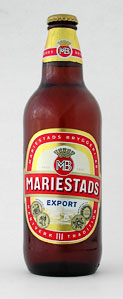 BEER INFO
Brewed by:
Spendrups Bryggeri AB
Sweden
spendrups.se
Style:
Dortmunder / Export Lager
Alcohol by volume (ABV):
5.30%
Availability:
Year-round
Notes / Commercial Description:
No notes at this time.
Added by bark on 03-11-2005
Reviews: 12 | Ratings: 51
3.85
/5
rDev
+40.5%
look: 4 | smell: 4 | taste: 3.5 | feel: 3.5 | overall: 4.5
From Spendrups brewery in sweden or at "søta bror"as we say in Norway.
Malt bouquet.This is a great beer.
Looking forward to the cristmas edition.... when is it possible to get that in "systembolaget"?I need to fill my stock till x-mas...
240 characters
3.31
/5
rDev
+20.8%
look: 3.5 | smell: 2.5 | taste: 3.5 | feel: 4 | overall: 3.5
Mariestads Export, ABV: 5.3%.
500 ml can, 15.90 SEK (including refund) at Systembolaget.
It would be fair to mention that this beer has sentimental value to me, as I used to drink it in my earlier beer-drinking days. Mostly because I sensed it had more body, bitterness, and taste than all the other Swedish standard lagers. Now I'm gonna see what I'll think of it today.
A: Golden, with tones of copper, and a quite nice white head.
S: Sort of malty, and citrus-y, with some sour notes. Surprisingly neutral aroma.
T: Citrus fruits (like oranges), and hints of bread. Balanced, nothing really stands out, but it's rather pleasant. Decent bitterness.
M: Here's the best part, I'd say. Balanced medium body and bitterness (somewhat higher than the average). Very "lagom" with a "lagom" bitter aftertaste. Soft. Really drinkable.
O: It's not as tasty as I remember, but this is still a pretty decent lager, something I could drink more of (if I didn't have a lot of other stuff I wanted to drink). Its "lagom-ness" makes it quite OK for most occasions - if you don't count the not so "lagom" ones.
Lagom is b.t.w. the most Swedish of words, and a very common way of living and thinking in Sweden, it best translates into "moderate" or "just right" in English.
Another "fun fact": This is the second most sold beer in Sweden, after Sofiero Original - Sofiero is one of the cheapest ones at Systembolaget, while Mariestads is considered "premium" as it costs 5 SEK extra (and I actually understand why).
1,507 characters
2.15
/5
rDev
-21.5%
look: 2.5 | smell: 2.5 | taste: 2 | feel: 2 | overall: 2
bought this in IKEA
relatively heavy and smoky export ... maybe suits the climate in the north (especially during wintertime), to me it's just not refreshing for a 'blonde' beer and not enough fruity and tasty for anything else
the bitter finish is paired with some sweetness, which makes this brew sticky ...
would not buy it again
334 characters

2.38
/5
rDev
-13.1%
look: 2.5 | smell: 2 | taste: 2.5 | feel: 3.5 | overall: 2
Reviewed under low artificial light. Bought at IKEA.
Appearance: Pours a golden yellow brew with half finger head that quickly dissipates and non existent lacing. Low effervescence.
Aroma: Harsh aroma of hay, fennel and cooked vegetables/rice. Theres also some of the usual hop notes. The balance might comply with the style guidelines but it isn't particularly pleasant to me. Feels rushed, cheap and raw.
Taste: Medium intense flavor with grassy, metallic, fennel, earthy and other pungent notes. Again, the balance might be on point, but the flavor itself isn't particularly pleasant.
Palate: Medium low carbonation. Medium light to light bodied. Medium carbonation. Medium bitterness. Finished dry. Leaves a lingering fennel aftertaste.
Drinkability: Well, unlike most lagers, this beer doesn't strike me as particularly sessionable since it ends up unpleasant rather than boring and generic. So while the malt/hops balance is on point, Spendrups managed to make this beer completely unbearable, especially for Dortmunder fans such as myself. Unremarkable and i'm being nice.
1,084 characters

2.63
/5
rDev
-4%
look: 3 | smell: 2.5 | taste: 2.5 | feel: 2.5 | overall: 3
0.5l can poured in a chalice.
Bought at IKEA - Switzerland.
A: Golden yellow to orange color with a 1 to 2 fingers foamy head
S: Not a big deal. Malt with a light hop smell in the end (Reminded me soap... Weird... And no, it was not the glass)
T: Not a big deal too. Malt, basically. Light "hoppy" bitterness
M: Light body. Medium carbonation
D: Low. To be avoided. Once in the IKEA in the mood for a beer, go to the Old Gold (also from Spendrups Bryggeri) witch is at least, decent.
485 characters

3.15
/5
rDev
+15%
look: 3 | smell: 3 | taste: 3 | feel: 3.5 | overall: 3.5
Picked this one up in Ikea in Toulon, France in a 50cL tall can.
A-Clear golden w/white 1-finger head that lasted a couple minutes and faded into nothing.
S-Sweet fresh biscuity malt, apple sauce, hint of toffee, faint grain alcohol like the kind you pick up in the macro Euro strong ales but only a tiny bit, herbal and grassy hop notes.
T&M-Tastes okay, malt and toffee upfront w/dry herbal and grassy hop finish. Well-balanced and dry aftertaste w/hint of spice.
D-Better than what I expected. I'm not going to buy a 6-pack, but I'd drink it again.
557 characters
2.71
/5
rDev
-1.1%
look: 3.5 | smell: 2.5 | taste: 2.5 | feel: 3 | overall: 3
The beer is light gold with a rather thick foam that recedes quickly, but leaves some lacing.
The smell has some malty notes, a bit of dried grass.
The taste is slightly sour, some malt, the hops gives a rather short bitterness - and not much taste.
The carbonation is good and the beer quench your thirst rather well.
321 characters
3.05
/5
rDev
+11.3%
look: 3.5 | smell: 3.5 | taste: 3 | feel: 3 | overall: 2.5
Had a bottle of this at the Lund, Sweden train station cafe. Poured with a big, foamy, frothy, almost creamy texture and color head and lace. Color was a very clear, deep, rich, medium amber. Aroma was malty, caramel, and a hint of cinnamon. Flavor was about the same with bitterness in the finish but sweet overall. Body was average. Nevertheless not a lot going on and basically forgettable.
393 characters

3.33
/5
rDev
+21.5%
look: 3.5 | smell: 3 | taste: 3.5 | feel: 3 | overall: 3.5
Pours a two finger white head that fades quickly to a thin layer leaving a good lace. Clear amber color. Good carbonation and light-medium bodied. Slight hoppy nose. Flavor is slightly sweet with malt, surprisingly good for a label that has "export" on it. 58 SEK ~ $9.74 Villa Godtheim Restaurant Stockholm. From my notes - 7/7/2008.
334 characters
2.06
/5
rDev
-24.8%
look: 3 | smell: 2 | taste: 2 | feel: 2 | overall: 2
This beer I drank on the train from Malmo to Stockholm. first off I had to wait for them to start selling this instead of shit 2.3s at 11am but I was lucky to hit the bar at 10.55 so I didn't have to wait much.
the beer is amazingly shitty. but it was all they had on the train. nothing else i can say about it. I should've assumed when something is labelled "export" it translates to "rubbish".
398 characters
2.46
/5
rDev
-10.2%
look: 3 | smell: 2 | taste: 2.5 | feel: 3 | overall: 2.5
This beer was the third most sold strong beer in Sweden in 2004 (and the same place on the top ten in 2003)
The airy, large off white foam is quite firm and is sinks slowly down to a finger thick head; the colour is pale gold.
The smell is kind of strong, it got a suspicious note of old dishcloths and wet leather. There are also some notes of bitter hops and diacetyl.
The taste is better than the odour: There are lots of semi-sweet malt with some notes of French loaf, maybe it is a little bit roasted. There are also some very mild bitter hops and a creamy diacetyl-note. The aftertaste got some flavours of boiled vegetables and margarine.
The carbonation is medium strong, nothing special there.
A lager with some more diacetyl than many others... I cannot really see why this one is selling so much. It might be the lavish marketing, as this is the "premium brand" from Spendrups.
908 characters
2.1
/5
rDev
-23.4%
look: 2 | smell: 2 | taste: 2 | feel: 2 | overall: 2.5
Pours all golden with some head and some carbonation in there. Head dies after a few seconds.
Smell is faint malts, chemical hops tigether with a cloying sweetness and perhaps sone can in there.
Comes on pallate somewhat malty. A reminder of what malt is really makes this beer bad. Sweet sugary hops are in there as well with some carbonation and some alcohol.
367 characters
Mariestads Export from Spendrups Bryggeri AB
2.74
out of
5
based on
51
ratings.