Mariestads Porter
| Spendrups Bryggeri AB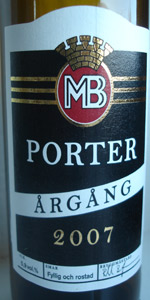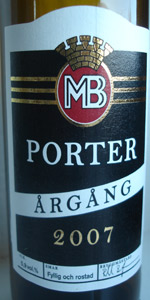 BEER INFO
Brewed by:
Spendrups Bryggeri AB
Sweden
spendrups.se
Style:
Baltic Porter
Alcohol by volume (ABV):
5.90%
Availability:
Limited (brewed once)
Notes / Commercial Description:
No notes at this time.
Added by baggio on 10-01-2007
This beer is retired; no longer brewed.
HISTOGRAM
Ratings: 8 | Reviews: 7
Reviews by JanM:

3.11
/5
rDev
-3.4%
look: 3 | smell: 2 | taste: 3.5 | feel: 3.5 | overall: 3.5
I guess we should celebrate a porter from one of Sweden's most successful macros but something isn't quite right. Mariestad Porter looks like a glass of Coke and doesn't really smell much except a little roasted malts and fish (!). The taste is primarily on the watery side although all the right taste notes are there: coffee, chocolate, licorice and ashes. I almost got the impression that the brewer has made a decent porter but diluted it so as not to challenge the average macro beer buyer too much. Or maybe to keep the ABV low in order to keep the tax down. But that's just a fantasy, I suppose..?
604 characters
More User Reviews:

3.38
/5
rDev
+5%
look: 3.5 | smell: 3 | taste: 4 | feel: 2.5 | overall: 3
Tasting the 2007 edition.
Dark reddish brown with a pale tan head. Nice foam with adequate stability.
Smell is not that overwhelming. A whiff of old cheese (in the good way) and maybe a hint of dark and caramel malts. I would expect more, though.
Taste gets much more interesting. Münchener malt coupled with raisins, figs and port. A faint hop character appears, then vanishes. A touch of dark chocolate and some burnt sugar to finish. Bitterness seems too sharp in the beginning but fades to an appropriate level.
Carbonation is good but the body is a little on the thin side.
A nice beer but not what I would expect from a 4-year old vintage. I suspect filtration and pasteurization are to blame.
705 characters
2.8
/5
rDev
-13%
look: 3 | smell: 3 | taste: 2.5 | feel: 3 | overall: 3
Vintage 2007. The first thing that I noticed was the smell when I opened the bottle: There was no smell.
The colour is dark brown-wine red; the liquid is clear. It looks quite pale for a porter. The high head slowly sinks down to a finger thick beige head, leaving some fine lacing.
The smell is… mild and neutral. There are some sour roasted malt flavours as well as a clean bitterness.
The taste is surprisingly sour-bitter. Some roasted malt. Neither body nor sweetness! There is a hint of stewed meat. The aftertaste is mild and rather short with some roasted malt and a hint of sweetness.
The carbonation is quite strong and lager-like. The bubbles are medium-sized and almost sharp. The liquid is mid watery.
This beer is marketed as part of the "Mariestads" brand, sold as a safe and relaxed premium beer for middle-aged folks. I think that this beer is meant as a way to introduce "dark" beers towards lager drinkers. It resembles somewhat of Guinness Draught. But to me, it was mostly a boring beer without any personality.
1,045 characters

2.93
/5
rDev
-9%
look: 4 | smell: 3.5 | taste: 2.5 | feel: 3.5 | overall: 2.5
This is a vintage beer, I'm trying the 2008 edition.
A: It pours dark brown with some red tones. The head is large, creamy off-white, compact and thick. It leaves some lacings.
S: The first thing that comes to mind is raisins, but of course there is roasted sweet malt (the roasting isn't the heaviest I've ever smelled). Some coffee as well.
T: Heavy roasted malt, it dominates over other flavours... But there is faint coffee and raisins, some chocolate.
M: The aftertaste is a bit shorter than I expected, the body is medium to full and it contains pretty much carbonation. This is dry.
D: Well, not the best porter. A bit to uncomplex for my taste. Almost only heavy roasted malt. I'll probably won't buy this one again.
730 characters
3.5
/5
rDev
+8.7%
look: 3.5 | smell: 3.5 | taste: 3.5 | feel: 3.5 | overall: 3.5
Mariestads was a small independent brewery in the small Swedish town of Mariestad until 1967. Now it is owned by the largest Swedish-owned brewery in the country, Spendrups, and has become a "high-end" line of beers for them. I think the idea is to fool the consumer into thinking that the Mariestads line of beers is brewed in a small private brewery, which is unfortunately not the case. Because of this, Mariestads seems kind of like an attempt at a micro-brew line from a macro-brewery.
This porter pours pretty much as to expected. Its dark with a coffee colored head which dissipated quickly.
It smells like rich malt and very, very sweet. I kind of had an idea of what it would taste like just by the way it poured and smelled.
It seemed sort of oily and watery in the first taste, but one good thing about very dark beer is that it masks a lot of imperfections. Despite a rather unrefined porter taste, its a drinkable beer.
In Sweden you buy your beers individually, there is no 6-packs, 12-packs or cases. This allows you to mix your beers and get as many of each as you want. I only bought one of these and I think that was a smart decision.
1,157 characters
3.11
/5
rDev
-3.4%
look: 3 | smell: 2 | taste: 3.5 | feel: 3.5 | overall: 3.5
A new swedish porter! That doesn't exactly happen everyday. Esp not from one of the largest brewers in the country, Spendrups.
A: Dark, dark red. Thin lightbrown lace.
S: Coffee, ripe fruit, roasted malt. Not much smell at all.
T: Bitter coffee, dark bread, roasted malt, ripe fruit.
M: Very smooth, medium carbonation. Goes down easy.
Nice try but no cigar. A very drinkable porter but it should have
more body and taste. Still, better than i expected so if you're
into porters, give it a go!
498 characters

3.65
/5
rDev
+13.4%
look: 4 | smell: 4 | taste: 3.5 | feel: 3.5 | overall: 3.5
A - One and a half fingers of off white head that settles slowly and leaves nice lace. The body is dark brown with bright ruby highlights and good clarity.
S - Malty, dark chocolate along with coffee, toffee, and some mild hops.
T - Dark chocolate and a hint of dark fruit. Raisins and coffee in the middle with some malt bitterness in the finish.
M - Medium-thick body, medium carbonation, and a sweet finish.
D - It almost seems like I was drinking a different beer than the few others who have reviewed this beer (although I am sure it is the correct one); unlike the others I quite enjoyed this porter. It may not be the most complex example of the style, but it is a nice porter overall, with an unusually convincing chocolate note.
741 characters
Mariestads Porter from Spendrups Bryggeri AB
Beer rating:
3.22
out of
5
with
8
ratings