Spendrups Export
| Spendrups Bryggeri AB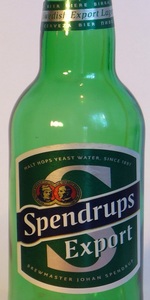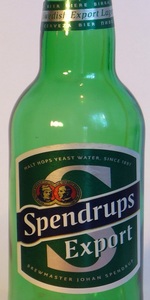 BEER INFO
Brewed by:
Spendrups Bryggeri AB
Sweden
spendrups.se
Style:
Euro Pale Lager
Alcohol by volume (ABV):
5.00%
Availability:
Year-round
Notes / Commercial Description:
No notes at this time.
Added by rastaman on 03-26-2003
HISTOGRAM
Ratings: 13 | Reviews: 9
None found.
More User Reviews:

1.13
/5
rDev
-55.2%
look: 1.5 | smell: 1 | taste: 1 | feel: 1 | overall: 1.5
Very thin mouthfeel, with a chemically artificial flavour. Quite crisp, but really annoyingly so, too grainy and bland, a mass prodeuced swedish lager, that sells a lot more than it should, kind of like Budweiser in the US, VB in Australia, Labatt in Canada, etc.
263 characters
2.76
/5
rDev
+9.5%
look: 3 | smell: 2 | taste: 3 | feel: 3 | overall: 3
Served on Scandianvian Air flight. Pretty pale, closer to an American style mega. Nonexeistent head. Slightly "beery" smell, then the taste" at first an odd sweetness, but that goes away. I then get a nice hint of hop dryness. I think I'm getting a notable alcohol component, like in a Foster's. Lovely can printed in a repeating pattern to give it some texture.
364 characters

2.87
/5
rDev
+13.9%
look: 2 | smell: 2.5 | taste: 3 | feel: 3.5 | overall: 3
Got this at Ikea in Toulon, France.
A-Pours a clear yellow-gold. I turned my head for an instant after the pour and the head was already gone.
S-Not much on the nose...just faint notes of pale lager. Can't pick up any off-notes. There is also a touch of sulfur and a faint herbal aroma.
T&M-Slightly sweet upfront, bitter finish. Evenly balanced, aftertaste is clean.
D-Okay, but nothing to seek out unless you're already at Ikea.
435 characters
3.55
/5
rDev
+40.9%
look: 3 | smell: 3 | taste: 4 | feel: 3.5 | overall: 3.5
Gold coloured can with a green label, sold in the UK at IKEA stores, my wife thought I might like it.
Poured into a Corsendonk stemmed tulip glass, it looked OK, mid-range lager gold, bright and with a good white head sat on top, the head fell away as the tasting progressed.
No aroma much, gets my standard 3 for a pils/lager non-smelling beer.
I enjoyed the honest lager taste, nothing out the ordinary, but clear, refreshing and just what I needed at the time, it was a hot afternoon and I'd been gardening.
No metallic feel, not overy dry like some cheap pils/lagers, not that this was cheap.
No world beater, but pleasant and harmless.
645 characters
1
/5
rDev
-60.3%
look: 1 | smell: 1 | taste: 1 | feel: 1 | overall: 1
2.38
/5
rDev
-5.6%
look: 2.5 | smell: 2 | taste: 2.5 | feel: 2.5 | overall: 2.5
Comes in a 33cl green Heineken bottle with a pretty stark label featuring a big letter "S". Whatever. Ingredients conform to the purity law. Best before 10/14/03, I opened mine on 8/27/03.
Pours a clear bubbly gold with a slight reddish tint. There was next to no head whatsoever. It had a strong metallic nose with an undertone of - what IS that? Manure? - well, let's call it charcoal. The mouth is very bubbly and semi-heavy with sweetness. Taste is sweet and malty, with no discernible hops content. Oh, wait, yes, there is just a touch of hops. Oops, no, it's gone again. The aftertaste, such as it is, would be best described as sweet metal. Guess they export this to Russia because no one in Sweden will drink it.
723 characters
2.53
/5
rDev
+0.4%
look: 3 | smell: 2.5 | taste: 2.5 | feel: 2.5 | overall: 2.5
A clear golden beer whit a white head that leaves a few residues on the glass.
A weak smell, some malty notes.
A clean taste, uncomplex, a bit sour, citric, white bread, a short bitterness.
Medium to high carbonation, rather easy to drink.
A run-of-the-mill euro lager, nothing I get excited about.
302 characters


2.72
/5
rDev
+7.9%
look: 2 | smell: 2.5 | taste: 3 | feel: 3 | overall: 2.5
From a green can, purchased with a cafeteria style lunch, in an IKEA outside of Milan: This is an unimpressive brew to behold. It's a sort of limpid yellow, but the head is completely lacking. It's carbonated, for sure, but no foam to speak of. The aroma has a decent and clean bitterness, and a slight flower smell in the distance. There's a bit of grain, but not much malt aroma. There's a decent amount of sweetness in the foretaste, followed by a solid bitterness. No real off taste, and it's actually pretty drinkable. There's not much in the way of flavor, though. There are some base sweet, grain, and bitter qualities, but nothing outside of those. This makes the beer pretty uninteresting, straightforward, and forgettable.
732 characters
2.7
/5
rDev
+7.1%
look: 2 | smell: 2 | taste: 3 | feel: 3 | overall: 3
The colour is yellow with a tint of gold. The foam dissolves quickly into a thin ring.
The smell is malty with some bitterness and yeast.
The carbonation is strong and bubbly, medium sized bubbles.
The taste is quite mild with a good body; there are notes of some alcohol and an anonymous bitterness. The aftertaste got notes of crisp bread and some bitterness with a metallic touch.
The most interesting about this beer is its similarity to the low alcohol "Spendrups 2,8"; the only difference is the larger body in the stronger variation.
558 characters

3.08
/5
rDev
+22.2%
look: 4 | smell: 3.5 | taste: 2.5 | feel: 4 | overall: 3
Appearance: Pours a clear lemon yellow brew with one and a half finger head with good retention and lacing. Light
effervescence.
Aroma: light aroma of lemon, pear, grass, grainy, sulfury and a bit of cooked vegetables.
Taste: Light intensity in flavor. Follows up on the nose somewhat with notes of lemon, pear, grain upfront and sulfur on the back. As it warms up it develops a marshmellow like center to it.
Palate: Light carbonation. Finishes sweetish. Medium light body. Lingering candy-pear like flavor. Low bitterness.
Drinkability: It's sessionable, somewhat in style, not particularly flawed but still unremarkable and forgettable.
The hop and malt character isn't the most traditional or most pleasant to me, but still interesting. It does warrant
the Dormunder/Export label on BA, in my opinion.
811 characters
Spendrups Export from Spendrups Bryggeri AB
Beer rating:
2.52
out of
5
with
13
ratings