Corsendonk Rousse
| Brouwerij Corsendonk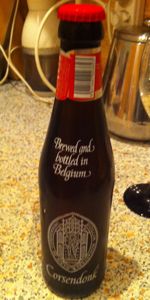 BEER INFO
Brewed by:
Brouwerij Corsendonk
Belgium
corsendonk.com
Style:
Belgian Pale Ale
Alcohol by volume (ABV):
8.00%
Availability:
Year-round
Notes / Commercial Description:
No notes at this time.
Added by thierrynantes on 11-11-2010
Reviews: 9 | Ratings: 40

4.09
/5
rDev
+14.6%
look: 4 | smell: 3.75 | taste: 4.25 | feel: 4.5 | overall: 4
My favorite of the Corsendonk beers. The rousse poured out darkish amber, with a red tint perhaps, and a smallish white head. A bit yeasty scent, but the smell is overwelmingly citrus: orange and lemony.
The head has settled to a haze. Very sweet on the taste, a nice round, fizzy sweetness on the front of the tongue: orange, lemon and graphs flavors. Other spicy notes that I can't place. A very good overall taste, but almost hard to call this a beer, the sweetness is so overwhelming. Very little to no bitterness and hops. A little alcohol flavor on the finish, but I was quite surprised this was an 8% ABV beer. Nice texture, quit a lot of carbonation. Very easy to drink. Reminds me a bit of a berry Weiss, but the flavor is even less complex and maybe smoother. A nice taste, but it doesn't linger very long. The alcohol content will catch up to you quick after a few sips!
This is a great, easy-to-drink beer, especially for when you want a break from a "beer-tasting" beer, or for those friends who claim they don't like beer. I think it would be perfect in the early springtime with noodles and prima vera vegetables.
1,142 characters
3.93
/5
rDev
+10.1%
look: 4.25 | smell: 3.75 | taste: 4 | feel: 3.75 | overall: 4
A: Golden like peach juice, cloudy, lots of fine bubbled carbonation and a huge 5 finger yellowish brown head with an almost pink tinge. Some random lacing.
S: Lemony like a lemon pie, Belgian yeasts. Much like a triple. Some light spicy pepper notes.
T: Sweet, peppery, guava, cloves, really interesting.
M: Medium syrupy body with light carbonation.
O: Really interesting brew. I was pleasantly surprised by the uniqueness of it, so I love it. Bought in Kunming, drank here April 4th, 2015.
512 characters

3.77
/5
rDev
+5.6%
look: 4 | smell: 3.75 | taste: 3.75 | feel: 3.75 | overall: 3.75
Poured into tulip.
Pours clear amber/copper with rose hues beer with thick off-white head, moderate retention.
Smell - malty, peppery, belgian yeasts, resembles tripel
Taste - sweet malty, fruity, peppery, belgian yeasts, uncommon. Hops are forgotten.
Sticky body, smooth and silky, medium carbonation. Pleasant texture.
Unique brew.
333 characters

3.75
/5
rDev
+5%
look: 4.5 | smell: 4.5 | taste: 3 | feel: 4 | overall: 4
L: almost perfect look; two fingers, lasting foam; cognac-colour;
S: pear, citrus, smells like the Corsendonk Agnus, but with a bit of caramel and celery;
T: as an Agnus-addict this taste was a little disappointment; good, but no more than that; a bit too sweet and too short of hops/bitterness to complete the taste.
M: I thought it was 5%, but looking on the bottle I was surprised to see it was 8%. The sweetness hides the alcohol completely. The carbonation was quite right.
Drink it extra cold, to suppress the sweetness. Otherwise this one will be your disappointment too.
By the way: I don't see this beer on the website of Corsendonk anymore. Has it been withdrawn, not competing with the other Corsendonk-success-stories?
732 characters

3.62
/5
rDev
+1.4%
look: 3.5 | smell: 4 | taste: 3.5 | feel: 3.5 | overall: 3.5
Beer bottle (33 cl.), tasted in 2010.
Appearance : clear amber color, with white foamy head (some lacing).
Smell : yeasty and spicy aromas.
Taste and mouthfeel : caramel and fruits flavors, a very sweet finish.
Drinkability : a good beer in the style Belgian Pale Ale.
275 characters
3.39
/5
rDev
-5%
look: 3.5 | smell: 2.5 | taste: 3.75 | feel: 3.25 | overall: 3.75
.33 liter bottle in a mug
A: Dark golden/light amber color. Clear. White foamy head, 2 fingers at pour. Decent retention.
S: Very faint notes of fruitiness and caramel. Underwhelming.
T: Very pleasant and more than expected from the smell. Quite a bit of sweetness, caramel notes. Some earthy yeast flavor in the finish with a slight bit of alcohol. The 8% ABV is well hidden behind the sweetness. Malt flavors become more pronounced as you go.
M: Crisp, medium bodied. Dry but well-rounded, quite a bit of carbonation.
O: A solid, enjoyable beer for it's style. Even somewhat reminiscent of some quads I've had, though drier and lighter. Found myself at the end thinking I'd happily try this brew again.
710 characters
3.39
/5
rDev
-5%
look: 4.25 | smell: 4 | taste: 3 | feel: 3.25 | overall: 3.25
Nice promising dark amber look with a heavy head of foam. I like the bottles as well, with the text printed directly on the bottle. Makes it very, well, abbey-ish. Nice spicy and yeasty smell with lots of cloves present. The taste doesn't seem to match the smell however: fruity, with hints of cherries, peach and caramel. Very sweet, a bit too sweet for my liking. Hop bitterness seems to be lacking. 8% abv, but this beer manages to hide this well. Not a bad beer, but like I mentioned before, too sweet for me.
513 characters

3.3
/5
rDev
-7.6%
look: 4.25 | smell: 3.5 | taste: 3 | feel: 3.5 | overall: 3.25
Wonderful net of lacing.
Malty sweetness, some hints of peppery belgian phenols.
Overbearingly sweet to the taste, though there are some nice crackery malts in there.
Fairly unique.
184 characters
3.07
/5
rDev
-14%
look: 3.5 | smell: 2.75 | taste: 3 | feel: 3.5 | overall: 3.25
The colour is amber-copper (30 EBC), the liquid is clear. The tree finger head is compact and amber, it sinks slowly leaving some lacing.
The smell is bitter-sweet with some metal/iron, caramel and red fruits (raspberry jam and cherries). Some chemical meaty notes. I don't like the metal notes.
The taste is very sweet, almost like drinking unmixed fruit squash. Red fruits/berries, caramel, strawberry flavoured candy and some brown sugar. Medium body. The aftertaste is more balanced with caramel, brown sugar and rosehips. Some dry/bitter notes and mixed spices (nutmeg, allspice, cloves) in the background. The smooth finish is all brown sugar.
The carbonation is very strong, the small bubbles are long-lived. The liquid is sticky.
Too sweet and one-handed for me.
780 characters
Corsendonk Rousse from Brouwerij Corsendonk
3.57
out of
5
based on
40
ratings.