Olde Frothingslosh
| Pittsburgh Brewing Co.
BA SCORE
71
okay
13
Reviews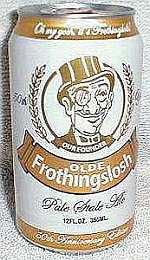 BEER INFO
Brewed by:
Pittsburgh Brewing Co.
Pennsylvania
,
United States
pittsburghbrewing.com
Style:
American Pale Lager
Alcohol by volume (ABV):
4.70%
Availability:
Rotating
Notes / Commercial Description:
No notes at this time.
Added by soulfly967 on 01-07-2005
Reviews: 13 | Ratings: 33

2.08
/5
rDev
-17.1%
look: 4 | smell: 1 | taste: 2 | feel: 3 | overall: 2.5
The CANQuest (TM) is honored and tickled to add this gem on the approach to #1,000!
For those who may not know the backstory, in the 1950's, some of the Old Guard, especially Ballentine, started coming out with Holiday/Christmas beers and Pittsburgh B. C., still headquartered in Da ' Burgh, wanted to follow suit, but they had neither the time to develop a special recipe nor to devote tank space to one, even if they could. It was then decided to put Arn (Iron City Beer) in a special CAN and promote it as a Holiday Ale. Wiser marketing men said that this was tantamount to foul play and might result in a LOT of negative publicity, so they hit upon a more tongue-in-cheek CANpaign and so Olde Frothingslosh was born. Sir Reginald von Allegheny was their first spokesman, followed by the Divine-like Lady Fatima Yechblah, whose 300 + pound frame was squeezed into a one-piece bathing suit and photographed in "Perils of Pauline"-like poses, such as bound and gagged on railroad tracks. After a period of time, it fell out of favor and the CANs have become collectors items. In the last twenty years, they have begun to revive the brand for a new audience and I am happy to pick up the torch.
From the Color # 2 (White) CAN: "The Foam Is On the Bottom!"; "Oh My Gosh!"; "Certified to Fit Any Shape of Glass!"; "Build Your Own Sir Reg [-] Stack Two and Twist a Brew"; "This Bottom Up [with arrow]"; "Hippity Hops Makes It Tops!"; "Includes Free Liquid Inside!"
The Crack! unveiled a brimful CAN, surprisingly. An inverted Glug was needed to get the bottom right-side up and never had a beer cried out for such treatment. Once it was empty, I realized that I had been cheated! There was NO free liquid inside, perhaps in a little pouch. But no, I had been made to pay for every bit of it and they will be hearing from my solicitor, recently returned from Florida, by the way. My nonsense resulted in a finger of bone-white head that quickly began to fall away, leaving nice lacing in its wake. Color was a golden-yellow (SRM = 4 to 5) with NE-quality clarity and my old pals, Croesus, Mammon and Midas were suddenly in attendance. This time, however, there was no fighting as they were too busy laughing. This is not a beer to be taken seriously. The nose smelled even worse than usual, as though the Minhas Cybermen had gotten to Sir Reginald. I was getting cheap perfume, pink bubble gum, plastics factory, dry cleaning plant. Oof. Mouthfeel was thin-to-medium and the taste was not as bad as the nose, although how CAN it be? Even so, it was not very pleasant, which is surprising, since I usually like Arn, so maybe they are using a different recipe. Finish was semi-dry and I was CANtemplating just how to divest myself of the rest of the 30-pack. Anyone have Colors 1 or 3 for trade? I would like at least two of each. No, really.
2,840 characters
2.92
/5
rDev
+16.3%
look: 3.25 | smell: 3 | taste: 3 | feel: 3 | overall: 2.5
Extremely thick malt sweet tone on the nose, with an almost apple juice kind of thing that you would know exactly what I was talking about when you got a whiff of it. Flavor is heavy with the sweet malts too. That's about all I am really getting here is a sweet malty lager bomb. Carbonation seems high. This is pretty typical for a lager, and the brewery. I think it's something a lot of people might like, but not ye olde beer nerds.
435 characters
2.96
/5
rDev
+17.9%
look: 3 | smell: 2 | taste: 3.5 | feel: 3 | overall: 3
Olde Frothingslosh
LOOK: Clear yellow, fizzy yellow head leaving lace.
SMELL: Sweet pale malts. Pretty light nose.
TASTE: Crisp, clean creamy malt flavor. Light hops. Basic refreshing lager beer here, no frills, but good.
FEEL: Almost medium bodied, pretty damn respectable.
OVERALL: In parts of Pittsburgh and surrounding area, old timers frequently comment on their love of this beer. They would say it only came around for the holidays. I was excited try this. This is a really average lager in all regards but it is inexpensive.
539 characters
3
/5
rDev
+19.5%
look: 3 | smell: 3 | taste: 3 | feel: 3 | overall: 3
A - Quite good looks quite good for average lager with a 1/2 inch of foamy head that sticks around for quite a bit and has some lacing. Clear pee water as a descriptor.
S - Not skunked rather sweet with corn and musty malts. A touch of stale hops as well.
T - Quite a refreshing yet average lager. I get the corn and sugar, crystal like malts and maybe some drying hops in the finish. It might be the yeast. I had worse.
M - Light yet not very bubbly. Good.
Overall I wouldn't buy another but worth a dollar to drink. Pretty similar to Lord chesterfield so I am not sure why the hate...
591 characters

1.73
/5
rDev
-31.1%
look: 2.5 | smell: 2 | taste: 1.5 | feel: 2 | overall: 1.5
So excited to be crackin' a can of Olde Frothingslosh. Here goes...
Okay, so no foam at the bottom. Nasty little ploy to get me to spend 99 cents on this here can. Pours a golden straw color with a coarse, soapy white head that dissipates in crags. Leaves a few clumps for a little while. It doesn't look awful, per se.
Aroma consists of corn malts, prickles of hop pellets, and a faint whiff of gasoline. Slightly musty, which brings a foggy sense of beer to an otherwise bundle of unwanted smells.
Eh, it's beer. Semi-sweet cooked corn malts with other vegetable implications. Watery in taste with doses of bitterness tailing out. A little dirty dish-like in flavor, which leaves me to grimace a bit. It's clearly a beer to make fun of all of other beers.
Doesn't feel much better, either. Sudsy and bland in feel. Really thin.
This one's fun... for a short while. Now, time to open a different beer!
907 characters

2.98
/5
rDev
+18.7%
look: 3 | smell: 3 | taste: 3 | feel: 2.75 | overall: 3
12 oz can.
Pours a light clear gold with a sudsy white head that dissipates quickly.
Smells of light barley malts and corn sugar sweetness.
Crisp barley malts with some mildly rich sweetness and somewhat bitter dry lagery hops.
Light to medium body with a tingly carbonation.
An average pale lager, not as good as Yuengling but better than the macros for my money. It is what it is and if you just want a cheap lager, you could do worse.
444 characters
2.41
/5
rDev
-4%
look: 3 | smell: 2 | taste: 2.5 | feel: 2.5 | overall: 2.5
A: Fizzy. Sticky foam with a lasting head. Cloudy , murky yellow.
S: Earthy with a cooked grain mix. Don't get much else
M: A bit of the bitter on the edge of the mouth with a lot of water in the middle and water wash. Just a little foam.
T: Well, I finally got to try this. I didn't want a 24 pack or the extra cost so when I found a six pack while I was in Chicago, I figured no problem. Trouble is, I'm not that sure this isn't really old. I believe it's dated 2013 Feb. It doesn't taste like it turned but maybe it's showing it's age. It's slight hops were barely noticeable. It had a slight candy like flavor but the wine edge peeked through. It's light with enough flavor to feel, well, like drinking a light beer.
O: Even if this was old, I don't think there is enough to make me come back.
803 characters

1.47
/5
rDev
-41.4%
look: 1 | smell: 1.5 | taste: 1.5 | feel: 1.5 | overall: 1.5
This beer was created as a joke, just google the beer name to get plenty of background. The back of the can describes a bit of the history and how it was created by Rege Cordic a radio DJ in Pittsburgh. The history states that the pale stale ale with the foam on the bottom was like no other ever brewed...so light the beer floated on top of the foam; so pale, the first few cases fainted; so dry, like a dusty, man and musty; flexible, you bet, certified to fit any shape glass without bending at all. Their first model for the can was a 300 pound go go dancer, but then moved to the cartoonish impression of Rege Cordic.
On to the beer. Pours a dark straw yellow with a foamy white head that fades quickly. Smell is mostly alcohol with some hints of what seems like corn, and some grain with a very strong metallic smell. It was hard to distinguish. The taste is sweet, powered by the fresh out of the can taste, a good deal of carbonation. The after taste is sweet, taste like you just bit into a nasty spoonful of corn. It has some cheap wine qualities as well. The mouthfeel is terrible, very thin and watery. with the heavy carbonation. This is hardly drinkable. For $7 for 24 cans, its the cheapest beer you are going to find and there is a good reason for it. I say stay away from this one unless you are getting for the history/story of the beer, or as a joke. Otherwise, if you are looking for a cheap beer stick to the macros and you will be better off.
1,468 characters

3.06
/5
rDev
+21.9%
look: 4 | smell: 3 | taste: 3 | feel: 3 | overall: 3
From can...different design.
Pours a clear gold with big head that disappears to a small foam island and lace.Aroma of straw, minerals, musky malts.
Moderate carbonation and mouthfeel.
Flavors of light malts, straw hops, minerals, subtle pepper, wheat. Overall light and somewhat watery but not bad.
299 characters

2.38
/5
rDev
-5.2%
look: 2.5 | smell: 2 | taste: 2.5 | feel: 2.5 | overall: 2.5
Olde Frothingslosh? I thought they were never going to make this again? But, here it is, a 50th Anniversary Edition can in my house.
This Pale Stale Ale poured a light golden color with a fluffy white head that fell quickly back into the beer. The smell was of some sweet malts, corn, and a slight musty basement scent. The taste was very sweet at first then had a touch of bitterness at the end. The mouthfeel was pretty thin. I could drink more of this if I had to.
I assume that this is only going to be a limited edition thing, but who knows with PBC...
565 characters
2.64
/5
rDev
+5.2%
look: 2.5 | smell: 2.75 | taste: 2.5 | feel: 2.75 | overall: 2.75
I had heard about this beer for years but never tried it. Only have found it in cans so after puting it in a glass it seemed to have quite a lot of carbination. It had a nice smell but kind of a bitter taste. It was strong on the tongue and not a beer i would drink all nite but a couple was ok. I guess they started making it again but im not sure why it is ok but not something to go out of your way to try. overall i thought it was a bit overpriced for what it is. Slightly darker then a true light colored beer. average at best, the name is better then the beer itself.
573 characters
1.45
/5
rDev
-42.2%
look: 2 | smell: 2 | taste: 1 | feel: 1 | overall: 1.75
My grandfather got this beer for my collection when I was a child. The rest of my collection was nothing more than my grandpas empties. This one however was full. It had the beautiful lady on it. Quite a bit of black and yellow. He knew I was a Steeler fan and I was really in to beer cans. This beer can was my most prized beer in my collection. Circa late 1970's I kept it four years until I had the idea to drink it, What should of been my first beer review. 1.8 although it was warm as hell in an attic in Texas.
523 characters
1.65
/5
rDev
-34.3%
look: 2 | smell: 2 | taste: 1 | feel: 2.5 | overall: 2
So, Olde Frothingslosh is retired.
The can in the pic is the OLD one, back in the 70's.
The can that I had was green with a nice drawing of Olde Frothingslosh.
Anyways, it says "the only beer that foams on the bottom".
I had to see for myself, so I cracked one open and poured it into a a 16oz glass. what happened next blew my mind. The foam went to the bottom and the beer rised. the foam must be dense, more so than the foamy brew on top.
The beer tastes like skunked guiness with a bitter aftertaste.
RIP Olde Frothingslosh.
543 characters
Olde Frothingslosh from Pittsburgh Brewing Co.
2.51
out of
5
based on
33
ratings.