The Wild Cat Malt Liquor
| Pittsburgh Brewing Co.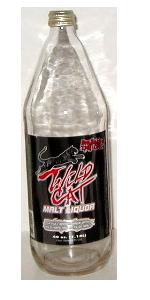 BEER INFO
Brewed by:
Pittsburgh Brewing Co.
Pennsylvania
,
United States
pittsburghbrewing.com
Style:
American Malt Liquor
Alcohol by volume (ABV):
not listed
Availability:
Year-round
Notes / Commercial Description:
No notes at this time.
Added by WVbeergeek on 12-11-2006
Ratings: 4 | Reviews: 3
2.95
/5
rDev
+35.3%
look: 3 | smell: 3 | taste: 3 | feel: 2.5 | overall: 3
Bomber bottle from Party Town, KY.
Poured clear light amber color with a medium frothy white head that diminshed slowly with minimal lacing. Light grainy hop aroma. Light to medium body with soft carbonation. Medium sweet flavor with a light grainy sweet finish of short duration.
Cold wet alcohol with some character.
320 characters

2.1
/5
rDev
-3.7%
look: 2 | smell: 2 | taste: 2 | feel: 2 | overall: 2.5
This mornings gas station beer review come from my wife. Thanks honey, I think? The beer was served in a Imperial Pint glass.
Appearance: The beer pours a clear bubbling yellow coloration. The head was a short lasting white.
Smell: This beer smells of corn syrup and cooked veggies. Alcohol and spent hops combine with a mineral smell.
Taste: Man this is a sickly sweet beer. This beer is pretty straight forward with corn sweetness, alcohol and a vaguely metallic flavor.
Mouthfeel/ Drinkability: This beer has a lighter than medium body. The carbonation is adequate to the beer. The beer was an ok cheap alcohol delivery system. The beer wasnt gag inducing but not particularly good.
The second pour:
I elected to have the beer out of its proper serving container (the bottle). The beer is as cold as can be without ice forming. Appearance: 2.5 The beer seems to look better in the bottle. The brown bottle and black lable with cat leaping improves the appearance. Smell: I cannot give it a score under this circumstance; however, I am inclined to say not smelling this is an improvement. Taste: 2.5 This beer still has a corny flavor. The veggie and mineral flavors are minimized. Mouthfeel/ Drinkability: 2.5/ 3 The beers body is still just shy of medium bodied. The carbonation is alright for the style. Honestly this beer is much better out of the bottle. This is a cheap beer. I cant really recommend this beer for a gas station beer. Olde English Hi Gravity and Steel Reserve are much better 40 oz picks.
1,534 characters
2.2
/5
rDev
+0.9%
look: 2 | smell: 2 | taste: 2 | feel: 2 | overall: 3
Contracted by Pittsburgh brewing label says it's brewed by Wildlife Brewing but I believe that's just a marketing company pushing this brew. Considering this was found in a store with The Eagle, and Old German all same brown forty ounce bottles. appears a pale golden with a bright fizzy white head leaves thin lace after dwindling quickly. Aroma mild grainy sweetness along with corn and other cooked veggies and finishes with "wild" hops or in reality just a touch of barely noticeable chemical edge could be a hop profile note. Flavor quite distinct grainy/cooked veggie note that has some sugar sweet tones and mild alcohol note and evident hop edge, not gag inducing however far from smooth flavor. Mouthfeel is light to medium bodied slightly creamed corn texture with higher carbonation kinda rough and un naturale. Drinkability decent flows down for a malt liquor not as off as some other versions of this style yet nothing great very malt liquor...brown bag style beer.
978 characters
The Wild Cat Malt Liquor from Pittsburgh Brewing Co.
2.18
out of
5
based on
4
ratings.