The Liquor Collection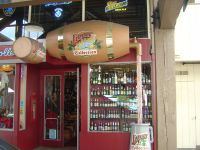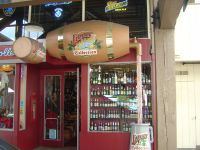 PLACE INFO
Type:
Store
1050 Ala Moana Blvd
Honolulu
,
Hawaii
, 96814-4905
United States
(808) 524-8808
// CLOSED //
Notes:
No notes at this time.
Added by BeerAdvocate
PLACE STATS
Reviews:

13

Ratings:

pDev:

11.47%
HISTOGRAM
View: Place Reviews
Ratings: 14 | Reviews: 13
4.75
/5
rDev
+18.5%
vibe: 4.75 | quality: 4.75 | service: 5 | selection: 4.5
Small store in an expensive place to rent a spot, which accounts for their high prices. At that location, they can't do economy of scale, like Healthy Spirits in SF does. They make up for this with a selection of beer that is at least tied for the best on the island. Decent selection of ciders, too. Exotic liquors, like absinthe, and chartreuse are also available here. Ming and George (co-owners) are great friendly and knowledgeable people who only hire the best to work for them. They will have to move, soon, because the land owner, Victoria Ward, has deemed they can make more $ by tearing down Ward Warehouse, the shopping center Liquor Collection is located in, and replacing it with a luxury residential high-rise. Hopefully, the Liquor Collection can relocate to a place with a lower rent that will be reflected in their prices.
839 characters

4.11
/5
rDev
+2.5%
vibe: 3.75 | quality: 4 | service: 4 | selection: 4.5
A - A very, small shop in the Ward Shopping Center. Plenty of parking in the parking garage across from the shop.
S - Nothing special, but they did offer to help with anything I needed.
Sel. - So far the only place in Hawaii I've seen Hopping Frog and Beer Geek Brunch Weasel. Not a large selection, but some unique offerings.
V - Of the stores I've been to in Hawaii, their prices seem to be the highest. However, I'm willing to pay extra for unique beers the others store don't carry.
I definitely recommend checking them out if you are in Honolulu.
555 characters
3.25
/5
rDev
-19%
While their selection had a few things I couldn't find at Tamura's or other beer stores, it was fairly small. Can't really get mad at them for that though, since they are cramming a beer/liquor/wine store into a tiny place. I've seen some world class selections in tiny stores, but they only did beer or liquor, not both. Prices are higher here, than most anywhere else on the island. Folks working are nice and willing to help if you need it.
449 characters

3.86
/5
rDev
-3.7%
vibe: 4 | quality: 4 | service: 3.5 | selection: 4
The Liquor Collection is in the Ward Center on Oahu. It's a fairly small store located in an outdoor shopping mall. There is a good amount of beer available with some on the shelf and some in coolers. Lots of craft and import options to choose from. Service was pretty good in that I got friendly answers to questions I asked but I wasn't approached by staff. Prices at this store seemed to be a bit higher than other stores on the island. Overall, this is a solid place to pick up good beer but be prepared to pay a bit more in the end.
537 characters
4
/5
rDev
-0.2%
It's hard to rate the selection here with a single number. The store is very small and in terms of sheer numbers, the selection isn't that big. But they frequently carry a beer that I can't find anywhere else in Hawaii. So if you are looking for something in particular and you can't find it at Whole Foods or Tamura's, it's worth a look. That said, check the other stores first because it is guaranteed to be substantially more expensive here. Also I often have difficulty finding an open parking spot.
503 characters
3.15
/5
rDev
-21.4%
After reading some of the reviews on BA, I decided to head to The Liquor Collection. I had a nasty hankering for some Belgian or another variety of tasty beer and this sounded like the place to satiate my thirst.
I was wrong. The store is very small, maybe 700sf. The selection, while not terrible, is nothing to be excited about. The corner convenience store near my old house in Mammoth Lakes, CA had a much, MUCH better selection than The Liquor Collection. Actually, now that I think about it, the general store in the tiny town in Central Alaska that I called home for a bit has a better selection. We're talking about a town of 800 people, 120 miles north of Anchorage. The Liquor Collection has 3 cooler cases. One is devoted to the large-scale, tasteless American lagers. The other two have an assortment of other beers, but they are mostly vanilla choices. There was little there that I couldn't have gone to an average beer bar and ordered. Maybe I am a bit of a beer snob, but I just want to call it like I see it. Is this really the best selection of beer in Honolulu? If it truly is, there is certainly a market for a store with a larger, better selection.
As far as the cost goes, it was ridiculous. Yes, I know we're in Hawaii (I live here), but even still this is crazy. Prices are 2 to 2.5 x's that of a normal beer store on the mainland. In their defense though, you can make a mix 4-pack, which is nice. It is just very expensive, whether you mix or not. To give you an idea of price, I bought a mix 4 pack that ran me just shy of $17. I got 1- 12oz Spaten Ur-Marzen Oktoberfest; 1- 11.2oz Biere du Boucanier; 1- 12oz Old Rasputin; and 1- 12oz Maudite. It's nice to get a mixpack, but at what cost? Ohh well. Maybe I just need to put my money where my mouth is and open a competing store.
1,811 characters
4.65
/5
rDev
+16%
Went here is early June on a trip to Hawaii to visit my wife's family. I got horribly lost on my way to the store and was fast approaching closing time. When i called for directions the guy who answered the phone helped me out and told me he would not close, which is very cool.
This is a small store but packed with craft beer, lots of belgians, Dieu du ciel, deschutes, hotd, among others. Lots of rare (to me, a southerner) such as abyss and black butte XII. Had a few bottles of black hole as well. Lots of west coast beers I never see, this place would probably be less exciting to a Californian.
Service was great. The guy that helped was knowledgeable and cool. When my final bill was $260 he could tell I went over budget (the wife was shooting eye darts) He asked if I wanted to cut it down a bit and helped me pick out the cream of the crop, chopping my bill to $170
Prices were a little high but its hawaii.
Cool store, cool people. Will go back next time I visit the in-laws
991 characters

4.15
/5
rDev
+3.5%
Always trust your leads. Both of my CS hosts suggested this one. The counter/register was right, a table for the owner left, and wine down the left wall. The right wall was liquor with a wee bottle of Johnnie Walker Blue for $75. The back wall, slightly right, was where it was at. A bank of coolers with a really nice selection of beers from everywhere ran along that wall, fronted by racks of room temperature beers with some, but not total, redundancy. $1.00 off of a mixed 6. What more could a Haole ask for? Aloha and Mahalo!
530 characters
4.3
/5
rDev
+7.2%
One of the best sellections I have seen anywhere, let alone on this tiny Island in the middle of the pacific. They have ALL the local beers and a great selection of Asian unknowns, Belgians, and USA micros. I bought Echigo Koshihikari, Keoki Sunset and Keoki Gold, Kona Pipeline Porter, Mehana Mauna Kea Pale Ale, and La Bière du Boucanier Red Ale. All but the last one (which is Belgian) are extremely hard to find on the mainland. A bit hard to find as it is on the backside of a little strip mall, but there is ample parking. Good selection of wines too. Great helpful staff. HIGHLY RECOMMENDED.
599 characters
4.65
/5
rDev
+16%
Okay, so it's the best place to buy a selection of American & European craft brews in the state... what else can I say?
Well, it is pricey, but as others mentioned, you get $1 off if you fill a six-pack holder. Also, for $10, you get a membership that gives you 10% off everything for a year -- it's worth it if you live here and spend more than $8.33 a month on good beer. They've got Belgians, a few from Germany & UK, but heavy on the West Coast (Deschutes, Sierra Nevada, Rogue) & stuff from the other islands (haven't seen anywhere else to grab Kaua'i Gold or anything from Maui Brewing Co.).
The people who work here are great to bullshit with about great beer. Good liquor selection in addition to beer. Nice spot to blow $20 on a few brews for the "cellar". In general, though, you might save some ducats going to Tamura's or a good mini-mart for your West Coast fixations.
883 characters
4.2
/5
rDev
+4.7%
Stopped here to stock my hotel fridge while in town on business. The previous reviews are correct in that the selection is pretty good, lots of Belgians and Germans and some nice American beers centering on West Coast and Hawaii breweries. The prices are not as bad as some other reviews led me to expect, really only about $0.50 - $1.00 more per beer than you can get on the mainland. Not bad.
The service was pretty good, they reminded me to grab 6 beers in order to get a $1 discount. Decent enough.
505 characters
3.85
/5
rDev
-4%
This place is located in Ward Warehouse, conveniently located in Honolulu. The staff is friendly and knowledgeable. It is a small place, but the best selection in Hawaii [which is not saying too much].
One nice feature is that they have four fridges worth of beer that can be bought individually. No problem mixing.
The prices are high, but that can be said for everything in Hawaii. Overall, if you have a hankering for some good beer, this is the place. Probably have 10 different Belgians, including large [3 litre?] bottles of Chimay blue.
551 characters

3.8
/5
rDev
-5.2%
This place is in the Ward Warehouse area, a big converted shopping district. Lots of little shops and such. Parking is a bit of a pain, not much.
A small place by mainland standards, but they have about 3 coolers full of good stuff (1 of macros) and one full sized shelf.
A good selection of Hawaiian beers and enough interesting stuff to make it worth a trip to the shop early in your Hawaiian trip (for good hotel beers). It is the only place I've heard of or found that has a good selection.
Staff were friendly and give discounts for mixed 6'ers and my 3 Rogue bombers.
576 characters
The Liquor Collection in Honolulu, HI
Place rating:
4.01
out of
5
with
14
ratings