Crucial Crucial Aunt Aunt

The Veil Brewing Co.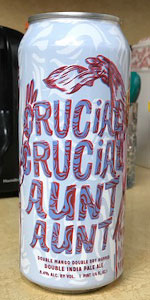 Write a Review
Beer Geek Stats:
| Print Shelf Talker
Style:

ABV:

8.4%

Score:

Avg:

4.27

| pDev:

7.03%

Reviews:

15

Ratings:

From:

Avail:

Rotating/Seasonal

Wants

Gots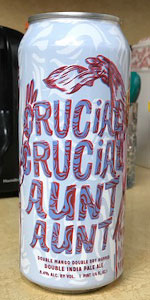 Notes:

Amguerra305 from Florida
4.3
/5
rDev
+0.7%
look: 4.75 | smell: 4.75 | taste: 4 | feel: 4.25 | overall: 4.25
This beer actually looks like mango juice as it is turbid and orange in the glass. Barely any lingering head to speak of. Smell is complex with mango predominating and supported by a tropical juice undertone. The taste is bone dry with a piney bitter finish. Way too bitter for my tastes. It looses all the nuances of the nose on account of the bitter taste. Feel is pretty pleasant but unremarkable. Overall the beer is good but it does not live up to its nose or look.
Jun 19, 2017

jzeilinger from Pennsylvania
4.08
/5
rDev
-4.4%
look: 4 | smell: 4 | taste: 4 | feel: 4.25 | overall: 4.25
Many thanks to Knapp85 for this can.
A - Pours an opaque medium orange tan color with thin, yet dense white lacing.
S - Mango, citrus, tangerine. Aroma is "chewy and thick".
T - Mango, citrus, and some tangerine with a lingering mild citric bitterness and tropical sweetness.
M - Chewy, heavy medium body, coats the mouth with chewy tropical fruit.
O - Rock solid, but any more, these hazy IPA's are all starting to taste the same.
May 17, 2017

clayrock81 from Florida
4
/5
rDev
-6.3%
look: 4 | smell: 4 | taste: 4 | feel: 4 | overall: 4
Poured a cloudy orange body with minimal head and lace ring. Mango comes through with a tangerine grapefruit sweetness and no hoppy bitterness in the aroma. The beer's taste/mouthfeel has a hint of bitterness but is mostly sweet from tangerine/mango and this sweetness is balanced with a mild acidic hop bite and the finish is clean and sweet and this beer is real enjoyable.
May 15, 2017

Griffin2 from Virginia
4.24
/5
rDev
-0.7%
look: 4 | smell: 4.25 | taste: 4.25 | feel: 4.25 | overall: 4.25
Poured from a 16 oz can into a pint glass.
L - Pours a hazy orange with a small white head.
S - Smells of mango, citrus and hops.
T - Tastes just like the smell, lots of mango, pinnapple with a slight bitterness on the finish.
F - Medium mouthfeel with medium carbonation.
O - Really tasty double IPA that hides th 8.4 % alcohol.
Apr 30, 2017
IvoryFoxhole from Virginia
4.35
/5
rDev
+1.9%
look: 4.25 | smell: 4.25 | taste: 4.5 | feel: 4.25 | overall: 4.25
From 4/22/17 Anniversary celebration. Poured into Veil Anniversary glass, because of course.
L: 1F+ head with OK retention. Doesn't leave much lacing, but there is a thin cap and ring. Beer is a hazy orange; easily could be mistaken for orange juice.
S: Mango, naturally, as there is added mango. Also get some pineapple and passionfruit. This appears to be more tropical in nose than Crucial Taunt.
T: Woo, fruit really pops here. Mango and lots of it up front, with pineapple, passionfruit, and some tangerine and lemon rind. Very little malt to speak of. Finish moderately earthy, but as is usual with Veil IPAs there is very little in the way of bitterness, just a small amount.
F: Medium bodied, pretty strongly carbonated, which works for this combination. Very good construction and balance and long finish works out well.
O: Very nice DIPA with the addition of fruit.
Apr 26, 2017

brocktune from Virginia
4.23
/5
rDev
-0.9%
look: 4.5 | smell: 4.5 | taste: 4 | feel: 4.25 | overall: 4.25
Hazy opaque orange, thin white head around rim. Juicy citrus and mango aroma. Bitter hoppy taste, grapefruit, mango, and citrus peel notes. Bitter Piney feel, lingering into the aftertaste.
Apr 23, 2017

vikingpillager from Illinois
4.71
/5
rDev
+10.3%
look: 4.5 | smell: 4.75 | taste: 4.75 | feel: 4.5 | overall: 4.75
LOVE THIS BEER - amazing balance, feel, and taste. Great hoppiness, fruitiness, citrus-heaviness. So drinkable but The Veil does such a great job on cloudy ales so that's not saying much!
Mar 01, 2017

bowzer4birdie from Illinois
4.67
/5
rDev
+9.4%
look: 4 | smell: 4.5 | taste: 5 | feel: 4.5 | overall: 4.5
canned late december 2016 and poured into my favorite oversized snifter. My first Veil beer and it is outstanding! Deep, flavorful DIPA but not as hazy in the NE style. Beautiful on the nose, luscious on the palate, a rewarding experience throughout.
Jan 31, 2017

Dragginballs76 from South Carolina
4.65
/5
rDev
+8.9%
look: 4.25 | smell: 4.75 | taste: 4.75 | feel: 4.5 | overall: 4.5
Appearance - Pours cloudy orange with tons of white floaties nice thick white head and great lacing all around the glass.
Aroma - Lots of tropical fruit mango, pineapple, orange nice hop aroma as well.
Taste - Very juicy same as the aroma lots of tropical fruit and nice bitter hoppiness.
Feel - Medium body well carbonated the 8.4% ABV is not very noticeable.
Overall - An excellent beer great flavors hits every point.
Jan 15, 2017
Terp96 from North Carolina
4.5
/5
rDev
+5.4%
look: 4.5 | smell: 4.5 | taste: 4.5 | feel: 4.5 | overall: 4.5
Was a little skeptical as I do not like mangoes but this beer was amazing. Pours a bright hazy golden yellow with decent head retention. Huge citrusy hop aroma with some sweetness from the mango. Taste is all hops. Dank, piney and citrusy all at once. Very little of the mango comes though. Not much of a malt backbone but it doesn't matter. One hell of a beer
Jan 01, 2017
HopBomb515 from New Jersey
4.27
/5
rDev 0%
look: 3.5 | smell: 4.5 | taste: 4.25 | feel: 4.25 | overall: 4.25
Super hazy mango color, small Peach tinged head, lacking in the lacing. Huge dank resinous, tropical and citrus aromas. Dank resin, citrus blended down zest and all, mango, and big wet pine needles. Medium toward full, smooth and pleasantly dry. To be honest this beer isn't without fault. The looks leave a lot to be desired, I don't mind hazy but some lacing would be welcomed. It's complex but the hops become so much it's hard to dissect.
Dec 11, 2016

WunderLlama from Massachusetts
4.27
/5
rDev 0%
look: 4.5 | smell: 4.25 | taste: 4.25 | feel: 4.25 | overall: 4.25
Can poured into chalice
With foamy , billowy two finger white foam cap over a hazy amber liquid
Aroma of citrus , orange. Tangerine. Lime, mango
Taste of hop dankness, spicy, citrus
Good beer
Taste the alcohol
Oct 23, 2016

wedge from North Carolina
4.46
/5
rDev
+4.4%
look: 4.25 | smell: 4.5 | taste: 4.5 | feel: 4.25 | overall: 4.5
@ The Veil
Murky pale orange juice appearance, capped with a small whipped white head. Smells of aromatic spicy fresh green herbal hops, smooth mango puree, and lemon/lime citrus. Flavor is hop juice...fresh green dankness, mango, lime, grapefruit, and herbs. Medium bodied, softly carbonated feel. Juicy.
Oct 14, 2016
brentk56 from North Carolina
4.24
/5
rDev
-0.7%
look: 4.5 | smell: 4.25 | taste: 4.25 | feel: 4 | overall: 4.25
Appearance: Pours very cloudy and honey colored; the head climbs three fingers and turns rocky, while draping some lace
Smell: Mango, lime and pith
Taste: All hops here, with just a hint of toasted malt underpinning; the mango dominates, up front, with other tropical fruit flavors underneath; through the middle the dry-hopping launches a bitter wave that is very pithy with hints of lime and mint; some aspirin in the finish
Mouthfeel: Medium to full body with moderate carbonation
Overall: I am not a fan of the aspirin-like bitterness but the rest of the beer has a nice flavor profile; the Veil brewers really enjoy a bitter assault on the taste buds and at one time I did, too, but I like the juicier styles now
Sep 25, 2016

Stolenface1 from Virginia
4.72
/5
rDev
+10.5%
look: 4.25 | smell: 4.75 | taste: 4.75 | feel: 4.75 | overall: 4.75
Pours a solid, turbid orange with fluffy white head. Aroma is huge.. mango mango mango.. peach, passionfruit, lychee, nectarine.. Flavor is just as huge as the aroma, with all of the same descriptors.. man this is good! The 3.17 rating I just saw must come from a person with compromised taste buds because this beer is phenomenal! The feel is med and like straight juice. Med-low carbonation. Overall, this is as close to perfection, for a DIPA w/ fruit, that I have ever experienced.
Sep 22, 2016
Crucial Crucial Aunt Aunt from The Veil Brewing Co.
Beer rating:
94
out of
100
with
87
ratings