Original Litovel Classic

Pivovar Litovel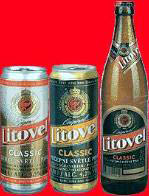 Write a Review
Beer Geek Stats:
| Print Shelf Talker
Style:

ABV:

4.2%

Score:

Avg:

2.95

| pDev:

17.29%

Reviews:

6

Ratings:

From:

Avail:

Year-round

Wants

Gots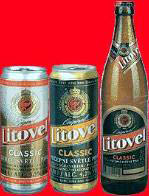 Notes:
Reviews by lhedbor:
3.28
/5
rDev
+11.2%
look: 4 | smell: 3.5 | taste: 3 | feel: 3 | overall: 3.5
Brought back from the Czech Republic by loving family members, as a gift from longtime Czech friends who now run a small pension/hotel in Luhacovice. Half-liter bottle had a best-by date 6 months from today, and shows some wear, as though it has been returned and refilled a few times, maybe.
A: Crystal clear gold in color, robust carbonation, exuberant head that drops pretty rapidly to a thin ghost of its former self.
S: Noble hops right up front, backed by malt sweetness and a hint of fruity esters.
T: Round, balanced malt, tailing off into nicely bitter hops, with a slightly astringent, almost metallic aftertaste.
M: Full and soft, with a slight prickle of that visible carbonation.
D: A nice, solid European-style pilsener, perhaps a bit hoppier than some, and with only the hint of metallic astringency detracting, long into the finish. If I were in the Czech Republic personally, I might move on to other, more interesting beers, but I would be happy to see this on a menu anywhere.
996 characters
More User Reviews:
3.16
/5
rDev
+7.1%
look: 4 | smell: 3 | taste: 3 | feel: 3 | overall: 3.5
500 ml can, bought in Denmark. ABV is 4.2%. Golden colour, good head. Very moderate aroma, some flowery Saazer hops. Moderate hops on a tolerably malty background in the flavour, nothing remarkable but I can't detect any off-flavours either. A drinkable pils, not the best from the Czech Rep. but not horrible either.
318 characters

2.05
/5
rDev
-30.5%
look: 2.5 | smell: 2.5 | taste: 2 | feel: 2 | overall: 1.5
Found this at the Chateau Louis in Edmonton. Came in a dark green 500 ml can with a splash of orange and gold in the design. About 8 different languages on the back of the can, this stuff really gets around, plus it shows off the 3 awards this stuff had won in 1906, 1911, and1927 respectively. In the Czech language it mentions an antioxident rating, which is missing in the English language, but we get the scoop on the original gravity, which was between 1037-1039. And all this fun stuff on the can is about as good as this stuff gets....
Pours out a hazy honey-like colour, thick foamy head at first, but that drops in half a minute to nothing at all. A host of suspended particles in the body. Checking the best before date on the bottom of the can I still have a month left on this batch. The nose possesses a nearly cloying bready sweetness mixed with honey, along with grass and hay. Flavour is an imbalance of sweet and astringent, husky grains duking it out with sweet malt, the light grassy hops can't even get a foot in the ring. Mouthfeel is thin and watery, no presence in the mouth at all. Sweet yet herbal aftertaste. No sir/madam, I won't be reaching for another one of these. The Czechs are capable of making some fantastic beers, but this is definitely not one of them.
1,292 characters
3.94
/5
rDev
+33.6%
look: 3 | smell: 4 | taste: 4 | feel: 4 | overall: 4
Tried this beer on tap at the Approach Tavern in East London, near the Victoria Park. The tavern, located in a spacious Victorian building which was renovated after surviving the Blitz during the WWII, is full of characters and reminiscent of "good" old days of the WWII with many old pictures and posters on display. It's apparently a well-preserved freehouse dedicated to Fuller's beers. My previous experience of tasting this beer at this pub was extremely satisfying, hence the decision yesterday to write down how I feel about this beer while enjoying a nice afternoon out at this remarkable pub on the "St. George's Day"...
A: served in a half-pint straight glass, it pours a light-golden colour, with a foamy head at first but fast retreating (quite unlike my previous experiences, when it had this very very thin but incredibly lasting beerhead...); the carbonation is very low.
S: mixture of sugar-cane, banana, buttery aroma springs to mind... also a bit of grassy note accompanies the main theme.
T&M: very smooth palate, with clear layers of different tastes on palate--firstly comes light-medium, bread-like maltiness, followed by profound, perfumy yet dryish hoppyness as the backbone, with very delicate touch of savoury flavour as well~~ The smoothly hoppy mouthfeel lingers for more than twenty-seconds; the overall body is medium-minus, with a quite delicate hoppy aroma as the main theme.
D: a hoppy and well-balanced Pilsner; I think two (max. three) half-pints are quite sufficient to fully appreciate its delicate flavour. Recommended!
1,563 characters
2.77
/5
rDev
-6.1%
look: 2.5 | smell: 3 | taste: 2 | feel: 4 | overall: 3.5
Pours golden with weak bubbly head that soon fades, large carbonation bubbles forming at the bottom of the glass. Aroma is grassy citrus hops, also bits of spice and orange.
Taste is simple malt with grassy bitterness settling in later and lasting for a while. Later, when the beer warms up it obtains unpleasantly sweet aftertaste. Mouthfeel is light with lively, above average carbonation, just what I would expect from a Czech Pils.
Overall, I did not like it too much. It is cheap, has an impressive list of ingredients, including hop extract and antioxidant, but is way better than most of the Latvian industrial beers. Maybe, if there is no decent beer around, I would choose this one.
693 characters

2.52
/5
rDev
-14.6%
look: 3.25 | smell: 2.5 | taste: 2.5 | feel: 2.25 | overall: 2.5

2.93
/5
rDev
-0.7%
look: 3 | smell: 3 | taste: 3 | feel: 2.75 | overall: 2.75

2.98
/5
rDev
+1%
look: 3 | smell: 2.5 | taste: 3 | feel: 4 | overall: 3
I brought a 500 ml can home from a recent trip to Europe. The beer poured a clear golden color with good white head that dissapated. Very moderate aroma, some Saaz hops. The taste is typical of most Czech Pilsners, nothing remarkable. The mouthfeel is a light to medium body with good carbonation. A drinkable pils, not the best from the Czech Rep. but not horrible either.
373 characters

3
/5
rDev
+1.7%
look: 3 | smell: 3 | taste: 3 | feel: 3 | overall: 3
Review notes soon...
20 characters

3.23
/5
rDev
+9.5%
look: 3.5 | smell: 3.5 | taste: 3 | feel: 3.25 | overall: 3.25
Original Litovel Classic from Pivovar Litovel
Beer rating:
76
out of
100
with
13
ratings