Fire Hydrant Hefeweisen
| Fire Station 5 Brewing Company
BA SCORE
80
good
14
Reviews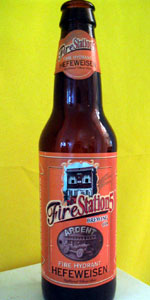 BEER INFO
Brewed by:
Fire Station 5 Brewing Company
Oregon
,
United States
Style:
Hefeweizen
Alcohol by volume (ABV):
5.40%
Availability:
Year-round
Notes / Commercial Description:
No notes at this time.
Added by RedDiamond on 04-02-2005
Reviews: 14 | Ratings: 18
3.53
/5
rDev
+17.3%
look: 4 | smell: 3.5 | taste: 3.5 | feel: 3.5 | overall: 3.5
It pours a golden, slightly cloudy amber with a thick head, darker than most hefeweissens I have sampled. Aroma is strongly hoppy and has a tingly bite to it. Flavor is richly malty with a touch of hops and citrus hints. There is no thinness or wateriness, just good wheaty flavor. A very pleasant brew.
303 characters
3.5
/5
rDev
+16.3%
look: 4 | smell: 4 | taste: 3.5 | feel: 2 | overall: 3.5
Poured from the bottle into a pint glass
A – Pours a hazy orange-gold with a one finger, white head. Moderate carbonation amidst large chunks of yeast. Head stays intact till close to the bottom of the glass and leaves behind several large blotches and rings of lacing.
S – Nice, big smell of orange, cinnamon-spice and wheat
T – Sort of awkward bitter-orange upfront . The body is a hint of orange on a sweet wheat malt background. A flourish of spiced-orange as the beer passes over the back of the tongue with just a hint of wheat as an aftertaste.
M – Slightly thicker than water and moderately carbonated. Could stand to be much thicker
This beer started out pretty good, but wasn't too pleasant once I started drinking it. The mouthfeel and flavors make the beer come off feeling weak and thin. I found this beer up at my grandparents cabin, so it may be a year old, decent for a freebie, but not something I will look for in town.
957 characters
3.35
/5
rDev
+11.3%
look: 3 | smell: 3 | taste: 3.5 | feel: 3.5 | overall: 3.5
12 fl oz. bottle, no freshness date. Decanted in a 20 oz. Weizen glass. Unfiltered. Nice golden color, good cloud from sediment. Head a very light brown, bubbly, not much retention. Fruity aroma, tart. Smooth, rounded feel you get from Hefes and Blondes. Very drinkable, but nothing outstanding.
295 characters

3.26
/5
rDev
+8.3%
look: 4 | smell: 3 | taste: 3 | feel: 3 | overall: 4
Fire Station 5 Brewing Company--Hook & Ladder Hefeweizen--2002 Release--12 oz. Bottle--5.00% ABV? (3.75 / 5.0) Hefeweizen--Hazy lemon orange juice color. Medium sediment. Malty mild spicy floral NW wheat front. Malty medium thick mild yeast body. Clean mild citrus end. No banana clove notes. Tasty Solid NW Hefeweizen. Sampled 7/14/2002.
Fire Station 5 Brewing Company--Fire Hydrant Hefeweisen--Unfiltered Wheat Beer--2004 Release--12 oz. Bottle--5.00% ABV?15 IBU's? (4.0 / 5.0) Hefeweizen--Foamy mild lace head. Cloudy lemon straw color. Mild coriander wheat hop front. Crisp smooth mild spicy wheat citrus banana NW malty body. Clean refreshing dry mild tangy spice hop end. Fresh & tasty. Sampled 10/7/2004.
Fire Station 5--Olympia, WA--Fred Meyer. Inc.--Fire Hydrant Hefeweisen Unfiltered Wheat Beer--Integrity--2010 12 oz. Bottle. 5.40% ABV. 15 IBU's? (3.75 / 5.0) Foamy lacy white head. Big loose fresh pellicle. Cloudy bright dark orange color. Bavarian banana clove hint NW wheat ester front. Mild sweet slightly crusty delicate spicy mild citrus fruit nice Hefe wheat body. Clean easy refreshing delicate Hefe smooth end. Sampled 12/15/2010. 6-Pack purchased for $6.99 @ Fred Meyer--Ballard, Seattle on 3/25/2010.
1,227 characters
3.18
/5
rDev
+5.6%
look: 3.5 | smell: 3 | taste: 3 | feel: 3.5 | overall: 3.5
"I used to work in a fire hydrant factory. You couldn't park anywhere near the place."
--Stephen Wright
Shiny orange with a light sprinkling of yeast, though no real haziness. The compact crown of ecru colored foam looks decent enough. Its upper surface develops soft divits and tiny pits as it melts, while no more than a smattering of lace makes it to the glass.
The nose doesn't have very much hefeweizen (excuse me... hefeweisen) character. What spiciness is present might be coming from hops rather than yeast. In addition, there aren't any banana esters, which will be a big negative if the same is true on the palate.
Hefeweisen isn't bad beer (nor is it good beer), but it doesn't taste like a member of the stated style. It tastes like an estery blonde ale with a fair amount of German hoppiness. The spiciness is more black pepper than clove and there still isn't any monkey fruit. The banan-o-meter score is essentially zero.
Flavors include lightly toasted white bread with a thin pat of butter, a mild baked nuttiness, and an herbal-spiciness that gives the beer what little character it has. It tastes like the ale yeast kicked out all sorts of varied and semi-interesting flavor compounds. Clean it is not.
The mouthfeel gets a slight bump in score because it's more full than expected, has a hint of creaminess, and is properly bubbled. Nothing special, really, but good enough to be considered above average.
Fire Hydrant Hefeweisen Unfiltered Wheat Beer is not good enough to run with the big dogs, nor is it bad enough to be used as the target of their... uh... liquid waste. It's a decent and drinkable ale, but that's as far as it goes.
1,664 characters
3.16
/5
rDev
+5%
look: 3.5 | smell: 2.5 | taste: 3 | feel: 3.5 | overall: 4
I bought a six-pack of Fire Hydrant Hefeweisen in a grocery store while staying briefly in Tacoma, WA. $6.99. Poured in to a pint glass.
Pours an orange/yellow color and is cloudy. Smallish bubbly white head, is not very resilient. Fades quickly too a thin ring on top oof the beer.
Smell is faint and fruity. Citrus I guess, maybe a little grain aroma.
The taste is a fruity bread flavor. Citrus notes mostly.
Mouthfeel is OK. Light and clean. A dry beer, not a real thirst quencher.
Drinkable, but average. I'm not sure I'd call it a hefeweisen. More of an American wheat ale in my book. I doubt I'll have this again, but it is OK.
638 characters
3.15
/5
rDev
+4.7%
look: 3.5 | smell: 3.5 | taste: 3 | feel: 3 | overall: 3
Poured into a weizen glass this brew is a nice cloudy orange color with a decent looking white head that quickly disappears. It has a slightly weak aroma for a hefe. A bit of citrus but not too much else. Taste is also weak. Wheaty but too light. A bit of spice on the front. This is far too watery to be good, but then again it is not that bad. Worth a try, but that's about it.
379 characters
3.15
/5
rDev
+4.7%
look: 3.5 | smell: 3.5 | taste: 3 | feel: 3 | overall: 3
It's unclear to me whether this is the same beer as Fire Station 5's Hook and Ladder Hefeweisen. The labels are the same color, but this one clearly says Fire Hydrant. Since I can't imagine Fire Station 5 would offer two hefes, perhaps the old beer took a new name. If so, I'm not sure it's an improvement. Don't most people associate fire hydrants with dog piss?
Still, it's bottle conditioned and I wasn't expecting that. Fire Hydrant boasts a tart, yeasted aroma and vigorous carbonation that nearly sustains a white head. It looks like… well, like something associated with fire hydrants. The color is warmly yellow, clouded, and appropriate for the style. Unfortunately the taste is generic and holds little appeal. A flush of yeast and bitterness make themselves known but this one begs to accessorize with a fat wedge of lemon.
848 characters

3.05
/5
rDev
+1.3%
look: 3 | smell: 3 | taste: 3 | feel: 3.5 | overall: 3
Pours a four finger off-white head that fades slowly to a thin layer leaving a little lace. Cloudy amber color. Light-medium carbonation and medium bodied. Yeasty lemon nose. Flavor is wheat, yeast and lemon with a lemon finish. $1.25 for a 12oz bottle from John's Marketplace Portland, OR.
290 characters
3
/5
rDev
-0.3%
look: 3 | smell: 3 | taste: 3 | feel: 3 | overall: 3
Only slightly hazy in color. No yeast sediment in the bottle, or glass for that matter. Thin white head disappeared very quickly. Cereal grain, and a hint of citrus in the nose. Light in body, and taste. Not much tartness.No yeasty flavors, but not terribly macro adjunct either. Maybe a hint of floral hops. Not much going on here. Pretty bland, and watered down. Light body, not enough carbonation for the style.
414 characters
2.95
/5
rDev
-2%
look: 3 | smell: 3 | taste: 3 | feel: 2.5 | overall: 3
Happy to see this new brewery's beers in the Central Kentucky region. Picked up 3 Fire Station 5 brews; this Wheat Beer is the first to be sampled. Even after lowering my expecations knowing that an American Hefe awaits me, I still found this beer only average. The nose opens up with a mix of wheat malt and thin cereal grains. Medium strength notes of soft spices and esters give a much needed variety. The flavors share the same wheat / grain flavor that was present in the aromas along with moderate fruitiness, sweetness, and hop flavor. The feel is a lackluster fizzy, thin texture, similar to American Lagers. The beer never gives a soft, smooth, creamy flavor or the rich estery (weihnstephen) yeastiness. The beer never impressed, but really fell apart in the body and into the finish.
794 characters

2.91
/5
rDev
-3.3%
look: 4 | smell: 3 | taste: 2.5 | feel: 3.5 | overall: 3
A - 2.5 fingers of white foam on top of a hazy golden-orange body. Head retention is ok, lace is good.
S - Citrus and wheat. A bit of acidity and some grassy hops.
T - Wheat and spicy phenols, followed by lemony citrus flavor and some acidity. Grassy, herbal hops in the finish. Not much fruit.
M - Thin body, moderately high carbonation, dry finish.
D - Reasonably drinkable, but not as flavorful as I would like. Too grassy and not enough fruit. There is also an unpleasant citrus pith flavor in the aftertaste.
517 characters
2.9
/5
rDev
-3.7%
look: 3 | smell: 3 | taste: 3 | feel: 3 | overall: 2.5
Although drinkable enough, this beer deserves what, in my mind, is becoming a derogatory category description: "American wheat." Poured a moderately hazy gold, without enough head to merit the weizen glass. Flavor was wheaty, with some other vague cereal flavors. Yeast contributed some flavor, but no phenols or spice. Bland as white bread.
341 characters

2.81
/5
rDev
-6.6%
look: 3.25 | smell: 2.75 | taste: 2.75 | feel: 3 | overall: 2.75
12oz : tulip
from notes.
Pours a hazy peach-orange color with a foamy white head.
Nose and palate consist of lightly sweet, wheat notes, with faint citric compliments.
Medium body, foamy fizzy carbonation.
I rated this one fairly low because while there was nothing unpleasant about it, it really didn't have any hefeweizen characteristics. Struck me more as a mediocore American Pale Wheat Ale.
399 characters
Fire Hydrant Hefeweisen from Fire Station 5 Brewing Company
3.01
out of
5
based on
18
ratings.