Kapuziner Weissbier
| Kulmbacher Brauerei AG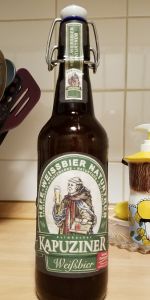 BEER INFO
Brewed by:
Kulmbacher Brauerei AG
Germany
kulmbacher.de
Style:
Hefeweizen
Alcohol by volume (ABV):
5.40%
Availability:
Year-round
Notes / Commercial Description:
No notes at this time.
Added by BeerAdvocate on 08-05-2002
Reviews: 284 | Ratings: 514
4.75
/5
rDev
+18.2%
look: 5 | smell: 5 | taste: 4.5 | feel: 4.5 | overall: 5
.5L bottle served chilled in a tall Weisse/Pilsner glass.
Appearance: Cloudy orangish yellow topped by an impressive fluffy white head. A thick film of bubbles was supported by the constant stream of bubbles as I greedily drank this beer. Wisps of lace were left on the glass.
Smell: Wonderfully fragrant smells of bananas, lemons, cloves, oranges, flowers, and hints of bubblegum. Complex and subtle due to it not overwhelming the nose.
Taste: Subdued and subtle flavors of sweet wheat malt, mild lemons, melons, and oranges. Bubblegum and cloves on the finish. Could have used just a titch more fruitiness (especially banana).
Mouthfeel: Very light, crisp and refreshing. Seemed just a tad watery, but only just.
Drinkability: Damn near perfect hefe in my experience. If I see a minikeg of this stuff, it is so mine! A very subtle beer that is a testament to the German craft.
★
894 characters
4.75
/5
rDev
+18.2%
look: 4.5 | smell: 4.5 | taste: 5 | feel: 4 | overall: 5
Soft, slightly musty aroma of wheat and lemon zest. Huge, bright off-white colored head is fed by a storm of bubbles rising through the hazy golden beer. It's got a soft bubblegum/banana flavor up front that is quickly joined by refreshing lemon and spicy hop notes. Even with all of the carbonation visible in the beer it still comes off as soft and full. A tasty beer that is incredibly refreshing and inviting.
★
413 characters
4.75
/5
rDev
+18.2%
Sampling right now after league bowling on 12/9/14. Comes in a single 500ml (16.9 ounce) bottle for $3.99 with a ceramic stopper. Bottle chilled down to 36 degrees F in my beer cooler and poured in a .5L French Jelly glass.
Pours a hazy orange-apricot in color with a good 4 to 5 finger white frothy/foamy head that last a good bit before finally settling down to a good 3mm or so after 15 mins. A good amount of sediment is seen at the bottom of the bottle. Decent lacing is seen that sticks to the glass in 'wishbone' form. The aroma is very pleasant of sweet wheat, banana with a hint of spice. Pretty much the same for the taste with the wheat, spice (cloves) banana with a touch of honey coming through for the very smooth finish. Goes down very easy with no bitter or harsh aftertaste at all! Medium-bodied with perfect carbonation , which isn't much actually. A really great brew! PROST!
★
895 characters
4.78
/5
rDev
+18.9%
look: 5 | smell: 4.5 | taste: 5 | feel: 4 | overall: 5
Pours a beautiful cloudy orangey/golden color with a huge pillowy, creamy, white head that last forever and laces the glass rather nicely. Huge spicy aroma of cloves and some slightly more subtle pepper. There is a bit of fruitiness in the background but it is almost completely masked by the spiciness. The taste starts off very fruity with some great banana and some slightly orangish qualities to it before it fades into a nice spiciness in the middle of the brew before fading back to it's fruitiness and getting some big time banana flavors and then finishing nicely balanced flourish of fruitiness and spiciness. The mouthfeel on this one is a bit on the thin side but that is about the only thing wrong with this beer as it is still super creamy and refreshing and extremely drinkable. This may have just performed a coup on the throne of my favorite hefe. An absolutely excellent bier.
★
899 characters
4.8
/5
rDev
+19.4%
look: 4.5 | smell: 4.5 | taste: 5 | feel: 4.5 | overall: 5
Appearance: Cloudy golden sunshine tone with a large fluffy effervescent white head leaves scattered specks of lacing around my wheat beer glass. Aroma: Rich banana clove tones strong citrus scent ties it altogether with the yeast inspired tones with a finishing touch of Hallertau hops. Taste: Syrupy sweet banana finish wheat is sharply sweet the clove and citrus/tropical fruit tone is incredible one of the most impressive wheat beers I've tasted by far. Mouthfeel: Bubbly texture medium body to it fluffy and chewy nice sensations across the palate. Drinkability: Excellent, had Weihenstephaner on draft last night and I must say I like this one at least twice as much from the bottle good stuff.
★
701 characters
4.82
/5
rDev
+19.9%
look: 4.5 | smell: 5 | taste: 5 | feel: 4.5 | overall: 4.5
A- Pours with a huge white head on a hazy golden body with just a little copper tone to it.
S- Really nice big up front wheat, ripe banana, clove, light straw, light grass hops, hint of peaches, and just a touch of lemon with caramel around it.
T- Just a really clean tasty well made hefe. Nice ripe bananas are up front and linger in the mouth. The wheat comes through blended in nicley, grass hops come out and leave a nice size bitterness on mid tongue. Peach seems to come out too. Nice clove flavor that really helps cut the malt body even more.
M-Medium body with a low carbonation to it. Nice smooth easy drinking feel.
D- Probably one of, if not the best, hefes I have tried. Just a great and well made beer. If your a fan of this style I would advise seeking it out.
★
776 characters

4.84
/5
rDev
+20.4%
look: 4 | smell: 5 | taste: 5 | feel: 4 | overall: 5
A Christmas present from my mother-in-law, 22oz swing top. Looks translucent goldish tan with a frothy white head. Smells of banana bread and medicinal esters with a ROCKIN sweetness to it. Taste is....WOW! Semi dry, biscuit-like but with notes of that banana bread and a clean finish just sharp enough to be really refreshing. Mouthfeel is carbonated and a tad sticky. This is hands down the best hefe I've ever had. Where has this been all my life? Pardon me while I have a moment alone with my new best friend.
★
513 characters

4.88
/5
rDev
+21.4%
look: 4.75 | smell: 4.75 | taste: 5 | feel: 5 | overall: 4.75
Looks deep amber, hazy with a white foam head. Smells spicy, fruity, bananas, bread, yeast, clove. Taste is refreshing, citric, low bitterness, perfect representation of the hefeweizen style.
★
191 characters
4.97
/5
rDev
+23.6%
look: 4.5 | smell: 5 | taste: 5 | feel: 5 | overall: 5
On tap at Monk's in Siouix Falls
One of the best Hefe's I've had.
Everything I like in a hefe is here....dominant flavors are banana and vanilla..also evident is bubblegum, and some light cloves..
The banana flavors are bright but not oversweet...the flavoring is perfect in that it has a nice flavor but doesn't overwhelm you...highly drinkable...thirst quencher....had this after running for 40 minutes in the humid Sioux Falls heat and it really hit the spot....
Would love to have a keg of this for the summer....right there with Ayinger, Weihenstephener, Paulaner...hard to say what is best
★
600 characters
Kapuziner Weissbier from Kulmbacher Brauerei AG
4.02
out of
5
based on
514
ratings.