Dismiss Notice
Dismiss Notice
Mönchshof Bockbier
| Kulmbacher Brauerei AG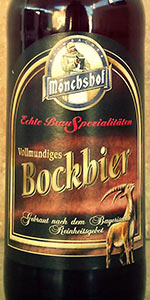 BEER INFO
Brewed by:
Kulmbacher Brauerei AG
Germany
|
website
Style:
Bock
Alcohol by volume (ABV):
6.90%
Availability:
Year-round
Notes / Commercial Description:
No notes at this time.
Added by brewdlyhooked13 on 10-05-2003
Reviews: 35 | Ratings: 62
3.08
/5
rDev
-18.1%
look: 3.5 | smell: 3 | taste: 3 | feel: 3.5 | overall: 3
A dark copper beer with a thick and creamy head.
Smell is strong (munich) malty and has some sulfur notes. The dark malts give the beer a molasses and mild burned taste. In the end there is some vegetable smell, green and like young beer.
Taste is green malty, but still strong on the malt presence. On top of the malt base there is a mild caramel taste. The vegetable taste is in the taste, but I get used to this after some sips and I do not taste it anymore. The yeast gives some anise notes. Body was medium, not overly sweet.
★
533 characters
4.32
/5
rDev
+14.9%
look: 4 | smell: 4.5 | taste: 4.5 | feel: 4 | overall: 4
I had 1L at a Kulmbacher restaurant in Frankfurt. I was surprised to find so few reviews on BA after trying it, it must be not widely distributed because I'd think it would be a popular beer.
The beer had good clarity and a deep copper color, with a massively poofed head, served in an enormous 1L mug. The smell was sweet and malty, it reminded me of the wort aroma you can smell in breweries, nice and inviting. The taste was mostly malt, I didn't get much of a bitter after-taste as I normally see from the bocks available to me in the US (mostly from US breweries). It was fantastic, possibly my favorite bock beer to date.
★
630 characters
3.8
/5
rDev
+1.1%
look: 3.5 | smell: 3.5 | taste: 4 | feel: 4.5 | overall: 3.5
A: Copperbrown with a 1mm thin lace that stays there during the entire session.
S: Smells of hops, candy and malt. Kind of faint.
T: Malt, oatmeal, banana marshmallow and honey. This beer is very, very
well balanced for a bockbier. Impressive.
M: Very smooth, low carbonation, bittersweet taste that lasts quite a bit.
A very nice bockbier that more people should try. Still, i would not have
more than one bottle of this per session.
★
448 characters
3.91
/5
rDev
+4%
look: 4.5 | smell: 3.5 | taste: 4 | feel: 4 | overall: 4
I guess I have to thank the Soccer World Cup for this brew, 'cause a local supermarket is now offering 7 beers from the Kulmbacher brewery in a sort of a celebration or homage for the host of this sport event.
Thank you, thank you, thank you!!
:-)
Swingtop 500 ml bottle, with a best before date of January 2007.
Pours a beautiful amber bronze, with a good inch of foamy head and no lacing at all.
Smell is of malts, some earthy hops, little alcohol.
Taste is paradoxically crisp and malty, with some bitterness. Round beer, actually.
Mouthfeel is buttery, with a nice bitter aftertaste, especially in the back of the mouth. Nice beer. Even sweet, or the sweetness comes from México's victory over Iran in the Soccer World Cup?
Drinkability? Well, this isn't a session beer, but I'm still having another. ;.)
¡Salud!
★
841 characters
3.5
/5
rDev
-6.9%
look: 3.5 | smell: 3.5 | taste: 3.5 | feel: 3.5 | overall: 3.5
500 ml swingtop bottle, now available in Norway (Vinmonopolet, bestillingsutvalget). ABV is 6.9%. Orange to amber colour, large off-white head with an orange hue. Moderate aroma of malts, some fruity hops and bakery, notes of alcohol. Flavour is fairly malty and bready, some caramel sweetness, alcohol is evident but not too much. Some hoppy bitteness and slightly burnt notes in the finish. OKish, but not my favourite bock.
★
426 characters
3.72
/5
rDev
-1.1%
look: 3.5 | smell: 4 | taste: 4 | feel: 3.5 | overall: 3
One of my favorite styles in german beer; its accentuated hops aroma and low in malt, its dark color and its bottle, made perfect with a snacks, serving in mug and enjoyed at 7 o´clock, smell and taste is good, mouthfeel, up on the average, drinkability too, very recommendable.
★
279 characters
4.41
/5
rDev
+17.3%
look: 5 | smell: 4 | taste: 4.5 | feel: 4.5 | overall: 4.5
Bought a 0.5l bottle of this in Rothenburg, and enjoyed it on my last night at my Gasthaus, whilst relaxing after packing for the next days trip home.
This bock is a rich, golden/orangey/copper color. Clear all the way through. Slow moving carbo rises intermittantly within. Head is light beige, creamy and fine; solid at 1/4" with excellent stick. A superb looking bier!! A malty, toffeeish aroma exudes sweetness without going over the top. Minimal hopping noticed in the nose, though. Body is easily medium-plus, and creamy-smooth! A pleasure on the palate.
Chewy malt with toffee/caramel notes greet the tongue, with light sweetness lingering lovingly. Hops do appear, but just a cameo near the finish to keep things honest. This is a very nicely made bock, and exceedingly tasty to boot.
Prosit!!!
overall: 4.5
appearance: 5 | smell: 4 | taste: 4.5 | mouthfeel: 4.5 | drinkability: 4.5
853
★
900 characters
3.25
/5
rDev
-13.6%
look: 3.5 | smell: 3.5 | taste: 3 | feel: 3 | overall: 3.5
500ml bottle
Pours with a brown coppery body. Thick white head with pretty poor retention
Smell, lots of malt, bit grainy. Slight sweetness and a bit musty
Taste, bready grainy mouthfeel. Almost papery mouthfeel, bit of sweet malt on the finish
Not a great bock but not awful, limited in flavour
★
307 characters
3.06
/5
rDev
-18.6%
look: 4 | smell: 3 | taste: 3 | feel: 3 | overall: 3
BB 26-01-06. Nice and lasting head leaving laces, brown and clear beer. Nose is sweet, malt but not fresh, cardboard, no hoparome noticeable. Taste is sweet, roasted irish coffee and litle bitterness. One whereby you keep asking yourself what you mis. Mis freshness and taste overal, laks caracter so no highlight alltogether. Postives: easy drinkable, oily mouthfeel, clean.
★
375 characters
3.62
/5
rDev
-3.7%
look: 3.5 | smell: 4 | taste: 3.5 | feel: 3.5 | overall: 3.5
Tall brown half liter bottle with a flip top. Label is dark, with vertical stripes of black and copper. The Mönchshof symbol features a fat monk holding a big mug. Purity law applies. Best before 1/16/04, I opened mine on 10/26/03.
Nice clear dark copper color under a thin tan head that faded pretty quickly and left only minimal lace. The nose is full of sweet caramel and barley. The mouth is a bit prickly, and heavy with sweetness. The taste starts sweet - caramel and grapes or prunes. Alcohol is present, and there's a good amount of malt lurking here, too. What I don't notice is hops. The sweetness just keeps going on and on, never yielding to a bitter finish. The aftertaste is fruity sweet. This is a nice "starkbier," but not really much like the average Bock. This probably should be characterized as a Doppelbock, although the label does not do so.
★
867 characters
Mönchshof Bockbier from Kulmbacher Brauerei AG
85
out of
100
based on
35
ratings.