Mönchshof Landbier
| Kulmbacher Brauerei AG
BA SCORE
80
good
14
Reviews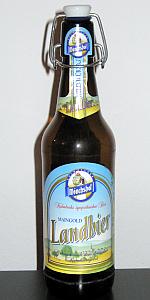 BEER INFO
Brewed by:
Kulmbacher Brauerei AG
Germany
kulmbacher.de
Style:
Dortmunder / Export Lager
Alcohol by volume (ABV):
5.40%
Availability:
Year-round
Notes / Commercial Description:
No notes at this time.
Added by Absumaster on 08-28-2006
Reviews: 14 | Ratings: 40
3.09
/5
rDev
-6.9%
look: 3 | smell: 3.25 | taste: 3 | feel: 3.25 | overall: 3
Clear golden, surprising for the style. Thin creamy head with lazy carbonation. Aroma is sweet malt, hay, grass. Taste is malt and bread. Very easy to drink, and thirst quenching. Would like to drink this on a hot summer's day.
★
229 characters

3.5
/5
rDev
+5.4%
look: 3.5 | smell: 3.5 | taste: 3.5 | feel: 3.5 | overall: 3.5
A: Pours pale golden with a large white lovely head that rather quickly sets into decent lacings.
S: Grassy clean malts with only little sweetness. Bitter hops in the back. Some citric notes as well.
T: Bready smooth malt, some sweetness. A bit fruity and also bitter.
M: Aftertaste is medium long and a bit sour. Body is medium and smooth, while carbonation is on the milder side.
O: A well crafted Dortmunder.
★
415 characters
3.63
/5
rDev
+9.3%
look: 4 | smell: 3.5 | taste: 3.5 | feel: 3.5 | overall: 4
This beer is called Landbier and I was very anxious to try it. I expected a barnhouse beer, but instead it was more like a pilsner.
It pours a nice golden color with a steady carbonation and a lot of glass sticking cream. The head was thick and wooly.
Smell was not very exciting, just a lager beer, with some sulphur and grainy malt smells. Some amber malt which reminds me of vanilla.
Taste was also very lager-ish, a light bitter and a good malt base, which left a husky taste. The difference with a real pilsner is that this is slightly sweet and there are some vanilla notes. Body is medium.
I expected more of this beer which claims to be a Landbier, but tastes more like a tweaked lager.
★
704 characters

3.83
/5
rDev
+15.4%
look: 4 | smell: 3.5 | taste: 4 | feel: 3.5 | overall: 4
I bought this beer months ago when i was in Germany a stored it in my beerfridge. Today was the day to open this one. We all know that the Germans brew a good beer. This one is no exeption.
Poured in my Struise glass the beer looks good. A clear yellow fluid with a very nice white and bubbly head. Too bad there is not much cabonation.
Smell is OK, a bit of citron from the hops. Good and very drinkable for a landbier. I will enjoy every drop of this half liter.
★
466 characters
3.31
/5
rDev
-0.3%
look: 3.75 | smell: 3.25 | taste: 3.25 | feel: 3.5 | overall: 3.25
L:
-pours a clear straw-golden wth a big,foamy,white head
medium-high carbonation visible
S:
-honey,floral,bready,spicy
T:
-Follows the nose
F:
-light body,medium carbonation
O:
It's ok
★
185 characters
3.58
/5
rDev
+7.8%
look: 4 | smell: 3.5 | taste: 3.5 | feel: 3 | overall: 4
Poured a huge, fluffy, bright-white head that faded slowly leaving scattered patches of lace. Transparent, glowing, golden beer holds a few streams of bubbles. Herbal and floral hops in the aroma along with a bit of faintly sweet pale malt. Herbal and grassy hop flavor combines with a light sweetness from the malts to create a hop tea flavor. It is accompanied by a mild bitterness that develops quite early on and pulls through to the finish. Moderately light body combines. A bit of fine carbonation props up an almost watery mouthfeel. An easy drinking biergarten brew.
★
574 characters

2.65
/5
rDev
-20.2%
look: 3 | smell: 3 | taste: 2.5 | feel: 2.5 | overall: 2.5
.5L, Germany. Best by 5/11.
Pale yellow and nondescript. Good head and lacing, though.
Aroma is grainy, sweet and buttery-yeasty.
Flavor is very similar to the aroma. Little to no hop flavor, and extremely mild in terms of bitterness. Metallic character, especially on the finish. Mouthfeel is a bit abrasive, but the carbonation was at least creamy and medium-high, helping to lift the otherwise below-average flavors off the palate.
Just not a very good beer here. But, you never know what you're going to get with something labeled "Landbier," as it's not really a strict style. Give me the Mönchshof Kellerbier over this any day.
★
640 characters
2.71
/5
rDev
-18.4%
look: 3.5 | smell: 2.5 | taste: 2.5 | feel: 3 | overall: 3
Poors a goloden colour with good head and retention. And lace. Aroma has slight notes of citrics,spices and herbs.Medium to light body, clean palate. Taste is similar to aroma: slight notes of citrus and herbs. A refreshing and easydrinking beer for hot summer days.
★
267 characters

2.87
/5
rDev
-13.6%
look: 2 | smell: 2.5 | taste: 3 | feel: 2.5 | overall: 3.5
500ML bottle poured into my Zirndorfer seidel
A - Pale golden lagerish blonde, soapy thin ricky white head that disappates very quickly to leave a crown. Lacing is minimal
S- Lots of grain and some vanilla up front. A musty grassy smell fills the nose also.
T - Very musty again, lots of grain. Some nice hop bitterness.
M - Medium carbonation, but almost feels stale on the tongue.
D - Probably the worst looking lager from Germany i have ever seen. A lot more flavour than Carling/Stella/Bud/Miller, but not flavours i associate with Landbier. Zirndorfer beats this easily.
Will drink it, but i know there is much better out there.
★
649 characters
3.06
/5
rDev
-7.8%
look: 4 | smell: 3 | taste: 3 | feel: 3 | overall: 3
0.5 l. of lager, comes in a swingcap bottle, bought during a short trip to Germany.
Looks great at first sight: a nice white head on a golden beer. Too bad there's hardly any carbonation: i'd like to see some more bubbles.
Smell and taste are very musty, grassy, but dominantly malt.
The finish is quick, the alcohol is easy.
Drink this one cold: the lack of carbonation makes the drinking of this lager a bit disappointing, otherwise.
★
437 characters
3.53
/5
rDev
+6.3%
look: 4 | smell: 3.5 | taste: 3.5 | feel: 3.5 | overall: 3.5
Pours light golden and effervescent with a thin foamy, mostly maintained white head. Aroma of malty grain, toasted malt, cracker crispy. Taste is sweet, malty, chewy, with undertones of bready lager yeast. Mouthfeel is between medium / full bodied with lively carbonation. Pretty good stuff.
★
291 characters

2.88
/5
rDev
-13.3%
look: 2.75 | smell: 2.25 | taste: 3.25 | feel: 3.25 | overall: 2.75
Krystal and clean cut, yellow like sunlight, with a weak half finger of head.
The nose of a Keystone Light
Mild everything with a backbone of sweet malts and cut grass.
Light bodied, mild carbonation a little sticky as it warms
Just another lager, not bad, but not gonna have another visit from me
★
301 characters
3.27
/5
rDev
-1.5%
look: 3 | smell: 3.5 | taste: 3.5 | feel: 3.5 | overall: 2.5
It's color was a quite average light yellow, and no head to talk about --except for a bubbly foam that disappeared really fast. No lacing either.
Smell was malty, some back bitterness.
Taste was really balanced, faint though.
Mouthfeel has a tiny bitter finish, sort of buttery though.
Drinkability for me is low, 'cause this beer is quite light. Won't buy it again.
¡Salud!
★
380 characters
3.77
/5
rDev
+13.6%
look: 3 | smell: 3.5 | taste: 4 | feel: 3.5 | overall: 4
The latest entry in the "Jennifer buys too many interesting-looking beers at the grocery stores in Germany" project.
A: Clear, golden yellow with a tiny, wimpy head that disappears almost instantly. No carbonation to speak of. Underwhelming.
S: Hoppy, nutty smell, with underlying fresh grains. Smells a little bit like a field.
T: Tastes like... a hopped up pilsner. Very hoppy character, with lots of initial bite followed by a very grainy, bready taste. Pretty light, but well balanced. I expected slightly more substance, but this is pleasing nonetheless.
M: Creamy and smooth, but disappointingly lacking in carbonation.
D: Easy to drink due to its lightness, but not really something I would want to drink a lot of. The weird, pilsner-on-steroids taste is offputting, as I expected more from something claiming to be a landbier.
★
840 characters
Mönchshof Landbier from Kulmbacher Brauerei AG
3.32
out of
5
based on
40
ratings.