Jug & Bottle Dept.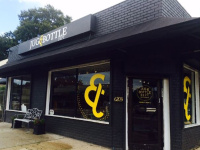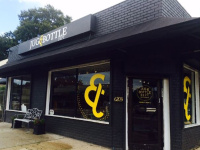 Store
6201 N Florida Ave
Tampa
,
Florida
, 33604-6625
United States
(813) 675-4522 |
map
jugandbottledept.com
Notes:
Reviews: 11 | Ratings: 19

3.89
/5
rDev
-10.4%
vibe: 3.75 | quality: 3.75 | service: 4.25 | selection: 3.75
Nice place to try out as the service is real nice and you're sure to find something, but just not a place you can make your hangout spot (to me). I say this b/c since the place can't allow you to sample, yet alone get a pint and relax while you shop, that there isn't much reason to stick around other than to have a vegan sandwich (I had a vegan cookie and it was delish). Ten taps of local beer so the pickings aren't great but they don't waste time with easy to find local beer, either, and the bottle/can selection isn't shabby. Worth checking out if you're in the area.
577 characters

4.35
/5
rDev
+0.2%
vibe: 4.5 | quality: 4.25 | service: 4.25 | selection: 4.5
This mid sized and non chain, funky kinda place is just a few doors down from Angry Chair. Pleasant place with all sorts of quality beer, cheese, wine and assorted food and snack options...well worth a visit for the quite respectable array of local quality beers they stock..must visit spot before or after going to Angry Chair.
330 characters
4.37
/5
rDev
+0.7%
vibe: 4 | quality: 4.5 | service: 4.75 | selection: 4
I'm horrible with names but the guy I talked to in there (that also works at Southern brewery) was incredibly friendly and helpful. We talked beer for a half an hour and when my wife walked in and saw I had zero beer in my hand I laughed and said we have been geeking about beer this whole time. I ended up buying some pretty cool one-off released rare stuff and a couple singles. Also got a six pack of 18th Street's Lake Express. Very decent selection, funny decoy of Cantillion boxes stacked up as a "gotcha!" thing, and some interesting incense and candle choices. Growler station but no samples as it's against municipal law apparently. Would definitely visit again. Just down the block from Angry Chair if you're headed there.
732 characters

3.85
/5
rDev
-11.3%
vibe: 4 | quality: 3.75 | service: 4 | selection: 3.75
Nice little store with a surprising amount of bottles for its size, wrapping around its entire perimeter. The collection includes plenty of local brews most out of towners have never seen on shelves, as well as some relatively high profile out of state craft brews, and a large amount of highly regarded international/Belgian offerings.
336 characters

3.76
/5
rDev
-13.4%
vibe: 4.5 | quality: 3.5 | service: 4 | selection: 3.5
Nice relaxed atmosphere. They sell beer and local products from seminole heights. Everything was sold in packs but they did have certain singles in the cooler.
159 characters

4.32
/5
rDev
-0.5%
vibe: 4.25 | quality: 4.25 | service: 4.5 | selection: 4.25
I stopped by this store with my brother just after they opened on a weekday morning. It was the first stop of the day on a two day beercation in Tampa/St Pete. Had to come by and see what Jug & Bottle had to offer after reading the high reviews here on BA.
After introducing ourselves as out of town BAs, they gave us a great tour of the local offerings in the store. The shop is clean and looks nice. It features Florida beers, and I'm sure they are a great place to get the more hard to find FL beers when they come out. Prices were about average. We picked up the two Toppling Goliath beers they had available--including Pseudo Sue.
If you are going to Angry Chair, this is right nearby and worth a stop. If you are from out of town and want to see a great selection of FL beers, this is a good place to visit. Overall, recommended.
845 characters
4.47
/5
rDev
+3%
vibe: 4.25 | quality: 4.5 | service: 4.5 | selection: 4.5
Stumpled across this place when i was visiting Angry Chair. Employees were very nice. They had some breweries ive never seen for sale in florida, Jester King being one of them. Pricing was average. Will be back next time im in the Tampa area.
242 characters
4.82
/5
rDev
+11.1%
vibe: 4.75 | quality: 4.75 | service: 5 | selection: 4.75
What an excellent story to have in my neighborhood!! For the first year I lived in Seminole Heights, getting good beer was a chore...and a drive. Now the best beer store in town is about 1.5-2 miles away and conveniently located on the corner of Florida and Hanna.
The staff is excellent; friendly, helpful, and mostly knowledgeable.
The selection is just short of excellent for a store of this size. Lots of great options and styles from all over the world, as well as local products.
The layout makes sense and is easy to navigate: beers/ciders/wines are grouped together well and easily accessible.
Prices are reasonable...the products aren't cheap, but they're fair and on par with the quality.
I love this place - we're lucky to have it as part of our growing, diverse community.
787 characters

4.43
/5
rDev
+2.1%
vibe: 4.5 | quality: 4.5 | service: 4.5 | selection: 4.25
Nice to have a small shop that has a good selection of brews including the harder to get releases that actually hit distro. Prices are very reasonable and on par with most of the other stores. The people working there actually know and love their beer, not just someone at a Total Wine or ABC. They also fill growlers with local brews which is great (I've seen Crank from Cycle available, which is great as it saves a 45 min drive). I always recommend this place to locals and visitors, especially if they are hitting up Angry Chair.
533 characters
4.33
/5
rDev
-0.2%
vibe: 4.25 | quality: 4.5 | service: 4.5 | selection: 4
Cool local spot in a "trendy" up and coming neighborhood. For an out of towner, a perfect 1-2 punch with Angry Chair. People working the bar were exceedingly friendly and helpful. A small selection of taps that is well curated - during my visit they had two 7th Sun beers, Bomb, Humulus Lager, and a few others on. Bottle selection is solid but not vast; I'm sure it will improve with time.
Great example of a neighborhood beer shop doing things right.
454 characters

4.78
/5
rDev
+10.1%
vibe: 5 | quality: 4.75 | service: 4.75 | selection: 4.75
It's nice to finally have a craft beer store here in Tampa with a cool vibe. It's an older building on busy Florida Ave in Seminole Heights. Parking sucks with only 3 spaces, but there is not much they can do about it since its in an historic urban setting. It's not the largest place but it's very will stocked and laid out. All the beers on the left wall are in order of style, room temp and stocked to the ceiling. That's a big bonus having the beers in style order. Beers on the right wall are 6 packs and bombers all in coolers. in the back are some cool local stuff like local ground coffee and treats. The center island has the growler section and checkout. I really like the layout. Prices are remarkably reasonable for such an establishment, pretty much on par with ABC or Total Wine. Overall this is a must stop while in Tampa and remember you are buying from a local place not the corporate stores. 4.75
922 characters
Jug & Bottle Dept. in Tampa, FL
Place rating:
4.34
out of
5
with
19
ratings