Tommy Nevin's Pub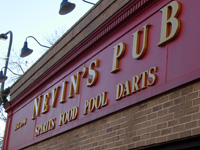 PLACE INFO
Type:
Bar, Eatery
1450 Sherman Ave
Evanston
,
Illinois
, 60201-4415
United States
(847) 869-0450 |
map
tommynevinspubs.com
Notes:
No notes at this time.
Added by BeerAdvocate
Ratings: 12 | Reviews: 6
Reviews by Realale:
3.83
/5
rDev
+14.3%
vibe: 3.5 | quality: 4 | service: 4 | selection: 3.5 | food: 4
Another of my father-in-law's favorite haunts. Lots of meals here, and a whole lot of pints.
I've had much better luck with the food than the other reviewers. Most of my meals have been lunch, and perhaps the slower pace is the difference. I've also mostly stuck to the Irish pub classics of corned beef and brown bread, and the various stews.
The beer selection is certainly more than one would expect at the standard faux Irish pub, but its not outstanding. They do pour a mean pint of Guinness at Nevin's, and really put some care into it. When things get hopping in the evening, the back bar is full of partially-filled pints patiently waiting to be topped up. Its also served at a decent temperature, rather than the tooth-chattering chill most places put on it.
The bar portion of the restaurant (which is about 2/3) has a nice selection of benches and tables. It does get really full and loud when the students start rolling in, which is usually when my father-in-law and I roll out.
Nice place to grab a good pub lunch and a well-poured pint of Guinness. Worth a trip for that in my book.
1,108 characters
More User Reviews:

3.19
/5
rDev
-4.8%
vibe: 3.5 | quality: 3.25 | service: 3.75 | selection: 2.5 | food: 3
Decent pub food, tap list is good, with a few surprisingly tasty offerings given it is just a local pub. Bottle selection is OK, but some of the beers are pretty old.
167 characters
3.55
/5
rDev
+6%
vibe: 3.75 | quality: 3.5 | service: 3.5 | selection: 3.5 | food: 3.75


3.35
/5
rDev 0%
vibe: 4 | quality: 3.5 | service: 3.5 | selection: 2.5 | food: 4
Pros and cons here, depends if you are looking for a good beer selection or not. Beer selection is pretty much the bare minimum to be considered a "beer bar". The Scotch and Irish Whiskey selection was more interesting, in my humble opinion. Twelve taps, and the most interesting thing was the Bells seasonal, which was Christmas Ale. Otherwise, the taps were typical and under utilized... The ubiquitous Guinness (strangely no O'Haras, Beamish, or halfway decent Irish beers, save for bottled Smithwicks), Stella, 312, and Oktoberfest, Rogue Dead Guy. Bottles were listed on the first page of the menu, divided by categories of stout, ale, lager, and "others". The only stout was Guinness (of course), nine ales, maybe 12 lagers. Maybe 9-10 "others", dominated by macros.
Service took a bit at the bar initially, as the bartender was entering a string of orders, and tending to those already at the bar. The food came out quickly though, which was redeeming. The spinach & artichoke dip was tasty and well presented. There were a few typical Irish/American hybrid things on the menu like shepherd's pie and pot roast.
The atmosphere on a Sunday night was alright, there seemed to be a number of senior patrons on this particular night. There was a separate dining area, and plenty of table seating in the bar area (no tv's there). A second bar was through a doorway, where they had a couple flatscreen tv's and real dart boards. Dark wood floors and tin ceiling panels, with little rough hewn wooden tables in the main bar area, as well as high tables and backed chairs. There was quite a bit of holiday decor, and it was cozy with dim light from the hanging lanterns overhead.
Overall the place was ok with an average beer selection. Decent gastropub fare without being trendy. There was a live music venue next door, which seemed to possibly be closed for construction.
1,878 characters
2.78
/5
rDev
-17%
vibe: 2 | quality: 3 | service: 3 | selection: 2.5 | food: 3
I have a hard time with this place. I think they are trying to be a real Irish pub but come across as a typical American bastardized version of one. It has your typical Irish biers on tap, nothing different or exciting. They do have an assortment of german, american, and craft biers on tap, which really kills the irish feel of the place. I think each time I have been there, I have my obligatory Smithwick's then go to the Konig Ludwig weiss??? Are they sure this is an irish bar? The food is decent pub grub, again, your typical attempts at irish fare that is bastardized.
The atmosphere comes across as a typical after work bar then after 7 or 8pm, it turns into a Northwestern bar, which is great when your in your 20's, which I'm not.
Overall, I would say that the only things Irish about this place is the 2-3 bier choices, the name, and the pseudo-irish grub they have on the menu.
Go to it understanding what it is, don't expect a real irish experience.
965 characters
3.59
/5
rDev
+7.2%
vibe: 4 | quality: 4 | service: 3.5 | selection: 3
like has been said, this is a decent irish-themed bar. while most bartenders do take care with your pint of guinness, i have also has some not so good pours. Selection overall is what you would expect from a faux-irish place. For most BAs it is pretty disappointing. In fact, I generally prefer to go next door to Prairie Moon, which often has more regional craft brews, though their dart boards are not as nice. (though when they took away the 3 Floyds, that place started going downhill).
Yeah the beers are a bit pricey at $4.50 plus tip, but I've paid worse, and at least you are getting served an imperial pint.
The place is big, and you can usually find somewhere to park yourself tho it does get crowded. They have 3 pretty nice dart lanes in the second room. Definitely lots of NU kids, but plenty of older folks as well. Give the kids a break, at least they aren't drinking swill at the keg around the corner or something.
937 characters

3.1
/5
rDev
-7.5%
vibe: 3.5 | quality: 3 | service: 3 | selection: 3 | food: 3.5
Nice place south of downtown Evanston. Irish pub, with a fairly good round up of beers on tap. All the Irish beers are there, plus some Goose and a few others. They take care with pouring their Guinness, and I had a nice half and half the other day. It is pricey ($4.50 for a pint of Guinness). The foods not too bad, and I've had some decent and somewhat authentic meals there. Lots of Northwestern students there, which is not as nice as it sounds. Worth a stop if you are in the area.
487 characters
Tommy Nevin's Pub in Evanston, IL
3.35
out of
5
based on
12
ratings.