Karl Strauss Oktoberfest Beer
| Karl Strauss Brewing Company
BA SCORE
81
good
47
Reviews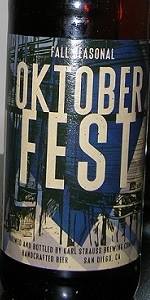 BEER INFO
Brewed by:
Karl Strauss Brewing Company
California
,
United States
karlstrauss.com
Style:
Märzen / Oktoberfest
Alcohol by volume (ABV):
5.00%
Availability:
Fall
Notes / Commercial Description:
No notes at this time.
Added by BeerAdvocate on 04-06-2003
Reviews: 47 | Ratings: 108
2.91
/5
rDev
-17.1%
look: 3.5 | smell: 2.5 | taste: 3 | feel: 3 | overall: 3
From Gordon to Karl, we start off the third leg of this, the American Oktoberfest Invitational, which will determine the king of four of the more well-known monikors of Americanized marzen. On to the beer:
Surprise! It's amber orange in color, lots of sparkling carboonation in the body. The head is on the fuzzier side in look and small in size. It has a rough smell. Husky chocolate malt, more husky malt, a light twang of "liquid bread". This is how I would expect an import to smell like.
The ABV lists this beer at 5%, but I would have guessed a little higher given the heavier malty feel. There's a snap of apple to the beer's taste, and there's a dry cocoa powder note coming from those malts. Otherwise, it's a straightforward mild malt beer that tastes like....well, liquid bread...crust. Fizzy carbonation initially doesn't help the cause either.
It sure has a lot in common with it's sister amber lager, but the amber lager is smoother overall. Not a bad beer overall, just one that's off the target. This will end the third leg of the American Oktoberfest Invitational, with the final segment tomorrow night.
1,125 characters
2.88
/5
rDev
-17.9%
look: 3 | smell: 2.5 | taste: 3 | feel: 3 | overall: 3
Found a 6-pack for $5.99, so I figured it was worth a try.
Pours a very light gold color with an inch-high foamy head which quickly disappears into a thin lacing.
Aroma is light roasted malts with a strong maple-syrup like presence. Very sweet and little complexity.
Taste is all malts, and very weak at that. Not unpleasant, but very little flavor and one-dimensional.
Light and crisp mouthfeel, very bubbly. This beer screams average. Not offensive, but nothing stands out either. Decent session beer especially for the price, but there are much better Oktoberfest brews out there.
596 characters
2.82
/5
rDev
-19.7%
look: 3 | smell: 3.5 | taste: 2.5 | feel: 2 | overall: 3
On tap downtown. Pours clear amber with a smallish white head. Crisp malt and oat aroma is promising. Sweet maltiness in the front, but very thin. Metallic as well, but the bread and spice take over. Taste doesn't follow through. Watery and plain. I'm beginning to dislike Oktoberfest as they rarely come through
312 characters
2.58
/5
rDev
-26.5%
look: 3 | smell: 2.5 | taste: 2.5 | feel: 3 | overall: 2.5
On tap inside Disneyland.
Poured a medium to deeper amber color with a small sized off white head. Aromas of caramel and some toasted malts. Tastes of the same caramel and toasty. Both flavors and aromas on the subtle side and you really had to try to get anything outside of a 'generi' sense.
294 characters
2.33
/5
rDev
-33.6%
look: 3.5 | smell: 3 | taste: 2 | feel: 2 | overall: 2
Poured a light amber, with foam that disapated in a very short time and no lace. The smell was really nothing but swill (just another word for nothing interesting.) The taste was of weak malts and hops and the flavor of dish water. What a dissapointment. I'm surprised that they bottled this ? Also very bitter with a dry finish.
329 characters
2.33
/5
rDev
-33.6%
look: 3.5 | smell: 3 | taste: 2 | feel: 3 | overall: 1.5
12 oz. bottle poured into a mug.
Appearance: Pours a clear amber color with a bit of visible carbonation. Thin, off-white, film-like head with decent retention.
Smell: Minimal aroma... a bit of malts, maybe slightly toasted?
Taste: It really tastes like something got burned while they were brewing this: not smoky, but burned caramel and malts. It doesn't obliterate the taste, but makes it less than enjoyable.
Mouthfeel: Light- to medium-bodied. A lot of carbonation feel, but not too intense.
Drinkability: Burned flavor = not so great to drink.
I'm hoping that I just got a bad batch of this, but no beer should have that in the flavor. Otherwise, this had the right elements to make it a decent (but my no means great) Oktoberfest beer.
748 characters
2.1
/5
rDev
-40.2%
look: 2 | smell: 2 | taste: 2 | feel: 3 | overall: 2
Not my style of Oktoberfest.
I really do not like Karl Strauss beers that much
Stargazer IPA is ok, but most of their beers are average at best.
This is a blonde Oktoberfest Lager
Very light in color and too sweet, I bought two cases to sell at my local restaurant (here in San Diego) I wouldnt buy it again.
320 characters
Karl Strauss Oktoberfest Beer from Karl Strauss Brewing Company
3.51
out of
5
based on
108
ratings.