Windansea Wheat Hefeweizen
| Karl Strauss Brewing Company
BA SCORE
82
good
35
Reviews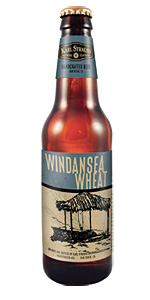 BEER INFO
Brewed by:
Karl Strauss Brewing Company
California
,
United States
karlstrauss.com
Style:
Hefeweizen
Alcohol by volume (ABV):
5.10%
Availability:
Year-round
Notes / Commercial Description:
No notes at this time.
Added by oggg on 03-15-2004
Reviews: 35 | Ratings: 121
3.42
/5
rDev
-3.7%
look: 3 | smell: 3.5 | taste: 3.5 | feel: 3 | overall: 3.5
Part of a 6 beer sampler
"An unfiltered SoCal-style wheat beer. Not your average American hefeweizen!" 3 srm 15 ibu 3.5 body
so it says on the Karl Strauss website. I can buy that it is more in the hefeweizen style as opposed to an American-style wheat ale. The name Wheat Hefeweizen is pretty annoying though. And what is SoCal style?
This beer pours a nice hazy full yellow. Minimal head due to sample size. This beer actually has a decently apparent, sweet aroma. I get a decent amount of banana and spiciness with no hop bitterness. Nice wheaty taste and feel. Refreshing and light. Good for newbies. Somewhere in the middle range for wheats that I've tasted.
673 characters
3.41
/5
rDev
-3.9%
look: 4 | smell: 3 | taste: 3.5 | feel: 3.5 | overall: 3.5
12 oz. bottle,
A: Pours a hazy goldenrod with a medium white head, some lace.
S: Banana notes, cream, bubblegum.
T: Lemon and banana, with some definite wheat malt flavour. By the books, to style.
M: Light-bodied, crisp carbonation, creamy feel overall.
O: A solid American hefe, and actually has some solid yeast flavours. A good local beer for the summer, the first time I've seen it in stores.
401 characters

3.38
/5
rDev
-4.8%
look: 3.5 | smell: 3 | taste: 3.5 | feel: 3.5 | overall: 3.5
On draught at Islands restaurant in Huntington Beach, served with a lemon. The beer is a hazy yellow-gold color with a thin white head that dissipates quickly. Spotty lacing. Wheat, bananas and clove in the nose. Medium, clean body with wheat, tropical fruit and sweet spice flavors. The finish is fruity with a lingering wheaty aftertaste. Above average overall.
363 characters
3.17
/5
rDev
-10.7%
look: 3 | smell: 3.5 | taste: 3 | feel: 3.5 | overall: 3
Appearance: Pours a very murky honey color with a head that fades quickly without leaving a trace
Smell: Green banana, vanilla cream, artificial sweetener and a hint of clove
Taste: Wheat bread with mashed green banana, up front, with a building sense of vanilla cream that overwhelms, in the middle; the clove adds a bit of spice, after the swallow, but the finish is very very sweet
Mouthfeel: Light to medium body with moderate carbonation
Overall: I was expecting more of an American Wheat so it was interesting that the beer turned out to be a Hefe; but still, this is well off the mark of the better examples of the style
Thanks, cocoapuph, for the opportunity
671 characters
3.13
/5
rDev
-11.8%
look: 4 | smell: 3.5 | taste: 3 | feel: 2.5 | overall: 3
Pint from the PB Tap Room a couple days ago for four dollars
Been meaning to try this for quite some time now but surprisingly I do not see it many places and it is not available in bottles as far as I know
Color was a medium orange yellow with a very murky body, 3/4 inch creamy white head, some nice retention, minimal lacing
Smell was all over the place but not bad, wheat, citrus, bananas, butter, sweet malt, faint bready aromas, and lots of vanilla
Taste had lots of citrus from the beginning, chewy wheat aftertaste followed by an immediate sweetness, everything in the smell seemed to show up in the taste as well, weird vanilla and banana flavors once it warmed that made it pretty hard to drink, definitely one of the sweeter hefeweizens I have tasted, needed some of that famous Karl Strauss hoppiness to balance some of the sweet tastes out
Body was super thick for a hef, not as much carbonation as would think either, taste did last long and there was a noticeably sweet mouthfeel
Could not drink much of this stuff and I cannot say that about many wheat beers out there, just too sweet and tiresome after a while, the ABV is low but it is heavy and thick, maybe another pint maximum if I had not drank anything else at that sitting
Definitely not my favorite Karl Strauss beer, not too upset that this is a draft only brew, probably would not drink again, think it would be probably be even worse in the summer with the sweetness and the heat, not a session beer like many other beers of this style
1,520 characters
3.1
/5
rDev
-12.7%
look: 3 | smell: 3 | taste: 3 | feel: 3 | overall: 3.5
Pretty good Hefeweizen.
Cloudy yellow color, with a thin white head. Lots of yeast. Low carbonation. Served too cold.
Strong banana scent mixed with citrus.
This hefe was full of banana flavor, nice smooth finish. A little sweet. Nice a crisp, good summer beer.
Very drinkable, strong fruit-filled hefe, very light on the palate.
Cheers!
353 characters
3.06
/5
rDev
-13.8%
look: 4 | smell: 3 | taste: 3 | feel: 3 | overall: 3
Had on-tap at the Karl Strauss Brewpup in La Jolla. Poured into a 16oz Hefeweizen glass, it poured a mirky golden yellow with little to no head by the time it was brought to my table. The beer was ok, nothing special. It was not one of the better Hefe's that I have had but it wasn't terrible either. I guess it was just meh!
325 characters
3.03
/5
rDev
-14.6%
look: 3.5 | smell: 3 | taste: 3 | feel: 3 | overall: 3
On tap at the Karl Strauss Beer Cart located in Disneyland.
Poured a medium and hazy golden color with a small sized white head. Aromas of bananas, cloves, and light citrus. Tastes of wheat, with ligther bananas and lighter cloves. An average and drinkable Hefe.
263 characters

3
/5
rDev
-15.5%
look: 3 | smell: 3 | taste: 3 | feel: 3 | overall: 3
12/23/2011
On tap at Karl Strauss. I can see people hovering over the coy pond with cameras and big smiles on their faces. I can only assume they are observing the coy.
A: Light yellow and very hazy with an inch of white cream.
S: Spicy clove with a little pepper. Banana blends with light bubblegum notes. Malt is grainy with some biscuit.
T: Wheat and a bold lemon note. I don't see a lemon in the glass but the flavor is undeniable. Clove and banana are both pronounced.
M: Lower medium body with upper medium carbonation.
Overall: Okay but too heavy on the clove for me.
580 characters
2.94
/5
rDev
-17.2%
look: 3 | smell: 4 | taste: 2.5 | feel: 3 | overall: 2.5
Appearance: Golden straw-colored transluscent body topped with a two finger collar of rapidly dissapating foam. Lacing is ok, but large fish-eye bubbles are a telltale giveaway of forced carbonation
Aroma: Nice Bavarian style nose...floral esters, hints of banana and spice, and even a wee bit of yeast
Taste: Very middle-of-the-road taste...almost as though the beer is confused as to whether to be a Euro or an imitation of it's American cousins. Virtually no hop notes detected.
Mouthfeel: Thin and one-dimensional
Drinkability: Unfortunately, this Hefe could not live up to the promises made by the nose and falls short of a beer which I would pursue.
667 characters
2.89
/5
rDev
-18.6%
look: 4 | smell: 2.5 | taste: 2.5 | feel: 4.5 | overall: 3
On tap at their brewpub in Oceanside.
A : Orangey with a very light creamy head. Thick, can't see through it.
S : Wheaty with notes of banana and clove, sweet malt is present as well.
T : Alot of malt to this, quite overpoweringly so. Barely notes of the banana or clove, or even wheat.
M : Medium bodied, very fuzzy. This is actually my favorite part of the beer, gulpable.
D : Being very light on the traditional flavors of a good hefe, this one falls to the wayside for me. But, it is very drinkable if you do like it.
529 characters
2.8
/5
rDev
-21.1%
look: 3.5 | smell: 3.5 | taste: 2.5 | feel: 2.5 | overall: 2.5
I had lunch today at "islands" in beverly hills. Its a middle of the road type place like red robin or applebee's. Needless to say the selection of beers was weak so I went with the only brew there I havent tried. Windansea Wheat Hefeweizen really drew me in as the appearance was very good. Cloudy, golden, nice head and decent lacing. This beer has all the makings of a quality product...I JUST MAY STOP IN TO THIS PLACE AGAIN!! Then in one big boring second it all comes to an end. The taste is weak with nothing stepping up and claiming I AM THE BEER. Its watery mouthfeel and overemphasized carbonation is annoying. Not again. Although I shouldnt say that because it still beats the other crap they had on tap.
715 characters

2.78
/5
rDev
-21.7%
look: 3 | smell: 2.5 | taste: 3 | feel: 3 | overall: 2.5
Poured a murky golden yellow into a pint glass, not much head or carbonation for this brew. Smell is rather subtle. I searched for the banana and clove that I was promised but found little of it. What is there is masked by a slightly sweet yet drying malt finish in the German style. Not effervescent or spicy and not very refreshing for the style. A typically mediocre offering from Karl.
389 characters
2.71
/5
rDev
-23.7%
look: 4 | smell: 3 | taste: 2.5 | feel: 2.5 | overall: 2.5
Ugh.
Looks nice, with a pleasant cloudy golden color. Smells appropriately wheaty/grassy/citrus-ey. Mouthfeel is abysmal: thin, watery, little to no head, no lacing, no substance. Taste is thin as well. Carbonated water with some wheat and hops mixed in.
Stay away.
268 characters
2.25
/5
rDev
-36.6%
look: 3 | smell: 3 | taste: 2 | feel: 1.5 | overall: 2
It was so fizzy it was like soda pop. I don't inow if this is the same brand of hefewizen but I got the sampler tray and they all were over carbonated. The atmosphere in the La Jolla restaurant was decent but the beer was nothing to write home about. Or a review. I'm not a beer critic but I know what I like (i.e. Los Gatos Brewing company or Kona Brewing Company Hefewizen) and this wasn't one of them. I would not go back.
425 characters
Windansea Wheat Hefeweizen from Karl Strauss Brewing Company
3.55
out of
5
based on
121
ratings.