Whistler Imperial Pils
| Karl Strauss Brewing Company
BA SCORE
83
good
38
Ratings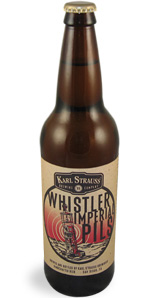 BEER INFO
Brewed by:
Karl Strauss Brewing Company
California
,
United States
karlstrauss.com
Style:
American Double / Imperial Pilsner
Alcohol by volume (ABV):
7.50%
Availability:
Rotating
Notes / Commercial Description:
No notes at this time.
Added by jjh19 on 06-19-2010
Reviews: 29 | Ratings: 38
3.98
/5
rDev
+10.2%
look: 4.5 | smell: 4 | taste: 4 | feel: 3.5 | overall: 4
Missed the release night at Small Bar but had it on tap at their brunch on Father's Day.
A: Poured a deep golden color into a nonic pint glass. Head doesn't stick around long.
S: Upfront there are some grassy saaz hops, lots of toasted malt, and decent amount of the crisp slightly sulfury lager yeast character. I wish there was a little more hop aroma but it's definitely more prevalent than say their Woodie Gold.
T: Chewy toasted malts flavor upfront with a very noticeably herbal and grassy hop bitterness. Not as dry as I would have hoped for but definitely crisp and refreshing. Very similar to what an amped up Pilsner Urquell or Budeweis would taste like. The toasted malts and grassy hops also linger in the finish.
M: Medium bodied, very refreshing, but could stand to be a little crisper and dryer in the finish.
D: I enjoyed this beer quite a bit. Not a lot you can do to dry out an imperial pilsner but the flavors were definitely on. Reminded me of some of the pilsners I've had in central Europe. I wasn't 100% sold but definitely enjoyed this beer more than a few other Imp Pils that I've tried. Worth a shot, especially as the weather heats up.
1,171 characters
4
/5
rDev
+10.8%
look: 4 | smell: 4 | taste: 4 | feel: 4 | overall: 4
L: Pours hazy amber under a 1" fluffy off-white to cream colored foam cap that hugs the sides of the glass.
S: Spicy malt aromas.
T: Complex malt flavors, slightly sweet, kettle sugars with some bread interact with rich, rounded hops.
F: Smooth and creamy with medium carbonation, medium body.
O: A big bold well hopped pilsner.
333 characters
4
/5
rDev
+10.8%
look: 4 | smell: 4 | taste: 4 | feel: 4 | overall: 4
Bottle shared by Nathan – much obliged!
Pours a slightly hazy deep golden color with a white head that leaves decent lacing.
Smells of crisp and mildly sweet pilsner malts with good amounts of sticky citrus and light herbal hops.
Tastes very similar to how it smells. Smooth pilsner malts up front are joined quickly by moderate amounts of citrus and herbal hops. Midway through slightly grassy hop flavors come into play, fading out into a moderately bitter ending. Mouthfeel is good, with solid carbonation.
Overall this is a good benchmark for the style, not good and not bad and worth a shot.
602 characters
4.26
/5
rDev
+18%
look: 4.5 | smell: 3.5 | taste: 4.5 | feel: 4.5 | overall: 4.5
A&S - Pours a gorgeous sunburst gold with a foamy off white head. Not much aroma getting through the pilsner malt, some floral notes as well as some herbal hops. Very floral like a beachside garden.
T&M - Spectacularly smooth. Goes down super easy. Nice fresh malt character with some honey and fermented alcohol, a earthy hop bitterness, with a finish as crisp as potato chips. Great yeast character in this as well, absolutely welcoming, no off notes at all.
O - An amazing beer! Liked this more than I originally thought I would. I had this in my fridge for quite a while and now wish I would have drank it sooner, as we all do with unknowingly amazing brews. Super excited to find this randomly while shopping at certain markets. Although availability here in SoCal should be a little better for this, considering I live 2 or 3 counties away, look for it at your bottle shop. Its a must for SDagans.
905 characters
4.27
/5
rDev
+18.3%
look: 4 | smell: 4.5 | taste: 4.5 | feel: 3.5 | overall: 4
This is an Imperial Czech style pilsner. It has a pale golden hue and a nice head retention. The aromas I picked up were grassy and floral with a slight hint of toasted malt. Slight hope character, however, not too prominent. Body:medium, standard... Finishs crisp and dry. A bti of lingering booziness due to the high alcohol content. Overall, a good beer; and in my opinion a nice step outside of the traditional box.
419 characters

4.27
/5
rDev
+18.3%
look: 4 | smell: 4.5 | taste: 4 | feel: 4.5 | overall: 4.5
This is absolutely wonderful and to date the best Karl Strauss beer I have had. It is a great example of why I love this so-called style even if to me "American Imperial Pilsner" really seems to be another unnecessary, nitpicking division of styles into increasingly specific, hard-to-differentiate categories. In any case, I love Maibocks, too, and some of each style really seem to me to be just as at homein the other cartegory.
Anyway, it's dark gold, faintly hazy, with smallish-medium off-white head slowly shrinking to rich foamy ring, some nice lace.
Aroma is great - a nice, full grain, hay, fermented apples, wildflowers. It's firm, aromatic, and subtly complex.
Taste is nice, spicy flowery citrusy hop bitterness with sweetish bread, honey, apple, along with mineral. It has a lot of well-rounded, balanced character, nice malt and hop presence, lively and zesty.
878 characters
4.32
/5
rDev
+19.7%
look: 4 | smell: 4.5 | taste: 4.5 | feel: 4 | overall: 4
Imperial Pils? First time I've had this beer style.
Pours to a light orange with a white foam head. At first sip you can taste the higher hops than with other pilsners. Taste is somewhat grassy with a hoppy yet not overpowering finish. Foam dissapears quickly but the aftertaste on this beer is not that bitter and makes your pallate desire another sip. At 7.5% and with a 22 oz bottle it might still be considered a session beer that one can enjoy when looking for a beer to stick with and not have it overpower you.
517 characters

4.33
/5
rDev
+19.9%
look: 4.5 | smell: 4 | taste: 4.5 | feel: 4 | overall: 4.5
Appearance: Tried the Whistler Imperial Pils on tap at Small Bar during rollout pint night Thursday night. This just looked good. Poured a dark golden color with a 1" frothy head that dissipated rather quickly.
Smell: Toasted malts, definitely a grassy hop presence. Was it dry-hopped?
Taste: Crisp and clean toasted malts with a lot of grassy hop flavor and a pretty decent bitterness that lingered through the dry finish. Nothing heavy-handed.
Mouthfeel: Medium bodied and very easy drinking.
Drinkability: This was the best stab at a Czech-style pilsner that I've tried. Strong recommendation.
611 characters
4.85
/5
rDev
+34.3%
look: 4.5 | smell: 4.5 | taste: 5 | feel: 5 | overall: 5
Appearance: golden/straw color, nice head
Smell: spicy, floral hops with a touch of tasted malt
Taste: toasted malt flavors followed by floral, spicy hops
Mouthfeel: medium bodied with a crisp clean finish
Drinkability: Great beer. Well done. An enjoyable Imperial Pils.
Serving type: 22 oz bottle
302 characters
Whistler Imperial Pils from Karl Strauss Brewing Company
3.61
out of
5
based on
38
ratings.