Karl Strauss Parrot In A Palm Tree Holiday Baltic Porter
| Karl Strauss Brewing Company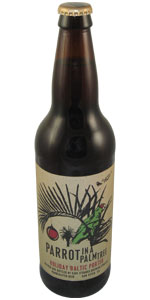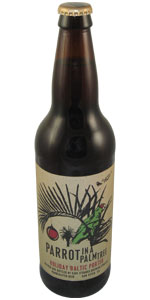 BEER INFO
Brewed by:
Karl Strauss Brewing Company
California
,
United States
karlstrauss.com
Style:
Baltic Porter
Alcohol by volume (ABV):
8.50%
Availability:
Fall
Notes / Commercial Description:
No notes at this time.
Added by jsanford on 11-05-2010
HISTOGRAM
Ratings: 65 | Reviews: 40
4.17
/5
rDev
+6.1%
look: 3.5 | smell: 4 | taste: 4.5 | feel: 4 | overall: 4
A: Pours basically black, but maybe closer to a very dark purple or brown, with both of those colors coming out at different angles. Head is pretty basic but dies off not too soon after the pour. The lacing is like a layer of sand against the glass but it dissipates not too long after you tilt the glass.
S: An unusual but very appealing mix of grape, plum, chocolate, caramel, a little fig, and a small woody character. They all blend together really nicely and make me quick to want to drink this.
T: Starts off with a figgyness and goes into grape, plum, and black cherries then transitions into a salty caramel bite that finishes with some nutty chocolate. It's actually quite complex and very good. This is a very solid porter.
M: The sensations in the mouth were very spread out in this beer, with no extra bite on the top of the mouth or back of the throat. The body was on the heavier side of medium and the carbonation was surprisingly full despite the dying head on the beer. Really good mouthfeel.
O: This is probably the best thing I've ever had from Karl Strauss and it surprises me, honestly, that it's from them. Very few flaws in this beer and was a great pleasure both to drink and ponder appropriate descriptions for. I think this is very much worth seeking, trying, and perhaps trying again. I've been somewhat of a critic in the past, but big ups to Karl Strauss for this one.
1,403 characters
4.2
/5
rDev
+6.9%
look: 4 | smell: 4 | taste: 4.5 | feel: 4 | overall: 4
22oz brown bomber with a vintage date amongst the info on the label.
Good lacing action on my mug, dark brown color has an edge of garnet which flaunts some clarity. Hint of burnt sugar and raisins, some dried plums, a hint of wood and faint grape sweetness all in the nose. Creamy full body, smoothness from the moderate level of carbonation comes off as nearly silky. Roasty sweet maltiness throughout, boarders on a mocha not of dark chocolate and a cup of Sumatra coffee. Wood character creeps in slowly as it pulls the palate in, very mild port flavor ... more wood than anything else. Baked apples, golden raisins and ripe blackberries unfold from the patch of fruitiness in the middle. Alcohol in the breath is warming at most though there is a clean fume of port within. Finishes with a mild roasted character and pulling dryness of wood.
Amazing, one of the better wood aged beers I have had in a while. A solid robust porter base marries the wood at first sip.
972 characters

4.22
/5
rDev
+7.4%
look: 4 | smell: 4.5 | taste: 4 | feel: 4 | overall: 4.5
thanks to crosamich for this extra! poured into my stone snifter
2010 vintage
a - pours the darkest of browns, no light penetrance, and a baby's finger-width head that dissipates to a thin ring around the edge of the glass, minimal lacing
s - lots of port, dark fruits, coffee, dark chocolate and alcohol - very pleasant
t - dark fruits, slight espressor, alcohol present, but without the heat, lingering malt
m - lighter bodied as a baltic porter would suggest with adequate carbonation - quite drinkable
o - i enjoyed this - not too many beers are aged in port barrels and it actually added a good amount of complexity to this beer. i would gladly drink this one again.
676 characters

4.23
/5
rDev
+7.6%
look: 4 | smell: 3.5 | taste: 5 | feel: 3.5 | overall: 4
Poured from a bomber into a tulip glass.
A: Opaque black color, showing clear dark reddish-brown toward the edges, with one finger of light beige foam head. Scant lacing remains on the glass.
S: Dark vinous fruit that is earthy but not particularly roasty due to effervescent carbonic acid. It smells old, in an appealing way--likely due to the involvement of the port barrel.
T: Begins off-dry, almost sweet, with strong dark fruit that matches the smell. It has a fermented quality that adds interest to a beer of this disposition. Acidity is briefly felt, but peaks early then clears out, making way for the arrival of some roasted malt toward the middle. Vinous qualities persist and are joined by complimentary umami that begins a drying trend. Husky grain is added to the increasingly complex mix by the finish, which is further marked by faint earthy oak, Hershey's chocolate syrup, and lingering cabernet sauvingnon.
M: Thin to medium viscosity, smoothness prevails on the palate but the overall texture does not match the self-seriousness of the flavor, with moderate carbonation.
D/O: Who made this beer?! This is the best dark beer from Karl Strauss within memory--including the recent anniversary stout. While it is not a total stranger to the familiar re-occurring formula for porter-style beers at Karl Strauss, whatever they did to treat this one right worked a unique brand of magic that we can talk about reverently for years (okay, months...) to come. The presence of the port barrel comes through, elevating the flavor to new levels. Complexity could not be greater, with grain and grape uniting to create a somber and reflective end-of-year treat that tastes even better five months on.
1,711 characters

4.29
/5
rDev
+9.2%
look: 3.5 | smell: 4.5 | taste: 4.5 | feel: 4 | overall: 4
Finger and a half of large bubble dominated head, steadily settles down to a consistent surface coating, solidly brown in hue, the lacing is not particularly thick but what's there has decent stickiness. Mildly murky yellow brown colored liquid, up close more transparent than expected, not to call it transparent per se, orange rust at the glass bottom, a few bubbles laze about here and there. Malted milk balls, coffee ice cream, nuts and pie crust flakes make up a good portion of the nose, the date, black and golden raisin, fig, apricot fruit a consistent presence, some orange zest and juice, gossamer pepperiness, on the whole not as boozy as might be expected and more intelligently integrated rather than showy. Medium-bodied, the carbonation can kick up some dust and keeps things rolling at a fast clip from the tip of your tongue down past your tonsils. Flowers, pine and green apple flavors tease out drier malt and cocoa powder, not that sugary sweet. This not to underestimate the coconut, butterscotch, molasses and candied nuts. Smooths out appreciably through the finish bringing more peach, cherry, raisin and fig to the fore, mix of red and white fruits. The orange citrus a light touch at most. Hard to derive clear hop flavors but its general erectness and drier nature suggests their presence. More vinous than woody, no real char or oak toast. Hard for a beer with this much going on to seem close to subtle but pulls it off. High drinkability given its inherent nature.
1,497 characters
4.3
/5
rDev
+9.4%
look: 4 | smell: 4 | taste: 4.5 | feel: 4 | overall: 4.5
750 shared with Klym
Poured into Lost Abbey Tulip
A: Looks like a split fig in a glass; sediments hug the walls giving the appearance of seeds in a black body. A completely darth vader helmet body fills the glass with a bit of off-white natural cream bubbles. The film stayed on the top of the glass for a noticeably long while.
S: A really deep concord grape note up front that blends with kiwi centers for a unique impression. Dark fruits begin to develop, but are then cut off by a deep influence of port wine barrels. The sweetness is turned down, but the creaminess/smoothness turned up. Smells like a fine dark fruit jelly spread.
T: A deep roasty salty taste of toasted pumpkin seeds. There is a squash like sweetness that really has made a fan out of me. Dark fruits in a concord grape punch, with wonderful gobs of vanilla caramels. Really making a fan out of me on this one, smooth and creamy while maintaining a heavy focus on deep dark grape wines with extended invitations to fresh pan fried dates. This is pretty genius.
M: A warm blanket of alcohol and medium sized bubble cushions make for a full-bodied drinking experience. This really bridges the tasting experience to include the roasted flavors at the same intensity as the port notes. Not as much complexity here as the flavor, but a job well done.
O: To date, this is the best thing I've had from Karl Strauss. This is an impressive treatment of port wine barrels with a full-bodied baltic porter. The marriage of flavors here is a beautiful thing. I really can't get over how well the initial flavors of fig/dates/cherry skins transforms into the elegantly smooth red grape notes. The way the barrel aging comes through in the end with the dessert condiments of caramels, vanillas, and carob chips is so fantastic. Karl, this is the best of your barrel work. I'd like to see more of this.
1,869 characters
4.3
/5
rDev
+9.4%
look: 4 | smell: 4 | taste: 4.5 | feel: 4 | overall: 4.5
Appearance: Dark brown with a tan, thick creamy head.
Aroma: Wonderful bouquet of dark fruits, hints of expresso and light dark chocolate. Slight spice
Taste: A lot is going on here. Boasts a complex mixture of dark fruits, roasted coffee like flavors (minus the astringency), touch of chocolate, oakiness from the barrel aging? Wonderful mixture for a winter warmer.
Mouthfeel: Nice and smooth. The abv is just right for a Baltic porter. Just the right kick to bring on that nice winter
Coat we all seek from a good winter warmer.
Drinkability: Highly quaffable. Pour me another please.
592 characters

4.38
/5
rDev
+11.5%
look: 4.5 | smell: 4 | taste: 4.5 | feel: 4.5 | overall: 4.5
Full of dried fruit, as everyone notes. Figs for sure. Long sweet flavor of roasted malt, but more of raisins than caramel. Nice touch of acidity tempers the fruit, and the hops are mellow but add complexity and sharpen the overall flavor. Smooth, rich, and creamy for a really good mouthfeel. Lovely chestnut color with a fine head and great swirly lacing.
Karl Strauss seems to do really well with these big malty beer, in my opinion. Sorry I didn't get to try this on tap, but I'll pick up a couple more bottles-- Ibis Market on Ft. Stockton in Mission Hills (San Diego) has a bunch of it.
594 characters
4.58
/5
rDev
+16.5%
look: 4.5 | smell: 4 | taste: 5 | feel: 4.5 | overall: 4.5
-Nice dark brown color with nice almost creamy looking head
-Nice roasted, malty, fig-like characteristics on the nose
-Flavors change a little throughout the beer with notes of dates or figs, roasted malts, sweet port wine notes from the aging process. Slight smokiness. Definitely low on the bitterness and IBUs.
-rich and smooth mouth feel with a hint of alcoholic kick from the port wine, nice sweet aftertaste to encourage another sip
Ive had this beer a few times and I think it is definitely the best Karl Stauss beer Ive had and the best Baltic Porter Ive had to date. A dark beer lovers dream. If you like a fairly rich, bold flavored dark beer to break up the monotony of all the IPA hop craze and the extremely rich imperial stouts. This is the perfect solid bodied, full flavored, extremely drinkable dark beer to crack immediately while saving one to age.
873 characters

5
/5
rDev
+27.2%
look: 5 | smell: 5 | taste: 5 | feel: 5 | overall: 5
A: Dark red, almost murky. Well carbonated with good head retendtion.
S: Milky, with some spice, and hops,
T: Spices come through from the smell, and taste. Very impressed with this one. Going to collect a couple for my cellar. Just to age and see what comes of this one.
M: Medium bodied and went down with a lot of good character.
O: Try this one. Really liked it. One of my favorite Karl's out there.
404 characters


5
/5
rDev
+27.2%
look: 5 | smell: 5 | taste: 5 | feel: 5 | overall: 5
This was one of the best beers I've ever had and wish Karl Strauss would bring it back. This smoked baltic porter was just one delicious, complex sip from beginning to end. I still want more several years later ...
214 characters
Karl Strauss Parrot In A Palm Tree Holiday Baltic Porter from Karl Strauss Brewing Company
Beer rating:
3.93
out of
5
with
65
ratings