Boardwalk Black Rye
| Karl Strauss Brewing Company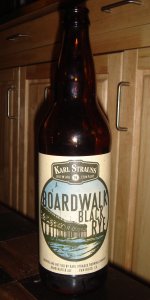 BEER INFO
Brewed by:
Karl Strauss Brewing Company
California
,
United States
karlstrauss.com
Style:
American Black Ale
Alcohol by volume (ABV):
8.00%
Availability:
Limited (brewed once)
Notes / Commercial Description:
No notes at this time.
Added by Thorpe429 on 07-19-2011
This beer is retired; no longer brewed.
Reviews: 32 | Ratings: 88
3.96
/5
rDev
-0.3%
look: 4.5 | smell: 3.5 | taste: 4 | feel: 4.5 | overall: 4
From bomber to Mikasa pint glass
A: Black in color, coffee-tan 2-inch fluffy head that slow to recede. Ample lacing all over the glass
M: The nose is malt-forward, with scents of chocolate, toasted caramelly malts and sweet, multigrain bread. Fresh citrusy hops are right behind, joined by a nice whiff of alcohol.
T: Congruent with the nose, the malty aspects are noticed first, but the hops are more prominent on the palate. Toasty, bready mid-sip as West Coast-style resiny hops more than balance out the chocolate/coffee tones. The sip finishes on the bitter side of the profile.
M: Medium-to-light bodied, ample carbonation. Just about the perfect complexion for the style.
Another tasty brew in Karl Strauss' revamped line up. I just notice "Red Trolley, Off the Rails", which cracked me up because Red Trolley was one of teh reasons I dismissed Karl Strauss for so long. Well, no longer, and although this isn't the best of some the black IPA's to recently pop up around here, it's damn good.
1,005 characters
4.33
/5
rDev
+9.1%
look: 4.5 | smell: 4 | taste: 4.5 | feel: 4 | overall: 4.5
Pitch black with no light penetrating. Solid, dense foamy khaki head with nice retention and lacing.
Dark malt, chocolate, woody oakiness, and faint hop notes like pine bark on the nose.
Flavor is a little different than other cascadian dark ales due to the rye ( I assume). It has a spicy earthiness that others don't have. Flavors include notes of bitter chocolate, piney bark like hops and a very nice coffee character especially on the back end.
Full bodied, rich yet crisp mouthfeel with medium carbonation. Fairly dry.
Overall this is a damn good beer. I like it because it's different. Great overall character and flavor. I definitely recommend a try with an understanding of something different here.
716 characters

3.81
/5
rDev
-4%
look: 5 | smell: 4 | taste: 3.5 | feel: 3.5 | overall: 4
Completely black, even up against the light, with a one finger dense tan head. Even, steady lacing clings to the glass. This smells like a brownie. Thick, dark milk chocolate with a good amount of caramel and a little cracked oat or flour with sugar giving it a bit of a cookie aroma as well. The spicy rye really comes out as it warms, out of the darkness, it seems. Dark, bitter bakers chocolate starts the taste out, followed by burnt toast and dark roasted coffee. Burnt is a pretty good overall description of this one. The rye comes out as it warms, like the aroma, but it's mild and unabrasive. It's bitter, but it seems like it's from the malt, not hops. A metallic copper-ish taste and feel sticks in the throat a bit. The feel tends toward viscous, but only slightly. Finish is dry, similar to a dry stout.
I'm intrigued by this beer. It reminds me of a stout, but it has more flavor. With the amount of grains going into this thing, I would expect it to be a bit more complex. If this had a lower ABV, it would be damn good.
1,036 characters
4.79
/5
rDev
+20.7%
look: 4 | smell: 5 | taste: 5 | feel: 4.5 | overall: 4.5
What a crazy idea! A black rye...and I love it! Shared this with a friend. Rye and smoky malts are obviously a perfect match. Nice bubbly mouthfeel...smooth aftertaste. Goes down very easy for a beer with that much roasted flavor up front. Rye adds nice complexity to it. Almost no hop flavor, all malt. WOuld seek this out.
324 characters
4.47
/5
rDev
+12.6%
look: 4 | smell: 4.5 | taste: 4.5 | feel: 4.5 | overall: 4.5
We've had a lot of great beers find their way out of the (far) southland to our humble shack in the north. San Diego has long been a Mecca for craft beer aficionados, and the Karl Strauss Brewing Company has had a big hand in establishing that beachhead. I have to admit that I wasn't overly impressed with the Tower 10 IPA, or Red Trolley Ale, but I couldn't get enough of their Full Suit Belgian brown seasonal.
Perhaps Karl Strauss needs to be thinking outside of the box to really shine. Boardwalk Black Rye, the latest in the brewery's limited "Coastal Reserve" line, pours stout black with excellent head retention and lacing. Upon first sip, it is hard to pin down exactly what style of beer this is. There are a ton of Ahtanum hops balancing out a pretty heavy amount of caramelized rye that ultimately pushes it toward a "Rye PA," but then there is the rest of the heavy grain bill to contend with. With a healthy bit of black malts adding further luxuriant mouth feel to an already creamy brew boasting 8% alcohol, perhaps this is some kind of Imperial Porter. Whatever it is, it's tasty.
Hints of dried fruit (prunes, raisins), chocolate, and black coffee all play against a warming Bourbon alcohol note. The hops, however, take the last word with a nice lingering bitter tongue. This beer would make an excellent after-dinner drink.
1,365 characters
4.2
/5
rDev
+5.8%
look: 4 | smell: 4 | taste: 4.5 | feel: 4 | overall: 4
Appearance: Wonderfully dark with a rich, creamy head that had some staying power with great lacing.
Aroma: Complex, hoppy in the nose with a solid bed of malt underlying it. Roasted malt throughout, but floral and citrus notes also present; a gift for an ale this dark.
Taste: Wow! Roasted malt, some coffee bitterness accentuated by a beautiful hoppy bitterness! I am far more impressed than I thought I'd be! Finish is a lasting bitterness, which is hard to place: roasted malt, hops, or combination of both? Fantastic.
Mouthfeel: Rich and smooth, the mouthfeel is precisely what I was hoping for. Hops cannot completely overpower the malt, and the result is something that, while eminently drinkable, is also quite rich and creamy.
Overall: This has been my first experience with Karl Strauss, and I must say, I am surprised. How I let something like this go under the radar for so long is beyond me. Malty sweetness battles west coast hoppiness in this epic battle. Who will win? I will...because it's quite good!
1,023 characters
4.35
/5
rDev
+9.6%
look: 4 | smell: 4 | taste: 4.5 | feel: 4.5 | overall: 4.5
On Tap
Downey Brewing Company, Downey, Ca
Pours to a reddish black pour with a light brown foam head. Scents of Malts and Hops are present even before your first sip. Upon drinking this beer you discover the great balance between the malts and the hops infused in this beer. It drinks more like a stout without a terrible impact of hoppiness in the profile. Drink this beer with some spicy food like chile con carne and you'll discover the best of both worlds- great food and great beer. Cheers.
497 characters
Boardwalk Black Rye from Karl Strauss Brewing Company
3.97
out of
5
based on
88
ratings.