23rd Anniversary Bourbon Barrel Aged Old Ale
| Karl Strauss Brewing Company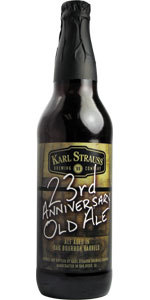 BEER INFO
Brewed by:
Karl Strauss Brewing Company
California
,
United States
karlstrauss.com
Style:
Old Ale
Alcohol by volume (ABV):
12.30%
Availability:
Limited (brewed once)
Notes / Commercial Description:
No notes at this time.
Added by HopHead84 on 02-03-2012
This beer is retired; no longer brewed.
Reviews: 37 | Ratings: 91

4.59
/5
rDev
+12.2%
look: 4 | smell: 5 | taste: 4.5 | feel: 4.5 | overall: 4.5
Shared a 1 PINT 6 FL.OUNCE. Bottle of this w/ Keir @ the Royale in St. Louis, MO. Poured from the "Fake" Barrel Brand Labeled bottle w/ Black Foil over the cap into a 12oz Shaker Glass. Has no freshness/bottle date to be found.
Aroma- A strong single malt aroma starts this one off. This includes bourbon, oak, and malt. Very beautiful!
Appearance- Poured very aggressively and still no head. What gives? Has a copper colored body with great clarity. Leaves a few suds behind.
478 characters

4.22
/5
rDev
+3.2%
look: 4 | smell: 4.5 | taste: 4 | feel: 4 | overall: 4.5
Pours a slightly hazy, amber color with a nice red hue. Small off-white head. Scent is heavy with dark fruits...a bit of toffee as well. Great aroma on this beer. Lovely bourbon with nice oak and sweet figs/dates. Some vanilla as well. Taste is...wow, more well-balanced than I was expecting. I've never been a fan of Karl Strauss, but this beer is outstanding. Immediately I get sweet, burnt sugar cube flavors. Immediately followed by amazing date/fig flavors. Awesome bourbon flavor...very smooth. Tons of toffee with hints of coconut and vanilla. Great balance of malt/dark fruit/bourbon/oak. Alcohol is noticeable and slightly warming, but not nearly as hot as I was expecting. Mouthfeel is somewhat odd...very creamy, yet fizzy at the same time. Medium-full bodied. Drinkability is high. Overall, if KS continues to make beers this good, I will forget that I ever dislike them. Awesome beer!
897 characters

3.89
/5
rDev
-4.9%
look: 3.75 | smell: 4.75 | taste: 3.5 | feel: 3.75 | overall: 3.75
Poured from a bomber into a half-pint chalice.
A: Slightly hazy, medium amber color with a fine peripheral ring of off-white bubbles. Scant lacing remains on the glass.
S: Rich treacle laced with candied orange peel and heady spirituous vanilla.
T: Begins off-dry, with caramel and mild dark cherry fruit. Bourbon is featured in the middle, only slightly oak-influenced, but so is an assertive breadiness that seems entirely driven by English malt rather than yeast. The finish is booze-soaked, showing some fruitcake that seems ester-driven in the high alcohol presence.
M: Medium viscosity, syrupy and slightly acidic on the palate, with moderate carbonation.
D/O: A fine (and rare) old ale by a West Coast brewery, it generates an interesting mix of traditional malt-derived qualities as well as a fair amount of barrel influence.
838 characters

4.22
/5
rDev
+3.2%
look: 4 | smell: 4.5 | taste: 4.5 | feel: 3 | overall: 4
A: Hazy brown pour that hints towards orange at the very edge. As the beer settles, the haze disappears and the color focuses more towards red. Really much lighter a pour than I expected from such a big beer. Initially a few fingers of off-white head builds up beautifully, but it doesn't stick around for too long. Spotty lacing shows up down the sides of my New Belgium Globe.
S: The aroma on this is no where near as harsh as I expected after smelling the pour right out of the bottle. A sweet, but balanced blend of aromas greets my nostrils. Very focused on the barrel, which is right up my alley as I'm not a huge fan of Old Ales. Bourbon, sure, but mostly vanilla and oak with undertones of Old Ale and booze.
T: The taste is a tad light, but oh so decadent. Mellowed bourbon, vanilla, dark fruits, and oak are the forefront. I do wish the old ale played a larger role, and that the overall taste was a bit stronger, but the taste that was there was phenomenal. It has a faint malt base, but it's completely focused on the barrel.
MF: The mouthfeel is very thin with a lower than average carbonation. The drinkability, however, is very high. The ABV isn't noted at the level I expected and the taste is wonderful I can't stop taking sips.
O: This was a really nice beer, but it just fell short of top notch. If the overall characteristics were stronger I would think this was all 5s. It's delicious, but not quite there. I paid a decent price for this in Washington DC, and I'm glad I did, but I probably wouldn't get it again.
1,538 characters

4.03
/5
rDev
-1.5%
look: 4 | smell: 3.5 | taste: 4.5 | feel: 3.5 | overall: 4
Thanks Kevin. Poured at cellar temp into a Hill Farmstead tulip. I really need to start using one of my other glasses for tasting. Nah.
A - Comes out as a dark orange with a touch of brown/red. Bubbly white head turns into lacing. Looks a little light for the style, but otherwise nice.
S - Lighter malts, candied fruit, oak presence.
T - Caramel and barrel take over almost immediately. Some candied fruits, malts, and some woodiness. Finishes a tad dry with noticeable heat, but nothing unpleasant. I'm not sure about the base on this one, but the barrel really takes hold of the beer. Favorable barrel notes are present from start to finish. Remarkable that it isn't hotter. There is almost a creaminess to it.
M - Medium body with some prickly carbonation.
O - Really a good beer. Not sure if aging will improve this beyond toning the heat down a bit and possibly merging the barrel more with the malts.
913 characters
4.41
/5
rDev
+7.8%
look: 3 | smell: 4.5 | taste: 4.5 | feel: 4.5 | overall: 4.5
Reddish amber body, no head or lace.
Nose is rich with oak, vanilla and light coconut. Not a thick nose, but a very good one.
Taste is impressive-- bourbon character, but without the heft of a stout. Nutty a bit, with ample oak and a trace of burn. This is unique in that it provides all the characteristics of a bourbon barrel beer but is neither overbearing nor overstated. Nice and dry, but not bitter-- toasty.
Relatively light, almost frothy, not bright, but it really breaks up the taste in a good way.
Doesn't taste like an 'old ale' in my opinion, but fantastic beer-- basically what an Innis and Gunn or a Barrel-Aged Human Blockhead *should* be.
659 characters

3.86
/5
rDev
-5.6%
look: 3.25 | smell: 3.5 | taste: 4.25 | feel: 3.75 | overall: 3.75
22 oz bottle from Shane. Thanks!
A: Caramel coloration with a creme head that's content to rest around the edges. Surprisingly light on its legs.
N: Caramel, vanilla, brown sugar, toffee, and malts. Honey at the edges, and plenty of deep oak.
T: Tasty bourbon mixed with ample vanilla and honey. Caramel and toffee make for a sugary treat. Still balanced, I get some bitterness of hops and a hint of dried pineapple.
M: Rather light for an Old Ale. It doesn't ruin the beer, but it could use some further heft and stickiness. However, it does drink far too easily for a 12.2% beer since the alcohol is shockingly absent.
O: A well-rounded beer. Balanced and enjoyable; Drink it soon, I think.
701 characters

4.23
/5
rDev
+3.4%
look: 4 | smell: 3.5 | taste: 4.5 | feel: 4.5 | overall: 4.5
A brown, barely murky look starts out the beer, which shows some red when held up to the light. A large tan head which is bubbly and lively fills the top of the tulip, and sounds like rice crispies with all the bubbles snapping, crackling, and popping.
Smells huge of the bourbon barrel, so much so the first whiff made me cough. Booze are present and a sweet caramel malt joins the party.
Tastes upfront of the barrel, following the nose pretty closely. Fortunately, not overpowering the rest of the beer. A hint of smoky vanilla with the sweet malt. Dark fruits in the finish/aftertaste.
Texture is luxurious. While alcohol is present, it doesn't feel like 12%, until you get near the end of the bottle, and even then, it's only in your head. There is a thick viscosity to the beer, with good carbonation to lighten it up. I like the beer, I will get more.
DOA
866 characters

4.25
/5
rDev
+3.9%
look: 4 | smell: 4 | taste: 4.5 | feel: 3.5 | overall: 4.5
Need some room in the fridge, decided to crack open this guy open. Had I known it was a 90 point beer, I may have saved it for more special of an occasion.
Pours a nice dark tree sap amber color into my tumbler. Crystal clear. White rocky head from a semi-vigorous pour. It recedes fairly quickly. Line of foam around the beer with very little lacing.
Vanilla and oak bombard the nose. Nice sting of alcohol rounds out the scent.
Smooth oak and vanilla on the palate as well. Hint of diacetyl? This beer is incredibly smooth. Alcohol is present, but is pleasant and not solvent-like. Would not have guessed in a million years that this is a 12% ABV beer.
Is there such thing as too smooth? This beer is it. Carbonation is moderate to low, which aids in the smoothness of the beer. I would rate the body as just a bit past medium. Doesn't quite have the body that I'd expect from a 12% ABV beer.
Overall this is a pretty incredible beer. I think it's a little too well attenuated and smooth for its own good. I'm kind of left wanting a little something else.
1,062 characters
4.17
/5
rDev
+2%
look: 3.5 | smell: 4 | taste: 4 | feel: 4 | overall: 5
A- Very dark ruby color in the pour, I was surprised how light color this beer was. Final pour you get a glowing brown and red, little head retention.
S- Smell is very nice, get the solid Bourbon barrel smell. Lots of oak, and layers of vanilla in the background. I get some cheery from the bourbon aging. Despite the lighter color, you still get that solid imperial stout/barley-wine smell.
T- Get a lot lots of charred oak up front, some very sweet malt. There is a lot of wisky and scotch, I feel like i'm drinking a rich smoky islay scotch. I also get some caramel and charred brown sugar. A little to sweet for my taste on the malt profile, I wish the bourbon barrel would mellow out some of the sweetness.
M- A little more carbonation then I would want. The mouth feel is velvety. There is defiantly burn down the way on the throat.
T- Overall good anniversary beer, I wish Karl Strauss would do more big beers, to bad they can only do it once a year to get away with it.
981 characters
4.47
/5
rDev
+9.3%
look: 4 | smell: 4.5 | taste: 4.5 | feel: 4.5 | overall: 4.5
Had the opportunity to try this on tap at their Changing of the Barrels event last week.
Appearance: Amber brown with faint ruby hues
Smell: Huge dose of warming bourbon in the nose. Generous amounts of toffee, molasses and hints of toasted oak
Taste: Follows suit; prominent but appropriate bourbon character upfront followed by a generous dose of toffee, sweet molasses and toasted oak. quite complex
Mouthfeel: this beer is a hugeee 12.3%. Pleasantly smooth for a brew of this octane.
Overall: An amazingly complex beer. Unabashedly strong and bourbon-forward, yet smooth and well balanced given it's strength and intensity. Snatch one up, this is well worth the quaff my friends.
690 characters

4.92
/5
rDev
+20.3%
look: 4.5 | smell: 5 | taste: 5 | feel: 4.5 | overall: 5
Pours a dark golden brown with some lively froth on top. First whiff of this is vanilla coconut with warm oaky bourbon. Sipping this, the palette is immersed in again, vanilla and coconut, and a surprisingly strong dose of bourbon. Besides the coconut flavor, and some figs and brown sugar, the bourbon really sings here. Not sure what barrels were used, but the bourbon taste is distinct and you can really suss out its flavor, which is very good. Halfway through my glass I am just swooning in vanilla and coconut. This beer so outstanding, you find yourself puzzling over how a brewery of such low regard can produce something so delicious. This is a truly phenomenal beer that would be one of those ridiculously sought after whales if it was produced by goose island or bells or founders, etc. Seek this out, but don't expect any of my help. I went around and gobbled up all the bottles I could after trying this and really, this beer is too damn delicious to trade. If this isn't my favorite beer of 2012 then I can't wait to taste whatever gem supplants it.
1,063 characters
23rd Anniversary Bourbon Barrel Aged Old Ale from Karl Strauss Brewing Company
4.09
out of
5
based on
91
ratings.