Mouette à Trois
| Karl Strauss Brewing Company
BA SCORE
82
good
10
Reviews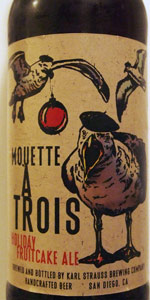 BEER INFO
Brewed by:
Karl Strauss Brewing Company
California
,
United States
karlstrauss.com
Style:
Belgian Strong Dark Ale
Alcohol by volume (ABV):
8.50%
Availability:
Limited (brewed once)
Notes / Commercial Description:
No notes at this time.
Added by rand on 12-03-2012
This beer is retired; no longer brewed.
Reviews: 10 | Ratings: 37

4.1
/5
rDev
+17.8%
look: 4 | smell: 4 | taste: 4.25 | feel: 4 | overall: 4
This "fruitcake ale", which is officially classified as a Belgian strong dark ale, pours a very dark amber color with a healthy layer of tan foam. The scent, which is faint, is of yeast and fruit, possibly cherry. The initial taste is mild, but the flavor grows in the aftertaste. It is certainly complex and full bodied. It has a very strong malt backbone, which is very bread-like with a significant caramel flavor also. It also has definite complex fruit and spice flavors, which include cherry, apricot, vanilla, gingerbread, and nutmeg. Not to mention a hint of alcohol flavor, which isn't surprising considering it's 8.5%. It has a somewhat sweet finish. Karl Strauss I've found to be a fairly mediocre brewery, but I think that this is for me their best offering that I've tried despite it getting fairly low ratings. The ratings were very varied in their descriptions of the beer also though, so this might vary from batch to batch. I don't think this would be for everyone, but I think it has a nice holiday comfort feel and is very interesting. It does start to get a little old when you're most of the way through it though. I probably wouldn't want to drink more than one at a time.
1,213 characters
3.93
/5
rDev
+12.9%
look: 3.75 | smell: 3.75 | taste: 4 | feel: 4 | overall: 4
Type: 22-oz. bomber
Glass: Trappist glass
From: BevMo in La Mesa, Calif. (San Diego)
Price: $9.97 (w/ club card)
Purchased: Feb. 8, 2013
Consumed: Feb. 9, 2013
Misc.: Third installment of Karl Strauss' "Twelve Days" series.
Poured a caramel copper color with less than one finger of khaki white head that dissipated almost right away. Minimal lacing. Very bad retention.
Smelled a mix of sour fruit and alcohol. Got sour cherries, caramel, toffee, peach, apricot and sugary candy. Some Belgian spices late, smelled a little bit like pepper.
Tasted a bit different than I thought it would. Got more of a spicy cake feel, like coffee cake or cinnamon roll. I'm pretty sure I've never had a fruit cake, but make that would be a better comparison. Also got candied sugar, peach, apricot, pear with a backbone of sour cherries, oak and vanilla. Not too oaky, but it is there. Cinnamon, nutmeg and a bit of Belgian spices as well.
Medium body. Oily texture. Average carbonation. Long spicy finish.
I have to admit that I didn't have much expectations going in, but this was a pretty decent beer. Definitely something different, but perfect for the winter and Thanksgiving/Christmas.
1,197 characters

3.83
/5
rDev
+10.1%
look: 3.5 | smell: 3.5 | taste: 4 | feel: 3.75 | overall: 4
Had this on tap at the Karl Strauss tasting room tonight. They were saying that as it aged, the cherries in the beer soured and completely changed the profile. I asked if the bottled beer aged the same way, and they said that the bottles were exactly the same as when it was bottled. Based on the other reviews, I don't know if I would be excited to try that version, but this beer on tap was delicious. I would gladly try it again if I ever see it on tap again. It seems to me like this Belgian Strong Dark Ale became a Flanders Style Red.
540 characters
3.65
/5
rDev
+4.9%
look: 3.75 | smell: 3.75 | taste: 3.5 | feel: 3.75 | overall: 3.75
L: Pours brilliant deep amber brown under a rapidly dissipating 1" cream to tan colored foam collar.
S: Big fruit cake aromas
T: Fruit cake, Christmas spices, cherry, light clove, coriander, cherries and apricots. Spicy fruit cake aftertaste with toffee and dark bread. F: Full body, medium to medium low carbonation.
O: Cloyingly sweet, not much hops, with all of the spices to gets close to some pumpkin beers.
417 characters
3.6
/5
rDev
+3.4%
look: 2 | smell: 4.5 | taste: 3.5 | feel: 3 | overall: 3.5
22 oz. bottle,
A: Pours an amber red to maroon with a very short lasting off-white head, leaving no lace.
S: Lots of candied cherries and spice, hint of brandy, very elegant and nice, certainly smells like fruitcake.
T: Nice malt flavour, though it has a bit of cloying sweetness on the back end where the cherries take over in the denouement. Nice undercurrent of stone fruit and spicy throughout.
M: Medium-bodied, lighter than I'd expect. Crisp carbonation, a bit watery though.
O: An up and down beer for me, the nose was the best part, fun to try.
558 characters

3.5
/5
rDev
+0.6%
look: 3.5 | smell: 3.5 | taste: 3.5 | feel: 3.5 | overall: 3.5
12/23/2012
Bottle info a snifter.
A: Dark reddish brown with a small beige head.
S: Candi sugar, bready malt, gingerbread, a bit of biscuit. There's some cinnamon and allspice in there with a firm dark fruit presence that brings to mind plum and grape.
T: Gingerbread up front with notes of grape, cherry, plum, and prune. Notes of candi sugar pervades the palate, blending with oak and baked bread. A very low level of bitterness is evident.
M: Medium body with medium carbonation. The mouthfeel is sticky and smooth.
Overall: A pretty nice holiday Dubbel. Not over spiced, which is what I feared when I read about this. It does remind me of Fruit Cake. I wish a single beer in Stone's Vertical epic lineup tasted this good.
731 characters
3.48
/5
rDev 0%
look: 3.5 | smell: 3 | taste: 4 | feel: 2.5 | overall: 3.5
Poured into chalice from 22oz bomber
Calling a beer a 'fruitcake beer' doesn't exactly raise expectations, but since the last of the "twelve days" series were pretty good, I figured this was worth a shot. And what the label says makes some sense - if you were going to attempt a fruitcake beer, you might as well blend the flavors with the innately spicy and fruity aspects of a Belgian Dubbel.
I wouldn't say I'd chase this down again, but it was interesting with a distinct profile.
A: Copper-red in color, little visual carbonation and almost no head.
S: Subdued nose yields sweet malts, various ripe fruit - apples and peaches primarily. Alcohol is masked and without a lot of carbonation you really have to breath deep to parse the scents.
T: The flavors are relatively bold, thankfully, and the ripe, fruity notes hit first. Apple, pear, a touch of raisin. It's a malty brew with sweet notes of toffee and caramel throughout the sip. There's a slight phenolic aspect mid-sip that's a little off-putting - it resonates with the fruity aspects, but without any real hop character it becomes too prominent. Again, the alcohol is well hidden. Probably too hidden. Finishes long and sweet.
M: Loses points here. It's strangely light bodied and there's almost no carbonation to speak. The fruity notes leave a good deal of residue on the palate and could've used some scrubbing bubbles between sips.
1,406 characters

3.33
/5
rDev
-4.3%
look: 3.5 | smell: 3 | taste: 3.5 | feel: 3 | overall: 3.5
Starts right off with a buttery flavor. So sweet and candied tasting. Reminds me of bread pudding with hard sauce. Some vanilla as well.
Color is a handsome dark red amber in the tulip. Head starts our fine but the carbonation seems to evaporate. It's like a sweet wine after the spritz fades out. In the bottle at least you can pour it an inch at a time to make the most of the carbonation. Still, it's an interesting seasonal brew with a tangy, good-time fruity flavor. That Kandy Korn nose is a little much, however.
On tap at the Sea Rocket in San Diego where it was called "Holiday Ale," but some inquiring got to the truth.
631 characters
3.16
/5
rDev
-9.2%
look: 2.75 | smell: 3 | taste: 3.25 | feel: 3.25 | overall: 3.25
Pours a slightly hazy reddish-brown with a foamy khaki head that settles to only a few tiny wisps of film on top of the beer. Small dots of lace slowly drip into the remaining beer on the drink down. Smell is of malt, dried dark fruit, and some mild spices. Taste is much the same with a slight tartness and a woody flavor on the finish. This beer has a mild amount of spice bitterness on the palate with each sip. This beer has a lower level of carbonation with a slightly crisp mouthfeel. Overall, this is a pretty average beer all around and definitely the worst of the 3 holiday beers in the lineup so far.
610 characters

2.55
/5
rDev
-26.7%
look: 2 | smell: 3.25 | taste: 2.5 | feel: 1.5 | overall: 2.5
Mouette A Trois Holiday Fruitcake Ale. Acquired at a nearby bottle shop for $11.99 USD plus tax. 8.5% ABV confirmed. This is a strong ale, not a Dubbel (as currently listed). Per the label: "Brewed with fresh apricots, cherries and a blend of spices, the resulting strong ale is Belgian Dubbel meets fruitcake." I like the simple label art and implicit humour (a bird wearing a French hat). 1 pint 6 fl oz brown glass bottle with standard pressure cap served into a New Belgium stem-goblet in me gaff in low altitude Los Feliz, Los Angeles, California. Reviewed live. Expectations are above average; I'm not big on this brewery but I do like the style.
Served straight from the refrigerator. Side-poured with standard vigor as no carbonation issues are anticipated.
A: Pours a one finger thin fizzy head that recedes extremely quickly; retention is less than 1 minute. No real cream either. So far so bad. Body colour is a dark nontransparent translucent amber. No yeast particles are visible. No bubble show. Looks rather amber-ish for a strong ale - at least if you're judging by Chimay standards. Not a bad appearance, but it isn't unique or special.
Sm: Alcohol heat, light apricot, light cherry, and generic malt. Maybe a hint of acidity. A mild strength aroma, and a bland boring one. Not the aroma I expected from a beer labelled "Holiday Fruitcake." It's certainly not the Southern Tier school of making aromas correspond exactly to flavours.
T: Heavily sweet in the late second and third acts (maybe it has more in common with Southern Tier than I gave it credit for). Amber malts, badly executed cherry, and heavy residual sugars. Candi sugar is heavy. Sweetbread notes fill out the body. Brown sugar. Sure, I guess a bit of fruitcake. I get no oak nor any vanilla. I get little apricot, if any. It feels muted and tame. Luckily, no alcohol comes through. Nor does any yeast. There's shockingly little going on here. A flop of an experiment, though I wouldn't say that I dislike it.
Mf: Awfully thin. Smooth and wet. Undercarbonated. Horrible palate presence; there's hardly anything there to support the flavours. In dire need of attention. This is terribly executed.
Dr: Drinkable for the high ABV, but I have a pretty low threshold for what's drinkable. This is just plain bland. I could sooner get behind a bold failure than this underwhelming noncommital garbage attempt. I don't know why this even made it to market, but $12.00 is rape. Low quality. I wouldn't trifle with this crap again. I'll finish this bottle (because I'm not one of ye posh drainpouring bastards...jaysus, finish your beer; there are sober kids in India) but I'm severely disappointed. Why did I buy this? I've lost faith in this brewery (again).
Low C-
2,755 characters
Mouette à Trois from Karl Strauss Brewing Company
3.48
out of
5
based on
37
ratings.