24th Anniversary Flanders-Style Ale
| Karl Strauss Brewing Company
BA SCORE
84
good
10
Reviews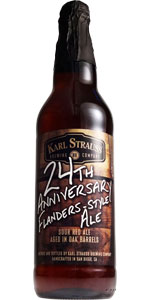 BEER INFO
Brewed by:
Karl Strauss Brewing Company
California
,
United States
karlstrauss.com
Style:
Flanders Red Ale
Alcohol by volume (ABV):
7.50%
Availability:
Limited (brewed once)
Notes / Commercial Description:
No notes at this time.
Added by BucannonXC5 on 02-13-2013
This beer is retired; no longer brewed.
Reviews: 10 | Ratings: 60
3.65
/5
rDev
-1.1%
look: 3.5 | smell: 3.5 | taste: 3.75 | feel: 3.5 | overall: 3.75
This has been aged two years. Maybe it's the age, but the taste is mellowed. I don't get much puckering effects. It's pretty flat. I get some cherry, and wine flavor.
166 characters
3.85
/5
rDev
+4.3%
look: 3.75 | smell: 3.75 | taste: 4 | feel: 3.75 | overall: 3.75
From BeerAdvocate Magazine #75 (April 2013):
Wow, happy 24th. One hell of a milestone for this industry. Karl Strauss taking a departure from their norm by going sour for their anniversary brew. Very well put together, a sipper all the way but something we could easily gravitate to if it was year-round and readily available.
STYLE: Flanders Red Ale
ABV: 7.5%
AVAILABILITY: Limited
LOOK: Semi-clear garnet, solid lacing
SMELL: Cherry pits, citrus pith, lemongrass, earthy, woody, bready, blackberry, tart
TASTE: Medium bodied, healthy tartness, pulling woodiness, vanilla, cherry skin, slight warmth, hint of caramel, fresh grass, vague spice, woody finish
663 characters

3.48
/5
rDev
-5.7%
look: 3.5 | smell: 3.5 | taste: 3.5 | feel: 3.25 | overall: 3.5
Slightly hazy dark amber pour with little head retention despite the high level of carbonation. Moderately sour with aroma and flavors of apple cider vinegar, oak, and earth. There is some sweet caramel and apple cider on the aroma. The flavor is strong on the oak and brings a very dry, tannic and astringent bitter finish. The carbonation is a too much while the mouthfeel is oily and slick. Overall, decent but not recommended.
430 characters
4.05
/5
rDev
+9.8%
look: 4 | smell: 4 | taste: 4.25 | feel: 3.5 | overall: 4
Poured from the bottle into a tulip glass.
At first glance this appears chestnut mahogany brown, but when fully poured it comes with a very deep Indian red. A simple tan head of three fingers is produced on the pour, and some slow settling happens to a bubbly puck. There's some noticeable snapping audible carbonation on this as well, and just a faint middle column of rising carbonation through the glass.
Very interesting nose. Some brown sugar, light classic soft acidity and oak round character. A bit simple, but done well, there's a hint of soft brown sugars here more so and moves toward vanilla cream. Real nice, definitely unique, but very subtle.
What a real interesting palate. Matching bouquet in flavor, but there is a lot dry and spritzy carbonation. Biting mineral water carbonation, which really does take away from the flavors in the palate. All the flavors are here though, real nice soft oaky vanilla, a mild soft tartness of sour cherry, with an incredible matching cream vanilla finish, just real impressive. There's a hint of toasted malts coming out here like a baked bread with cherries in it.
This is a real interesting take on the style, with some unique barrel character coming out of it. The carbonation though is just too high and cuts through and jars a bit. If that was just dialed down and letting the mouthfeel soften this beer would really start rocking. Still though the palate delivers nicely, uniquely, but subtly. You have to dig, but it's worth it. Nice brew, just wish this could be great (cause it can).
1,549 characters
2.94
/5
rDev
-20.3%
look: 4 | smell: 3.75 | taste: 2.5 | feel: 2.5 | overall: 2.75
Ok, I really hated this beer. Starts out pleasantly enough, dark cider appearance, small white head that leaves to ring, sparce lace. The smell is sour cherries with some nasty sulfury untones. Taste is sour cherries, but aftertaste is methiolade, bandaids and sulfur. Mouth feel is good carb, medium body, but nasty balance. I think it's going to be one of my rare drainpours.
377 characters
3.81
/5
rDev
+3.3%
look: 4.5 | smell: 2.75 | taste: 4.25 | feel: 4.25 | overall: 3.75
A: A beautiful deep amber/copper body with a two finger ivory head that disappears within a minute.
S: Unpleasantly funky. Very sulfury, way too much. There is some citrus fruit present and very subtle bitterness.
T: Very interesting. It starts wit a very sharp tart in the front and then transitions to a citrus fruit with berries. The beer finishes with a sweet caramelized waffle flavor that is extremely good.
M: Nice heavy and silky body with a very sharp carbonation.
O: Good not great sour. The nose is a big turn off for this beer.
543 characters
3.55
/5
rDev
-3.8%
look: 3.5 | smell: 3.5 | taste: 3.5 | feel: 4 | overall: 3.5
Bottle pour for Best Damn Night Of The Barrels held at The Beer Company in San Diego, CA.
Pours a clear dark orange with a foamy beige head that settles to wisps of film on top of the beer. Small dots of lace form around the glass on the drink down. Smell is slightly sour and tart with some fruity and vinegar aromas. Taste is much the same with a mildly sour grain flavor on the finish. There is a mild amount of acidity on the palate with each sip. This beer has a good level of carbonation with a crisp mouthfeel. Overall, this is a pretty good beer but it seems somewhat unrefined.
588 characters
4.12
/5
rDev
+11.7%
look: 4.25 | smell: 4 | taste: 4.25 | feel: 4 | overall: 4
Was given a bottle of this one last week - thanks Nick R.
Appearance - Deep Ruby hues with minimal lacing, nice effervescence
Smell - Smell was a little funky upon opening, however, after given a chance to breathe, it opened up nicely with a bouquet of dark fruits, light caramel and green apple
Taste - Taste followed suit in terms of flavors. Lots of sour green apple, pomegranate, dark fruits, oak
Mouthfeel - Puckering. This one will give you the sour face, although, it has a nice finish that's more rounded out.
Overall - Not a bad take on the style. Curious to see how it mellows overtime.
601 characters

3.49
/5
rDev
-5.4%
look: 3.75 | smell: 3.5 | taste: 3.5 | feel: 3.25 | overall: 3.5
Pours a handsome red coppery color in the Ommegang chalice. A thin mustache of foam dissipates quickly, though the prickly carbonation lasts a little longer.
Woody and tart at first sip. Kind of an earthy, dry, barrel taste with echoes of fruit. It makes me think of a Saison that got every bit of sugar eaten by friendly bacteria. Very sharp but no whiff of vinegar. A back of the throat bitter rasp. Bitterness seems to come entirely from the yeast and is rated at 15 IBU. Interesting mix of acidity and fruity mellowness, but it still sets the teeth on edge like pomegranate seeds.
Quite drinkable, but more of a wild ale bred in captivity. From the 22 oz bottle bought at Liticker's Liquor & Deli in Ocean Beach for (holy cow) $19.
737 characters
4.11
/5
rDev
+11.4%
look: 3.75 | smell: 4 | taste: 4.25 | feel: 4.25 | overall: 4
Type: 22-oz. bottle
Glass: Champagne flute glass
From: Karl Strauss 4S Ranch in Rancho Bernardo (San Diego, Calif.)
Price: $11.98
Purchased: Feb. 5, 2013
Consumed: Feb. 12, 2013
Misc.: N/A
Poured a copper amber hazy color with 1-2 fingers of khaki tan head. Thought it would be more red. Nice amount of lacing on the sides. Average-to-below average retention on the top.
Smelled mostly sour fruit (cherries, grape) and red wine, but not overpowering. Also sweet vanilla and light oak. Reminded me a bit of a Cherry Coke.
Great initial taste. Got sour, more tart cherries. A bit like a red sweet tart. Oak comes through a bit more than the smell. Very light vanilla. Nice build up to a surprising warm finish.
Medium body. Oily texture. Average-to-lively (above average) carbonation. Long, smooth, warming finish.
Still new to these type of beers, but it appeared to be one of the better ones. Would definitely have it again.
932 characters
24th Anniversary Flanders-Style Ale from Karl Strauss Brewing Company
3.69
out of
5
based on
60
ratings.