Arrow Wine & Spirits - Far Hills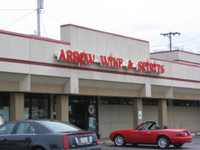 PLACE INFO
Type:
Store
2950 Far Hills Ave
Dayton
,
Ohio
, 45419-1609
United States
(937) 298-1456 |
map
arrowwineandspirits.com
Notes:
No notes at this time.
Added by PhantomVodoo
Reviews: 12 | Ratings: 22
4
/5
rDev
+9.3%
vibe: 4 | quality: 4 | service: 4.5 | selection: 3.5
Caters more to the wine & spirits crowd but have started doing beer tasting too. Selection is pretty good and certainly not dusty and cobwebby as stated in reviews from way back when.
183 characters

2.88
/5
rDev
-21.3%
vibe: 4 | quality: 3.5 | service: 1 | selection: 3.5
The atmosphere is really nice here, very clean, good part of town. Not what you usually get from a liquor store in Dayton. But that's where the positive ends. They had an average to below average selection. Just a small wooden shelf of single bottles, most of which we're coated in dust and cobwebs. Decent selection of six packs though. Lots of different wine from what I could see. Didnt really look to much as I don't drink wine. I did happen to pick up a bomber while I was there. None of the employees tried to ask if I needed help finding anything, they all stood together talking and laughing at the cash register, now Here's where the story gets interesting! When I go to check out, an employee asks me to empty my pockets. I at first kinda of chuckled thinking he was referring to the high price of the bomber. He then replied whats so funny? Empty your damn pockets. In a stunning disbelief I emptied my pockets, to show him I had not stolen anything. When he then proceeded to read me my total I laughed and told him to shove it. I know enough about customer service to know that's not how you handle that situation. I will not step foot in this store again.
1,169 characters

4.72
/5
rDev
+29%
vibe: 5 | quality: 5 | service: 5 | selection: 4
The prices are spot on, for what you are getting. The beer manager there is great. He is knowledgeable and always goes the extra step. There selection is not as good as belmonts but its 2nd best in the area.
I buy a lot of bells, founders, stone, etc. there.
The beer is sold slightly colder than I want in the cooler so I usually buy from the singles area.
I have bought hopslam there 3 times and kbs once. Anywhere that can get me those jewels when the come out has made a customer for life.
Love that I can also get Gin and wine there.
543 characters
3.15
/5
rDev
-13.9%
Like others have said, this place is pretty much a wine/liquor store. The people there are nice enough, but they aren't too familiar with the beer they carry, honestly. The selection is ok, but nothing special. There's a good selection of Stone, Sam Smith, Young's, and Great Lakes, a little Stoudt's, and that's about it. The pricing is ok though, the other day I paid 6.99 for Stone RIS 2009, when I had bought 2008 in Indiana for 8.99 a month earlier. Picked me up a 2009 Old Guardian too--they do get the early releases on the stone stuff. Saw they had a large jug of Dead Guy Ale, which was pretty cool. This is a good place to go if looking for Stone, Sam Smith, or Great Lakes, but I would try some other places first for other stuff. FFF is no where to be found in this store. They won't help you pick something out unless you're looking for some great wine or a good deal on some scotch.
896 characters
3.3
/5
rDev
-9.8%
I have to agree with the other reviewers. Arrow knows their target market is wine and liquor, so they stick to it. Don't get me wrong they KNOW wine but out of the say 12 employees they had in the store, there was "A beer guy". The lady was looking for Grolsh, it's not rocket science. I do like the fact that it's easy to shop for multiple items. You can pay for beer and liquor together and with plastic, some are cash only liquor. It's a good size store and with that amount of square footage it would be nice to have a small section devoted to homebrewing.
I would say it's my 3rd or 4th choice in town when shopping for a good quality beer. There's an upscale grocery store two doors down that carries more interesting imports and craft brews. That said, if your looking for pretty standard brands you could find most places in Ohio (Bell's, Great Lakes, Stone). Then this would be your place and it IS conveniently located
930 characters

3.85
/5
rDev
+5.2%
I've had good luck finding easy to find things here even though they focus on wine, liquor, and fine foods. The staff is nice and you can break all the stuff into singles, which is nice. Watch out for stale beer though, esp. on the rack that is already broken into singles.
Although I didn't spend much time looking, they have a large cheese selection. They also have cigars and a very limited glassware selection. Although it's not the best beer shop, I'm sure I'll be back again soon since it is close and convenient.
521 characters
3.4
/5
rDev
-7.1%
Not a bad retailer. They seem to focus more on wine and fine foods. They do that well and they make excuses as to why they can't get FFF or other brews you want. Simply put, they don't want to put the effort into it. They have a some singles, and the 5 packs left over if you want to buy one of them. Not a great selection, lots of the "regulars", Stone, Flying Dog, and sadly almost no FFF. Considering the amount of money in their end of town, I would think they would cater to customer's wishes a little more.
512 characters
3.5
/5
rDev
-4.4%
The beer section is just to the left of the entrance. Most of the craft brews here are at room temp. There is a walk in cooler with a few craft brews. Decent selection of local and regional brews including Thirsty Dog, Belles, Great Lakes, etc. Watch out for the stale beers. Wine and booze is also available.
Cigar and pipe smokers might enjoy their climate controlled tobacco room with cigars and bulk tobacco for sale.
Not a bad place to shop for beer, I'd liken it to a good supermarkets beer section.
510 characters
3.2
/5
rDev
-12.6%
This seemed like a wine and liquor store before being a beer store and I think the beer hurt for that. Decent selection of beers that I can't find in Michigan but not as good as some other stops that I made in the city. The cooler was mostly devoted to macros which sucked. Some really old looking bottles hurt the quality level. The guy behind the register seemed near retardation level, so no help there. The cool thing about this place as compared to Dorothy Lane Market (which is next door with a better selection) is you can break up sixers here and not there. Good prices as well. I think I'd still stick with Dorothy Lane Market.
636 characters
4.15
/5
rDev
+13.4%
Located on the corner. Small selection of beer inside, plus a larger selection in the walk in "Beer Cave". Good selection of regional such as Bell's, Great Lakes, and other popular micro's such as Stone, Three Floyd's. Stopped in at lunchtime during the week, and it was very well staffed. Staff is friendly, and helpful. It does seem like the other location has a bigger selection. Still, a good place to look for something new, or in this case a holiday seasonal, which they had (Anchor OSA 2004).
499 characters
4
/5
rDev
+9.3%
A reasonable place to search for a short sample of the thousands of available beers. Well laid out store with supplies for home brewers. Willing and helpful staff with good service attitudes and knowledge. They concentrate on wine, but give beer its due. The establishment is willing to place special orders with their normal suppliers.
Re-reviewing July, 2003: Arrow has just about completed a remodeling of this location that focused almost exclusively on the beer section. Many new beers have been added, including lots of Belgian choices. They now have a fairly good sized walk-in cooler for their beer, but much of the space goes to chilling macros. They have fallen behind a nearby competitor in selection. Dorothy Lane Market is less than a block away and offers some choices more quickly than Arrow. Nicely redesigned checkout counter; plenty of help.
862 characters
3.5
/5
rDev
-4.4%
Average selection, but you can mix and match singles of anything they have. Good place to hit to sample a decent number of beers. Lots of staff for a quick checkout. Most of the craft beers are not refrigerated. They have wine tastings if you have any interest in that. Prices are good. Store seems to be well run and in good condition.
336 characters
Arrow Wine & Spirits - Far Hills in Dayton, OH
3.66
out of
5
based on
22
ratings.