Sapporo

Sleeman Breweries Ltd.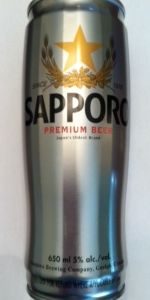 Rate It
Beer Geek Stats
| Print Shelf Talker
Style:

ABV:

5%

Score:

Avg:

2.89

| pDev:

15.92%

Reviews:

9

Ratings:

From:

Avail:

Year-round

Wants

Gots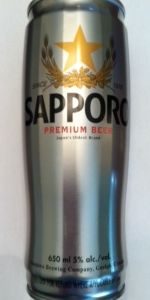 Notes:
Mindcrime1000 from South Dakota
2.95
/5
rDev
+2.1%
look: 2.75 | smell: 2.75 | taste: 2.75 | feel: 4.25 | overall: 3
Poured from a bottle into a standard pint nonic.
Pours very pale gold (almost yellow). Crystal clear. Well carbonated, with a ice head and fairly good lacing retention.
The brew has a very clean crisp aroma initially, with some sneaky sweetness in the background. Only a hint of grassy hops.
The brew hits the tip of the tongue with pale clean malts and less sweetness than expected. The "middle" of the beer feels a bit hollow, lacking some body. The brew finishes very clean and dry with just a touch of both floral and grassy hops.
The brew has a great delivery. Light, crisp, clean, and refreshingly dry. Extremely drinkable.
A difficult "rate" for me. Rated against any brew of any style, I would probably rate this lower. However, because this is a Japanese "macro" I'm comparing it to Euro and American lagers. It's better than some of those, but worse than others. It has a great crisp clean delivery. It doesn't have much flavor--less even than the Buds, Millers, and Coors of the world.
Feb 09, 2020

gatornation from Minnesota
3.2
/5
rDev
+10.7%
look: 3 | smell: 3 | taste: 3.5 | feel: 3 | overall: 3
Pours a clear golden color with a white head , smell is grain,yeast and hops. A bready grassy taste follwed by grain and malt. A crisp Mouth feel with grassy hop . Easy to drink nice on tap.
Sep 07, 2018
FBarber from Illinois
2.53
/5
rDev
-12.5%
look: 3.75 | smell: 2.5 | taste: 2.5 | feel: 2 | overall: 2.5
Pours completely clear and very crisp. Bright gold, almost yellow in color. Thick pillowy bright white head dissipates steadily but not completely. Some sticky white lacing is left on the glass.
Smell has some notes of grain, sweet corn, a touch of floral hops, overall very subtle and mild.
Taste is quite watery actually. Everything is watered down but you get some notes of grain, rice, corn, and a hint of floral hops on the back half. Beer is surprisingly sweet.
Fizzy carbonation, sticky sweet coating sensation in the mouth. Beer is heavier than you'd expect given how watery and light the flavors are. Dry finish.
Overall this is an alright beer -the flavors and feel are too imbalanced - of the beer is going to be this heavy and coating, then I want more flavor, or if its going to be really light, then it better feel light.
Jun 26, 2017

matcris from Arizona
3.22
/5
rDev
+11.4%
look: 3.25 | smell: 3 | taste: 3.25 | feel: 3.5 | overall: 3.25
Pale, yellow, and fizzy. A little grain in the aroma, and flavor. Mildly bready malt. Light feel, and body, with full carbonation. Pretty much like any BMC.
Mar 06, 2017

Greywulfken from New York
2.68
/5
rDev
-7.3%
look: 3 | smell: 2.5 | taste: 2.5 | feel: 3 | overall: 3
Watery and inoffensive, as pale on the palate as you'd expect, with some mild rice and grain impressions. Certainly not a beer I'd drink other than for the tick. Best served with food.
Jun 19, 2016

archyquaffer from Montana
3.48
/5
rDev
+20.4%
look: 3.5 | smell: 3 | taste: 3.75 | feel: 3.5 | overall: 3.5
The can says nothing about Sleeman Breweries, Ltd., but says that it's brewed by Sapporo in Ontario. It's been ages since I've had this beer. The can is different- very well-made and sturdy. It also has seams and appears to be made much like old-timey cans.
A moderate pour into a shaker pint produces a frothy one inch head. The beer is pale golden with moderate carbonation. Light floral hops and some DMS aroma are perceivable but not excessive. The flavor is more complex than I imagined it would be, with lots of graininess as you might expect, but also herbal hops, citrus, and maybe even a touch of cherry.
This was sold in a single 22 ounce can for 3-something. Overall, this is a pretty decent adjunct lager.
Jan 21, 2015
BrewAskew from Oklahoma
3.55
/5
rDev
+22.8%
look: 3.5 | smell: 3.5 | taste: 3.5 | feel: 3.5 | overall: 3.75
Pours out to a nice creamy white head and falls down and leaves bits of lacing. Pale gold color. Smells of clean grains and spicy/grassy hops. Flavor is crisp, clean and refreshing with a nice hop background. Feels good doing down, light and moderate CO2. Overall, a good choice to wash down sushi or hibachi.
Sep 28, 2014

misternebbie from Pennsylvania
1.48
/5
rDev
-48.8%
look: 3.5 | smell: 1 | taste: 1 | feel: 2.25 | overall: 2
its wet that the best way to describe Sapporo, but I feel this way about this entire style, its a rice beer and they are mostly devoid of all flavors.
Sep 24, 2014
Subliminal64 from Canada (ON)
3.7
/5
rDev
+28%
look: 3.5 | smell: 3.5 | taste: 3.75 | feel: 4 | overall: 3.75
*Note* This is Sapporo Premium Beer that is brewed by Sleeman Brewing Company in Guelph, Ontario.
Almost ALL Sapporo distributed in North America/Mexico is brewed in Ontario.
Sapporo owns Sleeman Brewing Company
First off this beer was drank directly from the 650 ml can. If you need a wheel chock for your vehicle, you could use this can. Impressive.
Pours a light gold colour.
Smell is very neutral.
Taste is light and refreshing.
Mouthfeel is as it should be. Plenty of carbonation.
Overall I enjoy this beer. I don't know if it better/worse then the original as I can't remember how the other tasted. I'm sure this beer is brewed the Sleeman way as it tastes very similar to they're Draught variety. Buy it. Enjoy it. Look at the can to see where it was brewed.
MB
Jul 06, 2014
Sapporo from Sleeman Breweries Ltd.
Beer rating:
72
out of
100
with
41
ratings