Old Milwaukee Non Alcoholic
| Sleeman Breweries Ltd.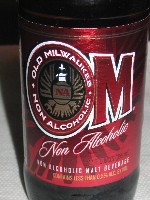 BEER INFO
Brewed by:
Sleeman Breweries Ltd.
Ontario
,
Canada
sleeman.com
Style:
Low Alcohol Beer
Alcohol by volume (ABV):
0.50%
Availability:
Year-round
Notes / Commercial Description:
No notes at this time.
Added by nekronos on 10-24-2005
This beer is retired; no longer brewed.
Reviews: 7 | Ratings: 7
Reviews by jasonpeckins32:
1.8
/5
rDev
-17.1%
look: 2 | smell: 2 | taste: 2 | feel: 2 | overall: 1
Looks fizzy and yellow, no head retention.
Smells like a macro and fresh cut grass.
Tastes a little different than other n/a's I have tried. Has a "green" taste, like its not done yet. (probably because it has the same ingredients, just not fermented, is my assumption.) This green, grassy flavor is faintly similar to the hop flavor I like in a lot of other beers.
This might actually taste a bit better than regular Old Milwaukee, but without any alcohol whats the point of drinking crappy beer?
501 characters
More User Reviews:
1
/5
rDev
-53.9%
look: 1 | smell: 1 | taste: 1 | feel: 1 | overall: 1
Originally reviewed on August 25, 2006. Can. The old maintainence man thinks someone urinated in that bucket of water. I said it looks fresh. I pull a dead animal from the back of the freezer. It mingles with birdseed. A fellow biologist pours sugar on his stale cereal. At a Tom Petty concert, someon pours a tray of cheap beer on me. I put a few pennies between my cheek and gum. A hairdress sticks a blow dryer in my mouth; I taste hot air.
Why was this in our fridge? Only alcoholics drink this garbage. Water has more flavor. Senseless calories.
553 characters
2.5
/5
rDev
+15.2%
look: 3 | smell: 3 | taste: 2 | feel: 3 | overall: 2.5
Poured from a 12 oz can into nonic pint glass.
A - Very pale yellow, clear, with about a finger of white head. Retention is moderate, no lace of course.
S - A little grassy/hay like aroma with a pale bready malt presence. More aroma than I'd expect.
T - Mostly seltzer water with some slight bready sweetness. Grassy flavor and graininess come through in the aftertaste. Overall flavorless, but inoffensive.
M - About what I'd expect. Light bodied with moderate to high carbonation.
D - I didn't go into this expecting too much, so in that regard it's not too bad. I've certainly had worse beers that did have actual alcohol in them.
638 characters
3.8
/5
rDev
+75.1%
look: 3.5 | smell: 3.5 | taste: 4 | feel: 3.5 | overall: 4
I can not be as fair as I should, but since I drank a N/A beer, I have to be imparcial. Well, it was not bad, but like the rest, it has almost no flavor, but it does not go to the other side and starts to be annoying. I actually bought another presentation.
257 characters

1.33
/5
rDev
-38.7%
look: 2 | smell: 1.5 | taste: 1 | feel: 1.5 | overall: 1.5
Thanks to AKBelgianBeast for this tasty brew.
A- Looks like a weak piss water. The head is almost fake looking. Kinda looks like a group of guys were spitting into it. Yummy.
S- Kinda a wheat smell, and something kinda bready and sweet smelling.
T- Oh dear god this is nasty! This is like seltzer water with a few drops of beer added for taste. Along with a large dose of heavy metal. Gross! Seriously, why bother. You might as well pour a 1/4th a can of a Macro and fill rest with water and get this.
M- Metallic, like giving the Tin Man fallatio.
D- No, plug your nose and chug away!
591 characters

2.87
/5
rDev
+32.3%
look: 2 | smell: 2.5 | taste: 2.5 | feel: 3.5 | overall: 4
I don't find too much of a difference between the bottled version and the alluminum canned Old Mud. Has little hop presence with the taste of cheap cereal malts. Smells weakly of corn flakes. Nothing more nothing less. Almost no solid taste to it, with a short lived head. Pours a faded yellow. Cheers
301 characters
1.92
/5
rDev
-11.5%
look: 4 | smell: 2 | taste: 1.5 | feel: 2 | overall: 2
This about the same as Old Milwaukee with alcohol. I guess when you get this bad taking the alcohol out does not make much difference. This is cheap, and not a very good brew. It pours a nice light gold and actually has a nice head. If you could make it on appearance alone we would be OK here. But nose is a sour fermeted rice, and flavor is not much better. Very fizzy mouthfeel. No reason to drink something this bad even if it was free.
440 characters
Old Milwaukee Non Alcoholic from Sleeman Breweries Ltd.
2.17
out of
5
based on
7
ratings.