Old Milwaukee
| Sleeman Breweries Ltd.
BA SCORE
68
poor
15
Reviews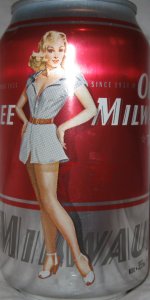 BEER INFO
Brewed by:
Sleeman Breweries Ltd.
Ontario
,
Canada
sleeman.com
Style:
American Adjunct Lager
Alcohol by volume (ABV):
5.00%
Availability:
Year-round
Notes / Commercial Description:
A crisp, refreshing lager, light in body and texture with a smooth finish and no after taste.
Added by wordemupg on 09-06-2009
Reviews: 15 | Ratings: 76
3
/5
rDev
+25.5%
look: 3 | smell: 3 | taste: 3 | feel: 3 | overall: 3
A-pours a clear pale yellow with a white head with very little retention
S-Very little aroma, the only thing that really comes through is corn
T-Again more corn, not an overwhelming amount of flavor, no hop flavor at all.
M-light bodied and high carbonation
O-pretty standard macro lager. It doesn't taste very good but it has all the features a macro lager should. It's fizzy, almost tasteless, and can most likely be found at every gas station in Canada.
457 characters

2.97
/5
rDev
+24.3%
look: 2.5 | smell: 3 | taste: 3 | feel: 3 | overall: 3
Red 473ml can, celebrating the 71st Anniversary. Limited edition can set with 4 different 'pin up' girl pictures. I bought it for the cans, not the beer. "Brewed in Canada, by Stroh Canada, Guelph, Ontario".
Very typical Macro Lager, pours yellowy/golden color, white head that is here one minute, gone the next. Smells like beer, tastes like beer. Nothing out of the ordinary, but nothing bad either. Thin, but not watered down. Doesn't have that sour finish like some other macros. Easy to drink on a hot day, and it is priced right. Average.
$10.99 / 6 x 473ml cans
570 characters

2.92
/5
rDev
+22.2%
look: 2.5 | smell: 3 | taste: 3 | feel: 2.5 | overall: 3
This came to me courtesy of BigBry and mine is the photo that accompanies the entry on the site. The CANQuest (TM) just CANtinues in its search for new and different beers in a CAN. CANadian beer is a CAN is the penultimate!
The Crack & Glug produced two foamy fingers of bone-white head with limited retention. Color was a VERY pale golden-yellow, really washed out, especially for a non-Light Lager. CAN't our neighbors to the north do better than this? It seemed kind of sad. Nose was about what I have come to expect from the style - lightly lager sweet and overlain with adjuncts. Forgive me as I stifle a yawn. Mouthfeel was medium at best, not really thin, but not much past it, either. It had a light sweetness accompanied by a corn-like overtone on the tongue. Finish was kind of on the bland side, slightly watery. It wasn't one to be outright avoided, as the previous scores would indicate, but it would not be cooler-worthy or something I would even bother looking for, unless it were for the limited-edition CAN. It was simply another run-of-the-mill example of the style. Onward!
1,095 characters

2.88
/5
rDev
+20.5%
look: 3 | smell: 2.5 | taste: 3 | feel: 3 | overall: 3
A: Pours a clear yellow with 1 finger worth of white head. Settles to a cap and left a decent amount of lace.
S: The usually grainy aroma you'd get for this style.
T: Sweet grainy tastes. Not much else for this beer.
M: Medium carbonation with a light to medium body.
D: I would drink this one before some other macro beers but then again there are others I'd prefer to this one too.
391 characters

2.85
/5
rDev
+19.2%
look: 4 | smell: 2.75 | taste: 2.75 | feel: 3 | overall: 2.75
Straw gold body with lots of apparent carbonation. It's large white head is tightly formed and surprisingly retentive. It even leaves large patches of lace on the walls of my glass. Old Milwaukee is actually an appealing beer to look at. Nondescript cereal-like aroma. The best descriptor I can find for it is "beery." Even for an AAL, it's pretty weak. I'm going to call it slightly below average for it's sheer insipidness, but insipid isn't foul. It has a gently sweet taste with notes of corn flakes cereal and wonderbread. Light bitterness and green apple in the short finish. Light-bodied and highly carbonated. Feels thin and fizzy in the mouth, like carbonated water. Overall, this isn't a terrible beer. It's also not a good one either, and that's a shame because if it didn't have that quite noticeable acetaldehyde fault it would be. Within the context of the style, of course.
888 characters

2.63
/5
rDev
+10%
look: 3 | smell: 2.5 | taste: 2.5 | feel: 2.5 | overall: 3
473ml can poured into pint glass sept5 2009
A clear straw yellow with little head and no lace
S sweet grain, some grass, very mild floral hops and very little else
T As it smells,very bland, i really don't taste much of anything.
M like water with carbonation
D its like drinking water enough said?
Not finding this already listed is a bit of a surprise, far as I could tell this was different from the others. I understand why now, I feel I wasted my time drinking this one. It's not that its offensive there's just nothing too it
538 characters
2.43
/5
rDev
+1.7%
look: 2.5 | smell: 2 | taste: 2 | feel: 2 | overall: 4
A- Well this isn't anything special to look at....very typical at best. It is amongst the clearest of beers that I have ever looked at, and has a very light grainy yellowish tone to it. The head is white, but is not dense at all, fizzling out rather quickly into a patchy layer over the brew. There looks to be lots of big pop like bubbles rising to the top.
S- Dry, musty and grainy is the best I can come up with here. It isn't a dominant aroma....just bland, with some soft sweet malts and full of adjuncts. There is some very muted hop presence on the finish as well.
T- Overall, this is a bland, grainy and adjunct-ish flavored beer. It reminds me of overcooked rice and dust. There isn't much else to say....no hop bitterness on the finish....just a sweet aftertaste that lingers on.
M- Thin and watery best describe this beer. The carbonation levels are high and it does a good job of cleaning out the palate.
D- Highest marks go to this category because like usual, this macro style lager is easy to drink. I'd put this a slight notch above the typical BMC type beers and its' nothing that I'd pay my money for again. If I want a macro, there's several options that I'd prefer to get before this.
1,210 characters

2.41
/5
rDev
+0.8%
look: 3 | smell: 2 | taste: 2.5 | feel: 2.5 | overall: 2.5
473 mL can from the LCBO; packaged July 5 2012. #1 in my new series, "Cataloguing the cheap pale lagers I wouldn't bother with if I weren't a broke-ass student living in a town of 3,000 people with terrible beer selection." Yeah, yeah; I'll come up with a better title later. This is one I've never bothered trying for various reasons - but hey, Sleeman's version of PBR isn't all that bad, so maybe they can do another American classic some justice?
Pours a pale straw yellow colour, topped with about 1.5 fingers of frothy, white head that fizzles away completely over the next minute or so. It leaves behind a thin, soapy cap on the surface and foamy collar - no lacing, though. Looks decent for what it is. The aroma is weak and uninspiring; mostly corny and sweet, with some pale grain malts. A lame odour, even given the style.
Unfortunately, the flavour doesn't stray far from that theme. The taste is highly one-dimensional and rather diluted; if I didn't know better I'd have guessed this was a light beer. The only flavour that I can confidently identify is adjunct sweetness - whether it's corn, rice or both, I can't be entirely sure, but the point to take home here is that there is very little barley malt to be found. There are essentially no hop traits either, besides perhaps a passing hint of grass toward the finish.. Light-bodied and watery, with heavy carbonation. Definitely makes me feel more bloated than the average AAL, which really hurts the drinkability.
This is not a clean-tasting lager - it is an annoyingly sweet, bland, adjunct-laden brew that would be very unpalatable if it weren't so watery. Yes, it seems strange to say it, but the diluted nature of this stuff is probably what saves it from being grade-F swill. I consider myself quite lenient when it comes to reviewing this style, but there are really no positive traits to speak of here, besides the price.
Final Grade: 2.43, a D+. Old Milwaukee demonstrates perfectly the accuracy of the old adage "you get what you pay for". This is drinkable (in that it isn't completely disgusting), but even within this price bracket there are several choices that would be more preferable. PBR, for instance, is basically the same price, and far less terrible. This stuff falls more along the lines of Lucky Lager, or a bad knockoff of Carling - cheap, fizzy, yellow swill that just isn't worth drinking, because there are other cheap, fizzy yellow beers that best it in every category. Sadly, the best part of this can of beer is probably the pin-up girl on the label.
2,554 characters
2.3
/5
rDev
-3.8%
look: 2 | smell: 2 | taste: 2 | feel: 4 | overall: 2.5
Hey, looks like they've got this stuff over the border too! I don't want to shock anyone, but it's still yellow and fizzy up there. Very little head without much retention, lots of visible carbonation. The smell is impressively one-note, and that note is some musty grain. The taste follows suit, not much going on besides some pretty characteristic graininess. Not a bad mouthfeel, it's kind of what you hope for in a macrobrew. I guess Canadian rednecks need to drink something too.
484 characters
2.24
/5
rDev
-6.3%
look: 2 | smell: 2.25 | taste: 2.25 | feel: 2.25 | overall: 2.25
Poured from a big bottle.
Very clear pale yellow color. Strong white head that disappears in no time. Sweet corn adjuncts dominate then blandness follows. Nothing truly offensive but it`s a bore and belongs at the low end of the spectrum.
239 characters
2.16
/5
rDev
-9.6%
look: 3 | smell: 2 | taste: 2 | feel: 2 | overall: 2.5
355ml can, a gift/leftover from a recent hipster party I was dragged to by my uni-adjacent girlfriend.
This beer pours a clear, very pale golden straw colour, with two skinny fingers of weakly bubbly, thin soapy dirty white head, which leaves not a speck of lace in the vicinity of the glass as it quickly melts away.
It smells rather weakly of a gritty rice/corn sweet graininess, hard water, and mildly skunky, dead leafy, herbal, er, 'hops'. The taste is sweet husky rice grain, pithy corn mash, a touch of faintly skunky and herbal bitterness, and well, bumpkis else.
The carbonation is average, as in weakly frothy for a spell, and then more or less absent, the body quite lightweight, and somewhat clammy in its workaday smoothness. It finishes on the sweet side, moderated only by a mildly harsh, drying, nondescript acridity.
As this was exchanged with a fellow party-goer (the beer I gave him was certainly better than this, ah well), in the interest of sharing beer knowledge - I'm duly glad that I got only the one. An average Canadian re-brewed version of average American swill. However, minor extra points are indeed due for the retro-style T & A on the can's label.
1,186 characters
2.09
/5
rDev
-12.6%
look: 3 | smell: 1.5 | taste: 2.25 | feel: 2 | overall: 2.25
A eater boring beer with few good qualities. Can be great for a fishing trip or camping but must be served ice cold and downed without to much consideration. At least the can looks ok.
184 characters

1.98
/5
rDev
-17.2%
look: 2.25 | smell: 1.75 | taste: 2 | feel: 2.25 | overall: 2
I just got back from a great camping trip where I had the opportunity to sample some fine lagers at an increased temperature. Our camping location didn't offer much opportunity to buy anything because we were so far from civilisation, so we had to make do with the warm beers.
This was an old favourite of mine when I did my underage drinking in grade 12. Back then I didn't really know what a good beer was, and this was the beer my buddy introduced to me when we first hung out in my basement. I thought it was a bit gnarly even then, but now I can say for sure that this is an awful thing to buy.
I can't comment on the appearance of the beer itself, since nobody would ever contemplate pouring this into a glass other than a red solo cup. Odds are if you're drinking this, you likely don't own any proper beer glasses anyway. I did always have a thing for the girls on the can and the box. For some reason I thought they looked better when I was a kid, but that may just be reflecting my changing attitudes towards the fairer sex. Anyway, to the beer!
I've had this beer at every temperature on the thermometer save for boiling, and it is only acceptable at temperatures approaching 0 degrees celsius. This beer was about 30 degrees at least when I had it over the weekend, and I recall having to drown it in two big gulps with a short break in between to hold back the vomit. We were by a river after all, and hurling into mother nature's glorious streams is not cool. Compared to other crappy lagers in these parts like Lucky and TNT, this really isn't as bad. That's not saying much, but you could do worse.
The aroma smells like beer. Stinky beer. You're better off holding your breath while consuming this beer, since you're just looking to become intoxicated when you purchase this product. It finishes off with a nice warm head that makes your stomach want to kill you for punishing it with these unfair red bullets. Luckily after you've downed 4 or 5 into your eager gullet, you will no longer notice the aroma or the taste.
2,040 characters

1.45
/5
rDev
-39.3%
look: 1.5 | smell: 1.5 | taste: 1.5 | feel: 1 | overall: 1.5
A: Unappetizing pale straw liquid with minimal head.
S: Lemon, grass and earthy noble hops and metal.
T: Sweet corn taste with metallic flavors and lemon and grass.
M: Thin viscosity and a low level of carbonation.
O: A regrettable beer that has no redeeming qualities other than the alcohol content and cheap price. The hobos choice.
338 characters
1.02
/5
rDev
-57.3%
look: 1.25 | smell: 1 | taste: 1 | feel: 1 | overall: 1
I have few things to say about this beer.
And what few things I have to say are not positive.
1. This beer is terribly dehydrating to drink. Possibly due to its flavour. Not refreshing at all.
2. Unless you love the taste of liquefied cheese, do not let this beer warm up past ice cold.
Trust me.
In short:
Unless you're holding a cheese tasting party, and want to offer a liquid alternative, DON'T BUY THIS BEER!
419 characters
Old Milwaukee from Sleeman Breweries Ltd.
2.39
out of
5
based on
76
ratings.