Neumarkter Lammsbräu Dinkel
| Neumarkter Lammsbräu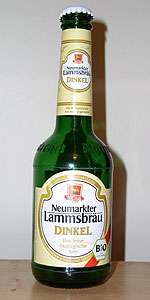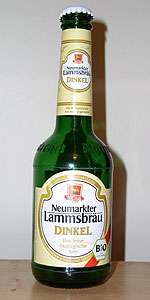 BEER INFO
Brewed by:
Neumarkter Lammsbräu
Germany
lammsbraeu.de
Style:
German Hefeweizen
Alcohol by volume (ABV):
5.20%
Availability:
Year-round
Notes / Commercial Description:
No notes at this time.
Added by Todd on 11-19-2004
HISTOGRAM
Ratings: 11 | Reviews: 8
Reviews by mmmbirra:

More User Reviews:
4.33
/5
rDev
+15.2%
look: 4.5 | smell: 4 | taste: 4.5 | feel: 4 | overall: 4.5
The Neumarkkter Lammsbrau Dinkel is an organic beer brewed from a grain (dinkel) that is similar to wheat. The brewery owns its own maltings, and is one of the only breweries in the world today to use this grain. They ferment it with the same weizen strain as their other weizen beers, and it has a distinctly wheat-like quality and a touch of smokiness (no smoked malts are used; and the smokiness may actually be coming from the dinkel). It's deep golden in color with a medium-light body and moderate, but very fine, carbonation level. In many ways, it's quite similar to a standard weizen, but it's not as dry and the carbonation is nowhere near as brisk. It's soft, smooth, complex, and refreshing. An interesting and exciting beer to say the least!
754 characters

3.3
/5
rDev
-12.2%
look: 3.25 | smell: 3.25 | taste: 3.25 | feel: 3.25 | overall: 3.5
Hazy golden color with a ring of white foam. Aroma has banana esters and some astringent yeast notes. Taste is sweet and grainy with biscuits and banana notes. Medium body and carbonation. With a hint of bitterness on the aftertaste, this beer is actually quite easy to drink and well balanced.
294 characters
3.26
/5
rDev
-13.3%
look: 4 | smell: 3 | taste: 3 | feel: 3 | overall: 4
,33L bottle into a weizen glass (if dinkel is relative of wheat, that's where it should go). Upon tasting, I can't tell if it's really the right kind of glass or not.
Pours a hazy brown-orange (something like an obscured peach colour). Has a decent size head that goes poof surprisingly quickly as it looks reasonably dense. Zero lacing on the way down -- not even a hit. Every dash of lace slides down and back to the top of the beer.
Smells something like a weissbier with much less floral aroma and more spicy hops and malt. Halfway between a lager and a wheat-beer.
The taste is that of a light beer version of a wheat beer. It has that tinge of banana combined with malt. Finish is a bit sweet and wheaty, but it's not strong at all. No bitterness whatsoever. I hate to say so little about it, but I just don't feel like there's that much to say. It's light all around. I'm searching through it all, but I just don't see the great flavour.
Mouthfeel is a bit weak. Somewhat watery and pretty low carbonation make it just a little too easy-drinking. Doesn't seem substantial enough to hold my attention; the ,33L glass is gone quickly not because it's great but because you just don't feel it there. Not too impressed.
1,226 characters
3.45
/5
rDev
-8.2%
look: 3.5 | smell: 3.5 | taste: 3.5 | feel: 3 | overall: 3.5
First off, this is not a lager, it is an unfiltered "Hefe ale.
It comes in the typical green Lammsbraeu bottle. MHB: 22.11.11.
It pours a hazy golden color with a foamy white head that leaves a few speckles of lacing.
The smell is rather unique. There is some typical clove and banana scents, but also a kick of unknown fruitiness and an almost gummy malt scent, like bread scented gummies or something, odd, but intriguing. The smell of this reminds me of a Haribo product and that isn't necessarily bad. There is a hint of herbal hops as well.
The flavor is more or less straight-on hefeweizen flavor. It is clovey with a nice maltiness (perhaps a bit heartier and breadier than the standard wheat, but not immensely so), and some fruit flavors such as banana and tutti-fruitty.
If you like your Bavarian hefeweizens fruity and bubblegummy pick this one up.
865 characters

3.67
/5
rDev
-2.4%
look: 3.75 | smell: 3.5 | taste: 3.75 | feel: 3.5 | overall: 3.75
3.92
/5
rDev
+4.3%
look: 4 | smell: 4.5 | taste: 3.5 | feel: 4 | overall: 4
The aroma is great. A potent mix of spicy hops, lemon, and musty aromas remind me of a Saison. Wispy, bright white head leaves a few specs of lace as it sinks into the hazy apricot colored beer. The spicy hop and lemon aromas carry over into the flavor and are joined by malty caramel and butterscotch flavors. Finishes a tad sweet and grainy. Fine carbonation and a soft body. After a few sips I noticed the butterscotch in the aroma as well. It's an interesting beer with plenty going on, but in this case the flavors and aromas seem to be in conflict. More like a Biere De Garde then a Saison I suppose.
606 characters
4.47
/5
rDev
+18.9%
look: 4 | smell: 4.5 | taste: 4.5 | feel: 4.5 | overall: 4.5
This is made from spelt not wheat so it s not a Hefeweizen...
(BTW IGNORE THE CLASSIFICATION AS EURO PALE LAGER _ IT S A TOP FERMENTING (=ALE) NEXT OF KIN TO A HEFEWEIZEN)
It pours a cloudy yellow with an orange tinge similar to a Hefeweizen but little head just thin lacing of white
Smells of the Characteristic banana and clove but less so instead citrus aroma and some sourness without however being acidic
It tastes just like it very refreshing indeed
Medium carbonation despite no head and medium body
I really like this one
537 characters
3.68
/5
rDev
-2.1%
look: 4 | smell: 3.5 | taste: 3.5 | feel: 4 | overall: 4
Although I appreciate the originality of using spelt as a malt, I wasn't all that impressed by this beer.
It's hazy brown with a surprisingly short-lived head, and smells musty. It tastes like a very wet wheat beer--a hint of banana and clove--that's been soaking with oatmeal. I dubbed it "Breakfast Weizen." I've had several of these beers and I notice that how I feel about the taste changes from day to day.
It's fine to drink, and worth a try, but not particularly refreshing--lacks the carbonation and the bite of a wheat beer.
535 characters


3.75
/5
rDev
-0.3%
look: 4 | smell: 4 | taste: 3.5 | feel: 3.5 | overall: 4
33cl green long-neck, best before 7/17/11. A beer brewed with spelt (Dinkel) in addition to malted barley.
Pours with a thick, creamy head atop a cloudy straw orange body. Retention is okay, lacing is good.
The aroma is spicy, with powdery yeast and some nice fruitiness. A lot like a Hefeweizen, maybe just a bit earthier.
The flavor is remarkably similar to the aroma-- yeasty and woody with more pronounced earthiness. There's an interesting kind of spicy graininess probably due to the spelt. Touch of banana. Light, and a tad watery. The mouthfeel is smooth and fluffy at first, but it dissipates rather quickly.
Nice beer. This is basically a variation on a top-fermented wheat beer, but with spelt instead of wheat. I'd call it a "Hefedinkel" but definitely not a Euro pale lager. Technically it's a "Specialty beer" or a "Specialty grain" since it's brewed with spelt. BA Style complaint filed.
906 characters
Neumarkter Lammsbräu Dinkel from Neumarkter Lammsbräu
Beer rating:
3.76
out of
5
with
11
ratings