Neumarkter Lammsbräu Light
| Neumarkter Lammsbräu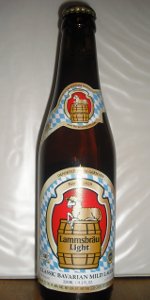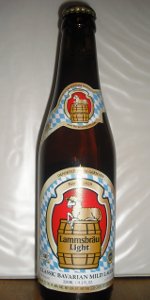 BEER INFO
Brewed by:
Neumarkter Lammsbräu
Germany
lammsbraeu.de
Style:
Munich Helles Lager
Alcohol by volume (ABV):
4.10%
Availability:
Year-round
Notes / Commercial Description:
No notes at this time.
Added by fightingirishcmk on 03-27-2008
HISTOGRAM
Ratings: 7 | Reviews: 7
Reviews by fightingirishcmk:

4.02
/5
rDev
+18.2%
look: 3.5 | smell: 4 | taste: 4 | feel: 3.5 | overall: 4.5
Picked this up on sale at Whole Foods for $3.99/ 4pack. Not a bad deal at all.
Label says "Lammsbrau Light" and on the bottom says "Classic Bavarian Mild Lager". It looks and tastes like a Munich Helles Lager, but I could be wrong. The bottle lists a website of www.bavariaimports.com , but this isn't correct.
A: Not bad, a bit darker than your average pilsener with a single finger head that dissipated rather quickly.
S: A strong malt character, and also some grassy and earthy aroma.
T: Not bad, full of malt character, sweet, with a very mild, maybe somewhat tame hops presence. This is a light? It tastes much more malty than that.
M: Tastes almost undercarbonated. Very smooth in my mouth, but I feel that this is a result of not enough carbonation. This almost feels like an English ale rather than a lager.
D: I would consider this highly drinkable. If it truly is a "light beer", it is one of the more malty ones I have experienced.
952 characters
More User Reviews:

2.87
/5
rDev
-15.6%
look: 3 | smell: 3.5 | taste: 2.5 | feel: 2.5 | overall: 3
Pours a slightly hazy golden straw color with a rather small white head that left a ring around the glass as it settled. The aroma is of a doughy munich malt and a light peppery hop, fairly typical for the style. The doughy munich malt is forefront though is quite light. This is followed by a cooked veggie taste, grainy and not much of a hop presense. Tastes a bit skunky, closer to a macro than a helles lager. Moderate feel with tingly carbonation, finishes quite astringent, similar to a macro. Don't know if the hops were light-struck or this brew just missed the mark. The true helles lager characteristics are barely there and the brew is dry, astringent, and grainy. I would avoid.
690 characters

3.07
/5
rDev
-9.7%
look: 3 | smell: 3.5 | taste: 3 | feel: 2.5 | overall: 3
A: Poured a brass-gold with a 1 finger bright white foamy capping that settled rather quickly. The sides of the glass were lined with large macro bubbles while the lacing was poor. Overall rather unexciting garnishing only average regards here.
S: a fresh green leafy hopping with buttered grains that was medium in strength. A fresh breadiness is also present here. Overall the aroma was pretty dominant per style.Sweet buttery grains with a wet light juicy citrus hopping.
T: The flavor seemed a bit thin and watery even for a mild lager. Theres a touch of wet sour lemons on the finish along with fresh green herbal notes. Overall the flavor was better then expected but still was rather bland and buttery malted.
M: extremely light, watery at best. Very smooth in texture but absolutely no feel here.
D: Per style as a mild lager this beer had an ok drinkability just because it did not offend, yet it rarely gave you any incentive to enjoy it. Easy going down but goes along with a shoulder shrug even for a lawmower style this comes off as a mindless downer without much thought or consideration.
1,109 characters
3.91
/5
rDev
+15%
look: 4 | smell: 3 | taste: 4 | feel: 3.5 | overall: 5
Clear gold with a two finger white head that subsides to a white ring in about five minutes time. Some minor lacings.
Very minor malty aroma.
Taste is sweet tasty malt with just a kiss of hop bitterness. Somewhat astringent on the palate. This beer has a lot of flavor for a "light". Too sweet for me but would probably be a big hit with the ladies or those of us that enjoy sweet, light beers. One of the best and more interesting light beers I've had.
454 characters

3.5
/5
rDev
+2.9%
look: 3.5 | smell: 3.5 | taste: 3.5 | feel: 3.5 | overall: 3.5
Poured a medium straw hue with a one finger foamy white head. There was good retention and decent lacing.
The smell features a grainy malt with a touch of flowery hop.
The taste consisted of a moderate soft cereal grain with a balancing noble hop.
The mouthfeel was toward the lighter side for the style.
Overall a tasty lager. Light and easy to drink.
356 characters

4.15
/5
rDev
+22.1%
look: 4 | smell: 4 | taste: 4.5 | feel: 3.5 | overall: 4
Single, 11.2 oz bottle just scored from New Beer Distributors on Chrystie Street in Manhattan...
"Classic Bavarian Mild Lager" on the front logo sticker...
Appearance: Pale-gold with rising carbonation and a minor frothy head...
Smell: Surprisingly thick and creamy bread and butter smell...
Taste: Likewise, thicker and more flavorful than I was expecting... A true-to-the-style depiction of the genre... Crisp, refreshing, and clean...
Light-to-medium-bodied mouthfeel
Great level of drinkability...
Recommended...
516 characters

2.28
/5
rDev
-32.9%
look: 3 | smell: 2.5 | taste: 2 | feel: 3 | overall: 2
A - Crystal clear with a copper-gold body and a small, white head.
S - Slight malty character. Very weak aroma.
T - Very clean with mild malt and no hop character.
M - Medium body with slightly low carbonation.
D - Nothing about this beer is offensive enough to make it hard to drink, but it is so bland that it is hard to want to drink it. There are no major brewing flaws here, but it is far too light and watery for even a helles.
437 characters
Neumarkter Lammsbräu Light from Neumarkter Lammsbräu
Beer rating:
3.4
out of
5
with
7
ratings