PC 2.5G
| Brick Brewing Co.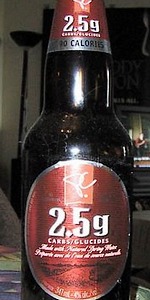 BEER INFO
Brewed by:
Brick Brewing Co.
Ontario
,
Canada
brickbeer.com
Style:
Light Lager
Alcohol by volume (ABV):
4.50%
Availability:
Year-round
Notes / Commercial Description:
With only 2.5 grams of carbohydrates per bottle, PC 2.5 is brewed in small batches with Natural Spring Water to deliver a clean, crisp and all natural easy drinking taste.
Added by Sammy on 12-16-2004
Ratings: 9 | Reviews: 8
Reviews by Bestuurder:
1
/5
rDev
-50%
look: 1 | smell: 1 | taste: 1 | feel: 1 | overall: 1
This beer has to be the worst beer I have ever tried. Poured a very little yellow colour, with almost no colouration whatsoever. There was no smell at all, no hopping, and certainly no flavour at all. It felt like I was drinking water with food colouring in it. How could Brick actually brew this? This is worse than the PC lager. Disgustingly unappreciable. That's all I have to say.
384 characters
More User Reviews:
1.4
/5
rDev
-30%
look: 1.5 | smell: 1.5 | taste: 1.5 | feel: 1.5 | overall: 1
Water is better than this "beer". Joke part of Doug Shoemaker tasting of great beers. Thin mouthfeel. Pale yellow and soap bubble head. Astringent Bitterness and tad creaminess.Would not even use for cooking. Lots left after going around room of 14 drinkers.
258 characters

3.21
/5
rDev
+60.5%
look: 3.25 | smell: 3.5 | taste: 3 | feel: 3.25 | overall: 3.25
Purchased at The Beer Store for around $34.00 for a 24pk. Served at 4deg C in a draught glass
A- Opens well and pours a 1" high white head that is gone in seconds. Medium to light colored gold. Filtered clear
S- Interesting bready, malty brew.
T- A corn flavor with light hops. Rather refreshing light yet bold taste to this one. A touch unusual.
M- Crisp but has a bit of body in it
O- Interesting beer. Not for everyone, it's a like it or hate it. My go to beer when I need to lose a few pounds as 95cal per bottle is big change from those big bodied stouts.
Food Pairing
This nice light brew went well with....... BBQ sausages.
Enjoy
648 characters
1
/5
rDev
-50%
look: 1 | smell: 1 | taste: 1 | feel: 1 | overall: 1
Bottle: Poured a very light yellow color ale?, lager? Without any head and very low carbonation. Aroma is totally non-existent, reminiscent of water at best. Taste can only be described as lightly flavoured water. No hops, very little malt and no taste. If you haven't figured out yet, I didn't appreciate this beer at all.
325 characters
1.75
/5
rDev
-12.5%
look: 2 | smell: 2 | taste: 1.5 | feel: 1.5 | overall: 2
The best beers are chock full of carbs, so trying to enjoy a cold one while on a low carbohydrate diet can be tricky.
That said, low carbers can do better than this beer.
The appearance is plain and yellowy and the beer is obviously over-carbonated.
The smell is barely noticeable and offers nothing interesting or inviting.
The taste is like a cross of poor white wine and tonic water, almost sour.
Add to the ongoing sub-mediocrity is that over-carbonated mouth feel, it almost bubbles in your mouth like a harsh soda.
The beer is light enough to drink in large amounts, but if you're looking to demo a 12 pack or a 24, you can certainly do better both in cost and quality.
682 characters
1.95
/5
rDev
-2.5%
look: 2 | smell: 2 | taste: 2 | feel: 1.5 | overall: 2
PC Low Carb pours a faintly pale yellow with an thing and quickly fading head. Sulfur dominates the aroma with a hint of graininess. Sulfur comes through in the flavor as well, the beer is obviously skunked. There is a mild grainy flavor, but it barely fights through the skunk.
278 characters
5
/5
rDev
+150%
look: 5 | smell: 5 | taste: 5 | feel: 5 | overall: 5
With a slice of lemon, it is great. Love it. Not too heavy and the calories are low. I have an allergy towards most foods and drinks. I am on a very low carb intake so this beer allows me to enjoy all year round without getting sick. A+. The beer bottle has changed, looks better now.
291 characters

2.19
/5
rDev
+9.5%
look: 1.5 | smell: 2.5 | taste: 2 | feel: 2 | overall: 2.5
Courtesy of the TBS Fund: 341ml clear bottle containing 4% ABV and 2.5 grams of carbs per serving. A value brand beer claiming no preservatives with ingredients listed: "natural spring water, malted barley, corn and hops." Apparently no yeast though...
A very unhealthy complexion. Perfect clarity but the colour has an odd tint to it. I pry the cap and observe a short parade of bubbles fizzle to the top and form a thin layer of head which lasted little more than seconds. The appearance turns me off drinking it.
An aroma that actually resembles candy-corn. A touch of bubble gum like artificialness. Full of adjuncts no doubt, but a weird candy like character over top. Quite off-putting but there are more offensive smells out there.
The mouthfeel has no texture except for the coating it leaves on the inside of your mouth. Really dry finish. Fairly clean (I guess the natural spring water pays off) and all considered - refreshing to an extent.
The taste is also off-putting but not offensive. No malt profile. A lot of corn in the taste. It's unfortunate the adjuncts are so predominant in the flavour because there is otherwise no DMS or diacetyl or sulfur dioxide. By conventional definition: "easy drinking" (which translates to "no real flavour")
They've done a half-decent job as far as low alcohol, low taste, low carb beer goes. It's not offensive - "off-putting" is probably the most suitable word. Despite the modest buck-a-beer price, 4% and 90 calories per serving, I think my health, my liver, my sobriety, my wallet, my standards, and most of all my palate is better off without.
1,606 characters
1.75
/5
rDev
-12.5%
look: 1.75 | smell: 1.75 | taste: 1.75 | feel: 1.75 | overall: 1.75
PC 2.5G from Brick Brewing Co.
2
out of
5
based on
9
ratings.